Charlie Weber's Height
5ft 9 ½ (176.5 cm)
American Actor best known for roles on TV series Buffy the Vampire Slayer (as Ben) and How to Get Away with Murder. In film he has appeared in Gacy and Cruel Intentions 3. This photo was from London Film Con 2008. Charlie had about 0.3in more footwear than me this day.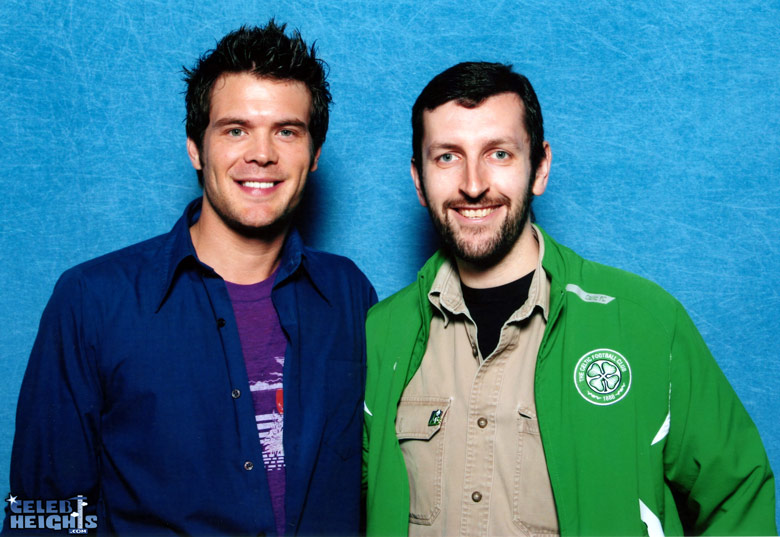 5ft 8 Rob and Charlie
You May Be Interested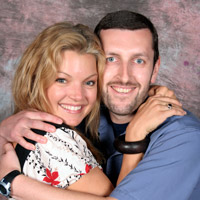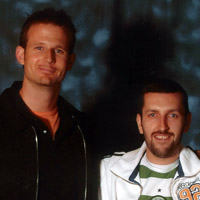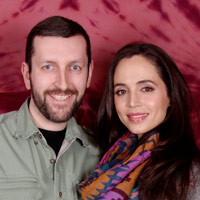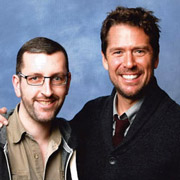 Add a Comment
47 comments
Average Guess (20 Votes)
5ft 9.43in (176.3cm)
Slim 6'1"
said on 27/Sep/20
176cm
Zampo
said on 16/Sep/18
Looks like he would measure anywhere between 5'9.25-5'9.75 over the course of a day, so 5'9.5 is a pretty decent listing.
Bobby
said on 19/Aug/18
Looks 5'10 with the footwear advantage.
Bri
said on 9/May/18
Looks 178 with Hair
Sandy Cowell
said on 17/Apr/18
@ Nik - How nice of you to join in!
Many of my favourite actors, past and present, are hardly tall! Look at Al Paccino, Harvey Keitel, a new 'discovery' of mine from 'Boardwalk Empire', Stephen Graham, who's funny AND a bloody good actor, well - none of these are anywhere near average height, yet they are all great at playing the hard man, and, if need be, with more than a little humour thrown in! On the female side, Patricia Arquette, who is written up as 5ft1.5 but I thought was smaller, she's wonderful at anything she plays - and she isn't tall! She's small!
No, a good actor can be ANY height and it doesn't bother me one iota! Never has and it never will! Surprisingly though, it DID bother my Mum!!! She favoured the tall, dark, brooding type, like Gregory Peck!
Nik
said on 15/Apr/18
@ Sandy Cowell - I think it is right to value performance, personality, and sense of humour, in terms of what a celebrity brings to the table! There should be very few circumstances where height is a factor in determining whether someone gets a oarticular role in the celebrity world. I know you agree!
I like the fact that his name is similar to that of Charlie Webb in Emmerdale, good spot!
@ Sulu2018 - Charlie is above average for a man in society as a whole but under average for a male celebrity!
I can offer Charlie 5'9.25"!
Sandy Cowell
said on 13/Apr/18
@ Sulu2018 - That's an interesting point of view and, though I do agree that the taller man does stand a better chance of being signed up, if he doesn't follow it through with top-notch acting, his days and success will be severely limited!
What about the film directors, the Soap stars, all manner of roles are up for grabs in the celebrity world, and, apart from modelling, where you HAVE to be tall, there is room for people of every single height out there! Whether an actor, actress or rock star is tall or small bears absolutely no reflection on whether I root him or her out! I go for a convincing and moving performance, nice personality and a sense of humour any day! 😉
This actor, with a name not dissimilar to a girl out of 'Emmerdale', gets 5ft9.5!
sulu2018
said on 11/Apr/18
5 ft 9 1/2 isn't quite average height for a male celebrity. In fact, 6 ft flat is quite a bit closer to average height.
Bobby
said on 7/Jan/18
Thought he was 5'10, but I read that he had a 0.3-inch footwear advantage. So... he'd have been close to 5'11 with his shoes on. Did he look 5'10 to you, Rob?
Editor Rob: certainly closer to 5ft 10 than 9, I wouldn't go less than 9.5
Anonymous
said on 28/Oct/17
Average 5'9.5" guy. Good listing, Rob.
even
said on 22/Jul/17
correct listing
Sully
said on 6/Jul/17
Hi Big Rob , how tall do you think his How to get away with murder costar Jack Falahee is?
World Citizen
said on 26/May/17
5 ft 9 1/4 (176cm)
abcd
said on 23/Feb/16
177 or 178
CD
said on 27/Sep/15
I reckon the camera is slightly in Rob's favour here. I think if the shot was taken from a different angle, the difference might look greater. He could be 176cm, though, taking into account the footwear.
Chris
said on 25/Sep/15
From that photo rob, if you are 173cm exact, then he's no more than 176cm
Adamz
said on 1/Aug/15
176cm is better
Red Beard
said on 28/Jan/15
Hey Rob, do you ask them about their height or these are your predictions?
[Editor Rob: if an actor gives their height and I or someone finds it I will always put it at the top of the page...but the listings are my own guess ultimately.]
Realist
said on 24/Sep/14
Wait what? He does not look anything more than a weak 5'9. He looks only a fraction taller than u. With 5'9.5 guys i think youd come to the middle forehead.
RogerH
said on 30/Jul/14
177 sounds perfect for him
avi
said on 19/Jan/14
thinking just a strong 5'9
Balrog
said on 18/Aug/13
Looks 175-176cm.
LG69
said on 11/Jun/13
Rob, on another well known site, they have him at 5'9 3/4"...pretty close to your estimate. If he had equal shoes with you, and a non-spiky hair style, I'm thinking he's 5'9.25". Do you think that's possible or 5'9.5" is the least?
[Editor Rob: 5ft 9.5 I think is a fair enough guess, I haven't changed that guess]
Jhc
said on 29/Dec/12
Looks my height next to a 5'8 guy Iam 5'9 1/2 (measured at physical) but I also been measured against a wall barefoot by my mother at 5'9 3/4 do basically Iam a hair under 5'10 this guy is 5'9 1/2 and Remeber there is a small difference between 5'9 1/2 and 5'10
The Exorcist
said on 22/Nov/12
Looks 5'9"
thc-182
said on 18/Oct/12
looks 175, you are very closer
Original
said on 11/Oct/12
looks 5'9.75.
anon
said on 1/Oct/12
avi says on 27/Sep/11
5'8.5-5'8.75. No where near 1.5 taller than Rob. not even inch
Sorry but this is not true, there is definitely an inch or slightly more than an inch between them. there is no way that is under an inch difference. I think he is slightly over 5'9, close to 5'9.5
Rampage(-_-_-)Clover
said on 26/Aug/12
Looks a solid 5ft9/175.5cm.
Out of bed probably 177cm
Hob
said on 28/Jul/12
if he was 5'9.5 rob would be 5'9 , no way. this guy is probably weak 5'8.75 since he had 1/3 more footwear than rob.
Paul
said on 9/Jan/12
I'm seeing 5'9.75"
PatB
said on 27/Oct/11
He would appear to be just about average in height. I have no idea who he is.
avi
said on 27/Sep/11
5'8.5-5'8.75. No where near 1.5 taller than Rob. not even inch
Dmeyer
said on 4/Jun/11
If 8 MM. More footwear maybe more 176
James
said on 3/May/11
look at there eye levels he is more than 175cm with rob
Rampage(-_-_-)Clover
said on 12/Apr/11
5"9(175cm) in this pic
James
said on 11/Apr/11
Would appear 179cm if he stood better with rob so yeah this guy is 177cm
TruebloodFan
said on 7/Mar/11
lmao Rob. this is not how a 177 guy with footwear advantage looks next to legit 173 guy. this is more like 'hairstyle advantage', an optical illusion. the guy is pure 5ft9.
Triplescrew
said on 7/Mar/11
Since Rob is a strong 5'8" (wakes up at 5'9"), I would say that 5'9.5" is correct.
[Editor Rob: I think he really is near what he claims to be.]
SAK
said on 1/Mar/11
If Charlie has a slight foot advantage then I doubt he is 177cm, more like 175cm.
James
said on 24/Feb/11
no bigger than 5'9
Dean
said on 17/Nov/10
He looks about 4-5cm taller where the tip of his hair is about 177-178...however with the hair pushed down he would be straight away 176 but then also the 3rd of an inch would knock him down for me to 175. definetly no taller than 176 before bed.downgrade needed lol
Ryan
said on 8/Jul/09
Out of curiosity what was his footwear Rob?
[Editor Rob: he had a good 1.25 inch, 1/3rd more than me.]
Donatello
said on 2/Jul/09
Solid 5'10" even when taking into account his hair.
J.J.
said on 1/Jul/09
Legit 1.5"-1.75" difference this is very clear Rob!
miko
said on 24/Jun/09
Definately over 5"9.
His hair does give him a 5"10 effect, when we know he isn't that tall.
Is he pulling a McKellen on you Rob? It looks like he's eating your shoulder.
[Editor Rob: my arm is just underneath his arm round his back.]
James
said on 24/Jun/09
this is very accurate