Damon Albarn's Height
5ft 11 (180.3 cm)
British Lead Singer from the bands Blur and Gorillaz.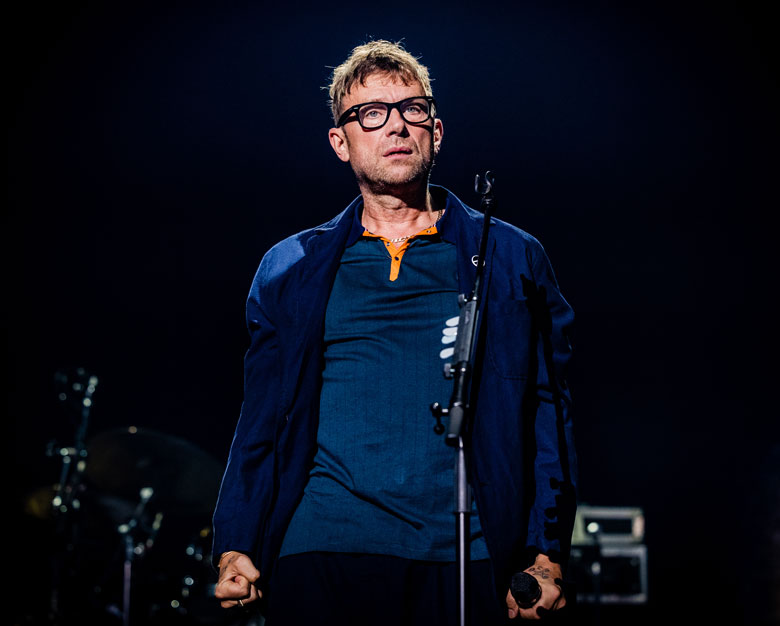 Photos by PR Photos
Add a Comment
83 comments
Average Guess (16 Votes)
5ft 11.03in (180.4cm)
Rory
said on 28/Nov/19
I still stand by 5ft11.5 for Damon, always gives off an above average/tallish impression. Has a good 3 inches on Noel Gallagher whose always looked 5ft8-8.5, and was never a great deal shorter than genuine 6ft2 Alex James.
HonestSlovene
said on 18/Nov/18
He's bang on 5'11". Can look 5'10" or 6'0" at times.
Rory
said on 26/Sep/18
Tbf looking at Damon with people like Phil Daniels,Fernando Torres,Liam Gallagher,Robbie Williams,Bob Geldof,Frank Skinner,Luke Evans and Brazilian Ronaldo it's hard to argue any less than 182cm range. When he stands well he looks closer to 6ft than 5ft11. I think an upgrade is needed, it's clear the 5ft11 at best argument is just down to poor posture, it's an illusion. For a measurement when standing tall I couldn't argue less than 181 and quite probably more. 5ft11-6ft is a range he can look right across.
Alex James- 6ft2.25
Damon Albarn- 5ft11.5
Graham Coxon- 5ft11.75
Dave Rowntree- 5ft10.5
Rory
said on 21/Sep/18
I've changed my mind on Albarn now. I used to think he was no more than 5ft11 but I now think that was mainly down to poor posture. I feel 181cm could be possible if measured. He's a guy who can look anywhere from 5ft10.5 to 6 ft.
Animus
said on 8/Jul/18
I just saw him live in concert up close and he looked at most 5ft11. Around 180cm is fine.
Balls
said on 25/Jun/18
Damon is 6 ft minimum
Rock Superstar
said on 19/Feb/18
Rob,
There is no way the difference between Damon Albarn and Liam Gallagher is less than 1 inch!
Looking at a range of photos of them, I estimate it to be 1.25" minimum.
It can look even greater - but camera angles and posture differences may be the cause.
You'll see what I mean.

Editor Rob
At times Albarn's posture is pretty shoddy, but standing tall can look 5ft 11, maybe it is still the best mark.
Rory
said on 18/Feb/18
Rob,
Do you think in a picture like this Albarn is losing height by leaning or Weller is actually just taller than him ?
Click Here

Editor Rob
There is a chance that Weller was close to 5ft 11 peak and a little 1cm loss by now.
Rock Superstar
said on 17/Feb/18
Hmm, this puts Liam Gallagher at 5' 9.75" (177 cm) tops - as there appears to be a 'big inch' difference, like at least 3 cm between him and Albarn. There's absolutely no way it's less than 1 inch.
And Noel Gallagher back to 5' 8" flat - maintaining the 1.75" difference between him and Liam. It's very close to 3 inches between Albarn and Noel - 2.75".
There's definitely a 'big' 3 inch gap between Albarn and Alex James.
Could Alex actually be more like 6' 2.25-5" range, instead of just a flat 6' 2"?
I'm sat on a coach as I type this out and 'Blur - Girls and Boys' has just come on the radio, haha! How about that for synchronicity!
Rob, what do you reckon?

Editor Rob
I think he is close enough to 5ft 11, but with Alex seemed a weaker...with Gallagher I'm not so sure there is a big inch in it.
Sixone
said on 1/Feb/18
Damon is at least 6'0
trumpslave
said on 13/Apr/17
@Rory football shoes have a little lift everybody knows it damon is at least 5ft11 or 5ft11.25
HonestSlovene
said on 7/Apr/17
@trumpslave Damon: 179.5 cm, Graham: 180.5 cm, Alex: 188.5 cm, Dave: 176 cm
Rory
said on 4/Apr/17
@Trumpslave
What do I expect ? Well I'd expect a guy if he was taller than 180cm to have looked close in height to 184cm(at most, he might be 183cm)Lampard, not 1 or 1.5 inches shorter in the two pictures they share. I also think Paul Weller(181cm peak) edged out Damon in the 90s. Lastly, 181cm Kano also looks a bit taller than Damon. I stress it could be postural with this guy, he might be a guy who could stretch up to strong 5ft 11 range, but I think standing loosely which is his most common stance he looks 5ft 11 at most. Graham Coxon as well has shocking posture and usually looks at least Damon's height and taller when he stands well. Coxons claim is basically 5'11.75 and if he edges out Damon that is pretty incontrovertible evidence that this guy isn't over 5'11.
trumpslave
said on 1/Apr/17
Blur members height:
Damon :181 cm
Graham :182 cm
Alex :189 cm
Dave :178 cm
trumpslave
said on 1/Apr/17
@Rory what do u expect from that pic? I mean lampard is 184 cm so obviously is taller than damon
Rory
said on 31/Mar/17
No he isn't Imo. Frank lampard has at least an inch on him, and Damon looks at most 3 inches taller than Noel Gallagher. His posture isn't great so I think 5'11 is fair but to me he can look 5'10.75 at times. I don't buy those claims of him being over 5'11 he doesn't look a particularly tall guy to me, in fact I assumed before looking he was like 5'10.
trumpslave
said on 28/Mar/17
Damon is 181 or 182 cm just look at the pics of him playing football with 5ft10 liam gallagher.Damon literally towers over him
Rory
said on 12/Mar/17
I struggle to believe Damon would be taller than a peak Paul Weller.
A2Z
said on 27/Jan/17
Looks no more than 5'9-5'10" next to Jude Law LOL.
Jay 184cm
said on 7/Nov/16
There is a photo of Damon with Robbie Williams, both in football kit back in the mid-90's. I can't link to it but they look to be identical in height. There is also the barefoot Unicef photo of Robbie with Beckham - again, both look to be identical in height. As Beckham is a solid 180cm, this means Albarn is also (and so is Williams).
truth
said on 8/Aug/16
Can Graham Coxon get his page aswell Rob? He looks 5'11 to me and Damon could very well be only about 5'10.5 (maybe near 6'0 in shoes).
Dan
said on 5/Aug/16
Look at the comments from people who saw him in person, Rob. 511 and a half is his real height. Maybe 6ft. What do you think?.
Juan
said on 20/Apr/16
I met him in 2013 in Argentina. Im 182 cm, and he was the same height as me.
Rob, he really is this height!
Look the pictures next to liam gallagher. 1 1/2-2 inches taller.
What do you think rob?
Editor Rob: he can look a decent 5ft 11 range
Alex
said on 14/Mar/15
Here's a still from that video of Malkmus with Damon Albarn
Click Here
Pretty sure Malkmus is 6'1, always seemed tall and sinewy. He still makes Albarn look pretty short. He is an absolute lottery – can people change height by a few centimetres every day?!
truth2
said on 4/Mar/15
@Jake I think he is a legit 5ft11 180cm (maybe 179cm) guy and Stephen between 6ft0 nad 6ft1.
Jake
said on 21/Feb/15
In a video on youtube Damon (who is listed as 6' most places) looks quite a bit shorter than Stephen Malkmus (also usually listed as 6')
Juan
said on 20/Jan/15
Met him in 2013. He was a bit taller than me but wearing huge sneakers.
Im 5´11´´
Alex
said on 30/Nov/14
Click Here
The bloke on the left is from the Black Keys and it's well documented he's a definite 5'8". Albarn is behind him but the footwear seems very similar. I would honestly say he looks about 177 here.
Albarn is a very interesting case study, though. I'm a big fan of most of his stuff and I still can't nail a height. He's definitely taller than 5'8" and nowhere above 6', but quite often can seem to hold his height very well and appear a full 183 centimetres.
He has decent proportions and has done throughout his life, very even, and dresses well but never in a way that was slimming. As a young man he was sinewy and skinny and liked plenty of space in his tees and shirts, not to mention the fact he only ever wore 501s – being skinny would've helped him look tall, but wearing the clothes he did probably pegged him back down.
I reckon 175 to the 180 listed is right, I'd put my money on 177/178cm.
Vibram
said on 5/Oct/14
Albarn: 5ft10.75
Coxon: 5ft10
Rowntree: 5ft8.5
James: 6ft1.5
George
said on 22/Sep/14
Huh what? I remember him in Girls and Boys video and he seem to me rather below than average like 5'7". is he really 5'11"?
Wabb
said on 17/Aug/14
'Bassist, Graham Coxon...' Hahahahahahahaha!
No doubt about it - five eleven. Met him twice. Six feet in smart shoes, perhaps.
Spirit Level
said on 10/Aug/14
5' 11" is correct. He's 3.5" taller than Phil Daniels - who Rob has met.
SAK
said on 25/Apr/14
Click Here
all these men within an inch of each other.
Rampage(-_-_-)Clover
said on 25/Dec/13
Solid 180cm, maybe 181cm. He can pass for 6ft with his slim frame
Craig 177
said on 8/Jul/13
This is spot on. It's the slouch that makes his height swing a bit.
truth178cm
said on 25/May/13
I would say shave half an inch and the listing is legit. 179-180cm guy, same as Coxon. In shoes Coxon is 182cm, so that is why he claims "almost 6ft". Kinda like my father,179-180cm in height and he claimed 182cm before too lol.
Arch Stanton
said on 19/May/13
Alex James looks a genuine 189cm guy in my opinion, 6'1" is understated.
Craig 176
said on 2/Apr/13
Alex James is listed as 6' 2" by many sources. He certainly looks it. In fact, he's closer to 4 inches taller than Damon Albarn. If Albarn's 5' 11", then James is practically 6' 3".
I reckon Albarn's a weak 5' 11" and James a very strong 6' 2".
Arch Stanton
said on 28/Mar/13
Mmm looking at it maybe Alex James is more 6'2"? He looks taller than 6'12 in my opinion anyway
Arch Stanton
said on 28/Mar/13
Rob how tall is Alex James then? Got to say he looks 6'3" at least on Pointless Celebrities if Daniels is 5'7.5".
ddi
said on 27/Mar/13
Saw him in McDonalds in Nice in 1997. Closer to 6ft than 5'11. I'm 1m80/79. He was bit taller.
Craig 176
said on 25/Mar/13
5' 10.75" for Albarn. Yeah, thinking about it he's definitely closer to 5' 11" than 5' 10".
Craig 176
said on 22/Mar/13
Just been on Jude Law's page, yeah the resemblance is uncanny now they're both middle-aged. They could be brothers. They didn't look alike when they were in their 20s though. Damon's got better looking with age I think. I think 179 is right for Damon. He's certainly close to 5' 11". He can look 5' 10" or slightly less but his slouch can easily fool us into thinking he's shorter. He's a "proper sloucher" who genuinely does lose height - unlike George Clooney, who is just shorter than he thinks he is but claims that he's a serial sloucher.
I reckon Coxon's 1 cm taller. So Coxon 180 and Albarn 179 seems accurate.
Wabb
said on 8/Mar/13
'Coxon claims to be almost 6ft tall.'
When did he say that?
[Editor Rob: September 14th on his twitter:

"I am still 5 foot eleven and three quarters... 6 foot on a proud posturally correct day"]
Arch Stanton
said on 26/Feb/13
177 dude says on 7/Aug/12
Rob, I know you said previously that you're not so sure of Albarn's height.
I'm a big fan of Blur and I must admit I can't see him any higher than 177-178 cm, barefoot at night. Guitarist, Alex James who is said to be between 6' 0" and 6' 1", makes Albarn even look 5' 9" range at times. Bassist, Graham Coxon (the guy in the glasses) is 5' 9.5" (177 cm).
You can't be that much of a fan, Coxon is a guitarist, Alex James played bass, and Coxon never looked under 5'11..
[Editor Rob:
you can see alex james
With Phil Daniels
who is standing beside me somewhere on this site...]
Arch Stanton
said on 26/Feb/13
Click Here
in fact the likeness here is uncanny!!
Arch Stanton
said on 26/Feb/13
He;s very similar proportionally to Jude Law, they're quite alike, looks 5'11.
Wabb
said on 13/Feb/13
Yep, Coxon's nigh on 5' 11". Met him twice and had pics. I'm 5' 10" and he was a shade taller. No doubt about it.
Editor Rob
said on 29/Dec/12
Coxon claims to be almost 6ft tall.
177
said on 22/Sep/12
Although 5' 9.75" (177 cm) wouldn't surprise me, I'll give him "posture doubt". I reckon if he stood ramrod straight he'd be 5' 10.25" (178 cm) under Rob's stadiometer. He's very hard to pin down. He likes his Dr Martyn's too, so can appear 5' 11"+ as well.
Mark
said on 4/Sep/12
Stood next to him at the Africa express gig in Middlesbrough last night. I'm 6ft 2 and have terrible posture and he is no more than 5ft 9/10
Lord 5' 10"
said on 16/Aug/12
5' 11" morning for sure. 5' 10.25" night. The same height as Brad Pitt.
Cheever29
said on 13/Aug/12
I met Damon twice in NYC in the early 1990s during Blur's early days. He's about 5'10.5'' I'm .25 over 5'10" and we were eye-to-eye.
177 dude
said on 9/Aug/12
Here's Albarn, looking no more than 177 cm alongside Paul Weller - who is listed on here as 5' 10" (178 cm).
Click Here
Do you think that my last 2 posts are enough proof that Damon Albarn is definitely below 5' 11", Rob?
[Editor Rob: I'd need to see more of him to decide]
177 dude
said on 7/Aug/12
Rob, I know you said previously that you're not so sure of Albarn's height.
I'm a big fan of Blur and I must admit I can't see him any higher than 177-178 cm, barefoot at night. Guitarist, Alex James who is said to be between 6' 0" and 6' 1", makes Albarn even look 5' 9" range at times. Bassist, Graham Coxon (the guy in the glasses) is 5' 9.5" (177 cm).
Here are some photos of Albarn with his band mates:
Click Here
Click Here
Click Here
Click Here
Click Here
With (nowadays) 174-175 cm Paul McCartney:
Click Here
With 5' 7.5" (171 cm) Phil Daniels:
Click Here
Click Here
Albarn can look as tall as 5' 11.5" next to Phil Daniels, LOL. But 5' 10" or slightly below it most of the time.
5' 10" (178 cm) at night is where my money would be.
the real truth
said on 21/Dec/11
same height as brad pitt and jude law, 178cm no more no less.
----
said on 17/Dec/11
he stands at 5ft10
Bobbi
said on 27/Sep/11
Ciccio, (and many other crazies on here)... There is absolutely no way that Damon Albarn is 5'7"! What are you on about? He's 5'11". No doubt about it. His posture is terrible, though. And TheVerve180 - Eh? You're way out, mate. They're all taller than that.
CiccioDK
said on 25/Sep/11
He is 5 ft 7. You can see he is not tall at all..
MD
said on 21/Aug/11
Rob,
Do you think this may be too high for him. Here he is with Mark Ronson, generally thought to be 5'11"ish. Damon even has footwear advantage, as well as standing closer to the camera and Ronson leaning down:
Click Here
Even if you put Ronson up at 6'0", it'd still seem Damon's really more 5'10" than 5'11".
[Editor Rob:
there is a few photos, this one being the biggest difference
with Phil Daniels
and
Not so much
. I've met Phil and think he's a little shorter than myself.
at times damon can look 5ft 10 yes, other times maybe 5ft 11. I'm not as sure on this one.]
ScurvyPig
said on 27/Jul/11
I saw him in the Tree House restaurant in Barnes about 5 years ago. I'm 6' 3" but was surprised at how tall he was; quite a big bloke too. Don't let his stoop fool you, he's 5' 11" or 6'. He's certainly not 5' 9".
Shaun
said on 6/Jul/11
Looks similar in height and build to Jude Law.
evmanc
said on 24/Jun/11
i met him today I'm 6ft2 and he was tiny compared to me
truth
said on 7/Jun/11
5ft9 it is then. looks average.
TheVerve180
said on 8/May/11
mhm yeah everyone adds a few inches on their height cant blame lol were men after all.
Dave Rowntree 5ft8-5ft9
Damon Albarn 5ft9-5ft10
Graham Coxon 5ft9-5ft10
Alex James 6ft
They are all a good height for their generation and even now.
TheVerve180
said on 3/Feb/11
Anything lower than 5ft10 for him is out of the question.
Danny
said on 10/Jan/11
Guys, Damon Albarn is most definitely not 5' 11. Recently, I was watching an interview with him and Stephen Malkmus of Pavement, who is listed at 6 foot (
Click Here
). In the interview, they are both standing next to each other. Here is the interview:
Click Here
Fast forward to get to Damon and Stephen. If you pause at 1:29, you can clearly see that Stephen is at very least 2 inches taller than Damon. I would give Damon 5' 9.5, 5'10 if I'm feeling generous.
Anonymous
said on 10/Nov/10
He does make Phil look short.
But Phil is only 5 7 and a half.
Click Here
Between 5'11 and 6', no more though.
Anonymous
said on 27/Oct/10
6', just watched a repeat of a gig they did at old Wembley Arena, when Phil Daniels came on to do Parklife he looked real short next to Damon. Easy 6 footer.
Anonymous
said on 12/Dec/08
seen a pic of him where he looks a liTtle shorter than paul McCartney
albarnholic
said on 4/Nov/08
Alex James is 6'2
Noa
said on 23/Sep/08
Does anyone know how tall alex james is? ( bassist of blur)
o1wyn
said on 20/Feb/08
saw him last summer. my height is 5'9, and i think 6ft for damon is much closer to the true.
nlg
said on 9/Oct/07
Seen him up close in Camden 12 years ago and again up close in the old trout pub in windsor back in '94. I'm a 100% legit 5'11" barefoot and back then could have a bit more. Albarn was at least an inch taller than me. 6 foot to 6 1/2 barefoot would be my estimate. He's clearly got 2 inches on 5'10" Liam Gallagher. A strong six footer without a doubt. Don't let the posture fool you.
Roger
said on 12/Apr/07
In the photos at the Apple/EMI press confab last week, he looked to be about an inch taller than Steve Jobs, who I think is around 5-10ish, so 5-11ish seems right. They were standing next to each other and probably in similar footwear, so that shot should be a good judge.
an 'in the day' blur fan
said on 6/Apr/07
definitely not the smallest in blur, 6ft more like not under, probably not over either,.... as to comment below he would be taller than Brad pitt.... they have very different physiques...DA tall and slim, BP slightly smaller and more filled out
Johan
said on 24/Feb/07
noo cendrin. he's not the smallest in blur, graham is 1,79 m, damon 1,80m, dave 1,75 m, and alex is 1,88 m.
Jessica
said on 25/Apr/06
I've saw him face to face walking by notting hill in a tour.
I' 5'7 he was taller than me, y think he is 5'11 or 6'
Anonymous
said on 16/Apr/06
he was about two inches taller than simon tong of the verve when they perfromed back in 2003 on letterman. simon tong is about 5'10 so damons around 6 ft
Sara
said on 20/Mar/06
I think this is the right height...but i am not sure ..he is a neighbour of mine and i have spoken to him and he is a little taller then me so i think this is right!
cendrin rovin
said on 3/Mar/06
...no, no, damon is the smallest in blur... hes one or two inches smaller than the drummer whos 5-10, just read the blur biography.. take a good look, hes a 5-8 guy, hes not as tall as brad pitt, come on...
James
said on 21/Feb/06
Saw him in a restaurant in Barnes a couple of years ago. I'm 6'3" and was
suprised how tall he was. He's also got quite a large build. I would say that
5'11" is about right. Don't forget he's got terrible posture.
Sticks
said on 24/Aug/05
I like the use of the sightings, Rob. Hate the use of pictures without feet. It doesn't matter who's closer because we've got the handy bricks on the wall. Albarn could definitely straighten up and Law probably could too. The bigger issues are their shoes and what their feet are doing. I've looked at plenty of Law pictures and this guy is full of tricks. Those are weird sightings, though: "there is no way he is 5'11" but 5'11" is possible"? "He was a bit/lot taller"? I'll play. Let's find some Albarn-Law pictures and sightings.
[Editor Rob: I'll add the few others I got on the blur newsgroup:
"I have to kind of agree on that one. I am 5'9" and everyone said Damon was just my height if not shorter. At least that is what all my friends said. So, he can't be 5'11".""Damon isn't anywhere near 5'11". I'm 6'2" and standing next to me he was short. I reckon he's about 5'8" / 5'9"""It just isn't possible that Damon is 5'11, cos he was only a bit taller than me and i am 5'6""I can't believe I'm doing this.... 5'11" sounds just about right for Damon.. well, maybe 5'10".. see, I'm just under 6' and Damon was not that much shorter than I am"
]