Noel Gallagher's Height
5ft 8 ¼ (173.4 cm)
English singer-songwriter from Oasis. In The Guardian in January 2000 he said,
"I said we were bigger than God, but what I meant to say was taller. I believe Jesus was 5ft 7in and I'm 5ft 8 1/2 in"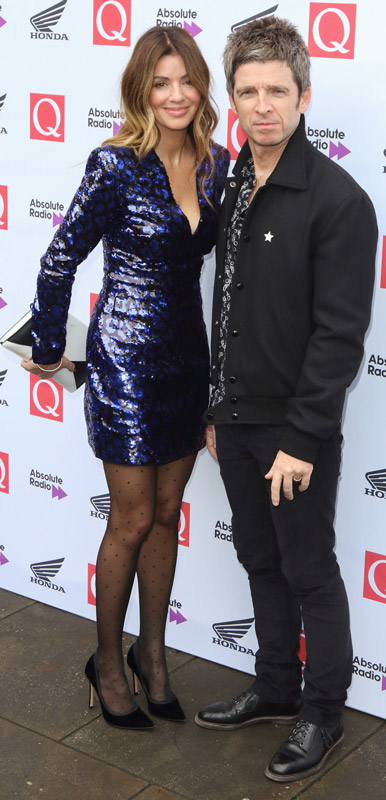 Photos by PR Photos
Add a Comment
139 comments
Average Guess (24 Votes)
5ft 7.97in (172.6cm)
Nik
said on 20/Sep/20
@ louielouie - I like your name! That's interesting!
How tall are you?
Arch Stanton
said on 19/Sep/20
I bet you his son Donovan will be a model. Does look a bit like Noel but obviously gets his looks from his mother. That woman is way way way out of his league, but being a rich, arrogant rock star is kind of like the equivalent of looking like Brad Pitt I guess! You'd expect Noel to be with somebody a little less chirpy looking, more surly like Meg Matthews haha!
Miss Sandy Cowell
said on 29/May/20
🎁🎂🎶🍻 Happy Birthday Noel! 🍻🎶🎂🎁
Wishing Noel Gallagher a wonderful 53rd Birthday!
5ft8.25 😁👍
🎁🎂🎶🍻🎁🎂🎶🍻🎁🎂🎶🍻🎁🎂🎶🍻
louielouie
said on 18/May/20
@Nik
Only 4 inches? lol we are talking about 2000 years ago, he was probably at least 6 or 8 inches taller for his generation, today that is like a 6'3" 6'5" dude
Nik
said on 1/Feb/20
If Jesus was 5'7" he will have been about 4 inches above average for his generation, he will have been like a tall 6'1" guy today!
Nik
said on 1/Feb/20
@ Rob - How tall is the girl?

Editor Rob
His partner can look in 5ft 6 range
FiveEightJake
said on 13/Nov/19
Was watching a Liam Gallagher interview recently that was called 73 questions, he was asked "Who would play Noel in a film depicting Oasis and he said "The little fella from Ant & Dec"
Suprising comment considering LG isn't much taller than Noel but I guess sibling rivalry is a real thing lol, get your digs in first :D
I'll guess Noel at 5'8, think that's a safe guess, doesn't look much shorter than that nor much taller.
Paul Wood
said on 26/Aug/19
173cm or 5ft 8.11in. I've only been so specific because he's not one of my favourites.
SnerhagAip777
said on 22/Mar/19
Would be interesting to see a picture of Big Rob next to Noel Gallagher. I doubt it's gonna happen though sadly.
digling
said on 20/Nov/18
I didn't see any pics of him but I went backstage on a gig of him and swore he could be 172cm tops
HonestSlovene
said on 14/Nov/18
I think he's just 5'8" more or less, and a good example of one, since it is overrall start of average and not short.
Nik
said on 24/Sep/18
It would be interesting to see him pictured with Rob!
Rory
said on 21/Sep/18
I still think there's validity to his 5ft8.5 claim. He can look at least that with people like Alan Carr and Jason Statham. He often pulls off a near average range rather than short.
Leno179
said on 28/May/18
No taller than 174, and no shorter 173.
Rock Superstar
said on 4/Mar/18
I can't open those two images for some reason - must be my rubbish phone, lol. I'll try on a PC.
Remember though, that Liam often only looks 5' 9.5" with people. He mostly wears flat half-inch shoes, giving the illusion that he's a bit shorter than he really is.
His posture isn't great a lot of the time too.
Rory
said on 3/Mar/18
@Rock Superstar
That is a fair point about his hair. It definitely has more texture and volume now than it was in the 90s, but I'd dispute Liam having as much as 2 inches on Noel.
Click Here
?
Rock Superstar
said on 2/Mar/18
Noel can look 5' 8.5" a lot - but also 5' 8" just as often.
When both are stood straight in the same footwear, there's no less than 1.75" between him and Liam.
Liam cannot be over 5' 10" - check him out with Damon Albarn, Alessandro Del Piero, Alan Carr, Chris Rock, etc...
Noel styles his hair a lot differently to how he did in the 90s - a lot more texture and volume now, giving the illusion of an extra fraction of height.
You'd never say 5' 8.5" minimum alongside Johnny Depp or Sir Paul McCartney, for example.
I think the 5' 8.25" really is spot on overall.
Rory
said on 1/Mar/18
The more I see of Noel actually the more I think his own 5ft8.5 claim is credible. With people like Gervais,Mo Farah,Tony Blair,Matt Smith and Simon Cowell he pulls it off easily. I actually think there's no more than 1.5 inches between him and Liam and often it can look less owing to Liam's poor posture. Certainly I can't see him below solid 5ft8 range.
Rory
said on 4/Feb/18
I don't think Albarn has a full 3 inches on him. More 2.5-2.75.
Ajay
said on 31/Jan/18
Rob, he looks at most 0.5 inch taller than a self-proclaimed ''5'7 and a bit'' man like Alex
Click Here
if not the same height.
He also looks a full 3 inches taller than 5'11 Damon Albarn
Click Here
even though it's not the best shot. 5'8 was a safe bet I believe.
HonestSlovene
said on 11/Jan/18
Well ok 5'8.25" is alright.
The Shredder
said on 11/Jan/18
Sometimes in photos it can only look 1 or 1.5 between the brothers and we don't always know their footwear , but in general next to other people he honestly doesn't look under this listing.
Rory
said on 10/Jan/18
Yh it wouldn't make sense to keep him at 5ft8 flat just because he looks it with one person (Liam) when he can look over it with a plethora of other people. A strong 5ft8 is what he looks and it also happens to suit his two claims of 5ft8 and 5ft8.5.
HonestSlovene
said on 10/Jan/18
@Rory Liam has consistently looked 2 inches taller than him and he isn't over 5'10" flat judging by pictures. Although this listing is still decent in my opinion. I think 5'8" flat for Noel is ok.
Editor Rob:
I did have a look at him a few times again and thought the odds of a solid 5ft 8 were decent...with Cena, he looks taller than someone like Daniel Bryan
Click Here
.
Rory
said on 9/Jan/18
How is it an unnecessary upgrade ? Noel can look 5ft8.5 half of the time so a strong 5ft8 range is very fair. He has inches on guys like Hatton,Tevez,Aguero.
HonestSlovene
said on 9/Jan/18
Uncessesary upgrade, but he could measure anywhere 5'7.5" to 5'8.25" though.
Rory
said on 9/Jan/18
Yh 5'8.25 is a good call looks spot on.
Morning 178 cm
said on 1/Jan/18
The counterpoint to Noel being 5' 8.5" is Liam's height.
That would mean Liam's more like 5' 10.5" - as he's about 2 inches taller than Noel.
But if you see him with people like Damon Albarn and David Beckham (both 5' 11") or Chris Rock (5' 10"), Liam looks 177 cm absolute tops.
Also, look at Noel with Johnny Depp and Kate Moss - looks more like 5' 7-8" at best with them.
What do you think, Rob?
Editor Rob: at times there seems anywhere from 1.5-2 inches between the brother's. I think a solid 5ft 8 range is ok for Noel and roughly 5ft 10 for Liam.
The Shredder
said on 30/Dec/17
Rob is 5'8.5 possible for him next to Ricky Hatton? He really looks nothing else. I think his 5'8 claims are just modest and the 5'6 claim is clearly just him joking around because he has troll type of humor to him
Editor Rob: it's a possibility for him..
Rory
said on 24/Dec/17
I think he edges out Simon Cowell in their picture. I really do think 5'8.25-8.5 is possible for Noel.
Adriano
said on 4/Dec/17
I met him in the street once and shook his hand. I'm just under 5.7 and he was shorter than me. He's also quite slight
randomuser
said on 23/Oct/17
Looks very tall
HonestSlovene
said on 8/Aug/17
@Charlie LOL @ him looking very tall, he mostly looks upper short/weak average because that what he is. Legit 5'8" (173 cm), maybe slightly under (171-172 cm or 5'7.5-5'7.75").
Charlie
said on 1/Jul/17
He does look very tall 5'8 seems about right for him.
Fullheight7
said on 23/May/17
Hey Rob ! If Noel is about 5´8, where is Tom Meighan from Kasabian ?
Here he is next to Noel
Click Here
With 6'4 Serge
Click Here
Editor Rob: he didn't look much different than Liam, I mean a bit over 5ft 10 like 179
Paul 177 cm
said on 25/Apr/17
Spot on.
Looks 5' 8" with most people he meets.
Rory
said on 28/Mar/17
I think 5'8.25 for Gallagher, he never looks under 5'8 Imo.
Felipe
said on 17/Jan/17
He is 5ft 8in.
MattyB
said on 18/Dec/16
Noel walked closely past me a few years ago and I'd say he's exactly the same height as me, I'm 5'8" without shoes on...
HonestSlovene
said on 9/Dec/16
He is pretty close to 5'8", if not then a shade under like 172 cm.
Genst
said on 27/Jul/16
He says his height is 5'6" on Talksport. Do you think he's just joking rob?
From 53:15-53:23
Click Here
Editor Rob: yes if he said 5ft 6 I'm sure it is a downplay of some sorts.
Christian
said on 12/Apr/16
I stood next to Noel in London in the summer of 96. I was on a school trip and we were five students walking down the street and Noel passed us. We got his autograph. He was 5'8''.
truth
said on 26/Mar/16
I would say close to 5ft8 (173cm), 5ft7.5 (171-172cm) or at least 3 inches shorter than 5ft10.5 (179cm) Damon Albarn.
plazaman
said on 19/Aug/15
Noel confirms on Talksport dated 29 July 15 that he is 5'6"
JM
said on 6/Aug/15
Met him some years back. Seemed shorter than 5'8", and a very small frame too, which may have added to the illusion.
Parker
said on 21/Jun/15
Noel Gallagher is a minimum 5'8 in my opinion. I can believe his 5'8.5 claim.
Here he is with 5'8 listed Segio Aguero, although I think that's Sergio's max height.
Click Here
sojune095
said on 29/Oct/14
does anyone have ever meet noel at once time? stand in front of him? i'm, in south korea 173cm is average height of 20 ages, i didnt know he shotter than me, i'm 176cm
MarkyMark
said on 4/Jun/14
omg Noel is absolutly not 177cm. Why would he downgrade himself by saying he's 5ft8.5 ?
omg1234
said on 11/Apr/14
noel gallagher is 177cm, liam gallagher is 180cm it's same as paul weller and paul mccartney. damon albarn is 182 cm. carlos tevez is 173cm when he take a picture with noel, noel is taller. sergio aguero is 173cm and noel still taller than aguero.
The Exorcist
said on 2/Mar/14
Noel Gallagher: "I'm only five-foot-eight, yeah".
Start the video at 3:19
Click Here
MetalKid
said on 30/Dec/13
Yeah, I've seen that interview, Dean. Noel's awesome, lol. 5'8" is about right though, and he's usually an honest guy.
Pascal 5 10
said on 21/Sep/13
He's 5' 8". Liam's 2 inches taller. I'd have actually guessed 5' 9" originally, he comes across as an average height guy to me. But that would make Liam 5' 11" - which he's not because Damon Albarn's 5' 11" and he's clearly taller than Liam.
truth178cm
said on 31/Jul/13
yes dean that interview! Do you know where on yt is it? I though he said 5ft6 there. Anyway, about 5ft8 at least.
Dean 5ft 9.25
said on 25/Jul/13
There was an interview that sticks in my mind. He said something then said 'but Im only 5ft 8'. The interviewer then said 'im 6ft 1'. He replies 'Well Im a multi millionaire'.
hes claimed 5'8 and hes not the type of guy to underplay his height..if anything over play. Id say 172-173cm.
Craig 177
said on 9/Jul/13
He's 173 cm. Another listing Rob has spot on. Liam is almost 2 inches taller at 5' 9.75".
Gaz
said on 29/Apr/13
Noel with 5'6'' Ricky Hatton
Click Here
i could belive his claim.
truth178cm
said on 28/Mar/13
Probably 5ft7, thought I remember him claiming 5ft6 on some show. Can look anything 5ft6-5ft8 and has claimed those heights before too. Nothing over 5ft8, nothing under 5ft6.
Craig 176
said on 25/Mar/13
Sounds like he was wearing lifts! Either that, or you were actually stood next to Liam...
UKbound
said on 24/Mar/13
Met him last night. I'm 5'7"and he had at least 2-3 inches on me. I would say 5'9" to 5'10" He stood next to my friend who is 6'and he was just a bit shorter but he may have had some help in the shoes.
Bushbranch
said on 30/Dec/12
5 ft 7. Defo downgrade.
GK
said on 22/Oct/12
He's always been 5 ft 7.
IWishIWasALittleBitTaller
said on 6/Jan/12
Yeah, looks a few inches smaller than Liam. More talented though.
theenforcer22
said on 11/Oct/11
He's 5 ft 7. Defo downgrade. Very slight frame/build too.
hfhdf
said on 25/Jul/11
no less than 5'8.
Anonymous
said on 19/Dec/10
You have to downgrade his height to 5'7".
jtm
said on 18/Nov/10
the same height as statham so 5'8 is possible.
yoyo
said on 22/Jun/09
pretty accurate.. 173 at most..
Lozzer
said on 13/Jun/09
I want a photo with him. In fact, next time he is at BBC radio I will definitley!
bobo
said on 12/Jun/09
But they aren't Lozzer. So thats the end to that little anecdote. If Noel was 5 foot 6 he wouldn't look like the 5.8 that he is. Simple really.
Lozzer
said on 7/Jun/09
Saw Noel and Liam lastnight! They looked tiny to be fair! It was from a few metres away but liam seemed 5'8 and Noel 5'6!
gizmo
said on 6/Jun/09
i believe he takes a size six
bobo
said on 3/Jun/09
Alright. I geddit. Sort of.
Lozzer
said on 2/Jun/09
Noo bobo I was saying that I was comparing the photo of me and hatton with the photo of Noel and hatton.
I am 5'8...NOEL looks taller next to hatton in his picture... This is because it was when hatton was boxing... And boxers usually don't wear shoes..... Hence why Noel looked taller with him. Whilst when I met him... He had a big heel on... Hence why I looked smaller in comparison!! I had a 0.75in heel on!
Understand???
bobo
said on 2/Jun/09
I have never met NG. Ever. I have seen him loads of times at intimate acoustic venues. And he always wore flat shoes. I actually don't understand the first two sentences of your last post, Lozzer. Who was in the smart heel? who made you look smaller? Why are you telling us? If Hatton was in Bare feet, why are you smaller in comparison? WTF?
Lozzer
said on 1/Jun/09
Bobo... Hatton was in smart clothes when I saw him with a pretty hefty smart shoe heel... With Noel, as he is usually boxing he is probably in bare feet, therefore making me look smaller in comparison!
Where can I meet him aswell lol?
bobo
said on 1/Jun/09
Noel gallagher does not wear lifts. He is not bothered about his height. He is perfectly at ease with himself. Everytime I have seen him he was worn flat trainers. He also has rather academic coudln't give a monkeys slouch going on. He suits his height and is well proportioned. I would say 5.8 or taller if he stood up straight. To debate less is just trolling.
Lozzer
said on 31/May/09
Oh and by the way... Hatton could well be 5'6 but after standing next to him in his gym in Hyde for a good 10 mind I'd say 5'5.5" for definite... Trust me!
Lozzer
said on 31/May/09
JP... evidence but no proof my friend!
Lozzer
said on 31/May/09
I met hatton a fortnight ago and got a similar pic of what Noel had with him. I am bang right on 5'8" in the evening and after comparing mine and niels pics with him... hate to say it but it seems Noel has the height advantage in the pics!
Maybe he wears lifts!
VT
said on 29/May/09
Noel passed me on Marylebone High Street a week or so ago. I was surprised how short he was. 5' 6" or 5' 7". I'm 6'.
bobo
said on 29/May/09
He is 5.8 or taller its stupid to debate any less. There are far too many pics with him and Ricky Hatton as well as with Russell Brand. I would even say 5.9 after standing about 5 feet from him in Moscow Russia. He has quite bad posture but is very much in proportion, quite Pixie like. But he doesn't come across as 'small' just, well, average. He suits his height. Anything below 5.8 is just trolling.
JP
said on 24/May/09
Harold says on 16/May/09
Noel is 5' 6". See this video Click Here from 6:27. He says himself as "****ing five-foot-six".
He say's that in order to make the reporter seem like he has a massive advantage over him and for comedic effect because he's quite clearly not insecure about his height, he's stated 5'8" plenty of times, the man is 5'8" at least why can't you people handle the truth the photo's i posted quite blatantly and clearly prove that and every other celebrity i've seen him stood next to suggest he's a least 5'8", just accept it for f***k's sake!
Brad
said on 17/May/09
Ricky Hatton is one small guy. I'd like to see him against Hector Camacho 1985.
Brad
said on 17/May/09
5' 8" is ridiculous. I stood right next to him and he was a very weak 5' 7".
Harold
said on 16/May/09
Noel is 5' 6". See this video
Click Here
from 6:27. He says himself as "****ing five-foot-six".
SHAUN
said on 23/Apr/09
According to his book he is Ricky Hatton is 5'6".
j.
said on 8/Apr/09
Doug and anyone else who disagrees, he's 5'8 at the very least end of story!!!!
First photo, stands next to 6'2" Russell Brand who would absolutely dwarf him if Noel was anything below 5'8.
Second photo, stands next to 5'11 Paul Weller and Paul McCartney looks a couple of inches shorter if that.
Third photo, he's next to 5'6+ Ricky Hatton and Noel has his head tilted taking an inch of his height, he would be 2-3 inches taller altogether than Hatton if he stood up straight.
Click Here
Click Here
Click Here
Can't believe it's taken this much proof for people to believe Noel Gallagher is not 5'6 and 5'7 at the most like some people keep saying, I really don't get it! He's 5'8 at least, clearly!!!! People have odd judgement.
mike
said on 8/Apr/09
walked past him on oxford street in the mid-90s. he did seem to be about 5'8" but i didn't get a good look at his footwear!
Doug
said on 5/Apr/09
5'8"? Na he is 5'7" max. Why would he frequently be called a "dwarf" if he was 5'8"? Robbie Williams isn't exactly 6'6" himself is he?
Sidney Rotting
said on 26/Mar/09
It's funny ain't it, you'd think they were massive chaps the way they walk around with their chests out etc.
Austrian
said on 9/Mar/09
ok after seeing them on tv im pretty sure it was Noel who i saw actually.... and im very sure that he was at least 5'9 tall
so if it was really him then all these claims on here of him being 5'7 or 5'6 are plain ridiculous.... considering that, the comment of "Garzietta" doesnt surprise me, and he also sounds more reliable than most other people on this page :)
Austrian
said on 26/Feb/09
ok.... i passed a guy on the streets here in vienna yesterday and i was absolutely sure it was an oasis dude... even though it seemed kinda unlikely that a member of oasis would walk around in austria all by himself.. but now i found out that oasis is playing a concert in vienna tonight, so it was really one of the gallaghers
problem is just, i dont know which one it was
however as far as height goes he was 5'10 pretty much spot on.... so i assume that it was liam rather than noel
j.
said on 20/Feb/09
right! in this photo he's stood next to 6'0 tony blair, you can't tell me he's less than 5'8... face it thats his height end of story!
Click Here
Wes
said on 19/Feb/09
I stood next to him waiting to cross a road in central London a few years back. He was quite a bit shorter than I imagined he would be. 5' 7" max, possibly 5' 6"
Doug
said on 2/Feb/09
5'8"? Mmm always looks 5'6" - 5'7" to me. He often looks a little under average I think, especially when interviewed by female presenters who have to stoop down to interview him. Plus the tiny size 5 feet, has to be under average....
Doug
said on 2/Feb/09
5'8"? Mmm always looks 5'7" to me. He often looks a little under average I think, especially when interviewed by female presenters who have to stoop down to interview him.
sybil
said on 30/Jan/09
My sister stood next to them the day before yesterday at Bruxelles airport (they're on tour), and she was astonished at how short Noel is..she said he looks 5'7''TOPS, maybe shorter. Also, she said Liam looks about 5'11''(180 cm).
Skycalico
said on 7/Jan/09
I stood next to Noel, Liam and Bonehead on a sidewalk in Manhattan in the mid 90's. I'm female; 5'7" ... Noel was about an inch shorter than me, and Liam seemed atleast 2 inches taller than me.
Lozzer
said on 30/Nov/08
Whoosh, Which interview?
Whoosh
said on 29/Nov/08
Stated that he is 5'6" in an recent tv interview.
Anonymous
said on 8/Oct/08
looks about 6 inches shorter than andy bell....
Alex
said on 25/Sep/08
no ways not 5 8... i have a pic of me and him... i'm 5.3 he must be atleast 5.6 no more than that.
Anonymous
said on 13/Sep/08
from gawker.com: "Noel Gallagher from Oasis (sooo short! and angry!) crossing the street at 59th & Madison".
howie day
said on 8/Sep/08
a firned of mine whos is 5'7 said that noel was 5'6...and I believe him...he woudlnt lie..haha
Lawrie
said on 27/Aug/08
You can find out yourself how tall noel is if you know where the bbc r2 house is. It's easy to get to! Noel goes there like every week or something - get yourself an autograph! Contact me via messaging if you want to know!
Lawrie!
Anonymous
said on 15/Aug/08
I think they might have grown from the very start of their careers, they looked like kids at the start of the 90s. i'm around 5'7" and we used to see them on our road visiting Happy Mondays' Shaun Ryder and they were tiny then. Hope this helps
Caleb
said on 31/Jul/08
This definitely needs a downgrade. He's 5'6" - I remember him saying it himself in an interview in the NME when Oasis first came out, and Liam is not much taller at 5'8" max.
Shaun
said on 13/Jul/08
I remember when I was young (THOSE WERE THE DAYS) and I read in the 'Smash Hits' about Oasis and it was an introductory piece about the band. It said and I quote, Liam, not very tall - 5'8" and Noel, a bit titchy - 5'7". It must have been a 1994 issue, selling the big issue!
Supersonic
said on 26/Jun/08
Met him 2 times. i'm 5'7 he's definitely 5'8-5'8,5
Ant
said on 7/May/08
Have met Noel and seen him at football quite a bit if he stood up straight he could make 5ft 8.5, doesnt have the best posture. Wouldn't call him a dwarf. in Manchester 5ft 8 is about average we are all under nourished!
Jack Daniels
said on 14/Jan/08
Hey Natalie you talking about Noel or Liam? Noel can't be 179 cm, but Liam, yes.
natalie
said on 12/Jan/08
on his mugshot from the german police it said 179cm, so slightly above 5
wigan here
said on 27/Oct/07
Bingo Noel is 5'6.5 and has size 5 feet, but wears size 6 with tissues in the end.......
Evanna
said on 11/Sep/07
Rob why don't you add Ian Brown to this site, you've got all damn soap stars listed here but comparably few musicians. As for the comments below, Ian Brown is not 5'9", he is exactly my height which is 5'8.25", I've seen him enough to be able to tell. He is very skinny and has a big head, which makes him look even shorter. And Noel Gallagher is smaller than Ian, I believe he's around 5'7", but I'm not sure about him.
JonDoe
said on 31/Aug/07
David do you really think the 2 inches of height you have on him makes you
"superior"?
noel
said on 25/Jun/07
I've met him he's a tiddler. 5'6-5'7
Reda
said on 16/Jun/07
I've met Noel twice; he is a LOT smaller than me and I am 178cm [5'10]. He is around 5'6 and has tiny feet.
dmeyer
said on 7/Jun/07
average white men in american is 5'10.1 178.2 cm thats not bad
Austrian
said on 22/May/07
hey scott you can call Noel a dwarf since hes 5'8
but you cant really call Liam a dwarf since hes 5'10
or how tall are you yourself, 5'11? lol
Lmeister
said on 19/Feb/07
Noel sings sometimes, but is the lead guitarist/songwriter. He is in the 5'7''- 5'8'' range and Liam is 5'9''- 5'10'' range...
The Judge
said on 18/Jan/07
Excuse me Scott and johnnye but you're wrong! Noel is 5'8.5" and Liam is 5'10", not 5'7" or 5'8"...I think that you don't know them! I saw q awards in October 2005 and there is not a very big difference between chris and noel, but I think noel wears big shoes.
Morten
said on 11/Jan/07
What is the average height for a man in the UK?
johnnye
said on 3/Jan/07
scott, they aren't dwarves mate, 5-8 which is liams height and 5-7 which is noels are just below average, they are short, but they aint dwarves mate
well anyway chris martin from coldplay ho is easily 6-2 is taller than noel by A LOT i saw them in person at the Q awards in 2005 an they were simply funny
chris martin has also referred to liam as short in interviews after liam was making rude comments about coldplay during their acceptance speech
noel may be 5'8 in smart shoes(dress shoes) but not in barefeet
he's a small one indeed but not a pygmie lol
Scott
said on 10/Nov/06
I cannot believe it! The so-called hardman of pop (Liam) and his brother are pygmies?
Who hypes these people to be hardmen when in fact they are dwarves? ffs
David
said on 22/Sep/06
I stood next to him at a party and I was amazed at how small he was - especially for someone who's always going round trying to pick fights with people... I;m 5'8" and I would say he was about 5'6"
evan
said on 18/Sep/06
noel definately aint more than 5'7. You can quote Noel saying "5'8" but everyone knows short celebrities often add a couple inches onto themselves. Met the man myself as saw Liam and Gem go by and got Noels autograph back in 2003 during the HC tour, I'm 5'8 and Liams taller than me but Noel I stood right next to and he was at least an inch shorter.
The Judge
said on 6/Sep/06
Impossible! The french animator Nagui, who's 5'8.5" looks the same height as Noel. He can't be 5'7" or smaller...
a lamb
said on 24/Aug/06
Hes listed as 5'7 on most Oasis fan sites. My friend whose about 5'8 got his autograph a few years back and said he didnt know Noel was so tiny, claimed he had at least an inch and a half on Noel.
Anonymous
said on 22/May/06
clare is delusional..noel is only one inch shorter than his bro who's 5'10 further proof he's 5'9 is the video he did with ian brown for the song acalled keep what ya got in 2004 he has a scene where he walks into ian and they're exactly same height. ian brown's 5'9 for sure
Clare
said on 9/May/06
I often see him around Marylebone, London. I'm exactly 5'8 and wear ballet flats - he is WAY shorter than me, 5'6 at the most.
Midget Spotter
said on 22/Apr/06
I've met him, there is no way he is 5'8" he is considerably shorter.
Lindsay
said on 3/Apr/06
How can you be sure that he is 5ft 8in? Cause, I think he's MUCH shorter. Did you measure him yourself? hhmm... I think he's lieing in his quote about god being 5'6 and him being 5'8", cause he's small, im tellin ya.
CelebHeights Editor
said on 4/Dec/05
Following up from last post, he did say in the Guardian the extra 1/2 inch:
"I said we were bigger than God, but what I meant to say was taller. I believe Jesus was 5ft 7in and I'm 5ft 8 1/2 in"
. So it is feasible 174cm...
Garzietta
said on 29/Nov/05
Noel is 1.75 or 1.76 cms... i was with him in the Chilenian part of the "Be Here Now" tour in 1998... and he was exactly as me... 1,76... both where with snickers... Saludos desde Chile.
absolution
said on 19/Jun/05
www.oasisfanatic.com says that he´s 5ft7.
anyway, he looks very big on tv.
Supernova
said on 7/Jun/05
Saw a video clip of him singing "Live forever" together with 6ft1 Chris Martin, I`d say 5ft7.
CelebHeights Editor (in the voice of Noel Gallagher)
said on 18/Mar/05
"God is 5'6", I'm 5'8"
- Noel after his comments about Oasis being bigger than God.