Dave Annable's Height
5ft 9 (175.3 cm)
American Actor best known for playing Justin Walker on TV series Brothers and Sisters and for roles in other shows like Heartbeat, Red Band Society and 666 Park Avenue. He once mentioned his weight and height on twitter:
I'm 5'10 [and weigh] 160 [pounds].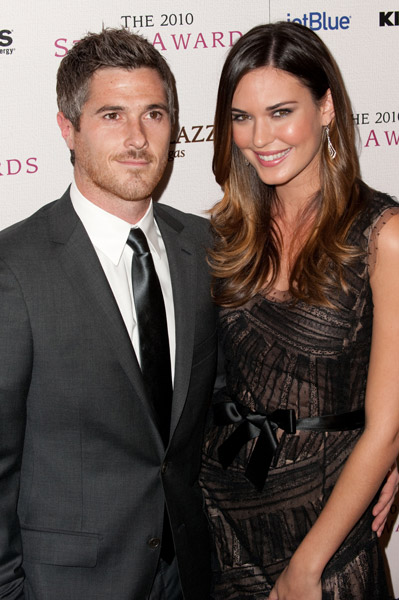 Dave with
Odette Annable
Photos by PR Photos
Add a Comment
26 comments
Average Guess (6 Votes)
5ft 8.88in (174.9cm)
Miss Sandy Cowell
said on 15/Sep/19
🎂🎈 Happy 4️⃣0️⃣th Birthday Dave! 🎈🎂
I knew that name from somewhere just now when I found it on my Birthdays app! Of course, he's the lucky lad who married Odette Yustman, who I've seen in at least one impressive horror - and she then went on to join the cast of 'House'.
I have yet to see Dave act, so I will assume that Rob's 5ft9 is spot-on!
I wish him a very memorable BIG 4-0! Congratulations to him on this milestone Birthday. 🍰😋🕯️🎈🎉
🎁4️⃣0️⃣🕯️🎁4️⃣0️⃣🕯️🎁4️⃣0️⃣🕯️🎁4️⃣0️⃣🕯️
khaled taban
said on 8/Sep/19
There is a chance of Weak 5'9"
DetroitMichigan
said on 22/Jan/17
If he's 5'9, Odette is no taller than 5'7
MD
said on 1/Dec/13
Were he even the listed height, there would be no reason why he would look consistently so short next to women, in general. Anyway, here he is with a 6'0" Bryan Greenberg who is on the far left:
Click Here
He is certainly not a quarter-inch taller than currently listed. He definitely can look of average height when alone, but that's just because he's fairly well-proportioned.
ian
said on 28/Nov/13
No way that tall.
Pedro
said on 10/Oct/13
Here Dave stands next to 172 cm tall Rachel Taylor:
Click Here
I don't know how tall those heels make Rachel. But I actually think that 5'10" for Dave could be plausible judging by this picture.
Lo sgozzatore
said on 20/Jun/13
ahahha 5'10 is a big joke! He's as 5'10 as Tom Cruise is! The italian guy i posted some years ago is listed 187 on his agency and that makes him a weak 5'8 guy at most, no way is this guy over 5'8!
Pedro
said on 3/May/13
He said on his twitter that he is 5ft10.
ANDREA[ITA]
said on 27/Jul/12
So, rob?
[Editor Rob: he could look 5.5 inches smaller for sure, maybe he's got half inch less shoes aswell...]
ANDREA[ITA]
said on 26/Jul/12
So, Rob? Is that really 12 cm difference? I just saw some pics of dave and terry o'quinn and the difference is noticeably less than that! And they're supposed to be the same... This guy, as i said, claimed 187 (and he's listed at 188)... I think he was just being honest with that claim because with a famous italian interviewer, he looked 2-3 cms shorter than him (who is about 6'3)... I'm starting to think that a 180 tall italian guy is taller than a 190 american guy, because i saw lots of pics where italian celebrities look taller than their own claim if you compare them with celebrities listed here, lol!
How do you explain that?
ANDREA[ITA]
said on 7/Jun/12
Rob, sorry but how can he be that tall? Look at him with italian actor Luca Calvani, who claimed 187 and 188:
Click Here
Click Here
You still think he's this tall? Trust me that the italian guy isnt over 188, 187 might be closer!
Nox
said on 4/Oct/11
Oh, wow! He is barely taller than his wife, odette, which would put her at 5'7-5'8.I thought she was 5'9-5'10.
Steve
said on 6/Aug/11
This guy has always confused me. He looks anywhere between 5'7 and 5'9 but his wife (Odette Yustman) is allegedly 5'9 and yet he's always had her by a few inches.
I'd give him 5'8.5 and her 5'6.5.
MD
said on 21/Nov/10
Rob,
With 5'9" Balthazar Getty:
Click Here
With 5'9" Lance Bass:
Click Here
I think this guy is just slightly less than 5'9", even.
Mr. R
said on 19/Nov/10
He is listed at 5-11 in Star Magazine.
Benny
said on 6/Apr/09
Who is that in Paulito's picture with him?
Jerry
said on 9/Mar/09
If you check out some of the pictures of Dave he seems to have on boots or shoes with a pretty thick sole. Also Milo V is pretty short and normally has on boots with an inch or thicker sole.
Paulito
said on 31/Jan/09
Maybe this picture can help you pinpoint his height. Nice comparison anyway!
Click Here
MD
said on 4/Dec/08
Thought listed at 5'7.5", here, Wilmer Valderamma is not anything over 5'7". More than anything I think this pic shows Wilmer is a major wearer of lifts, but secondarily that 5'9" is the absolutel top of the scale for Annable:
Click Here
ZT
said on 28/Oct/08
174 no more....174cm (hair style can appear 176 cm)
Bj25492008
said on 19/Jul/08
Here is another picture with Matthew Perry. Who is listed at 5'11.25" on this site. There is about a two inch height difference in this picture, so again I think this height listing is correct for him.
Click Here
Realme2008
said on 10/Jul/08
Sorry here is the link to the picture
Click Here
Realme2008
said on 8/Jul/08
Looks about 3 inches or 3 1/2inches shorter than his co-star Luke Mcfarlane. He does look a legit 5'9" in this picture.
Realme2008
said on 3/Jul/08
The picture with Milo he looks shorter? I know Emily is probably in some kind of a heel, because she's looking 5'9.5- 5'10". Dave looks shorter than Milo though. Not a good sign. Emily is so gorgeous!.
MD
said on 4/May/08
Funny, always thought he was taller, but he just has good proportions.
With Chris Evans given 6'0", here.
Click Here
With 5'8.5" Milo Ventimiglia
Click Here
He's 5'9" at the very top of the scale.
Realme2007
said on 2/Jan/08
This does seem like a good listing for him, but sometimes he can appear 5'8 1/2. I'm not sure if it's a posture thing or if he really is 5'8 1/2, and because he's thin he can appear taller.