English professional footballer, who plays as a striker for Everton and the English national team.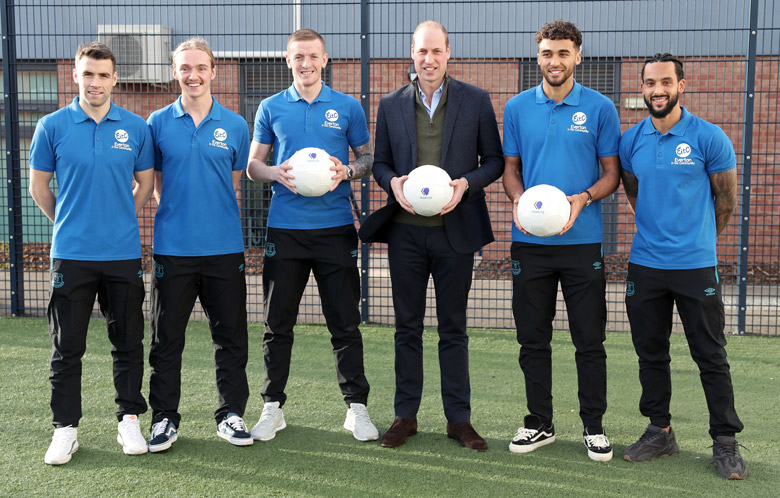 I'm 21 now and 6ft 3in so I think my growing (height-wise) has just about finished. I think the only place I can grow now is a bit wider. I work hard in the gym to try and put on muscle and keep growing to become more of a physical threat up top.
-- Liverpool Echo, 2019
Rampage(-_-_-)Clover
said on 11/Oct/21
Rob between this guy and Declan Rice who do you think would measure taller?

Editor Rob
Dom gives a lankier impression and is given a slight edge, but then they may well turn out too close to call.
Nik Ashton
said on 1/Oct/21
I can see why the average guess is what it is!
RJT
said on 30/Sep/21
Yeah next to Prince William he looks 6'2 ish at best. Visibly shorter shoulder while having footwear advantage, his hair helped him.
recapa
said on 23/Sep/21
188-188.5 before bed and 190-190.5 out of bed.
Rampage(-_-_-)Clover
said on 21/Aug/21
6ft3 early morning is likely. So his claim better than other guys who claim it and are in actuality 6ft1-2 range
Evertonian_031
said on 8/Jun/21
He looks a couple of inches shorter than 6'3 Pogba to me I'm saying 6'1.25/186
Incognito324
said on 9/Apr/21
187 cm in Google/ Wiki. The average guess is similiar
Adam kamal
said on 31/Jan/21
Rob what would list James Rodriguez as he's listed as 5'11 (1.80) on most sites and on media which features him
Rampage(-_-_-)Clover
said on 22/Jan/21
No less than 6ft2, this is a fair mark...6ft3 morning/out of bed
johnnysidgursson
said on 22/Jan/21
Agree, 6´2 max, doesn´t look like a 6´3 dude, no need to inflate!
recapa
said on 16/Jan/21
mmmmm i think that 6ft2 flat could be fine.
Canson
said on 14/Jan/21
Looks close. I agree with Rampage that he doesn't look less than 6'2 flat. Biggest question is is he over? I think 6'2 flat is probably fair as he'd be around 188 at a low and 190 out of bed
Rory
said on 9/Jan/21
If Ferguson is a good 6ft4 then he clearly doesn't look under 6ft2 with him, and 2.25 possible.
MYCH_12
said on 8/Jan/21
187 CM max IMO looks 185 CM tho
Nik Ashton
said on 7/Jan/21
I've seen him listed as 1.76 m online (loin!)! 🤔
Nik Ashton
said on 7/Jan/21
Look at this:
Click Here

Editor Rob
has a sizeable advantage over Ancelotti there.
OriginalAnon
said on 6/Jan/21
187cm max and looks it next to Ferguson.
Gladstone Screwer
said on 6/Jan/21
Big Duncan Ferguson a strong 6'4", DCL looks possibly 6'2" in the picture, but not more. ⚒
Canson
said on 6/Jan/21
Looks close to listing
Inches_to_cm
said on 5/Jan/21
I'd have guessed weak 6'2 (6'1.5-6'1.75)
Adam kamal
said on 5/Jan/21
Rob can you make a page for Richarlison some places list him at 1.79 and others list him at 1.84 that's a 3 inch variation where do you think he measures or what range do you think he measures in?
Mandy678
said on 5/Jan/21
No way this guy is 6ft 3in just under 6'2 187cm. Still a tall guy. Close to 6'3 in shoes.
viper
said on 4/Jan/21
I see some 6-1.5 listings for him

Editor Rob
I found and added a quote, he claimed 6ft 3
Clivedrew22
said on 4/Jan/21
Never looked this tall to me I'm a football fanatic I'd say 6ft 1.75in. Hes listed in most places at 187cm.
Miss Sandy Cowell
said on 4/Jan/21
Dominic is a super tall football player and sometimes I've wondered whether the taller soccer stars have an advantage over their shorter brethren, but years upon years of football has proved that it's the player's tactical ability that makes him successful, and not his height. However, if a guy was around 5ft3, and weighed, say, 112 pounds, it just might prove that much more difficult for him....
Dominic gets 6ft2.25. 😆⚽
FiveEightJake
said on 4/Jan/21
So does that make Big Duncan a smidge under 6'4?

Editor Rob

Duncan in person looks a solid 6ft 4 guy. I'd be less surprised if he measured just over than just under 6ft 4.
Adam kamal
said on 4/Jan/21
Rob could he look nearer or 6'3 with 6'4 Yerry Mina there looks to be little between the 2

Editor Rob
I think they can look closer to 2 inches apart.