Eddie Hearn's Height
6ft 4 (193 cm)
English boxing promoter. On twitter he mentioned his height on numerous occasions, claiming both "6'5 and 16 stone [224lbs]" and "6"4".
You May Be Interested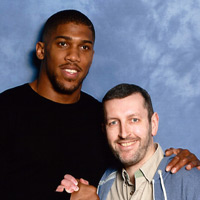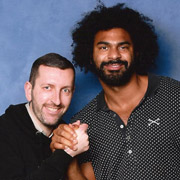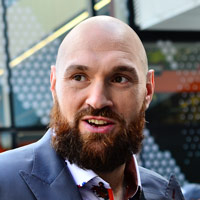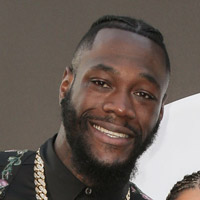 Add a Comment
37 comments
Average Guess (30 Votes)
6ft 3.87in (192.7cm)
Rory
said on 19/Feb/21
I think his Dad Barry was around 6ft1 peak.
Joseph Hickey
said on 13/Jan/21
Yeah I'd say he's minimum 6'4. He only looks about an inch shorter than Anthony Joshua who is at least 6'5.
PobRaul
said on 23/Dec/20
with 191 cm callum smith
ed is 6ft3.5
Click Here
OriginalAnon
said on 12/Dec/20
6'3'' is a ludicrous claim for Hearn. He is easily 194cm at a minimum.
Guy66
said on 27/Jun/20
I'd put him at a solid 6'3
stiggles
said on 21/Apr/20
Eddie is nailed on 6ft 3.. can hit 6ft 4 in shoes / boots..
Mickie
said on 22/Dec/19
Still claims 6'5":
Click Here
Jonas Henrikssen,
said on 9/Nov/19
Logan paul is just 2 inches from this guy but over 4 inches from AJ, do I think 6"3 but he might wear heels to look 6"4.5 dometimes
FiveEightJake
said on 19/Oct/19
Click Here
Rob is True Geordie 6'3 then? Looks it here. I could of sworn I read he was 6'1 on this site somewhere
Eddie is a tall chap, if not this listing then no less than 6'3 + 3/4.

Editor Rob
Tru Geordie might not be far off his claim there.
Lanky
said on 7/Oct/19
Well, the KSI-Logan Paul press conference today put to bed any possibility of True Geordie being close to 6'4" as he claims - Hearn was clearly taller.
Robbe
said on 26/Sep/19
Eddie with 179cm listed GGG.
Click Here
Eddie looks cleary taller than 191cm listed Johnathon Banks there.
Littlelee5ft6
said on 15/Sep/19
Thanks Christian I do like a boot with a 1.5 inch heel not much but it boosts me up a little that's all I need that little boost
Jonas Henrikssen,
said on 14/Sep/19
Looks over 1 inch taller than Shannon Gibbs Who is a max 190cm. Solid 6"4 for Eddie.
Christian 6'5 3/8"
said on 14/Sep/19
@Littlelee
There are extremely tall guys like 6'7"+ who're insecure and feel negatively about their heights. Heck, even at 6'5" and a bit, there are times where I felt somewhat self conscious. I think the best way to overcome height insecurity is to embrace it. Like you said, height is part of you. I'd avoid lifts altogether, but if they make you feel more secure, then by all means wear them.
Littlelee5ft6
said on 13/Sep/19
Your right Christian and I'm less insecure than I used to be but every once in a while the negative thoughts about my height pop into my head. I'm doing much better than I used to though. Used to feel much worse about it. Now I'm like "it's a part of what makes me me"
Christian 6'5 3/8"
said on 12/Sep/19
@Littlelee
It's best not to stand on your toes in pics at all. It just makes you look insecure and many people will think that you're adding more height than you really are, so they'll think that you're even shorter. I'd simply wear lifts with thick shoes (like 1.25" thick shoes but not too thick) if I want to look taller.
Littlelee5ft6
said on 12/Sep/19
I'd feel freakishly small around you lol just joking but I'd probably wanna stand on tip toes so I don't look so short. Then again I had my picture take with mark labbett once from the chase and never stood on tip toes just depends how comfortable I feel at the time
Christian 6'5 3/8"
said on 11/Sep/19
@Littlelee
I don't wanna imagine, lol. I'd feel freakish if I was around them.
Myself
said on 11/Sep/19
@Littleee
Of course there would be a noticeable difference, but at the same time I think that once you are a head taller than someone, each additional centimeter doesn't really have the same "impressive" effect as it does when you still aren't a head taller. Imo It would be more impressive the fact that he would look as tall as Eddie does next to these guys, when standing beside guys 1.5" taller than them.
Littlelee5ft6
said on 10/Sep/19
Imagine how tall you'd look next to these 3 Christian as your over an inch taller than eddie
Littlelee5ft6
said on 10/Sep/19
I love how the shorties outnumber the tallies in this photo. It's nice to see
Littlelee5ft6
said on 10/Sep/19
Scott quigg is not a quarter inch over 5ft 6(167cm) judging by this and other photos. Hes nothing less than 10 inches shorter than Eddie. Cant believe he's listed 5ft 8 everywhere maybe rob should add him and see if any of the sites change their listings
Christian 6'5 3/8"
said on 7/Sep/19
Looks gigantic in the pic because everyone else's short.
mini golf boy
said on 7/Sep/19
@ittlelee5ft6 why?
Rampage(-_-_-)Clover
said on 7/Sep/19
6ft5 in shoes
Yang (5 footer 8, 172-173)
said on 6/Sep/19
He looks like 6ft 3 half based on a pic that Robbe posted below!!!
Rory
said on 6/Sep/19
Rob, any ideas on how tall his Dad Barry is/was peak ? He's quite a hard guy to pin down he seems to look anywhere from 6ft up to 6ft1+.
Hopping hopper
said on 6/Sep/19
Always looked a strong 6-3 guy. Definitely not over 6-4.
Robbe
said on 6/Sep/19
Here Eddie and AJ with 6'5 Lawrence Okolie.
Click Here
Eddie is cleary shorter than Okolie, AJ slightly taller.
heightchecker34
said on 5/Sep/19
Good grief... I know 6'4 is a tall height, but he looks like an absolute giant in that photo. I don't know who those other people are, but I am going to assume they are short as in 5'5-5'6 range. Cause even average height males wouldn't look that short next to him.

Editor Rob
Frampton
is 5ft 4.5, so it does look a very big difference.
Big T
said on 5/Sep/19
I think if you look for other images/videos of Hearn with Parker, Hearn generally looks taller than he does in the photo Robbe posted. I think he's a pretty good 6'4".
Mickie
said on 5/Sep/19
There are also times he can look taller though:
Click Here
I think 6'4" is a safe guess. Doubt he's under that, personally.
Littlelee5ft6
said on 5/Sep/19
He must feel very tall there next to 3 guys none of whom are over 5ft 6 that's why hes the only one smiling
ajax509
said on 5/Sep/19
6ft 2.75 my vote, probably 6ft 3.5 out of bed.
Robbe
said on 5/Sep/19
Thanks Rob. Here Eddie With 6'3 listed Joseph Parker.
Click Here
Looks more like a weak 6'4, rather than a full 6'4.

Editor Rob
He claimed 6ft 5 about 10 times or so and 6ft 4 at least 6 or 7.

I think his 6ft 4 claim is closer to the truth, though at times can see how he appears weak 6ft 4.
Miss Sandy Cowell
said on 5/Sep/19
It's not impossible that he is around 6ft4.75 first thing in the morning.
6ft4. 😉👍