Geoffrey Rush's Height
5ft 11 (180.3 cm)
Peak height was 5ft 11 ½ (181.6 cm)
Australian actor from Pirates of the Caribbean, Munich and The King's Speech. He said when making the Life of Peter Sellers film,
"There were just too many challenges in playing him, I'm tall and thin, he was short and pretty chubby and very hairy"
...and gave his height in a Salon.com interview:
"I'm 5-foot-11-and-a-half, and have always been pretty thin"
.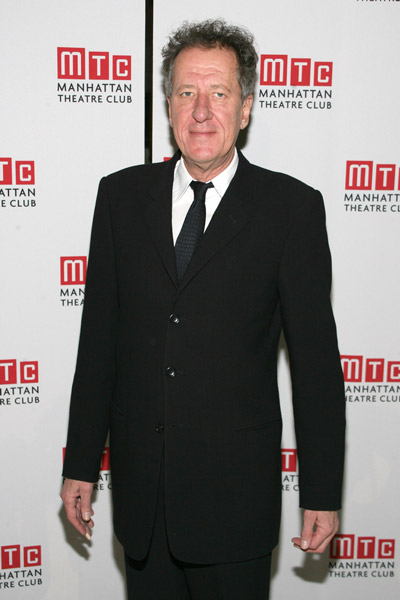 Photo by PR Photos
Add a Comment
58 comments
Average Guess (24 Votes)
Peak: 5ft 11.86in (182.5cm)
Current: 5ft 11.1in (180.6cm)
Hulk.23
said on 24/Aug/20
Strong 5'11 at peak while today between 5'10-10.5
Miss Sandy Cowell
said on 6/Jul/19
🎁🎈🎂 Happy Birthday Geoffrey! 🎂🎈🎁
Geoffrey seems to have been around seemingly for ever; I don't remember him playing any 'young' roles, even when he was clearly rather youthful!
He's one fantastic actor, and I would do well to check out which films of his I have. I know I have quite an impressive list!
📺...☺️👍...📀💿📀💿📀💿📀💿
I give him 5ft11.75 peak and 5ft11 nowadays.
Wishing Geoff a GREAT Number 68!
🕯️💐🎁🎈🕯️💐🎁🎈🕯️💐🎁🎈🕯️💐🎁🎈
Joel Masterman
said on 1/Jun/19
Rob do you think he is right in saying he is tall he is 5"11 1/2 that sounds average to me.

Editor Rob
That is getting into tallish range when you are half inch shy of six feet.
Sandy Cowell
said on 14/Feb/19
@ Gladstone Screwer - 84% of Google users dig the film, it has 5 stars and Geoffrey Rush won an award for it.
Consequently, I have ordered myself a copy from my trusty second-hand seller, Music Magpie. A brand new copy costing that sort of money (plus postage!) for a film from the mid 90's speaks volumes. That means that it is still a much sought-after film.
I'll let you know, Gladstone, what I think of it. It'll arrive next week, by which time I'll have finished watching all my 'Blackadder' DVD's, which is a current and very pleasurable undertaking of mine, triggered in celebration of the new Blackadder page that Rob has so kindly set up.
Cheers mate and I hope you are well! 😁
Sandy Cowell
said on 14/Feb/19
@ Me - Huh! I'd already written about his playing of the Marquis de Sade in 'Quills'! That'll teach me to check out what I've written, but no matter! No harm done! It's just the same thoughts whirring through my head again, which is bound to happen unless I have a brain transplant....
@ Gladstone Screwer - Do you recommend 'Shine' then? Hmmm... I'll go and check that one out! 😉😋
Sandy Cowell
said on 14/Feb/19
I KNEW I'd seen this master of all trades in more than just the above! Apart from starring in 'Elizabeth' and 'Elizabeth - The Golden Years', with Cate Blanchett on top form, he was also in the creepy 'House on Haunted Hill' and, perhaps the one that got to me most was his portrayal of the Marquis de Sade in the film 'Quills', in which he stars with Joaquin Phoenix and Kate Winslet.
I don't doubt the above height statistics; if anything, I'd have thought he was slightly more.
I think he peaked at 6ft so that's what he gets and I'm taking off three-quarters of an inch for today's height.
Myself
said on 26/May/18
Hey Rob. Any idea on how tall Isaac, the black man, could be? Next to Geoffrey:
Click Here
Click Here
Click Here
Next to johnny Depp:
Click Here
In front of Keira
Click Here
He is listed at 6'5 on other sites, but i think maybe he is closer to 6'4 or just under. Or maybe he is just over 6'4? Does look over 6'3 for sure to me, unless they made him wear some big footwear to make him appear taller. The fact that he has a long neck (thus lower shoulder level for his height) made him really look much shorter, to me, when i watched the movie.

Editor Rob
I see on his website he listed himself 6ft 5 and 260 pounds.

I think there's a chance he is close to that mark.
Sandy Cowell
said on 24/Nov/17
He played a freaky Marquis de Sade in the film 'Quills', with 5ft8 Joaquin Phoenix!
Peak height - 6ft0.25
Today - 5ft11.25
Slim 6'
said on 6/Oct/17
5'11.75" in youth.
5'11"flat today
Slim 6'
said on 5/Oct/17
Animus, where do you live??
In America 5'11.5/181ers are the start of tall like val Kilmer, chris Evans, ackles, Atkinson.
Animus
said on 3/Oct/17
I wonder what he weighed when he was younger. From photos he clearly was quite a skinny man with a light build. We're close in height and when I was at my skinniest, I weighed 149 lb, but I didn't look as thin as him. I'd guess he was somewhere in the 130-145 lb range.
Animus
said on 2/Oct/17
Perhaps 5'11½ was considered tall in his youth but nowadays it would probably only be considered somewhat above average. A thin fellow standing at 5'11½ can easily appear 6'0 in a group with a 5'9 male average, so sub-6'0 heights can certainly give tall-vibes in the right setting with the right people.
travis
said on 26/Sep/17
same goes for me tall &lanky
dab
said on 11/Sep/17
@Logan Noll
Even nowadays, he towers over Depp in the newest Pirates press photos. Have a look at the photos. I don't think he's lost much of his peak height. It's pretty safe he's near the 180-1 cm mark nowadays, which isn't farm from his peak 181.5 cm height.
Giorgi
said on 8/Feb/17
He looked really tall beside Heagh Ledger in Candy. I guess he can come off taller being skinny.
Anonymous38535
said on 20/May/16
Peter Sellers wasn't chubby, what kind of a claim is that?
Judd
said on 5/Mar/16
I would say more 5'11 at peak and 5'10.5 today
Lonestar
said on 20/Dec/14
He was never been 5'11.5 and rob neil him at 5'11 flat which is pretty accurate
Arch Stanton
said on 12/Jul/13
Spot on. Looked 2-2.5 inches shorter than Colin Firth in the King's Speech.
logan noll 1996
said on 22/Sep/12
He looks 5'11 to me nowadays. I always thought he was 6 foot at his peak given how tall he looks next to guys like Johnny Depp and Orlando Bloom.
jtm
said on 3/Sep/12
clooney and dmx are not 5'11.
Adamz
said on 3/Sep/12
Mr. R, I live in Los Angeles. We should meet up.
maio
said on 16/Jan/12
Peak: 5 ft 11.25 in/181 cm
Today: 5 ft 10.5 in/179 cm
short man syndrome
said on 28/Dec/11
I believe he was probably just about hitting 6 foot in his prime. Nowadays he may have lost a cm or two, his bad posture not helping matters. Still a fairly tall guy.
dmeyer
said on 4/Sep/11
as alwais mr r sees 5 ft 11 guy at 5 ft 9 like dmx and others maybe clooney is 5 ft 8.25 peak lol , i have met many celebs and they alwais apeared about wath rob listed them
dmeyer
said on 4/Sep/11
by 60 most people drop 1.5-2cm not 1cm early 50s to mid 50s 1cm but by 60s near 1.5-2cm 5 ft 11.5 peak 5 ft 10.75-11 now
jake
said on 1/Sep/11
Firth had at least 2 inches on him in The King's Speech and I think Firth is around 6ft1.25 (1.86 m). Rush seemed 1.80-1.81 m in it or 5ft11.
Rampage(-_-_-)Clover
said on 21/May/11
6"0 peak Rob?
[Editor Rob: I think the man is honest, the first part of that quote from salon interview 11 years ago was "In my youth I was always referred to in every review I ever got as "gangly," no matter what I did. "Gangly Geoffrey Rush." I'm 5-foot-11-and-a-half, and have always been pretty thin".

I believe 5ft 11.5 peak.]
James
said on 13/May/11
Yeah he looks to have lost height
toto
said on 6/Apr/11
hes definitely shorter now, maybe 178-9. looking back at the award tapes.
xaoxio
said on 28/Feb/11
well, Rob, he's now shorter then that.
Take a look(
Click Here
)
[Editor Rob: at 60 he could have lost a cm.]
Mr. R
said on 11/Nov/10
I see Mr. Rush around Hwood. He is between 5-9 and 5-10.
Rampage(-_-_-)Clover
said on 10/Nov/10
6"0(183cm) in his prime
Lenad
said on 26/May/09
Mr R saw Geoffery Rush at 5'9 but I wouldnt rule out poor posture giving the impression. Hell Rob even says Rush looks a proper 5ft11.5 guy up straight
Rusty
said on 29/Mar/09
I always thought he looked 6'4" in POTC, he must have had some big lifts.
Akshay
said on 23/Dec/08
In house on haunted hill he did look the same height as Famke Jannsen whose 5'11.5"..so i'll agree with Rob there.
Lynn
said on 12/Oct/08
Just waching Munich.
I would say 5'11" in comparison with Bana.
Mr. R
said on 8/Aug/08
I have seen Geoffrey several times. He is 5-9.
Johnny Boy
said on 3/Mar/08
5'10 max, look at him compared to Theron in barefoot in the Life and Death of Peter Sellers - I don't think you can claim he's 5'11 or 6'0 there. Maybe his posture was really bad but still, Theron is 5'9.75 or whatever so he should have been noticeably taller if he were 5'11 to 6'.
Aratirion
said on 31/Dec/07
Oh he must be over 6feet if Orlando Bloom is just under 5'11. Look at that pic:
Click Here
He is even more slouching than Bloom. Whether Bloom is 5'10 or Geoffrey is easily 6'.05
R
said on 26/Dec/07
He's definitely got to be under 6 foot. He can't be that tall. I've stood next to him and he definitely cannot be that height.
Aratirion
said on 11/Sep/07
Geoffrey has to be 5'11.5; The picture with Keira Knightley and Johnny Depp shows us that he's about 3 inches taller than Depp, who is impossibly under 5'9. (but not taller as well)
Brah
said on 24/Jun/07
Here is a pic of Rush standing between 6'1.5" Tarantino and 6'.05" Chow Yun Fat. He does look about 5'11.5" here.
Click Here
Bleemo
said on 15/Jun/07
If Geofrey Rush was 5'9" that would make Johnny Depp 5'6", now I don't doubt Depp is not over 5'8" but I doubt he's under 5'7".
Click Here
Mr. R
said on 10/Jun/07
Nope, he is 5-9. He walked past me at a festival in LA.
iris
said on 15/Apr/07
Yes he looks like a tallish 6´0- 5`11 in Munich, Bana looks 3`inches taller. I noticed that most of them wear high heels in this movie(including Mr Bond,the sexy 5`10 Daniel Craig) It`s a good movie to pinpoint mr. Craig`s height as well...
dmeyer
said on 9/Jan/07
he looked only 3 inches shorter than bana so 182 seems right
loz
said on 7/Jan/07
He does appear quite tall, I'm guessing very close to or 6 foot, especially after seeing him standing with other guys in some of the AFI (Australian Film Institute) awards photos. In the majority of these shots, he is a tad taller than the other males.
Sydextra
said on 29/Dec/06
I was going to be his stand-in on the set of some new movie - because we have the same height. I am an honest 6.0' (183cm) but most people think 6'1".
irshgrl500
said on 18/Dec/06
In the picture with 6'2" Bana, he looks to be about 3" shorter. I would say 5'11" is about right. I don't think one could say Bana towers over Rush, visibly taller, yes.
ForensicNYC
said on 30/May/06
5'11" Rush with 6'2" Eric Bana in MUNICH...
Click Here
Acting as 5'8" Peter Sellers with 5'9" Charlize Theron...
Click Here
The coloured version of DR. STRANGELOVE...
Click Here
An OSCAR for his role in SHINE...
Click Here
Anthony
said on 28/May/06
In that pic from "Munich" he only looks about 5'7!
Anonymous
said on 29/Jan/06
i agree with avner than he looks close to 6' in munich
Avner
said on 31/Dec/05
After watching "Munich," I think it's safe to say that Rush
is
indeed in the 5'11-6'0" range.
paleface
said on 13/Dec/05
I'd say anywhere between 5'9 and 5'11, although I'd say probably closer to the 5'9ish range. Here's a picture of him and Eric Bana from Munich. Bana towers over him.
http://www.comingsoon.net/cgi-bin/imageFolio.cgi?action=view&link=Thriller/Munich&image=munich1.jpg&img=9&tt=
A-Bomb
said on 1/Sep/05
Geoffrey Rush lives two suburbs away from me and he shops locally. I ran into him once five years ago. At this stage I didn't give a care about heights so I didn't factor it in. That said however, the reason why I don't remember is probably because he was the height I was expecting him to be, you know 5'10" or 5'11. I'm sure if he has just been an inch taller at 5'9" I would have thought something about it. That said I'm going to keep an eye out for him.
Mr. R
said on 31/Aug/05
Rob, did you get my Geoffrey Rush sighting the other day? He is nowhere near 5-11. He is about 5-9.
CelebHeights Editor
said on 20/Mar/05
Finally found him quoting his own height, which confirms what I said:
"I'm 5-foot-11-and-a-half, and have always been pretty thin. So I had that desire to find whatever greatness I had in my verticality."
- In Salon, 2000.