Gunnar Hansen's Height
6ft 4 (193 cm)
Icelandic-born Actor best remembered for his iconic role of LeatherFace in Texas Chainsaw Massacre. He mentioned his height and weight: "6'4". I weighed about 300lbs"
You May Be Interested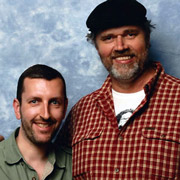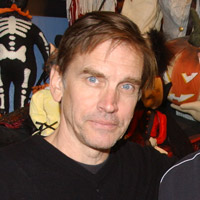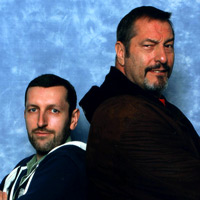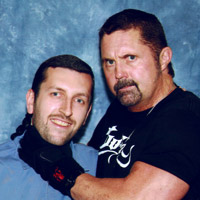 Add a Comment
32 comments
Average Guess (17 Votes)
6ft 3.97in (193cm)
Hotspots
said on 17/Jun/21
Stated he was 6-7 in footwear in TTCM. Co stars pretty much confirm that. Legit 6-4 barefoot
Soda machine
said on 2/Dec/20
Looked 6-6 at least in tcsm. With shoes of course.
Kica
said on 24/May/20
Hes 6 ft 4 no sweet
Cl?udio
said on 5/Jan/20
Rob, would be interesting to search about others Leatherfaces Heights, such as Bill Johnsson and RA Mihailoff.
Alex Katch
said on 8/Dec/19
Rob, what do you think about Bill Johnson, Bob Elmore and R.A. Mihailoff's height?

Editor Rob
At the moment I don't know
Leather1938
said on 7/Nov/18
Leatherface
6' 4" Gunnar Hansen (1974)
6' 1½" Tom Morga (1986)
6' 2" Bob Elmore (1986)
6' 2" Bill Johnson (1986)
6' 1" Kane Hodder (1990)
6' 1" R.A. Mihailoff (1990)
6' 3" Robert Jacks (1994)
6' 5" Andrew Bryniarski (2003/2006)
6' 4" Eric Swiss (2008)
6' 2" Sam McKinzie (2013)
6' 5½" Dan Yeager (2013)
6' 6" Casey Hendershot (2013)
?' ?" Boris Kabakchiev (2017)
5' 11" Sam Strike (2017)
tree
said on 10/Jul/18
So you mean Rob the most you could put in them is 2 inch but they would flatten to 1.5inch?

Editor Rob
Yes a 2 inch thickness at the very back, but because of the slope the actual lift might be 1.5 inch
tree
said on 8/Jul/18
Rob an article says Gunnar Hansen wore three-inch lifts in his boots so that he towered over the rest of the cast.
You think its possible to put 3inch in those boots,if so how much actual height would they give as they flatten under weight?
Click Here

Editor Rob
Maybe 2 inch lifts in a cowboy boot is the limit.
Sandy Cowell
said on 22/Nov/16
I don't recognize him here! He looks approachable and friendly and even Father Christmas-like! There's no way he'd have been described as that back in 1974!
Was he taller in the 'Texas Chainsaw Massacre?' He could certainly have passed for 2 inches over 6ft4, no sweat!
Sam
said on 9/Nov/15
Sorry to hear of his passing, wasn't even 70 yet.
Sam
said on 9/Oct/15
Did you see him stand up at any point, Rob?

Editor Rob
yes I seen him at points shuffling about, but he did look like a guy who had lost height by then.
Modeus
said on 23/Apr/15
Rob when did you met him?

Editor Rob
many years ago but he didn't want to stand for a picture.
Afg
said on 24/May/14
I saw a picture of him with Doug bradley a few days ago in his Instagram, and Gunnar looked like a 185 guy at most.
BigUkrainianMike
said on 19/Feb/13
I think in the pic he is slouching a little bit cause Kane is listed here at 6ft2 I believe Kane has always claimed 6ft3 and even 6ft5 at one point which is bs Gunnar is 6ft4 if he was stand straight there would be a little more height differance
Trenton
said on 14/Dec/12
This guy has definitely lost some height nowadays. He looks pretty much exactly the same as Kane Hodder:
Click Here
Rob met Kane and has him listed as 6'1.5.
Kane is notorious for wearing big boots that give like 1.75" of height though, and from looking at Flickr you can see Gunnar either wears sort of a casual boat-shoe thing or converse-style, so he probably lost 1 inch of footwear when they met.
For his peak I look at him with Edwin Neal, who played the Hitchiker in Texas Chainsaw. This guy has a Myspace on which he is listed as 189cm (about 6'2.4). He and Gunnar look very similar in height nowadays. But Neal wears Cowboy shoes so could take about an inch in footwear over Gunnar. If we assume Gunnar shrunk a bit more than Neal because of his weight then 6'3.5 - 6'4 could be a good shoot for his peak.
I'll say:
Peak height is 6'3.75
Current height is 6'2.5
Big Mike
said on 27/Jan/12
Yea thats wear I got that he was really like 6ft7 in TCM plus that door to the kitchen had a ramp so he was even taller probably closer to 7ft
Tommy
said on 21/Jan/12
He has admitted he wore cowboy boots with a build in them in Chainsaw.
Big Mike
said on 20/Jan/12
Definately I would say 6ft4 but in the Texas Chainsaw Massacre he is actually way taller than that he wears a three inch heel boots making him 6ft7 and yes he was 300 pounds in the original TCM since then he's alot lighter now probably anywhere from 260-275 he is also very quick despite his size he almost caught up to 5ft2 110 pound Marilyn Burns several times in the film
Mathew
said on 28/Feb/11
Surprised he was as heavy as 300 pounds in TCM. He had to have been 6'4", I would've guessed 260.
Mike A
said on 3/Feb/11
Yea but you can't really tell sitting down how tall they are guessing 6ft4 is correct in the TCM movie he wore a texas style boot so that might have given an extra inch so maybe 6ft3 is really it I know all other actors who played Leatherface where generally 6ft3 Gunnar is a big guy though when he played in TCM I believe he was 300 pounds and able to run impressive he played the part well
jake
said on 6/Nov/10
lots of people are 6'4", he looks it
Matt thomas
said on 29/Jan/09
This guy was atleast 6'4 in his prime
Jeff74
said on 2/Jan/09
I've only met him sitting down. Very nice and an awesome guy. Signed all my stuff for free. He's the original and BEST Leatherface!
ChristopherD
said on 31/Jul/08
Hey Folks, I played poker with him regularly with my girlfriend and her mom and his and their friends on Main Street in Northeast Harbor, Maine, in the late 1970s and early 1980s. He FILLED a doorway back then, height and width. Frank Scalfone, his wife Karen. Marge and Dom Scalfone, Frank's parents, where we all met. Marguerite and Harold Coombs (and their son, Dwight, on occasion) He was also friends with folks with whom I worked with bird behavioral research and they lived in NEH, too, Wayne Trivelpiece and Ron Butler. So, here we are 30 yeears later and we all get shorter with later age; I'd say he was 6' 5" back then. Check out his stories and poetry! Gentle person and nice guy.
RevInstone
said on 10/Apr/08
He's 6'3 easy. I met him last month. Most of his pics are done sitting down, but i stood next to him at the bar later that night and was at least 3 inches taller than me. One cool dude i might add.
sam
said on 20/Jul/07
Did you see him standing, Rob? What do you guess him at?

Editor Rob
yes, I saw him walking about and talking to folk, near 6ft 3, not over it, but he may lost inch from heydey.
Jody Monster
said on 12/Oct/06
I have gathered information from Tim Harden, the web master of
Click Here
that Gunnar is 6'2. He has met him numerous times.
Glenn
said on 2/Oct/06
Seemed 6-3 to me easy,if not more.
ben
said on 1/Oct/06
I've met this guy. I'm 6'3" and he's way shorter than me.
larry
said on 8/Apr/06
OK, this guy is an Austin fixture. He often works as a bartender & as a bouncer on 6th Street. My son says we saw him several times AND pointed him out to me (too many Scotch sours?). IF he's the bearded gallut I'm thinking of (and I think he is) he's only about 1" less than me, thus he's 6'4" tall AND about 300 pounds.
sam
said on 15/Dec/05
Gunnar said himself 6'4", so why not believe him. He said they added lifts to his 6'4" frame to make even bigger.
jody monster
said on 30/Nov/05
6'4? na, not gunnar hansen. he had huge lifts, listen to the audion commentary between him, daniel pearl, and tobe hooper. i believ he said 4 inches? could be wrong. i would say 6'0 even, possibly shorter.