Helen Mirren's Height
5ft 4 (162.6 cm)
English actress best known for films such as The Queen, The Long Good Friday, Excalibur, The Madness of King George, RED, Gosford Park, Calendar Girls Caligula and the television series, Prime Suspect. Wenn reported her saying she sometimes bought very large heels,
"I'm only five foot four (inches), so I put those little babies on and I'm, like, five foot 10."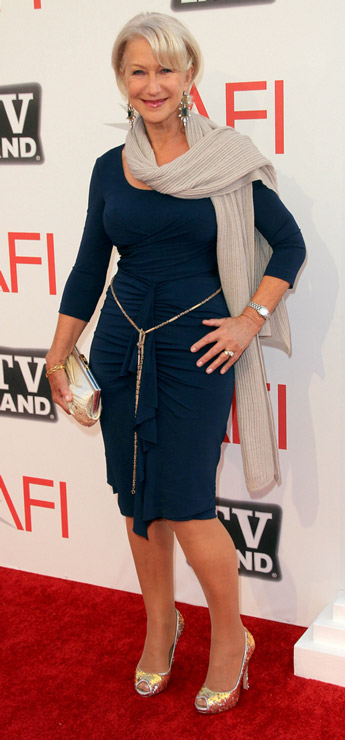 Photos by PR Photos
I'm five foot four. I've got wide hips. I've got breasts you can't just put anything on and look fantastic.
You May Be Interested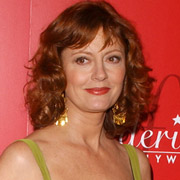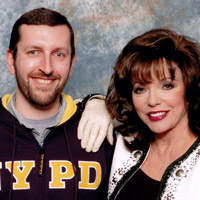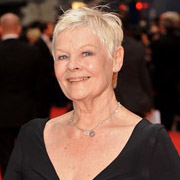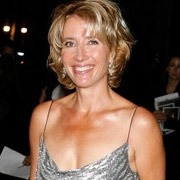 Add a Comment
38 comments
Average Guess (6 Votes)
5ft 4in (162.6cm)
Miss Sandy Cowell
said on 10/Oct/20
I have just ordered a film of Helen's called 'Winchester', about a seriously haunted house. It arrives next Friday, and as it's recent, it'll be ideal material to check out whether Helen has lost any height, which is highly likely, and if so, how much.
In the meantime, Helen gets 5ft4 and some pretty flowers:
🌷🌸🌻🌹🌺🥀💐
Miss Sandy Cowell
said on 26/Jul/20
🎂💐🎉💝 Happy 7️⃣5️⃣th Birthday 💝🎉💐🎂
The great Helen Mirren celebrates a landmark Birthday today. She turns three quarters of a Century - congratulations to Helen; I own all her Prime Suspect box sets and plenty more besides, including 'The Long Good Friday' and 'The Queen'.
5ft4 👱‍♀️👍 XXX
🎂💐🎉💝🎂💐🎉💝🎂💐🎉💝🎂💐🎉💝
Nik Ashton
said on 20/Apr/20
Those little babies must be monster heels!
Miss Sandy Cowell
said on 26/Jul/19
🎂💝🕯️💐 Happy Birthday Helen! 💐🕯️💝🎂
Earlier this year, I bought all the Prime Suspects which starred Helen. She is just unbeatable in that, as she is in everything she does.
Wishing her a very happy 74th. She really is one woman who has 'grown into her own skin', but I, personally, always admired her unique beauty.
5ft4 for this English rose.🌹
👙🎁🎈🎂👙🎁🎈🎂👙🎁🎈🎂👙🎁🎈🎂
Arch Stanton
said on 23/Jun/17
Click Here
Even 50 cent fancies her LOL.
Arch Stanton
said on 20/Jun/17
She used to look like
Click Here
which you could still call attractive but not exactly "beautiful" in the classic sense.
Arch Stanton
said on 20/Jun/17
Helen is now a beautiful woman but she was never that pretty in younger years, but very sexy. She always had that wonderfully swinging 60s vibe about her. She was always hot but in a slutty way when younger, now she looks elegantly beautiful and still has "it" past 70!
Dom
said on 10/Mar/17
Hmm weird, she always looks 5'5' compared to other celebs..
mister_lennon
said on 26/Feb/17
My lovely helen was 5'4 peak. Now; maybe a little bit shorter.
Sandy Cowell
said on 24/Feb/17
That was meant to be Amanda BURTON! I don't know how I could have got that wrong, I idiot!
Sandy Cowell
said on 24/Feb/17
I've been taking in quite a lot of Helen Mirren lately as ITV3 are repeating all the 'Prime Suspect' series and tonight we have the fifth one starting.
Helen looks very small next to all those men in the police station where she works! If she was 5ft4 at that time,and I have no reason to doubt or dispute that fact, it's reminiscent of actress Amanda Redman, who's 5ft4, working with male colleagues in 'Silent Witness'! She looks really tiny next to them, as does Helen next to hers in 'Prime Suspect'!
Both actresses more than make up for it on the confidence front though, which is always good to see - and the only way to be if you work in a male-dominant office and wish to get on!
Mister_lennon
said on 14/Aug/14
And i wasnt talking about you, littlesue, i was talking in general terms.
Mister_lennon
said on 14/Aug/14
She was 5'4 at peak. Now, a strong 5'3. And i repeat,maybe she has made some work on her face or body, but very sligthly. Her beauty is totally natural.
littlesue
said on 13/Aug/14
Whereas as anyone said she is all plastic? I said she had had a lower face/neck list and that it was good as they left a few wrinkles.
jtm
said on 13/Aug/14
look at her next to patrick stewart. she was never 5'4.
littlesue
said on 12/Aug/14
I'nm here every day but have'nt commented, agree with Mirren, its a good facelift as she still has some wrinkles to make it appear more natural, its more a lower facelift than the upper face lift as the neck is not saggy
mister_lennon
said on 12/Aug/14
Not. As i said before, maybe helen had made some little work in her body or face, but very little. to post that she is all plastic work and surgery is just stupid and nonsense, and false. Helen beautty and atractive is just natural.
Arch Stanton
said on 12/Aug/14
Haven't seen you around for a while dearest Sue. I've missed you!
Arch Stanton
said on 12/Aug/14
Yeah as Sue says she's definitely had something done to lift the wrinkles, you can tell as her face has that shiny, flat, ironed out look. But I don't think she's had too much work done, certainly not as much as a lot of actresses her sort of age (like Britt Ekland :-) )
littlesue
said on 11/Aug/14
Sorry you wrong, definately a face lift there
mister_lennon
said on 11/Aug/14
Sorry, but that is false. She is natural 100%. Plastic surgery? ridiculous. Maybe a little bit, but nothing more. Her beauty and atractive is natural, not plastic. And she works because her natural beauty and sexiness, not about other things.
littlesue
said on 8/Aug/14
She was voted 'best face after plastic surgery' by the Plastic Surgeons association, last year she was photographed with the scarf round her head and neck after a facelift, she may not be as lifted as some but you only have to look at her neck line to see she has had a lift, sadly she probably would'nt work so much if she did'nt have anything done. Julie Walters probably one of the few who have'nt had anything done.
mister_lennon
said on 7/Aug/14
Yeah, arch. I agree with your examples.
Rob, could you add Gosford Park,calendar girls,the mosquito coast and Caligula to the list of her movies?
And she is equally charming and atracctive in real life. I have met her in person and she is wonderful. Im in love with her.
Arch Stanton
said on 7/Aug/14
Yeah a lot of actresses look horrific as they age and have all that surgery which makes them look worse! Joan Collins and Raquel Welch (although she denies it) are two of the few who had surgery which was actually an improvement.
Mister_lennon
said on 6/Aug/14
Helen is always sexy an beautiful. Like the fine wine, even more now. I love her. And she is still 5,4.maybe a weak 5'4, but 5'4.
Sam
said on 6/Aug/14
She did age like fine wine...I wish more middle aged women celebrities would age as well and be as confident and comfortable in their own skin. In her 60s and 70s films, Mirren was definitely hot but could come off, for lack of a better description, almost trampy, with age giving her a classier veneer that adds to her appeal.
Arch Stanton
said on 6/Aug/14
Agreed Sam! More attractive now than when younger too.
jtm
said on 5/Aug/14
little sue says on 19/Nov/12
She looks a tiny bit shorter than Scarlet Johanson on the red carpet last night for the Hitchcock Biog film. In similar sized heels so 5ft 3 could be right, she could have lost a small bit of height though being as she is late 60's.
that would make her 5'2 range today.
Sam
said on 5/Aug/14
Rob, please add The Age of Consent, O Lucky Man!, The Long Good Friday, Excalibur, The Cook the Thief His Wife & Her Lover, The Madness of King George, RED and the Prime Suspect series? Also, a picture may be in order? She is definitely a sexy woman, although may top out at 5'3.5", rounds up like a lot of people.
Mister_Lennon
said on 7/Apr/13
solid 5' 4.
jtm
said on 1/Nov/12
she was never taller than 5'3.
Linda Leigh
said on 8/Jul/11
She's definitely between 5'2 and 5'4..
Terrific actress!!!! LOVE Helen Mirren!
Mr. R
said on 1/Aug/08
I saw Helen at a play last fall. This is pretty accurate.
Chris
said on 31/Jul/08
I'm surprised. I thought she was tall. Maybe it's because she appeared next to Bob Hoskins.
Jessica
said on 5/Feb/08
I think tureis is right, the heels Helen wore to that event were solid 6 inches! She herself described them as 'stripper shoes' and they had a giant platform.
tureis
said on 13/Oct/07
I think Helen took her "stripper" shoes off while Radcliffe had his on obviously. Otherwise she would have towered over him on those 6 inch heels.
Anna
said on 7/Oct/07
Rob, are you positive that she is still this tall? I think she looks it, but those Radcliffe photos confused me a bit. Either Helen is shorter than her listed height or Radcliffe is taller than his listed height. which do you suppose to be the case?
Anonymous
said on 22/Jun/07
This seems correct to me, it's what I've always read and she really does look it.