Ian McDiarmid's Height
5ft 8 ½ (174 cm)
Peak height was 5ft 9 (175.3 cm)
Scottish Actor best known for playing The Emperor in The Star Wars series of films. In this photo, Ian had about 0.4 inch more shoe than me.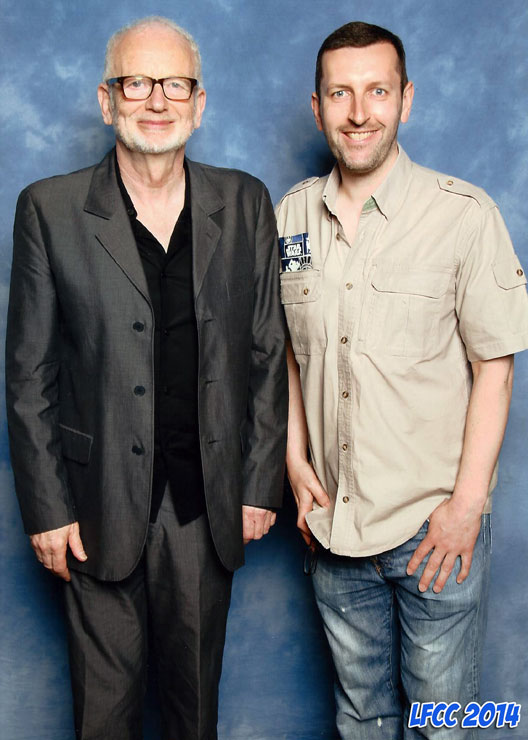 5ft 8 Rob and Ian @ LFCC 2014
You May Be Interested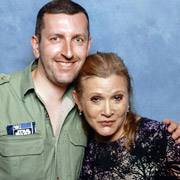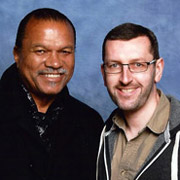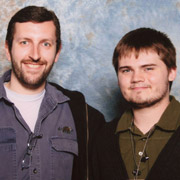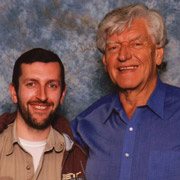 Add a Comment
54 comments
Average Guess (43 Votes)
Peak: 5ft 9.42in (176.3cm)
Current: 5ft 8.69in (174.5cm)
JohnMoore-162cm
said on 11/May/20
Peak height 176 cm is more accurate
Mons
said on 13/Jan/20
He looks 174 range in The Phantom Menace.
Bobby 5ft 10in (178cm)
said on 19/Dec/19
He portrayed Senator/Supreme Chancellor Palpatine and Darth Sidious remarkably well. As the Sith Lord of the Dark Side of the Force, he was ruthless and absolutely demonic. As a politician, as Palpatine, he was cunning, manipulative, and charismatic, all the hallmarks befitting a man of his station in the films. Next to Hayden Christensen aka Anakin Skywalker/Darth Vader, he appeared a solid three inches shorter, so I thought that 5'9 looked spot-on for him.
Miss Sandy Cowell
said on 13/Aug/19
Wasn't he brilliant in the 'Inspector Morse' episode 'Masonic Mysteries', playing the master criminal Hugo Dr Vries? It's not often that someone outsmarted Morse!
Miss Sandy Cowell
said on 11/Aug/19
Ian could pass for 5ft9 here or very nearly that. I think his peak must have been around 5ft9.5 and now he looks 5ft8.75. By the way, Ian celebrates his 75th Birthday today so...
🎂🕯️🎁 Happy Birthday Ian! 🎁🕯️🎂
Three quarters of a century today.
Have a great time, Ian! 😁🎈🍰
🎉🕯️🎁🎂🎉🕯️🎁🎂🎉🕯️🎁🎂🎉🕯️🎁🎂
'Annonymous'
said on 8/May/19
Hi Rob! I remember that you once said that you don't rule out that the peak height from Ian could be 5'9.25" and that in 2005 when he was 61 he was probably 5'8.75". I agree with the fact that at the time he met with you he was probably 5'8.5" because in 2012 next to Lou Ferrigno he didn't look shortet than 174 cm:
Click Here
I think, however, that 176 cm may be better for peak height of Ian. In movie from 1999 "Sleepy Hollow", Ian didn't look as short as the usual 5'9" alongside Jeffrey Jones:
Click Here
Click Here
I think that this photo from 1984 on which we can see Ian next to Mark Hamill and Denis Lawson is unfortunately difficult to compare the height of several people:
Click Here
However, look at this photo of Ian next to Denis in 1990:
Click Here
Although I exclude 5'7.25" for peak height Denis, Ian looked easily over two inches taller than him, and in 1983 Ian didn't look as short as flat 5'9" alongside David Prowse, look at this video and photo:
Click Here
Click Here
In 1999, in the movie "Star Wars: Episode I - The Phantom Menace" Ian looked taller than Ray Park:
Click Here
In the 80's and 90's Ian
indeed looked over 5'9" and it seems to me that from 1999 to 2005 (from age 55 to 61) Ian could have lost half an inch in these six years... But it looks like today Ian may be a little closer to 5'8" because in December 2015 he looked a lot shortet than Ray Park:
Click Here
Look at this photo of Ian next to David Prowse from 2015 or 2016:
Click Here
After everything I've seen, I think Ian may have lost full inch of his height. Rob, could you give him a peak height 5'9.25" and the current height 5'8.25"?
MOHAMMAD/6ft2/188cm
said on 3/Feb/19
looks like our professor not putting our scores after 1 month LOL
MrFish
said on 7/Jan/19
Rob, what would he have been in the prequel trilogy (particularly the Revenge of the Sith)? Maybe 5ft 8.5-8.75?

Editor Rob
Maybe just a fraction under 5ft 9
Christian 6'5 3/8"
said on 24/Sep/18
@Zampo
Yeah, he doesn't seem to be any taller than Rob.
Zampo
said on 22/Sep/18
Based on the photo, 5'8-5'8.25.
Sandy Cowell
said on 23/Aug/18
In the 'Inspector Morse' episode 'Masonic Mysteries', which I saw yesterday, I noticed Ian was definitely taller than John Thaw. It was made in the late 80's, I wish I could be more precise right now, but I reckon Ian was still at his peak then. I am going with 5ft9.25 for his all-time-high, and 5ft8.5 for today's height.
Vijayan
said on 6/Jun/18
Rob do you think he is under this today? I'm still convinced he was no more than 5'8.25 when you took this picture with him.

Editor Rob
A few years later and he could be just 5ft 8 now
Nik
said on 28/Apr/18
5'8.25" - 5'8.5"!
haxxx
said on 27/Apr/18
I think he would be exactly your height Rob today, about 173 cm. Peak no more than 176 cm.
MrFish
said on 25/Nov/17
Rob, do you think that I'd edge him nowadays?
Editor Rob: I did see him briefly this year but he was walking and I was standing, of course didn't look as tall when walking by as standing.
Rampage(-_-_-)Clover
said on 8/Sep/17
Rob, could he be 173cm?
I think if you took away the shoe advantage he'd be bang on the same height as you...
Editor Rob: a few years ago I think he was 174ish, but in 2017 I did see him and it was hard to say if he was much different...
World Citizen
said on 3/Jun/17
I say 5 ft 8.25
Adijos
said on 15/May/17
@Editor Rob: Rob, I ask you to save his peak height as 5'9¼".
jon
said on 24/Apr/17
174cm is spot on, but I think he might have been taller at his peak possibly 176-177cm range. He's fairly old now and doesn't really have a perfect posture either, what do you think rob?
Editor Rob: well somewhere in 5ft 9 range peak, whether 176 I am not sure.
Christian-196.8cm (6ft5.5)Noon
said on 17/Apr/17
Rob, he only looks a half inch taller than you with the .4" shoe advantage. If he was truly 5ft8.5, he would have looked an inch taller than you, which he doesn't. I would say he's 5'8 1/8", same as you.
Adijos
said on 21/Mar/17
Peak 5'10" (178 cm)
Today 5'9.25" (176 cm)
Jordan87
said on 24/Feb/17
mRfISH,
Hayden Always has around at least d 3.25" On Ian. I have Hayden at 5'11.75" to 6'0.25" At times, If I were a betting man I would say Hayden is right at 6'0, or possibly breaking it slightly.
MrFish
said on 14/Jan/17
Rob, a few more questions. In most photos with Hayden Christensen taken around Episode 3, Ian looks decently under 5ft 9, if Hayden really is 6ft. Would you say he was probably about 174 cm during episode 3? Also, do you think I, at "almost 5ft 9in," as you've labeled me, would edge him nowadays?
Editor Rob: as I have said you could make a case for 6ft 0.25 for Hayden.
Giorgi
said on 14/Jan/17
TJE said on 4/May/15
Why is it that every time Rob gets a pic with a 174 guy, he always edges him out? This is with less footwear, too.
I think Rob is actually about 173.5 during a day
Giorgi
said on 14/Jan/17
Both seemingly standing totally still. I don't think this guy would be any taller than Rob, without his sneakers. Doesn't really look taller with them to me :)
MrFish
said on 11/Jan/17
Rob, if Ian is wearing 0.4 inches more footwear, do you really think that he was a full 174 that day? I'd guess closer to 8.25.
Editor Rob: Fish, 5ft 8.25-.5 range, I think he'd probably measure that easily.
MrFish
said on 31/Dec/16
Rob, would you say he looked over 5ft 9in in Return of the Jedi? Although, with his posture as the Emperor, I imagine that it's hard to tell. Also, are you convinced that in your picture with him, he's not more than 174cm?
Editor Rob: up close Ian really didn't seem much different, shorter than legit 5ft 9 guys, but he lost at least half inch by the time I seen him.
MrFish
said on 13/Dec/16
Rob, how tall do you think he looked in the prequel trilogy? Closer to 5ft 9 or 8.5?
Editor Rob: MrFish, he probably held a little under 5ft 9, been a while since I watched the Prequels.

I actually rewatched the original again and then the Force Awakens.

I love Force Awakens, I put it behind Empire...
Sandy Cowell
said on 11/Oct/16
I am not exactly a 'Star Wars' person but I DO adore Inspector Morse, where I remember Ian playing a fantastic conman/computer hacker who continues his criminal career from behind bars! He spoke in a very convincing European accent. He was so good, in fact, that I didn't so much as give his height a thought! When you out-wit Inspector Morse, does it really matter how tall you stand? I think not!
He was about the same height as the late, great John Thaw (5ft9). I had absolutely no idea Ian McDiarmid was Scottish, though his whole name does tend to give it away a bit!
The episode, by the way, is called 'Masonic Mysteries!'
Koba Solo
said on 22/Mar/16
@Rob
So by 5'9 you mean around 175 not 176 or 177. I'm new here so I'm just trying to figure out if you mean around 5'9 flat.
Editor Rob: 175-6cm range
Koba Solo
said on 17/Mar/16
@ Danimal or Rob
If what he said was true, about a 70 year old losing 1.2, how tall would he have been at his peak if that were the case?
Editor Rob: you could lose half, 1 inch or even 1.5 or more, it depends. I think Ian 30 years back looked 5ft 9 range, whether over it by much I'm not as sure.
Emil 183 cm
said on 24/Dec/15
Didn't know that you turned to the dark side, Rob :(
Editor Rob: I have become a powerful ally to the dark side!
TJE
said on 10/Jun/15
I think it has more to do with Rob having much better posture or some height lost in the lens. Ian should be looking a good 2 cm on Rob, but only has a few mm.
And I don't think Rob holds his extra height quite long enough during the day to be 5'8.25, but what do I know?
Danimal
said on 20/May/15
He looks like a miniature version of present day George Romero.
Considering the average 70 year old loses 1.2", it's very possible he was over 5'9" at his peak.
Triplescrew
said on 10/May/15
@TJE
Because Rob wakes up around 5'9"...so he's actually a legit strong 5'8" most of the day unlike many who claim to be between 5'8"-5'9".
Height183
said on 8/May/15
Looks his exact listed height with Rob
CD
said on 6/May/15
It looks like he has a greater head-to-eye than eye-to-chin though.
CD
said on 6/May/15
I think it's another case of a smaller head giving the advantage here. Is that true Rob?
Judd
said on 5/May/15
rob why the 0,5"?
he actually would be as tall as you i think, without the shoes advantage (0,4")...
[Editor Rob: it's not impossible, but I feel he's in that 174 zone.]
just because
said on 5/May/15
Young fool.....only now, at the end do you understand
Andrea
said on 4/May/15
Yeah, he looks barely taller than Rob... He looks maybe 5'8.25-5'8.5, but considering he's got 0.4 inches more than Rob, he doesn't look over 5'8 flat...
TJE
said on 4/May/15
Why is it that every time Rob gets a pic with a 174 guy, he always edges him out? This is with less footwear, too.
Alex 6'0
said on 4/May/15
He looks barely taller than Rob by a fraction above. If that's even 1/2 inch difference, maybe more 1/4 and that's with .4 more footwear. Take that away he may be more 5'8-5'8.25 same as Rob
josh b
said on 4/May/15
Looks quite height aware in the photo, and a little taller than I imagined. Excellent photo nonetheless :)
[Editor Rob: Ian's not one for putting arms round you from what I seen...but at the last moment here I realised my right pocket was behind him so I'm in motion here trying to make sure the Star Wars ticket holder in my pocket that Jenny made is in the photo :)]
CD
said on 4/May/15
Rob is his head a bit smaller than yours? On first glance I wouldn't think so, but his eye level makes him look 175 although his head seems to end at the top of your hair meaning 174. If so I'm tempted to say he's more 173 because of his extra shoe. 2cm loss at age 70 is pretty likely.
While doing the prequels he could have still been 174 though since McGregor is about 177cm.
Judd
said on 4/May/15
i would say more 5'8" today and 5'8.5-8.75" as peak height.
Ed82
said on 5/Jan/15
I'm not sure if 174cm is accurate for a current listing. I was re-watching the prequels over the holidays, and I noticed a reasonable height difference between Ewan McGregor and McDiarmid. Assuming both were wearing similar footwear, McGregor, who is 176cm, was at least 3cm taller than McDiarmid. So my estimate is that McDiarmid is 173cm now. 175cm at his peak is completely possible though.
Tommo
said on 17/Jul/14
That's a shame, though I've heard some stories that he's pretty rude! R2D2's actor said so, and there's a few other stories on the web of him being a bit of a prat at conventions.
[Editor Rob: we all can have our moments. Anthony actually was ok when I saw him (although didn't get the pic) because he came down the queue and thanked us all for waiting etc, but I had to leave as I had a photoshoot with someone...yeah he has a reputation for doing things his way and maybe not putting up with some people.]
anonymous
said on 11/Jun/13
Rob, please try to meet him!
Godred
said on 20/Sep/11
@xboxnerdish - No way 5`10.
xboxnerdish
said on 30/Dec/10
He was 1,78 as palpatine in star wars episode 1
Eddie
said on 6/May/09
Maybe it's because he was hunching most of the time while he was onscreen in Jedi.
Daniel
said on 30/Apr/09
In my opinion, he certainly didn't look less than 1.75m in the modern Star Wars Trilogy
Samuel
said on 28/Apr/09
Ahh thankyou for adding him Rob :)