James Toney's Height
5ft 9 ½ (176.5 cm)
James 'Lights Out' Toney is an American Heavyweight Boxer. The WBA described him as 5ft 9.5. Toney himself has said
"I'm 5ft 9"
in the past but in a FightHype interview said:
"I'm 5'10" and I want to fight these big 6'7" giants and guaranteeing a win over them. I know I can beat both Klitschko brothers. Let's start seeing them fight real fighters"
. This photo (by Duncan) is from a Collectormania, he had about 1/3rd inch thicker shoes than me this day. Toney also said
"Everyone was bigger than me up there (at heavyweight). I'm only 5' 9'', they say 5 10 or 11, but I'm not that tall"
.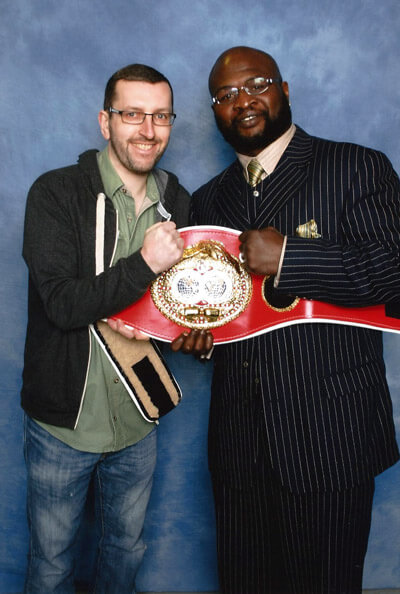 5ft 8 Rob and James
You May Be Interested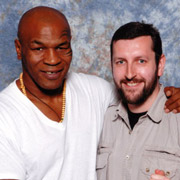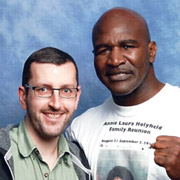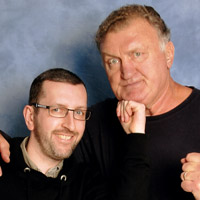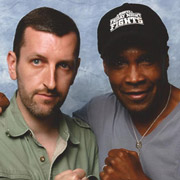 Add a Comment
102 comments
Average Guess (29 Votes)
5ft 9.77in (177.2cm)
Christopher Chammas
said on 6/Jan/20
I say 177.5 cm in the morning and 176.5 at night;
Therefore average height 177cm / 5ft 9.685in.
Christopher Chammas
said on 4/Jan/20
@rob how much was he at his prime?

Editor Rob
I doubt James has lost anything yet, this was afternoon
Nik Ashton
said on 17/Oct/19
He's above average!
Questioner
said on 4/Sep/19
@rob a lot of your 5'10s need downgrades to 5'9.75"
c-mo
said on 17/Jul/19
Junior Hernandez 1990 said on 26/Jun/19
Lets get real. He say he was not 5'10 or 5'11 that tall and describe himself 5'9 maybe he round down 5'9.25" to 5'9. He had 8mm shoe advantage over Rob to look nearly 1.75" taller. I'll rule out a strong 176cm for James.
--------------------------------------------
anything below a strong 176cm is not even possible . what are you talking about man ...
177cm at night seems to be his height
Junior Hernandez 1990
said on 26/Jun/19
Lets get real. He say he was not 5'10 or 5'11 that tall and describe himself 5'9 maybe he round down 5'9.25" to 5'9. He had 8mm shoe advantage over Rob to look nearly 1.75" taller. I'll rule out a strong 176cm for James.
Boxing fan 07
said on 18/Jun/19
It's safe to say that Toney shrunk. He gained a lot of weight. Had to put pressure on his spine. I say 5'10" in his prime. A weak 5'10" nowadays
World Citizen
said on 8/Mar/19
I agree with this listing.
olney28
said on 5/Jan/19
Looks about 5'10 in the picture
Ar2mA2
said on 18/Dec/18
in the pic I see 177.5 cm
Annonymous
said on 11/Nov/18
Rob how is couture listed 2 inches higher here..brutal.
Zampo
said on 18/Oct/18
Listing is fine as it is. 5'9.5 is reasonable, more likely to measure a hair over than under. 176.5-177 cm range I think.
Canson
said on 2/Oct/18
@Richard: Rob also met him above
Richard Jones
said on 1/Oct/18
I met him in Vegas about 2 weeks ago now.
I'm 5'10 and a bit out of bed, probably 5'9.5 afternoon. He had footwear advantage (heels vs flat trainers) but I think he was slightly taller than me anyway.
I'd say he's 5'9.75 or maybe the full 5'10
Pic
Click Here
Tunman
said on 27/May/18
Quite small for a heavyweight.Well there are some 5'8-10 range dudes who make it to the utmost category but it's still exceptional.Their biggest disadvantage is that their wingspan is considerably inferior hence having to get closer to their opponents while others can hit from a distance like you can see
Click Here
:
Many regretted that Ali never fought against Chamberlain.Granted Wilt's impressive physique,it could have been a 50-50,in fact it was said that Ali's manager was afraid for his champion,hmmm...Nothing is less sure.Unfortunately we will never know,though I thought Ali had slightly better chances.
c-mo
said on 25/Mar/18
Bob said on 11/Mar/18
give him 5'9.75
-----------------------------
+1
Bob
said on 11/Mar/18
give him 5'9.75
Nik
said on 2/Mar/18
I have no problem in believing that James is at least this height! It is good that height honesty has followed him in his career!
JJJ
said on 27/Feb/18
Strange that he persists with 5'9 although being described at 5'10/11. Maybe he is a very modest man and was incorrectly measured at 5'9 or has stuck to that figure. Or maybe, when he was young and is unaware he grew a bit.
Anyway, he looks around the 5'10.25 range to me.
Jude Gordon
said on 12/Feb/18
Toney seems just under 5'10 now but when he first started to box at middleweight I'd say he was just over 5'11
c-mo
said on 7/Jan/18
ok rob my final guess for toney is 179cm out of bed and 177cm at night :D with a possibility of being 178.5cm out of bed and 176.5cm at night
I think near enough 5'10 to claim it to the average person for sure . and maybe a 5'9.75 listing would be fair enough for celebheights
c-mo
said on 5/Jan/18
rob who is that "connor" guy ?
and if the photographer is a few mm taller than you it makes him a very strong 174cm guy and toney looks 3cm or so taller I would say which makes toney strong 177cm
the connor guy looks 181cm or so
Editor Rob:
sorry,
Trinneer
who said he was a hair under 5ft 11...certainly in person I thought that too.
The Shredder
said on 5/Jan/18
He needs a height chart
c-mo
said on 4/Jan/18
I see rob thank you
-
btw. he was also billed as 5'11 . at least on the fight against montell griffin
he was listed anywhere from 5'9 to 5'11 . I still think he is around 5'10 rob . maybe you should think about the possibility of listing him as 5'9.75 . maybe that would be a fair compromise
Editor Rob:
it would be interesting to measure Toney, as he generally looks more than the 5ft 9 he is claiming.
THough I'd say look at him with
The photographer
and then close to 5ft 11 Connor.
The photographer isn't much different than me, I'd say a few mm's taller.
The Rock
said on 3/Jan/18
Looks like 5'10
Shredder
said on 3/Jan/18
He looks 5'10.5 in the pic with Rb , he has to be a lift guy or is clearly lying about being 5'9.
c-mo
said on 2/Jan/18
ok so rob I know my questions are a bit too precise and weird sometimes but I would like to know . I am 178.2cm or so out of bed and 176cm in the evening ...sometimes a little less like 175.7-8cm at a more busy day and 175.6cm or so at my extreme low but thats rare and I also had some back problems . right now even on more busy days my low is 175.8 with 176cm on more relaxed days
how would I compare to toney ? would toney be 178.5 cm out of bed and 176.5cm at night ?
Editor Rob: I think you'd probably look very close.

Actually you are literally identical to nephew 'Big Lewis' who appeared in a video a while ago, he is now in solid 5ft 9 territory now at start of 2018...in fact he measured the same as his Mother on Christmas day.
c-mo
said on 1/Jan/18
Editor Rob:I'm going to go with Toney's own statement...he really isn't as tall as 5ft 10.
------------------------------------------------------------
I dont get it . you met him :D
whats going on rob ?
Editor Rob: I think he will have measured in 5ft 9.5 range and is saying he's not as tall as 5ft 10.

I've measured people at 5ft 9-9.5 who aren't much different than Toney.
C-MO
said on 28/Dec/17
Why is he downgraded ?
Editor Rob:I'm going to go with Toney's own statement...he really isn't as tall as 5ft 10.
even
said on 12/Jul/17
this guy is at least 5 foot 10 when he wakes up ( thats for sure )
in the evening hes height is most likely 5'9.5"
c-mo
said on 6/Nov/16
Rob . would Mike Tyson edge James Toney out by a couple of millimeters ? or did they look pretty much the same ?
Editor Rob: Toney looked a bit taller up close actually, but he had a little more footwear, so I think those guys might be within a few mm's of each other if measured.
Johno
said on 6/Feb/16
If you deduct about an 1/3 of an inch off the top of Toney's head and then notice the different between that point on Toney's head and Rob's, that gap would roughly go 4 times between Toney's eyeline and the top of his ie if his eyeline 5 inches then that gap is 1.25 inches making 5'9.25 there and round it to 5'9.5 and would not average even close to 5'10.
James Toney is 5'9.5, exactly the same height as Randy Couture dead-on when they were flat flooted. I don't know where even these 5'11 or 6'0 estimates are coming from for Couture nor Toney on the Internet; Couture was dwarfed by a 6'2 Lesnar.
James Toney 5'9.5
Randy Couture 5'9.5
Johno
said on 30/Dec/15
The height difference between Rob and Toney is about 1.25-1.5 inches taking footwear into account.
He is around ~ 5.9.5 as the WBA listed.
Wrong
said on 21/Jul/15
Toney is 5'-10" solid. Saw him ringside greeting fans..seems weird that he is listed
at 5'9..maybe he grew in his late teen early 20's which is common, and just
wasn't concerned enough with his height to change the stat since he was whipping everyone's
ass.
Jason
said on 26/May/15
Toeny was always listed at 5'9" or 5'9 1/2"; even in his UFC fight against Couture, Toney was listed at 5'9"....I doubt they would underplay his height. Or maybe Toney grew slightly since he was last measured at 5'9"; maybe he was measured in his teens or high school years and maybe he possibly grew a bit afterwards.....But I live in So. Cal (as does Toney), and I have been tempted to venture down to one of the boxing gyms that Toney frequents just so I can stand next to Toney. I am 5'9 1/2" barefoot at mid-day; in the morning, right out of bed, I just scrape the 5'10" mark, so I'm thinking I might be the same height as Toney.....At night ,after a long day on my feet, I am about 5'9 1/4".
Clay
said on 22/Dec/14
I don't care that he describes himself as 5'9'', he is clearly more in the 10'' range.
IR
said on 24/Oct/14
Ken Shamrock height: 5 ft 11 in ( 180 cm )
mId
said on 11/Sep/14
Just saw a somewhat new video yesterday where he said he was 5'9. I've never seen him look as tall as he does in this photo before. Almost even looks more than 2" taller than Rob here.. Weird if he's not wearing lifts or something :p
[Editor Rob: since he looked a strong 5ft 10 and had about 1/3rdin thicker shoes, I can believe he is very near 5ft 10 moreso than 5ft 9.

Did he look 5ft 9 and 1/3rd range? Nah, and his shoes didn't bulge or anything.]
SaveUsY2J
said on 4/Sep/14
Is he dropping much more height than you are, Rob?
[Editor Rob: a fraction more probably, although he is slightly nearer Duncan the photographer (the photographer at these events with glasses who is a bit taller than myself).]
Clay
said on 10/Aug/14
...Rob is a quarter of an inch over 5'8, so no, he's closer to 5'8..
Adamz
said on 21/May/14
rob is a bit over 5'8" himself. near to 5'9" actually. impossible this guy is below what is listed.
Emmett
said on 16/May/14
He looks no less than 5'9.5. Believe or not, not everyone is as height conscious as the people on this site, and might estimate their height a little low sometimes. Isn't that crazy?
ArjunaKorale
said on 11/May/14
After watching more old videos of Toney, I can now accept that he is a full 5 ft 10" (178 cm). In the fight with 6 ft 1 Nunn, he does look around 3 inches (not 4) shorter. I thought that Nunn was closer to 6 ft 2 & now I'm not so sure. Keith Holmes is a better example of a 6 ft 2 middleweight, I think. Iran Barkley (who both Toney & Nunn beat) is around 6 ft tall (not 6 ft 1)!
Lorne
said on 9/May/14
@Andrea: I agree, but why mention Cudmore? 'I can't see him less than 200cm, and 201 is my guess. Of course, I can't see Welling under 190 either, but at least he claims "almost 6'3."...
[Editor Rob: speaking of Cudmore, here is a photo with
His brothers
and Dad I presume...the younger brother is listed 6ft 7 by his Irish club and the older
6ft 5
...clearly there is more than 2 inches between those other brothers,
Another shot
...that other guy beside cudmores - Hubert Buydens - gets called 6ft 3...]
SaveUsY2J
said on 9/May/14
@Clay- Just ignore this Yazz guy. Obvious troll is obvious. It's just like Mike Tyson's page, there's people crazy enough to still believe he's 5'9 and conveniently ignore Rob's photo.
Yazz
said on 6/May/14
Yeah, that pic shows off his true height, lol.
You cant be real Clay. Go watch his fights against guys that are over 6'0 with Nunn and Barkley
Clay
said on 4/May/14
Being right?!
So Rob magically shrinks to 5'7.25 then. Hahaha.
Yazz
said on 2/May/14
I think its more in being right than any wishing Clay :).
He looks 5'9 range with Nunn and 6'1 Iran Barkley.
Clay
said on 2/May/14
5'10 it is, as is Mike Tyson. LoL@those of you wishing he was 5'9 or holding on to 5'9.
Yazz
said on 2/May/14
Nunn isnt taller than 6'1 range. Tony isnt taller than 5'9 range.
Andrea
said on 30/Apr/14
Well, he claimed 5'9 and 5'10, so he probably got measured between them. He probably is closer to 5'10, but i doubt he would be no less than 5'10 at his lowest. Same thing with Cudmore or Tom Welling...
Nick
said on 30/Apr/14
It's a rare thing that someone estimates their own height to be shorter than that which is stated on the this site.
Lorne
said on 30/Apr/14
People just wish he was 5ft9; That would make Evander 183-4, and Will Smith 184 range!!! $$$ !!!
ArjunaKorale
said on 29/Apr/14
Alright, Rob, I could certainly believe in a 5 ft 10 inch Toney more than I could a 6 ft tall Calzaghe! If Toney is 5 ft 10 as u strongly believe, surely that means that Michael Nunn must be 6f 2 (187 or 188 cm) or so as Nunn looks to be more than 3 inches taller than Toney in their world title fight.
Yazz
said on 29/Apr/14
How do you explain him looking 5'9 with a 6'1.5 guy, both equal footwear in the ring.
Yazz
said on 28/Apr/14
He does look 5'9 with 6'1ish Michael Nunn
[Editor Rob: trust me V, Toney is 5ft 9 after you knock him on the head with a sledgehammer to compress his spine!]
Big T
said on 26/Apr/14
I would be really interested to see a photo of Toney with Mike Tyson but I can't find one anywhere on the internet
Big T
said on 26/Apr/14
People questioning this need to watch his fight with Holyfield. He's not under 5'10".
ArjunaKorale
said on 26/Apr/14
Rob, I don't think Toney is quite as tall as this...I think he is at most 176 or 177 cm (5 ft 9.5)...just look at his early world title fights (when he was in his mid 20s & would not have grown any further) at middleweight...Toney faced the 6 ft 1.5 inch Michael Nunn (one of the tallest 160 pounders of all time) & looked a good 4 to 4.5 inches shorter than Mike.
[Editor Rob: I would be surprised at 5ft 9.5, as he looked a solid 178 range, of course take a fraction shoe advantage away and I still thought this guy would be 5ft 10.]
Joshua
said on 24/Apr/14
Rob I got 2 questions. If am standing with my legs spread open (60cm) does that make me shorter than standing normal? Also, typically if I reach a persons nose and beginning of forehead, how much inches is there of a difference
[Editor Rob: you mean just above eyebrows, it could be anywhere in 3.5-4 range and at end of their nose could be 6.5,7. It will vary a little depending on their head length.]
Yazz
said on 23/Apr/14
Why would he say hes 5'9? Im thinking he has something in his shoes
Big T
said on 22/Apr/14
Good photo. Toney has always looked taller than his billing (in a sport full of people shorter than their billing). When he fought Holyfield the height difference was 3 inches tops but billed as over 5 inches.
[Editor Rob: yeah there wasn't a huge difference between them, Toney is no 5ft 9er.]
PKP181
said on 21/Apr/14
Doesn't look taller than 5'9 next to other people.
Lorne
said on 21/Apr/14
Yeah he is clearly more than one inch taller than Rob, who is a little over 5'8. So really no chance of 5'9. If Rob says 5ft10, then I believe him. And, he even looks close to that mark in pic! Just a surprising case of someone being under billed. I mean seriously, WTF is up with that? Do the WBA just pull these heights out of they're ass??? I mean, you have this guy at a very specific 5ft9.5, when he is really around 5'10, Mike Tyson is listed at a whopping 5ft11.75, when he himself claims 5'10-5'10.5! Then you have Lennox Lennis, who is close to 6ft5,(I believe Rob's 195cm listing) but listed 6ft4.5. I mean, I just don't understand, how hard is it to measure height!?! It's so simple, and they cannot claim it isn't important. ( Oh how I hate when people who get caught lying about they're height claim, "well it isn't that important". Of course, it's not that big a deal, but it must be fairly important if your lying about it!!!) though that is a bit unrelated, isn't it?)
[Editor Rob: Toney could have been once measured 9.5, but it might have been a stadiometer mounted wrong or he never stood tall (unlikely).

Or could have downplayed for a reason of making the other guy look smaller...I've no idea, maybe wanted to sound more impressive?]
Junior31
said on 21/Apr/14
Something's wrong. Guys who are 5'10' don't claim shorter nor do they get billed shorter. Think he's a strong 5'9. Again would never oppose a listing that maybe be a quarter inch yay or nay. Good one rob.
Dabs
said on 21/Apr/14
Not 5'10. Looks 5'9 range as he says.
Clay
said on 19/Apr/14
I knew he was 5'10 when he faced Randy Couture.
Lorne
said on 19/Apr/14
He claimed 5'9, and was listed 5ft9.5, but you thought he looked 5'10? Maybe 5ft9.75 is a fair compromise then, eh?
[Editor Rob: 5ft 9.75 isn't impossible but I think he'd measure right around 5ft 10 mark.]
avi
said on 19/Apr/14
Fair listing
Alex 6'0
said on 19/Apr/14
Take away the 1/3 inch footwear advantage he still looks at least 5'9.5. He claims 5'9 and 5'10 likely he falls in between but Id say he looks nearer 5'10 than 5'9
Connor 184.5-185cm
said on 19/Apr/14
Rob he looks taller than a flat 5ft 10, im seeing 2.5-2.75 inch difference here, without the slouch youll be eyelevel between his mouth and slightly underneath his nose, he seems more like a 5ft 10.5 guy might be close to 5ft 10.75 even.
miko
said on 19/Apr/14
Nice pic Rob. He does look like a weak 5'10 guy, maybe a fraction shorter than Tyson.
mId
said on 27/Nov/13
Click Here
Here's Royce and Ken.
Click Here
And Here's Royce with Ronaldo.
Royce has been listed at 184cm in fights in Japan.. And Ken was listed 180cm in the old Days. Ronaldo was measured with a laser on a show.. He was 185cm. Royce is about 6' now and ken is ~5'10 now. Again, by my estimates.
mId
said on 27/Nov/13
Ken Shamrock 5'11.5 is not even possible by my estimtates.. Have you seen him next to Royce Gracie.. Royce at 184cm has ~2 inches on him when standing side by side in pics.. and Royce is shorter than 185cm laser-measured Christiano Ronaldo in their pics together. Ken is MAX 5'10.5 if you ask me.
mId
said on 18/Nov/12
Clay: Shamrock even looked shorter than 5'10 tops dana white(look at dana walking next to tyson) on the TUF show standing next to eachother.. Shamrock was listed 5'11 in the first UFC's.. I don't think he has the same height today at his age. He joined the WWE for a while.. I remember reading that the wrestling fans on this site estimating shamrock at 5'10. And why would Toney and people around him say he's 5'9 if he wasn't.. He was even listed as that both in boxing and UFC. Well, that's my estimates.. I guess we just have to agree to disagree for now Clay until we know for sure :) I just wanna know their real heights.. and if I'm wrong, I'm wrong.
Clay
said on 17/Nov/12
You're doing it again mid...Shamrock is more than a 5'10'' flat.
mId
said on 14/Nov/12
He was billed 5'9.. not 5'10 in the one UFC fight he had with Couture. He was supposed to fight Ken shamrock in IFC.. it never happened, but they had a staredown and ken was 1 inch taller. And Ken is about 5'10(He was listed as 5'11 in the young days of UFC.) So 5'9 does sound right for Toney. People who train with him in some videos say he's 5'9 too so.
Tyrone
said on 12/Feb/12
Solid 5'10.5. Seriously I saw this dude and he looked my height and I'm 5'10, but I was wearing them timbarlands and then I looked at his feet and he was rocking converses!!!
George St. Pierre
said on 2/Dec/11
Toney might actually be one of those people that downplays his height. He claims he's 5'9. Yet, at times he looks solid 5'10.5. He looks around 5'11-6' in shoes.
Next to 6'2 (self-claimed) Holyfield, Toney looks 6 feet.
Click Here
Chris175
said on 15/Jul/11
Ariel helwani (interviewer) claims 6-0,
Click Here
toney is 5-10, he was also billed as 5-10 in his fight with randy couture
kari pakaya
said on 22/Jun/11
Big T ..... Samuel peter is actually 6'1" !!
Big T
said on 26/Feb/11
Toney's self-proclaimed height of 5'9" seems to be a case of Charles Barkley style "making yourself smaller to make your achievements seem more impressive".
He was only 3 inches shorter than 6'2" listed Samuel Peter and 6'2 1/2" listed Holyfield.
imo Toney is 5'10" and Holyfield (one of the biggest liars out there) is about 6'1". Toney looks the same height next to taller guys like Holyfield as Mike Tyson does.
mId
said on 7/Feb/11
If couture is 6' then john cena is pushing 6'2 (even though he says he is 6' himself) if you compare randys and cenas 'staredowns' with brock.
Anthony
said on 31/Jan/11
JT is a solid 5'10. He looks the same height as Dana White and just a little bit shorter than 6' Couture. His reach is way more controversial - sometimes it's listed at 72' and other times at 76'.
Chuck
said on 19/Dec/10
Roy Jones Jr is a measured 5'11", and James Toney was definetly about 2 inches shorter in their fight, so it's not like Toney magically grew when he joined the UFC! UFC's fighters should be measured like boxers used to be back in Muhammad Ali's time around the 1960's. Randy is more like 5'11" and he is listed at 6'2". Carwin was listed at 6'5" when he was measured at a little over 6'1" in his football career!
Anonymous
said on 9/Dec/10
tony was almost as tall as couture...so do the math losers...the difference is clear as an a coupl inches...the most....whatever couture's height is just tony is barley shorter..hahahaah
Anonymous
said on 24/Mar/09
He is very burly-looking,so he can look taller than he is. I remember in the fight against Jones he looked almost the same height as him. I'd give him 5'10.
6'0''
said on 15/Aug/07
I think Toney is shorter then 5'9.5''. He once fought a man named Doug DeWitt on HBO, and while DeWitt was listed as 5'10'' for that fight he has been listed at 5'9'' multiple times in other fights, and in his boxrec profile. If you watch the fight you will notice that Toney is shorter then DeWitt. I honestly think Toney might be a littler shorter then the 5'9'' he's billed himself as. 5'8'' isn't out of the question.
CoolJ
said on 8/Jan/07
He definitely appeared more than 2.5" shorter than the 6'0.5" Sam Peter in their 2nd matchup
Shaun
said on 3/Jan/07
Anonymous, when you mention guys who are 6'2'' are you referring to Holyfield. During their fight Holy looked to be 3.5'' taller then Toney at the most, and both were wearing boxing equipment and standing in a ring. BUT Holyfield probably isn't 6'2''. When he was fighting the 6'2'' John Ruiz he was noticeably shorter. There also looked to a be a similar height difference between Holyfield and Toney and Holyfield and Tyson when they fought, and Tyson is listed here as 5'9.5'' which I agree with.
Shaun
said on 29/Dec/06
I'm a big boxing fan myself, and I'm a fan of Toney's too. I think he's 5'9'' on the dot, though half-an-inch is pretty hard to determine. Roy Jones listed himself as 5'11'' but I personally think he looks closer to 5'10''. Maybe 5'10.5'', which was the height listed for him in a couple of early bouts he had.
CoolJ
said on 8/Sep/06
Listed at 5'10 in his most recent bout... BTW, Jones is just short of 5'11"
Anonymous
said on 3/Apr/06
I don't see how he can be 5'9", when he stands next to guys that are 6'2" he looks close in height
deepestvoice
said on 23/Mar/06
James Toney admitted before his last fight with Hasim Rahman that he was only 5'9 and the commentators for the match made the same comment. It looked like Toney came up past Rahman's eyes in the stare down which would make it impossible for Rahman to be 6'2.5. More like 6'0.5.
Danny
said on 15/Mar/06
Toney is about 5'9" tall as seen in his recent press conference with Hasim Rahman who is a legit 6'2 1/2" tall.
boxing4life
said on 13/Mar/06
James Toney is about 5'10". Roy Jones is 5'11" and I don't see them being the same height. If you watch James fight with McCallum you'll see the height because McCallum was about 5'11" and a half.
toney titan
said on 5/Jul/05
james toney is and always will be the man. and he will take the title from that freakish fraud vitaly klischko! this will make him one of the shortest heavyweight champs in history. regardless of whether he is 5'9" or 5'10" (i don't think he's 5'11") Toney is one of the few men in the world who has been able to carve out a career for himself in the boxing ring. only the toughest of the tough have the courage to step in that ring for a living!
Smoke
said on 3/May/05
Whatever his height really is (most likely 5'9" on the dot) the 230 lbs. he carries into the ring nowadays clearly looks like too much for his frame!
JCS
said on 3/May/05
Measured at 5'9" for his most recent fight on April 30, 2005
xaoxio
said on 18/Apr/05
James "Lights Out" Toney is a tricky one to be exactly measured but I think that he's 5'9"-5'10" - no less.
derek
said on 18/Apr/05
i'm a huge boxing fan and have seen both weigh in. boxers's heights are often exagerrated to make them seem bigger / intimidating. holyfield is only 6 foot tall. i have heard that toney is 5'11, but when he fought roy jones jr, he was measured at 5'9.5. roy is actually only 5'10.
Smoke
said on 17/Apr/05
Interesting to see this guy, of all boxers, to get a listing going! I've seen Evander in person twice, and I can say that from my own observation is that he was shockingly not very tall. On TV you see him and you think here's this hulking 6'2" Heavyweight Champion, in person you're surprised to see a 5'11"-6'0", yet still superbly conditioned, former Heavyweight Champion. If Evander is this tall, then that probably makes "Lights Out" in the neighbourhood of 5'9"-5'10" at best. Toney is usually towered over by most of the guys he fights, I recall Vassiliy Jirov trying to utilize Toney's lack of height in their bout. Toney definately fights bigger than he actually is, but I say that the listing here could be a touch generous, I think he's somewhere between 175-177 cm. Really, I've said, the only boxer that I've ever met who looked near their listed height was Bernard Hopkins, at about 6'0", he now gets listed at 6'1" though. His next opponent, Jermain Taylor, also looks about 6'0" and is listed pretty close to this as well.