Jane Seymour's Height
5ft 3 ½ (161.3 cm)
English actress best known for starring in tv series Dr Quinn, Medicine Woman. In film she has appeared in Live and Let Die, Sinbad & The Eye of the Tiger and Somewhere in Time. On her official website she says:
"Also, I'm only five feet four, and my leading men all tend to be much taller"
, although was quoted once saying
"I was 5ft 3in and 8st"
. In CloserWeekly it mentioned her weight,
"noting that she hovers around 115 pounds [8st 3lbs]"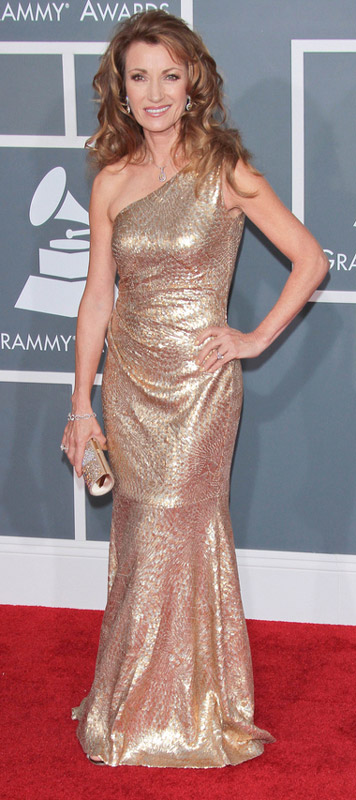 Photos by PR Photos
Add a Comment
23 comments
Average Guess (12 Votes)
5ft 4.13in (162.9cm)
Leo van Rhijn
said on 25/May/20
Jane - "I'm not a woman, I'm a doctor!" - will always be one of my favorite actresses, no matter ho tall she is.
Miss Sandy Cowell
said on 15/Feb/20
Hey! That's EXACTLY the height I just found for Jane while looking for the Birthday information, which sometimes comes complete with heights - 161cm. Yowza!
And talking about Birthdays, it's time to say:-
💐🎂🎈🎊 Happy Birthday Jane! 🎊🎈🎂💐
Yes, it's Jane Seymour's 69th Birthday today, and here's wishing her a fabulous day!
5ft3.5 is my Birthday Guess for the actress who named herself after Henry VIII's third - and favourite - wife.
💝😁🎁
💐🎂🎈🎊💐🎂🎈🎊💐🎂🎈🎊💐🎂🎈🎊

Editor Rob
Jane could pass for 5ft 4 at times, I think 5ft 3.5 or 4 might have been likelier than say a flat 5ft 3.
P.W.
said on 13/Jul/19
On James Martin ITV Cooking Programme. She has boots on, presume 2 inch, but still looks a good foot shorter than James, who I presume is a true 6ft 2in. So 5ft 2in at the very limit, taking into account his footwear.
She looks very good for a 68 year old and obviously looks after her health and looks. Very vivacious.
Sandy Cowell
said on 14/Jan/17
That is 100% the exact double of what I read about her - 5ft3 and 115lbs. As with the majority of shorter women, she has to work at it!
I wonder how many of these stars would let themselves go if they weren't famous? It is my estimate that it would be very few indeed! Getting out of shape is SO uncomfortable and it zaps the energy. There is no point in thinking, "if only I wasn't in the public eye I could stuff myself stupid!" I don't think they actually would given the chance! 💕👙👍
Andrew M
said on 6/Feb/16
Regarding her figure, I know she's been doing Pilates for years, including using one of those "Reformer" devices, so she clearly looks after herself; and she doesn't strike me as the type to fall for faddy diets or bizarre fitness trends. Also, I think her son looks quite like Ben Fogle in Arch Stanton's photo.
Arch Stanton
said on 24/Sep/13
Rob
Click Here
How tall does her son look to you? She's in heels but not quite stood straight. Seeing them in other photos I think proportionally he looks 6'3"-6'4". What do you think?
[Editor Rob: yeah he looks like he could be in that range]
smallparcel
said on 22/Apr/13
The eye sees what it wants to see, something nice about being perfectly petite!!
da_truth
said on 17/Jan/13
I actually met her once. We were in the elevator together and she said "Hi". Real nice person. But she was tiny. I think she's about 5'2 - 5'3". She also has a tiny frame.
Gina
said on 28/Jan/12
I saw Jane Seymour last night and she is about 5'4. She still looks amazing.
ArjunaKorale
said on 30/Nov/11
No, Ursula Andress was NOT the hottest Bond Girl as there were several much more hotter! Just one of these is Eva Green (from "Casino Royale") who is French, is beautiful, & is not shy to show off her body! And she too is "only" 5'6" (for me, this is quite, but not overly, tall for a woman). Sorry, mate, but Andress was DEFINITELY NOT the hottest Bond Girl ever!!!
Shaun
said on 24/Sep/11
The hottest Bond girl was Ursula Andress and I think she is around 5'6", not tall.
Bob
said on 13/Dec/10
Tony Greene: my preference would be tiny little petite, feminine, sexy dolls as James Bond women rather than manly amazons. I guess it is all a matter of taste... What would the world be like if we all had the same taste?
Anonymous
said on 26/Oct/10
What rubbbish, so Ursuala Andress, Honor Blackman, Halle Berry and quite a few others should'nt have been Bond girls as they don't fit in your ideal
boswell
said on 22/May/09
I've seen her close up in person in the course of my work. She is, as others have said, very petite, very pretty and probably about 5' 2" or 3".
east meets west
said on 4/Apr/09
Jane Seymour is very pretty but I'm afraid she is only about 5'2" at best. She used to film in her native England a lot back in the 1980's and worked at the same studio as my then husband. Everyone who met and/or worked with her commented on how petite she was, no more than 5'2".
Irene
said on 19/Nov/08
I've met Jane in person and she's about my height so I think she's more like 5'5". People I'm telling you she's even more pretty in person than on tv!!
Andrea
said on 14/Mar/08
I got to go to this artshow that I was invited to that Jane Seymour was hosting and I met her and I am '5ft 5in and she was my height in the pic we took together but she was wearing like 2 in boots so i would say 5ft 3in
Ashley
said on 13/Jan/08
When I first saw her in Sinbad and the Eye of the Tiger, I thought that she was 5'5". But 5'4" is about right.
Editor Rob
said on 1/Mar/07
Said in 2003 "I was 5ft 3in and 8st".
Editor Rob
said on 10/Sep/06
Back in 1986, Philly Inquirer "a sprite of a woman just 5- foot-3 1/2"
Shmeep
said on 22/Feb/06
I was on the set of Dr. Quinn, Medicine Woman once and I saw her and was surprised by how much smaller she was in person than I had expected her to be. I'd be surprised if she's above 5'2".
Anonymous
said on 29/Sep/05
Rachel McAdams appeared to be a solid inch or so taller than her in Wedding Crashers, so I guess that boosts Rachel up to 5'5"?
CelebHeights Editor
said on 29/Sep/05
On her official site, she does say:
"Also, I'm only five feet four, and my leading men all tend to be much taller"