Jenson Button's Height
5ft 11 ¾ (182.2 cm)
British Formula 1 Racing Driver. In the Guardian newspaper he said
"I'm 6ft and I'm 70kg so I haven't much fat on me"
and in the Daily Mail
"I dropped my body fat percentage from 10.9 to 6 per cent. I'm 6ft and on a good day I weigh 69.5kg (just under 11 stone)"
.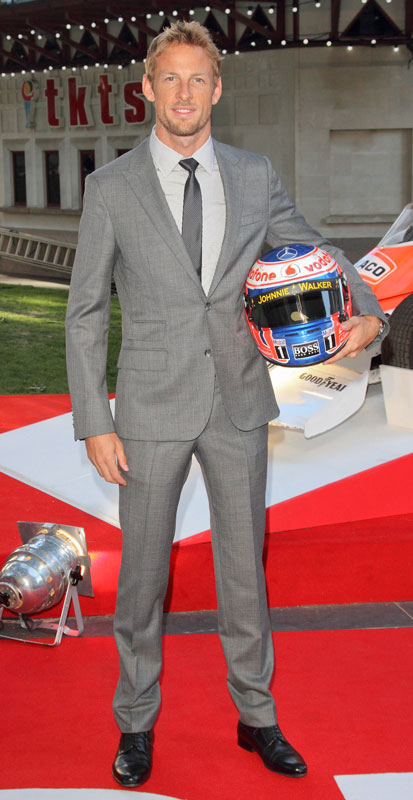 Photos by PR Photos
Add a Comment
81 comments
Average Guess (13 Votes)
5ft 11.75in (182.2cm)
Hans Meiser
said on 5/May/17
@Arch Stanton
I'm the exact same height and I weigh 65 kg. I'm 17 though, so I might gain a few pounds in the future.
Patrick
said on 10/Jan/17
The guy on the left is 5'11" 1/2 to 3/4. Depending on footwear and also Button's position, I'd say 183 for Button.
Arch Stanton
said on 12/Oct/16
Rob can you add a photo? Yes, one thing which always stands out about him is that he's really skinny!
Tunman
said on 25/Sep/15
Quite interesting how F1 drivers got taller from late 90's to early 2010's.I just recall Wurz,Hill and Coulthard as being rather tall back then and too many were in the 5'6-8 range, but recently drivers look like they're average joes in my opinion.The very large majority hover between 5'7 and 6'1 (di resta and petrov were both185) and Massa at 166 and formerly Heidfeld at 163 are the only small guys these days.
MD
said on 16/Jul/15
Rob, 182 cm for Jenson, then?
[Editor Rob: 5ft 11.75 is probably reasonable]
MD
said on 15/Jul/15
Rob,
On Button's own site, now, he lists his height at 182 cm (and weight at 70.5 kg):
Click Here
Like I said, I don't think he's a flat 5'11", but 181-182cm is a better listing. He's not quite 6'0".
mr.rashid
said on 12/Jul/15
@EditorRob,
Downgrade to 5'11.5" Rob?
6ft seems hard to believe
kikster
said on 19/Feb/15
Next to Christiano Ronaldo (who is 1.85cm tall), Jenson Button could easily be 5cm shorter (1.80cm tall). A better comparison would be with David Coulthard, who stands at 1.82cm tall. Jenson is slightly shorter. So, conclusion, Jenson Button could easily be 1.81cm tall. Agree?
HULK
said on 8/Feb/15
Looks 5'11 next to Cristiano Ronaldo
Rampage(-_-_-)Clover
said on 30/Oct/14
Looked 5ft11 range with Cameron.
Crash
said on 6/Jun/14
WTF Arch and Rampage? He's certainly slim but "skinny as hell" and "anorexic"? No way.
Arch Stanton
said on 26/Apr/14
182-3 is good. He's built like a long distance athlete/cyclist actually. I read he did a marathon in 2 hrs 58 which for a non athlete is an incredible time, the world's elite African marathon runners do it in 2hrs 5-10. James Cracknell is another who did it in 2 hrs 59. Most non athlete celebs who run it would be considered a good runner to run it in under 4 hours.
Pleb
said on 2/Jan/14
Cameron is clearly in relaxed posture, Button is standing tall. 181cm max, 179-180cm more on the money.
MD
said on 19/Dec/13
Every single one of those estimates, Killer Shrimp, is grossly off, and I'm usually one advocating for downgrades. But, those are way too far.
KJK
said on 17/Dec/13
If Hamilton is 5'6.25'' then Tom Cruise must be under 5 ft 6 since Hamilton is taller than him on pictures. Personally I think Hamilton is 5 ft 7.25 which he was measured at not so long ago.
Mr-KILLER-SHRIMP
said on 16/Dec/13
David Cameron: 5'11.75" (182-183cm)
Jenson Button: 5'10.75" (179-180cm)
Lewis Hamilton: 5'6.25" (168-169cm)
MD
said on 5/Dec/13
He could, and he should. :)
I'd actually been arguing even when we had Hamilton taller, that Jenson didn't quite look a full 6'0". I don't think he's anything crazy like 5'10" or 5'11", but I think he's probably 182 cm.
KJK
said on 3/Dec/13
Rob, don't you think Jenson Button should be downgraded to 5 ft 11.5 since both Hamilton and Beckham have been been downgraded by a half an inch recently? It makes sence especially since Button usually is listed at 182 cm and not 183 cm, and Pleb's picture (with Button next to David Cameron) shows that Button is below 6 ft.
[Editor Rob: you could put button in weak 6ft area]
Pleb
said on 20/Nov/13
Looks 5'10.5 to 5'11, next to David Cameron.
Click Here
Can look 6ft since he's skinny, giving him that slight lanky look.
cole
said on 23/Sep/13
Not quite 6ft. 182 cm.
Steven
said on 14/Jul/13
LoL ALAN maybe you are smaller as 6'1 ;) He's not smaller as 5'11 !!! Idiot!!
Alan
said on 20/Jun/13
My work pal saw Jenson at the airport recently he said he was shocked absolutely shocked at how short Jenson seemed. My pal is 6'1 he said Jenson had flats on and was no more than 5'10'5.
Lars
said on 21/Dec/12
In real life I think Button is 182 cm or almost 5 ft 11.75. That means he's not a full 6'. Anyway, he is really tall for being a Formula 1 driver! Only Webber, Hülkenberg and di Resta are taller, I think.
Mr-KILLER-SHRIMP
said on 19/Dec/12
Indeed SAK, I highly doubt Hamilton is anything above 170cm.
SAK
said on 18/Dec/12
183cm for Button is still acceptable, but 173cm for Hamilton isn't. Hamilton really needs to be downgraded by a cm or 2.
Arch Stanton
said on 16/Dec/12
You mean vertically a bigger shoe I guess!!
Arch Stanton
said on 16/Dec/12
HULK says on 2/Feb/12
[Editor Rob: beckham has a bigger shoe than button, but they are quite close in all the photos]
Eh?? Beckham wears a UK size 8 I read which is small for a 5'11"-6' guy. Jensen has even small feet??
Arch Stanton
said on 16/Dec/12
He looks like he could be Zara Philip's brother!!
Arch Stanton
said on 16/Dec/12
Yeah he's skinny as hell.
Rampage(-_-_-)Clover
said on 7/Sep/12
I think the original 5"11.75(182cm) was spot on.
But my god, 70kg at almost 6"0 is borderline anerexic.
Shaun
said on 25/Aug/12
He does look around 6 ft.
HULK
said on 2/Feb/12
[Editor Rob: beckham has a bigger shoe than button, but they are quite close in all the photos]
--------------------------------------------------------------------------------
IM not to SURE about that STATEMENT!
JUST LOOK
Click Here
Click Here
IN both picture's u can see there footwear very clearly,
PIC 2---PLEASE ZOOM INTO JENSEN BUTTONS SHOES
HE's Got to be 181
[Editor Rob: it looks more to me, and button swapped his sneakers for his racing boots aswell in other photos.]
Mr-KILLER-SHRIMP
said on 27/Jan/12
[Editor Rob: beckham has a bigger shoe than button, but they are quite close in all the photos]
_______________________________________________________
I don't know Rob, even if you take Beckham's bigger footwear into account, Button was clearly shorter than Beckham who I and many others on Beckham's page don't buy at 182cm. In addition, Button is listed on several websites at 181 or 182cm, I think that would not have been the case if he was really 6'0"/183cm. That's the way it works. Also, SAK is right when he says that there's more than 1cm between 184cm listed David Cameron and Button.
All those elements lead me to believe that this listing is far too optimistic. I strongly doubt this guy is a legit 6'0"/183cm.
MD
said on 26/Jan/12
Rob,
You can try to explain away the Beckham photos, but what are you going to do with the ones with David Cameron?
Jenson is not quite 6'0".
[Editor Rob: yeah jenson can can look a fraction shy of 6ft with cameron.]
Mr-KILLER-SHRIMP
said on 25/Jan/12
This 183cm listing doesn't make sense. Button is shorter than David Beckham yet Button at 183 is listed higher than Beckham at 182:
Click Here
If Beckham gets a 182cm listing, I think Button should get a 181cm listing MAX. Hamilton is below 170cm.
Many of the top F1 drivers like Vettel, Alonso, Hamilton, Schumacher etc are below average height. Of course there are also a few tall ones - for example I remember that Kubica was listed at 184cm back when he was still at BMW, and Webber is a tall guy too.
[Editor Rob: beckham has a bigger shoe than button, but they are quite close in all the photos]
SAK
said on 22/Nov/11
Button here with David Cameron(184cm). Button looks more than 1cm shorter then Cameron.
Click Here
Click Here
Click Here
I would say Jenson Button is 5ft11.5, somewhere between 181.5-182.5cm. And Lewis Hamilton is 171cm/5ft7.
SAK
said on 22/Nov/11
silversurfer says on 10/Oct/11
I`m 6ft and stood near button and would say he is definately no more than 5`10 more likely shorter, felt like i was towering over him. (by the way i don`t think you will find any f1 drivers these days at 6ft} see him on ready steady cook where he is mocked for being a little button
---------------------------------------------------------------------
2" is hardly towering, 2" is more like being noticeably but not significantly taller.
Button is 182cm/5ft11.5
squala
said on 5/Nov/11
Lewis looks no more than 170. 183-184 seems about right for Jenson.
silversurfer
said on 10/Oct/11
I`m 6ft and stood near button and would say he is definately no more than 5`10 more likely shorter, felt like i was towering over him. (by the way i don`t think you will find any f1 drivers these days at 6ft} see him on ready steady cook where he is mocked for being a little button
Rampage(-_-_-)Clover
said on 27/Aug/11
Adam is supposedly 187-188cm, which would make him 6"1.75.
Button is 1.5in shorter in the pic. So he looks 6"0.25(184cm)
Objective viewer
said on 19/Aug/11
I saw him this morning at my hotel, he looks taller than 183 in my opinion..
Rampage(-_-_-)Clover
said on 18/Jun/11
184-185cm with Adam
MD
said on 26/Apr/11
Rob,
Not to get too far of the topic of this page, but do you think you could add Lewis Hamilton?
[Editor Rob: if I can look at him again and decide I will add him, but it won't be at 174cm his claimed height.]
Rampage(-_-_-)Clover
said on 25/Apr/11
Actually he looks near 6"1 in that with Adam
MD
said on 8/Apr/11
BTW, if Jensen is 183 cm, how tall does that make Lewis Hamilton?
Click Here
He always gets listed at 174/175 cm, but he just looks so much shorter, to me, than that.
[Editor Rob: he's officially 174cm, but I think it's likelier 170-171 than 174/5.]
MD
said on 6/Apr/11
Funny. For years, I've always seen this guy listed at 181 cm or 182 cm.
Adam
said on 5/Apr/11
anon at 187cm I am more 6ft 2 than 6ft 1! If you wana be picky I'm 6ft 1 and a half
james
said on 26/Mar/11
Probably 182 or 183cm- Somewhere overall between 5'11.5- 6'0.25 or something, He might be a normal/weak 6ft.
anon
said on 7/Mar/11
I'd be surprised if this Adam guy was over 185cm
HULK
said on 1/Mar/11
MOST WEBSITES HAVE HIM DOWN AS 182/5'11.5
I WOULDNT SAY MORE THAN 184/6'.05
DAVID COULTHARD IS LISTED EVERY WHERE AS 182/5'11.5 AND LOOKS IN MOST OF HIS PICTURES THE SAME HEIGHT AS BUTTON
Jason
said on 6/Jun/09
My mate who is 6'1 met him a few days ago, his estimate 5'9
Hugh 190cm
said on 27/May/09
By that Pic I estimite Adam to be 189cm seeming he's slouching and Jenson to be somewhere between 182cm-185cm,
Soviet_Rebel
said on 24/May/09
I know that this is a little bit OT but.. look at these picks:
Click Here
Click Here
Click Here
Valentino Rossi seems to be 15 - 20cm shorter than 193cm Marco Materazzi. NO WAY that Rossi is 182cm like has been listed on some sites. He is for sure 178cm and perhaps a little shorter.
Bye!
Anonymous
said on 29/Mar/09
I met him tonight in Melbourne a coupe of hours after he won the GP. Absolutel great gu, very ogliging. Got a great pic. .I masure 183.9cm's at night (6ft 1/2 in) We both had similar footwear In the pic he is about 1 cm taller than me, ut I did have to lean in a bit. But I wouldnd't be suprised if hewas a legit 6 footer which I was very surprised about as F1 drivers are usually barely taller than jockeys.
Adam
said on 24/Apr/08
I'm 187cm tall now and this was taken 3 years ago so was about 185cm ish then. I'm not as upright as jenson. I think there is an inch difference as it is shown but if i was upright would be more like 1.5inch.
JoeFalk
said on 9/Apr/08
I can't see this 5/6 cm of difference, more like 2/3 cm max.
Adam
said on 14/Feb/08
Rob what do you think the height difference is in this pic minus even me slouching and jenson being closer to the camera? I would say there is at least a 4cm difference. When is the best time in the day to be measured?
[Editor Rob: Noon. Yes it could be close to 4 with these little things you say.]
notAlister
said on 26/Jan/08
Surely apparent height is not only influenced by choise of footwear but also by thickness of hair. I once walked past Mick Jagger and at first glance he appeared to be about 6ft tall which was taller than I expected, however, upon taking a second glance (well you would second glance an A lister would you not!?) and adjusting for his choise of footwear and hair he is probably around 5ft 8in.
adam
said on 22/Dec/07
no not on tip toes, im 6' 1 - 6' 1.5 so its obvious he's 5' 11- 5.11.5 easy
Adam
said on 19/Oct/07
This pic i was 18 and i think i was just 6' 1" (185cm. AT 21 i am now 187cm and a bit. Sumtimes I have measured 188cm - 188.5cm but i duno how i can explain that
Jimmy
said on 24/Sep/07
You could be on tip toes for God's sake. Hell you even could wear 'lifts'.
It's ridiculous judging him on just one picture.
Adam
said on 14/Jul/07
Rob how much height differnce can you see in this pic? I can tell that i am not stood staright at all and i have a bag on my back but i can see maybe a clear 2inches if you imagine i was upright more. I would probably say i was 4cm-5cm taller than Jenson in that pic.
[Editor Rob: I think you have the poorer posture. Sometimes in photos it can be hard to detect how much one is losing. 4-5 if you stand same, I think his head is slightly closer, but that wouldn't contribute more than small fraction in this case.]
Bombay Rocker
said on 7/Jul/07
So if we take kobe bryant to be 6 feet 5.5 and if he is wearing regular dress shoes which give like 1 - 1.25 inch making him 6 feet 6.75 and nicky is wearing shoes which give him an inch making nicky somewhere in the range of 5 feet 9 - 5 feet 10 depending on footwear and other factors...one thing is sure, he is no less than 5 feet 8 and no more than 5 feet 10 but close to 5 feet 10 and that's what he looks in pictures......is that guy who rounds down darius or vince vaughn coz both of them are nearer 6 feet 5 and i think both claim they are less than that. One of my 5 feet 7 inch friend has met darius and darius totally dwarfed him although its difficult to know how much he is taller than him in that pic since darius is bending a LOT but you can easily say he is huge.
[Editor Rob: nah, he's a nobody. But he shed some light on the fact that some tall guys will drop 1/2 inches.]
Bombay Rocker
said on 7/Jul/07
I can see definite 8 inches on nicky by kobe bryant, possible 8.5...how much do you make out Rob and i think kobe is probably between 6 feet 5 - 6 feet 5.5 or maybe kobe is 6 feet 5 barefoot and gets listed as 6 feet 6 with shoes.
[Editor Rob: that's how I'd look beside legit near 6ft 5 guy.

Actually I've got a pic very similar with a guy who only claims 6ft 4, but is nearer 6ft 5 in reality, rounds down to 6ft 4 and says to me he's lost out on a lot of roles because he's too tall.]
Bombay Rocker
said on 7/Jul/07
Hey sorry rob....didnt get what you mean...i think he looks taller than his listed height and like F1 racers, i dont think they are measured or if they are then not correctly cause i saw some pics of nicky with a few riders and some of them who were listed taller than him were actually shorter and some who were listed shorter were taller than him....Are you gonna add these MotoGp riders maybe?
Here is a group pic of nicky with john hopkins who is listed as 178 on his official website, colin edwards who is officially listed as 179, kenny roberts jr. who is listed mostly as 5 feet 10 and listed as 5 feet 7 on some places is actually taller than all of them and taller by atleast an inch to the 179 cms listed colin edwards making him close to 6 feet ..here is the pic
Click Here
with rossi who is listed as 182 on official website of yamaha racing team and the striking part is that his weight is listed as 59 kgs, shocking..he cant be that light for sure and ya on some websites he is listed as 178 but he does come across as a tall dude maybe cause he is skinny..anyways here's the link to the website,
Click Here
-----
1.
Click Here
2.
Click Here
Another very good pic, You can't open the image directly but in any case the image number is 140
Casey stoner who is 170 - 171, marco melandri listed from 166 - 168, valentino again listed officialy as 182.
With teammate Dani Pedrosa listed officially as 158
Click Here
Click Here
I was thinking he is actually close to 5 feet 10, very close...what's your opinion.
[Editor Rob: I must have typed so fast that I don't even know what I meant ;)

With Jenson he does not look anything under that 173cm, anybody listing him at 5ft 7 is having a laugh. As you say, with button he could pass for looking taller in some photos. The basketball player's height - the guy in that link - is debatable. Some think 6ft 4, 6ft 5 etc...]
Bombay Rocker
said on 6/Jul/07
Hey Rob, remember some days back i made a reference to nicky hayden, the MotoGp world champion.....i found some pics of nicky with button on nick's website and for reference as far as i could check i found button is listed as 182 cms - 183 cms at most places and his official height at his myspace and website being 182 and nicky's height....well i don't know for sure but ya in the video i sent you which said something like inside facts of nicky or something and which kinda looked official stated him as 173 and the honda racing, the factory team for which he rides list him as 173 too but some sites list him 170, 171, 169 and again 173 so its all over the place but anyways here are the pics....tell me how much you see between them
Click Here
[Editor Rob: he doesn't look shorter than that official with bunson burner.
With Whatshisface
...]
Adam
said on 25/Jun/07
I would say that there i am 186cm in this pic and Jenson is 182cm. There is a 4cm difference minimum in this pic. I am now 188cm. There is abit of confusion because when i sent this pic to glenn i gave him my current height (6'2"). In that pic i was just over 6'1" (186cm) maybe (185cm).
Alucard
said on 24/Jun/07
If Jensen Button is 182, then Adam isn't 187 for sure...One of the height's are wrong (even if I can see that Adam is slouching a bit).
Adam
said on 22/Jun/07
So dmeyer you are saying that i would have 2inches on jenson from this pic? I would agree with that and would say no more but maybe slighly less. If i was stood taller in this pic you would see a clear 2inch difference but as of how tall we both are is down to speculation of jenson's height and whether i have grown in the last 2 years to become the full 187cm i am now or whther i was that back then? Personally in this pic i believe that jenson is closer to 6ft than i am to 6ft 2inches tall if i am understood. I don't feel that i have grown much if at all in the last 2 years and i have infact gained 2.5 stone in weight and therefore belive that my posture would be better in this pic and therefore i would stand taller. I was 13.5-14 stone in this pic. I think that because jenson would of reached his peak in this picture my height in the pic would demonstarte my peak height as there is a clear 2 inches between us and if jenson is 182 and i am 187 that would be a 5cm difference (2inches). Another posibily is jenson is actually shorter than 182 and i was shorter in that pic than i am now but i am confident enough in my examination of my growth in the last year to say that this pic demonstates me at my peak and the same as the height i stand today.
dmeyer
said on 22/Jun/07
looks 3 in on clooney with a lean so if he is 182 thaen clooney is 175 if adam stands tall he will have 2 in on him
Anonymous
said on 22/Jun/07
He's tall for an F1 driver then. Most are well under 6ft. Formula 1 drivers usually range from short to average at most. The cars are designed for smaller than average people. Maybe it's because small people have better co-ordination or something. Afterall featherweights are much quicker than heavyweights in boxing.
Adam
said on 22/Jun/07
So do we think Jenson is a full 6"0? I would say 5'11 3/4"
tallish
said on 22/Jun/07
Oh just reread your post,yes active F1 drivers Wurz is the tallest,tallest ever F1 driver is 6'3 Justin Wilson I think
tallish
said on 22/Jun/07
To Austrian,actually its Justin Wilson at 6'3
Adam
said on 22/Jun/07
Just so that people are clear about this pic, it was a pic taken 2 years ago and i was measured at just over 187cm and abit by my doctor this week. Don't know what the abit was but as a cm is so small i would imagine it would equate to something up and around 0.5 cm! Wouldn't be able to tell You how tall i was in that pic as it was over 2 years ago. So i would say that Jenson was 5"11 3/4 ish and i was maybe just over 6"1 (186cm). I would say take Jenson's official height because he was 24 in that pic and would of reached his peak and work out my height from there. The height given on that picture was a recent height but who knows i may not of grown since then. Hsve to work it out ou there.
Austrian
said on 21/Jun/07
thats rather tall for a racing driver
by the way the tallest active F1 driver is Alexander Wurz from Austria at 187 cm (~6'2) :)
OutBenchThis
said on 21/Jun/07
from the photo, button looks more 6'.05" (184cm) than 182cm next to a 187-188cm guy..but again, angle and posture are hard to judge..Rob? What is he listed at?
[Editor Rob: 182cm is his official height, its on his webpage aswell so I doubt he's anymore.
with clooney
. Adam does have slight lean, and he is 187.5cm, although he is 18 year old here. There's always some possibility 2 years later he got a little bit of final height, don't know though...]
Adam
said on 21/Jun/07
Yeah true i thought that aswell but when i looked at the pic i definetely thought he was around 6ft.
Evanna
said on 21/Jun/07
He is tall for a Formula 1 driver. I thought they were all supposed to be small.
Adam
said on 21/Jun/07
Hey this is a picture that I had taken of me and Jenson Button in Prague airport about two years ago. I can't really remember much about meeting him as i speant most of the day making use of the cheap beer so was abit drunk to say the least. I am pretty sure that in this picture i was about 186cm tall or just over 6'1" but was measured by my doctor the other day and he made me 187cm and a bit. Wouldn't say i was quite a full 6'2" but close enough. I estimated that the "Bit" over 187cm he said i was equates to about 0.1cm so i found out what 187.1cm was in feet and inches and i found that i was 6ft 1 and 2/3's i.e. 6 feet tall plus 1 whold inch and two thirds of an inch. Duno what you guys think of that from this picture? Note i have a slight slant whilst Jenson is pretty upright.
Alexi
said on 21/Jun/07
His name is Jenson not Jensen!