Julianna Margulies Height
5ft 6 (167.6 cm)
American Actress best known for roles in E.R., The Good Wife and movie Ghost Ship.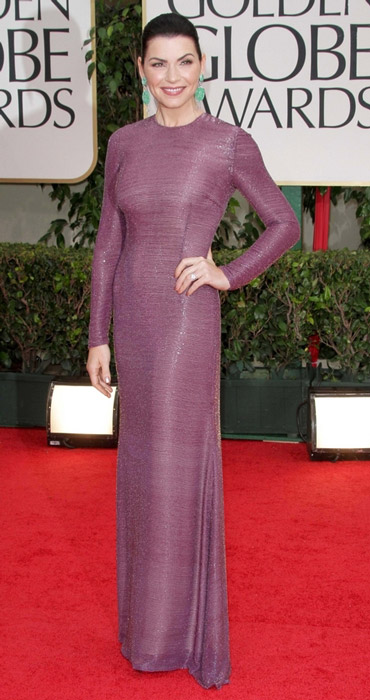 Photos by PR Photos
Add a Comment
17 comments
Average Guess (6 Votes)
5ft 6.29in (168.4cm)
Engine
said on 14/Sep/20
Hi Rob,
something that is always perplexing how she looks so tall in those heels so tall, particularly when i looked up some male actors who were nearly 6, she could see eye to eye. She looked significantly taller than male actors who were 5'8" by two inches. May be she has big feet also she may be actually taller than reported height 5'6" (possibly 5'7").She is good in "The Good wife". If one looks at her phots with Christine Baranski there is just an inch difference. In one episode possibly Christine was in flats as Julianna looked slightly talleer

Editor Rob
Sometimes she could pass for about 5ft 6.5 on ER, that wouldn't be out of the question, but 5ft 7-8 I never thought she seemed that tall.
Engine
said on 27/Aug/20
Hi Rob,
How tall she looked in these heels in The Good wife?
Click Here

Editor Rob
she should measure 5ft 10 in them, I expect from a man's perspective (with 1 inch shoes) she'd look 5ft 9
Sandy Cowell
said on 29/Oct/18
No comments since 2014? Well, that's no good, is it? I liked the movie 'Ghost Ship'; it had one of the scariest opening scenes EVER!
5ft6 for Julianna.

Editor Rob
Az
said on 12/Nov/14
Flew first class to Paris next to her:) she was my height I thought and I'm 5'7.5" barefoot in the afternoon:) definitely not under 5'6". Pretty and great skin.
Sam
said on 11/Nov/14
She is a sexy woman but seems like she could be a handful.
Realist
said on 10/Jul/14
I dont know i find her very attractive/hot. 5'6 is spot on. She is kinda of the lady who you'd imagine dating shorter guys or guys her own height.
rbtroj
said on 4/Jul/14
I saw Julianna Margulies in Chicago when she was on ER. I walked past her on a sidewalk right before I physically ran into Anthony Edwards. This was a long time ago of course, and I'm 6'7, but she seemed a bit shorter than the 5'6 listed officially, so 5'8 seems even less likely to me. I would put her at 5'2-5'4. I remember at the time thinking she was about equal height to a girl I had dated who was 5'2.
Silent d
said on 31/Jan/12
Christine baranski looks at least 180cm on big bang theory. She is huge. Everyone says julianna is taller in person when you meet her. 5 foot 8 is reasonable.
guyfrommars
said on 30/Aug/11
She looks quite much taller than 5'6.5" Robert Carlyle in Hitler: Rise of Evil, but of course, she's wearing heels. Clooney is just under 5'10" IMO.
richinkle
said on 8/Feb/11
I agree with KennyI. She looks about 5'-8" on The Good Wife. She towers over most other women, and is eye to eye with Christine Baranski, who is about 5'-9".
coolJ
said on 2/Mar/07
sexy lady.. always seems to look good
Glenn
said on 11/Apr/06
Yeah, Im always running into her.
Glenn
said on 23/Jan/06
must be heels.funny she walked past me last week.didnt ask her for a photo.I was on the phone and she was crossing street.not a great time.
CoolJ
said on 22/Jan/06
Danimal.. Ever think she might have heels on?/
Danimal
said on 22/Jan/06
She taller than Glenn in that pic. NO WAY is she 5'6".
Z2
said on 30/Aug/05
Julianna is definately 5'5" and not 5'6".
Abby
said on 20/May/05
I would say Julianna is around 5'5" because barefoot, she was considerably shorter than 5'11" George Clooney