Kelly Rowan's Height
5ft 6 (167.6 cm)
American Actress known for playing Kirsten Cohen on tv show The O.C. and Natalie Vincent on Perception.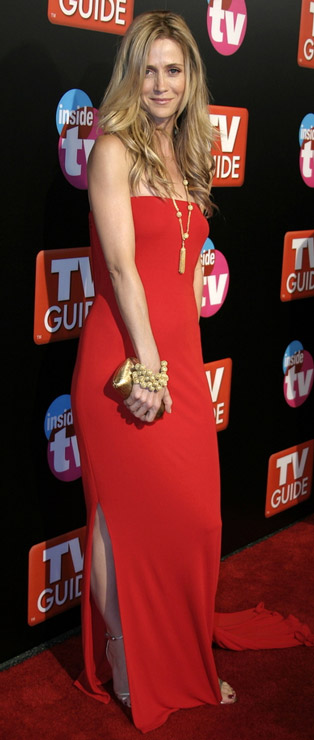 Photo by PR Photos
Add a Comment
15 comments
Average Guess (2 Votes)
5ft 6.25in (168.3cm)
Iman Ahmad
said on 18/Aug/19
I Guess She Is 169 cm Barefoot , She Is 169 cm , A Lovely Woman ,
Jlee
said on 23/Sep/08
Rob, sure Adam may be bending a bit in that video, but you said '' in heels she's still looks a few inches shy of that brody.'' But then you also say that in the tyra banks and heidi klum video that there is only a 1 inch difference. So what your saying is that in this video,
Click Here
Adam is a few inches taller, but in the trya and heidi video, tyra is only 1 inch taller? I'm not trying to bust your bubble, but does anyone see what I see? I mean I know I sound crazy over height, but this site is strictly about height.
[Editor Rob: obviously tyra appears more than 1 inch, but I was saying Heidi looked to be dropping height with her stance.]
Jlee
said on 23/Sep/08
Lol! She is not a few inches shorter than brody in heels. She is about his height in heels look at this
Click Here
Jlee
said on 23/Sep/08
This gets me because I used to watch every episode of the OC. And flat foot, she does not look even 1.5 inches shorter or ANY shorter than Ben Mckenzie. Looked around mischa's height. Also, Rob she is taller than Melinda Clark who is five foot 7.
Jlee
said on 22/Sep/08
5 foot 6 is not accurate. Rob and everyone, look here
Click Here
See?? Peter mccaligher is ''5-10 1/2 just like as listed on this website. She is wearing small heels and is about the same height as him. There is no way this chick is 5 foot 6! Taller than mckenzie! Let's say mccaligher has 1 inch shoes. That makes him 5.5 inches taller than kelly rowan. So rowan would have to wear 7 inch shoes to match his height. Rob, atleast evaluate this and list her at 5 foot 7.5 or 8. I would say five nine, but five six is getting a little off.
[Editor Rob: 5ft 6.5 could be closer but nowhere near 5ft 9, in heels she's still looks a few inches shy of that brody.]
Jlee
said on 21/Sep/08
Rob, just like heidi's height, you have to change this. If you look at the show, she is taller than ben mckenzie who is listed at 5 foot 8. I would say kelly rowan is atleast 5 foot 8 or 9. Rob, she is not 5 foot 6 because peter mccaligher is taller than 5 foot 10 and in many scenes she is almost his height. Sure she had on heels, but she is not 5 foot 6. If anyone of you look at the OC, just go to any scene and see she is more like 5 foot 8 or 9. 5 foot 6 is a little off rob. I don't mean to bust your bubble, but when a height is this off, I just have to let you know.
Richard
said on 4/May/08
Kelly Rowan was mad great in Adrift. She did look about 5'6 1/2 -5'7 standing next to Bruce Greenwood who is listed as a solid 6 footer and beside Kate Jackson who is listed as 5'9 1/2.
Felix
said on 12/Jan/08
Kelly Rowan is Canadian. Yeah I would guess that she is around 5 ft 6 or 7 since Rachel says shes 5 ft 2 and Mischa 5 ft 9 shes probably around the middle.
Astrid
said on 1/Apr/07
She's not that short! I'd guess around 5'6-5'7
S
said on 24/Mar/06
She looks about 2 niches tallre than gallagher when she is wearing heels so I think she is around 5'7"-5'8".
Chiara
said on 18/Mar/06
Look at these pictures of Kelly Rowan with Peter Gallagher:
Click Here
Click Here
Click Here
They look almost about the same height. Kelly seems only about 1 of 2 inches smaller than Peter, who is listed on this website as being 5'9''. Kirsten does usually wear heels (3''??.. sorry you guys, I usually mesure in cm. I would say her heels usually are around 5 cm.. at least). Which should make her about 5'4'', 4'5''. Right?
Ben
said on 31/Dec/05
agree with anonymous, she even looks taller than Julie Cooper, but Marissa always seems to tower above the both of them and throws off my estimates ;) any thoughts, Rob?
[Editor Rob: I've really not seen enough of the show...a few eps here and there but 5ft 6 was my first estimate. I don't know if she looks taller from having just looked at pics...hmm]
anonymous
said on 26/Nov/05
Kelly Rowan looks about 5'7 to me
Kellie
said on 25/Nov/05
Yeah I know!! How tall is that Tony Danza fellah?
Oh, he's listed as 5'8.5''. I saw her at his show, and she was wearing like 4inch killer heels and she was about his height.. So I'd sooner aim at 5'4.5'', she doesn't really seem tall next to Rachel Bilson either, does she?
Wow, we should just line them up, have them all measured and get this crap over with, this is killing me! I wanna know and we'll never get an answer!
Anonymous
said on 11/Nov/05
Why is she listed as 5ft 3 everywhere?