Kiran Shah's Height
4ft 1 ½ (125.7 cm)
Indian born British actor and stuntman known for appearances in Legend and Narnia. In the Guinness Book of Records, they listed him as being 126.3cm. He claimed through his career to be a comfortable 4ft 1.5.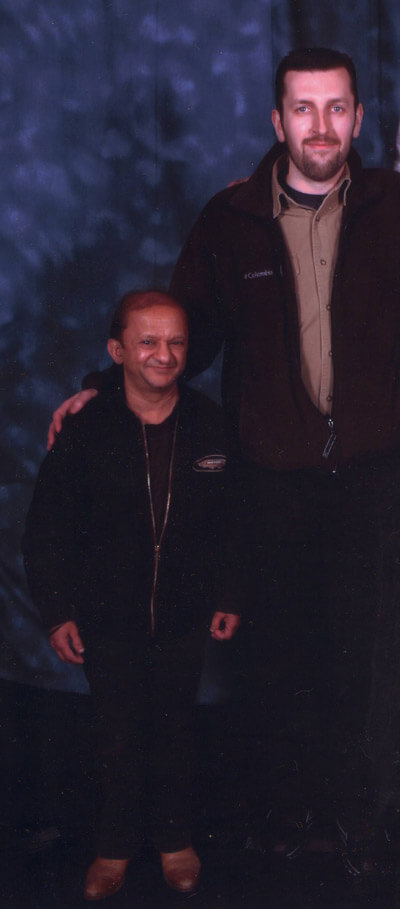 5ft 8 Rob and Kiran
You May Be Interested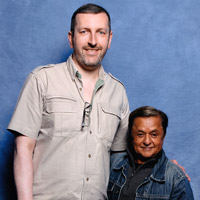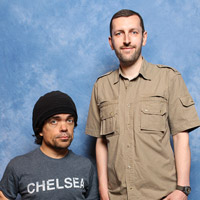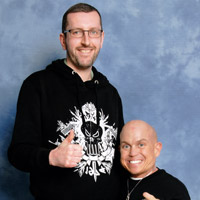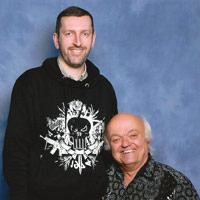 Add a Comment
37 comments
Average Guess (8 Votes)
4ft 1.81in (126.5cm)
Aj06
said on 10/Dec/20
Rob looks like he is almost 8 foot next to this man assuming rob is 5'8 1/4 then I would have to give this guy 4'1 3/4.
Tunman
said on 11/Oct/20
Rob,how much do you think he loses throughout the day?Given how short his spine is I guess something around 0.4-0.5?

Editor Rob
Might be about half inch.
5feet3onehalf
said on 2/Jan/20
Rob,at what time of day would someone start losing Height? Say they were up for 5 hours,would there have been height lost? It would it take place later in the day that height would be lost?

Editor Rob
The first few hours is where you lose a fair chunk. After 5-6 hours of activity, there is not that much more lost during the rest of the day compared to the first 5-6 hours.
Sandy Cowell
said on 21/Dec/18
What a delightful little fellow! Such a sweet picture is all it takes to put a smile on my face! 😁
4ft1.5.
Nik
said on 19/Oct/18
This is a nice picture of Rob and Kiran Shah.
Greatman
said on 17/Oct/18
Rob looks closer to 8ft5 than 5ft8 in this picture.
movieguy
said on 24/Nov/17
I'm waiting for James to come along and say the guy wears lifts and is only 4ft exact.
MIncer
said on 24/Oct/17
Rob, the Guinness Book of Records was wrong?
Editor Rob: since he claimed 4ft 1.5 specifically, I believe he got measured at that mark.

I'm not sure exactly how Guinness measured him, so I will defer to what Kiran claimed, and I think at his height saying the half inch is enough to make me think he's been measured around that mark before.

Bobby
said on 12/Oct/17
Giant Rob and Small Shah, but no seriously, I can't fathom being that small. Life must be difficult for him.
scotsheights
said on 2/Jul/17
make it .75
Editor Rob: yeah, I will also remove the dead link to Guinness.

That's problem with linking to any references...over time link rot sets - articles get deleted, site structures change etc.

One thing I've always done with Celebheights.com is maintain the same link structure, so if you linked to Tom Cruise page 12 years ago, the link would still be valid today...
Mike 181
said on 4/Apr/13
Kirans really like 5"6 & Robs a giant!
Physics Enemy
said on 12/Nov/11
Looks like you're wearing some very suspicious footwear in this pic, Rob. Chunky and black ... you're at it again! ;-)
[Editor Rob: those were the old
Reebock Classics
, a comfy choice of sneaker for the neds, although Jenny has a white pair she's worn to a few events, mine were tossed in the bin 4 years ago as they fell apart.]
Josh B
said on 6/Aug/11
Rob isn't this the picture with a really tall guy to your left?
[Editor Rob: yes michael kingma is on the other side]
Steph
said on 22/Jul/11
Pretty easy to measure: There's 47 cm between Kiran and Rob and 43 cm between Rob and Shaq.
aram x
said on 2/May/09
runt, I am pretty sure even Shaq doesn't tower over Rob the way he does over Kiran. In Rob's case, it looks like Kiran is being towered over by an 8 footer if it was Rob.
el toppo
said on 26/Apr/09
"runt says on 6/Apr/09
who had the footwear advantage?"
LOL!
aram x
said on 24/Apr/09
Surprising, he looks fairly proportioned for his size. Whoa, Rob you look like 7,9" in this pic!
Kratos
said on 8/Apr/09
And to think that my sister is only 5y old, and she is already as tall as him.
runt
said on 6/Apr/09
Kiran is about 18" taller than Vernon Troyer. Therefore Kiran would look about the same as Rob if pictured against Vern! We would also see the same thing with Shaqille O'neal against Rob.
runt
said on 6/Apr/09
who had the footwear advantage?
[Editor Rob: those were reebock classics, like 1.2 inch new, his was a cowboy heel of sorts, but not much more than mine from what I remember.]
Rusty
said on 16/Mar/09
Rob just looks like a monster next to him.
Comets
said on 10/Mar/09
Yeah, most Sikhs are really tall, the average height for men in Punjab might be 5'11 and Dalip Singh is a punjab Pahalwan..India is probably the only country where skin color and height varies as you go from the North to the tip of South India
Real
said on 8/Mar/09
I'm 5'6 and I eat more than a lot of 6' plus guys. [Not fat or crazy muscular]
anonymoose
said on 15/Jan/09
@ AKK..Dalip Singh is NOT a Sikh he is a Rajput Hindu
Anonymous3
said on 27/Oct/08
Being too tall is not good. Too many tall people with maybe a too high average like 6`1 or 6`2 is not good either. Everyones gonna consume so much and I doubt the world can support everyone for too long.
It`s better to have variety in sizes with a normal average globally about 5`10 or 5`11 max I think. Any higher and you`ll get monster food eaters and extra large clothes with extra material needy people like me. I`m so sorry world.
I think shorter or average people are the most earth-friendly as they don`t need extra large material for clothes and they eat a normal amount of food. I myself admit I am a monster when it comes to consuming food. I can`t see the world able to handle 6.5 billion of me for very long.
Just my opinion guys
AKK
said on 22/Sep/08
Sikh Indians are generally tall. Don't ask me why. That or the tall ones just get placed in higher profile jobs. Doesn't really surprise me that Dalip SINGH is the size he is. Maybe it's something in their diet?
Jake
said on 27/Aug/08
Don't bet on it Farzaan. Indians have a long way to go to even be compared to Austrians. We're growing as well shorty. Our average height for males is 5'10.3...hence, I'd say the dude above is just about normal for an indian. We're on our way to replacing the Dutch at an avg male height of 6'1.
Domo
said on 13/Jul/08
Austrian there are several tall indians. Take "Great Khali" Dalip Singh at 7'2" and Naseer Ahmaad Soomro at 7'7"
Lycan
said on 3/Jun/08
does he suffer from any condition or is he just naturally short?
mr. blue
said on 10/May/08
Lol, is Kiran Shah wearing Cowboyboots on this pic? (Normal cowboyboots usually give you 2 inches extra height).
Rachel
said on 24/Dec/07
He's the shortest bloke on here... bless...
Sara
said on 22/Sep/07
That's funny but rude. Indian guys are usually a foot taller
Austrian
said on 8/Jul/07
so hes pretty much on average height for an indian man :)
Mr. T
said on 2/Jul/07
Hey, didn't I see him in the recent Wonka remake? Looked about 1'0" there, the miracle of CGI and forced perspective.
Anshelm
said on 15/Nov/06
Guinness may credit him as the shortest stuntman, but Martin Klebba gives a good challenge at that:
Click Here
These guys are so little apart, though, that Klebba probably needs to be measured as precisely as Shah to be considered for the category.
Note that your link doesn't work, Rob, as Guinness has upgraded its website and doesn't feature this category there anymore.
Jenny
said on 27/Apr/06
wee short guy kl :)
Flemish
said on 23/Apr/06
What are you blanking out with that second square, Rob?
Really short guy, so it seems, and he's wearing boots...
[Editor Rob: I'm hiding my BA Baracus medallions...nah, I was just chopping the bit in the middle to show bottom of my chin to give an idea of the height differences ;-)]