Leslie Grantham's Height
6ft 0 (182.9 cm)
English actor best remembered for playing 'Dirty' Den Watts on British soap Eastenders. He used to be listed as 6ft on his agency resume.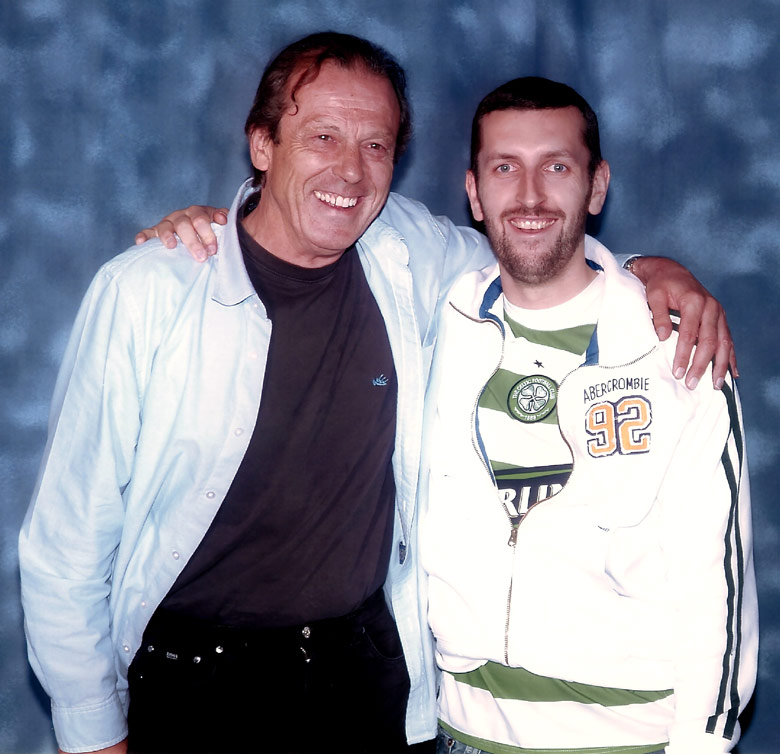 5ft 8 Rob and Leslie @ Memorabilia Birmingham (12th Aug 2006)
You May Be Interested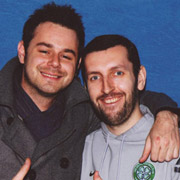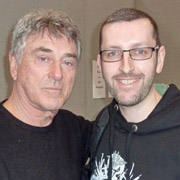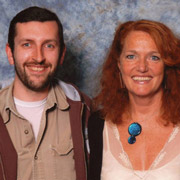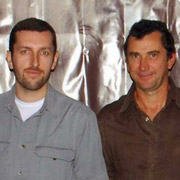 Add a Comment
33 comments
Average Guess (19 Votes)
5ft 11.59in (181.8cm)
Rampage(-_-_-)Clover
said on 18/Jun/21
Strong 6ft peak...deceptively tall
Miss Sandy Cowell
said on 30/Apr/19
We have just this month lost another member of the original 'EastEnders' line-up - Sandy Radcliffe.
She was 70 and, at around 5ft7, had previously done modelling in the early 70's.
RIP Sandy xxx
Miss Sandy Cowell
said on 13/Apr/19
Oh, he did, he DID! Den burnt down the Dagmar and got the weasel by the throat, and I swear I felt that bump on the head! 😂🖕
Well done Den! 🏅
Miss Sandy Cowell
said on 11/Apr/19
Yeah, Den, do your utmost Dirty best to get justice for poor Kathy, true EastEnd style!
6ft.
George Kaufman
said on 22/Mar/19
Looks 5'10 here
Rampage(-_-_-)Clover
said on 9/Feb/19
I don't think 6ft0½ is out of the question.
JamesB172cm
said on 4/Dec/18
Rob maybe give him 6ft 1/8
Sandy Cowell
said on 6/Nov/18
In today's 'Classic EastEnders' we saw the softer side of Dirty Den. His little daughter was born and he sneaked a visit after normal visiting hours by charming one of the nurses!
It'll be a few years before they decide that Den actually has another biological child - a son, called Dennis, after him, though not quite as tall, if my memory serves me correctly! He's played by Nigel Harman.
Today, Leslie gets 6ft - as usual.
Sandy Cowell
said on 18/Sep/18
After all that, I must admit that Leslie is definitely my favourite measuring device! From his 6ft height, I have been able to tell that the character Tony (Oscar James) is just below that. I always thought he was at least 6ft...

Editor Rob
In his heyday he looked a comfortable 6ft guy.
Sandy Cowell
said on 17/Sep/18
Leslie's 'EastEnders' character Den Watts hit his adopted daughter Sharon in today's episode - for flirtatious behaviour! If that happened in a Soap today, there would probably be an outcry as in the 33 years since it was filmed, the corporal punishment of kids has been criminalised.
All the 15-year-old was doing was mimicking the sort of thing she lives with from day to day in the pub, and as for her parents, they don't set her a very good example at all! It quite shook me up to see that today, I can tell you!
Leslie looked 6ft today.
Sandy Cowell
said on 5/Aug/18
Hey everybody!
If you get the Freeview 'Drama' channel, they are starting a series of 'Classic EastEnders' tomorrow, the 6th August, kicking off with the very first episode! I saw a picture of Leslie Grantham in my TV Guide and went on to investigate. So just as they are doing with 'Coronation Street', the same is happening now with 'Eastenders', and I think that's great.
Can you imagine the opportunities we'll have now to check out who's grown, who's shrunk and who's grown up and to what height? Loads upon loads, as we see the cast members arrive and leave. There will be two back-to-back episodes per day.
I will be finding Leslie's optimum height out more accurately this coming week, so I'll leave the box blank for now...
Arch Stanton
said on 22/Jun/18
RIP indeed!
Nik
said on 21/Jun/18
R.I.P Leslie Grantham
Rampage(-_-_-)Clover
said on 19/Jun/18
Rob, maybe a bit over 6ft is arguable in the 80's?

Editor Rob
Not impossible, though 6ft 1/2 inch would be too much for him.
James B 171.5cm
said on 17/Jun/18
Apparently he had very little money before he died.
RIP
Sandy Cowell
said on 16/Jun/18
I'd just like to add that my Mum liked him and respected him for getting his act together after a rocky early adulthood.
It took me years before I was the same, but I got there in the end. Everybody deserves forgiveness.
Sandy Cowell
said on 16/Jun/18
Good grief! I've only just found out that poor old Leslie has passed on. Not that he was unduly old by today's standards and he didn't look it either.
(He was 71).
I don't reckon Leslie looked 6ft in the picture above, but he could have been in 'Eastenders'. Now is too sad a time to bicker about a couple or so inches. I'll give him 6ft - peak height.
RIP Leslie xxx 😿
Rampage(-_-_-)Clover
said on 15/Jun/18
Sorry to hear of his passing
Rampage(-_-_-)Clover
said on 15/May/18
Doesn't even look 5ft11 w/h Rob but on Eastenders could pull off near 6ft1!
World Citizen
said on 17/Feb/18
This listing is wrong. Looks 179 at best.
Barberboy
said on 20/Sep/17
6 foot flat I'd say
Hyde
said on 1/Jun/17
He was a weak 6' 1'' in the 80s. Taller than most people on the Eastenders.
Sam
said on 6/Jun/16
He must have lost height by the time Rob met him because he looks a weak 5'11 here, unless he's dropping height or both, though in EE alone I thought he could look near 6ft.
James B
said on 2/May/16
5'9? I would have thought he could look 6'1 in his prime
Rampage(-_-_-)Clover
said on 30/Mar/16
I always thought he was a scrawny 5ft9 bloke. Amazed that he's a 6fter, possibly a strong one in his prime.
Rampage(-_-_-)Clover
said on 17/Mar/16
He's much taller than I thought
alex
said on 5/Jun/12
I'd say he looks somewhere between 6'1-6'2 at his tallest
Alexandra
said on 24/May/09
lol saw him in tesco's last year, i was about 5'7 then i'm about 5'8 now but he looked around 6'0, i think your probably spot on
Daii
said on 30/Jan/09
My brothers met him, my brother is about 5'11.5 and hes a good inch taller than him, he is at least 6 foot
Hugh
said on 3/Dec/08
I was never under the impression that this guy was tall. I always thought he was average like 5ft10-11. Maybe he was close to 6ft2 in his youth.
Julie Grant
said on 7/Dec/06
Leslie Grantham is exactly 6ft tall.
Click Here
Tubbs
said on 14/Sep/06
Caught a tape of Eastenders just before Den's second demise recently, when squaring upto Nigel Harman, he seemed to grow about 1 and a half inches, and looked to comfortably have 2 inches on him, as Rob has pointed out, he can look below 6'0, and doesn't have the best posture your likely to see.6'0" these days, maybe 6'1" when Eastenders began in 1985, has always seemed a tall guy, I think the fact he has always been pretty lean may make him look as though he could be 6'2".
Smoke
said on 6/Sep/06
6ft!!!!??? I always thought he was 6"2.