Phil Daniels Height
5ft 7 ½ (171.5 cm)
British Actor best known for starring in the film Quadrophenia. He has also had memorable roles in Scum and as Kevin in Eastenders. This photo is from The London Film Con in 2007.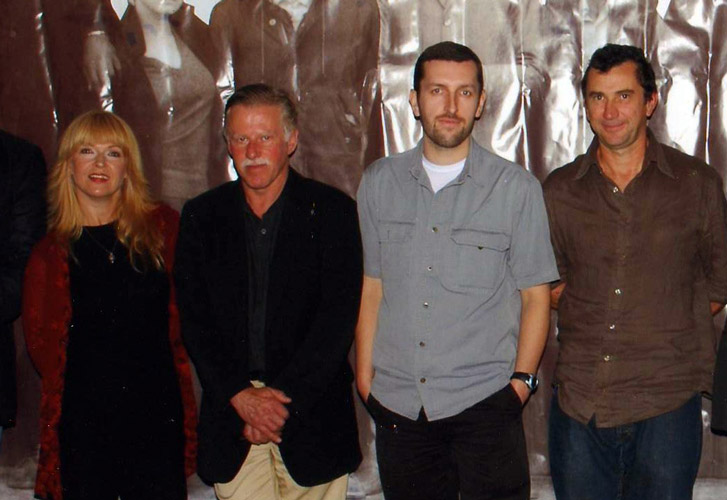 5ft 8 Rob with Phil Davis and Phil Daniels
You May Be Interested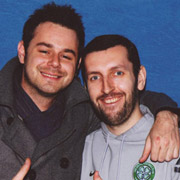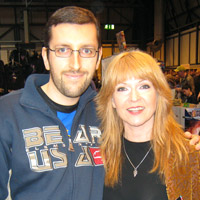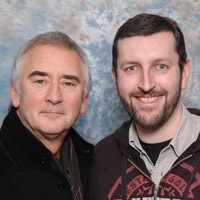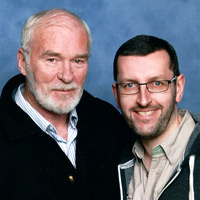 Add a Comment
40 comments
Average Guess (17 Votes)
5ft 7.63in (171.8cm)
JohnMoore-162cm
said on 6/May/20
5ft7 1/2" on the nose , peak
Nik
said on 29/Apr/20
I can see why the average guess is so high!
Sandy A Cowell
said on 11/Apr/20
I fancied a bit of an Easter singalong tonight, so I turned over to Film Four and caught the end of Quadrophenia. My copy is right at the end of a big pile nearly as tall as I am, but this has whetted my appetite to dig it out and see it in its entirety some time soon. 😁
I was pleased that I hadn't missed the scene where Jimmy (Phil Daniels) tells his boss to stick his job right up his @rse, buys a huge bag of mind-altering pills, carelessly drives his motor scooter into a post van and, having travelled by train to Brighton, eyes out on stalks, 😳 nicks Sting's bike, while you can hear Keith Moon singing "Bellboy" in the background! An action-packed few minutes to be sure, making me almost glad that my teen years are behind me!
The best scenes for height-judging are when they're on the dance floor, but I missed that. The film has a fairly short cast, with Phil Davis and Toyah among the stars. Sting looks positively tall in comparison - and I did get a glimpse of him.
I'm going with 5ft7.5!
💊💊💊🎶🎵💔 🏍 🏍🏍
Miss Sandy Cowell
said on 18/May/19
I saw Phil Daniels in the opening scenes of the comical, Cockney-accented crooks in the film 'The Hatton Garden Job', from 2017. I think Phil might have lost a bit of height now, but he can still run and looks pretty fit, so I will only deduct quarter-inch.
saltyfish
said on 3/Jan/18
rob, based on this scene with jake wood (max branning) and phil daniels, how tall do you reckon jake wood is?
Click Here
Editor Rob: seemed near 5ft 10
Bobby
said on 6/Nov/17
He looks the same height as Rob, he can't be any less than 5'7.75 and anymore than 5'8.25. So he's gotta be 5'8 flat.
World Citizen
said on 30/May/17
He looks the same height as you but he has camera advantage I think.
James B
said on 29/May/17
5'7.5 seems
Doesn't seem like the sort of bloke I would get along with
Sandy Cowell
said on 21/Feb/17
I have seen the film 'Quadrophenia' many times! It must be very satisfying for you Rob to be pictured with 3 of the cast members - you lucky devil!
I must say that when I first took in the film, I thought Phil was a tiddly bit taller because I was of the opinion that Ray Winstone was at least 2 inches more! Ray played Henry XIII and Henry was ridiculously tall for a 16th century man!
By the time Phil was in EastEnders, I knew he was not quite the average height for a 20th-21st century man!
eee
said on 1/Oct/16
he looks tiny next to damon albarn. but i thought 5'7-8 wasnt that tiny
the Slav
said on 17/Jul/16
@Rob
who's the guy on the left? looks 5'4 range
Editor Rob: phil davis I think was 5ft 5
NBAer
said on 19/Feb/16
Rob i think this guy in only barely shorter than you,like 1/4 inch,plus you're basically eye-to-eye with him,so 172 is fairer than 171 i believe...
Editor Rob: he looked about 5ft 7.5 to me that day.
James B
said on 28/Aug/15
Looks closer to 5'8 with rob
Crypto139
said on 11/Jul/14
Shoulder to shoulder, chin to chin, eye is close to eye, but there is a 2 cm difference. Wow.
Crash
said on 6/Mar/14
You look a bit uneasy here. What happened?
[Editor Rob: the photographer was shouting at people to stop taking photos from behind him as it was messing with his flash I believe.]
Mike T
said on 29/Sep/13
Looks spot on
avi
said on 11/Jul/13
@rob
Here's a decent example of what I'm saying. Do you feel taller than this guy or do you feel the same height or does he FEEL taller than you ?
[Editor Rob: he looked shorter I felt, but I've had 5ft 7.25 girl feel nearly my height because of higher eyelevel!]
Peyman - 6ft
said on 6/Jun/13
Rob
how tall do you consider the older guy?
is it a comfortable 5inches difference?
[Editor Rob: old Phil Davis is dropping a touch more height so he's a bit taller than he looks]
TheMikkster
said on 1/Mar/13
Is that Toyah Wilcox on the left?
[Editor Rob: yeah]
Dean 5ft 9.25
said on 10/Sep/11
Rob how tall is the old guy in the pic? I see alot of guys on a daily basis where I look how rob appears here
[Editor Rob: Davis actually claims 5ft 6, but he's barely 5ft 5.]
Matt
said on 10/May/11
This is a situation where a 5ft 8 guy will look/seem tall
Rampage(-_-_-)Clover
said on 1/May/11
172cm(5"7.75) maybe even 5"8 on the nose...
Angus
said on 25/Mar/11
looks same height as Rob tbh. Deffo 5'8"
Mathew
said on 16/Feb/11
I'd give him 172 cm.
Adamz
said on 12/Nov/10
Until you find out the guy next to him is only 171cm that is.
Adamz
said on 11/Nov/10
I like when I see a dude my height looking this tall haha! Rob could easily be put at 176cm here.
Jon
said on 28/Oct/10
wow rob you look pretty tall infront of these people lol
Zach
said on 18/Jun/09
Rob towering figure as always.
Dylan
said on 22/Apr/09
I always thought Phil Daniels was short but looking at him next to Rob, he must be at least 5'7.5".
Donatello
said on 2/Sep/08
For Phil Davis I would say around 5'4" 3/4 - 5'5" 1/4.
Alex
said on 31/Aug/08
He looks 5'7.75-5'8. About Rob's height.
bam
said on 30/Aug/08
rob, do you think that your postures are similar in the pic? I've always wondered what a .5 inch difference looked like, and was wondering if I could use this pic for reference.
[Editor Rob: hhm, this picture would be better for showing a small difference, like a whisker under 1/2 inch
here
.]
Big Show
said on 30/Aug/08
Phil Davis is a short fella. He's listed as 5'6, but he's never been that tall if you ask me. Nicholas Grace, who played the sheriff of Nottingham in Robin of Sherwood is listed as 5'8 and was definately more than 2 inches taller than Davis, who played Prince John.
dural
said on 29/Aug/08
Rob, how tall would you guess Phil Davis? Looks 5'3" in your pic.
[Editor Rob: he's standing loose, dropping 1.5 inches easily I think. But he looked 5ft 5 although had larger footwear, so he could be 5ft 4.5.]
AAAA
said on 29/Aug/08
Looking tall Rob
Robert. R
said on 17/Jan/07
He always looked shorter to me in the films "Scum" and "Quadrophinia" but seeing him in the "Eastenders" now that he has filled out 5'7.5" looks about right.
leonari
said on 2/Sep/06
EYE SEA: you talk such non-sense it makes me wanna puke. Honestly. All your comments are bulls...
Sad...very sad that some people have nothing except hot air: in their brains!
Eye Sea
said on 30/Aug/06
A lot of people who claim to be 5 feet 8 are really 5 feet 7, but look 3 inches shorter than 5 feet 8. Explain that!
Eye Sea
said on 28/Aug/06
Little, isn't he.
Joe
said on 25/Aug/06
He's around 5'7.75 maybe just touching 5'8.