Lloyd Banks Height
6ft 1 (185.4 cm)
American rapper known for songs such as "I'm So Fly", "Karma" and "On Fire".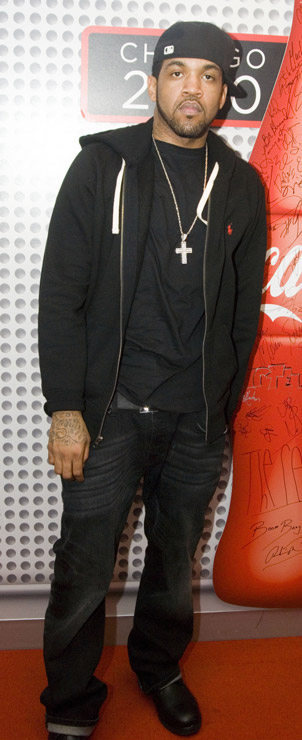 Photos by PR Photos
Add a Comment
54 comments
Average Guess (9 Votes)
6ft 1.14in (185.8cm)
Nik
said on 21/Oct/19
He has an interesting name!
The average guess justifies the listing!
Tonyx
said on 3/Sep/17
Curtis Jackson 50 Cent
5ft 11.75in (182.2 cm)
David Darnell Brown Young Buck
6ft (182.88cm)
Lloyd Banks
6ft 1in (185.4 cm)
50 is not shorter then 5ft11in.
Young Buck is slightly taller then 50.
Lloyd is taller then both.
joe ###
said on 1/Aug/17
strong 6´1
even
said on 18/Jul/17
6 foot 1 flat
Rampage(-_-_-)Clover
said on 5/Jun/17
He's 1-2in taller than 50 Cent (weak 6ft) so a fraction over this is arguable.
I wouldn't be surprised if he claims 6ft2
Rampage(-_-_-)Clover
said on 16/Jul/16
A fraction over 6ft1, Rob?
Editor Rob: hard to say if he falls into a strong 6ft 1 or just about 6ft 1 range, you could certainly argue at times for anywhere around 185 or 186
wrecker
said on 12/Oct/15
He's at least 6'2 and built like an NFL wide receiver, almost 50 cent's build
Hiphophead
said on 5/Aug/15
Banks is a big man, probably between 6'1 1/2 and 6'2, not more than that
C
said on 11/Jul/15
He looks about an inch taller than 50 cent
Math Head
said on 25/Nov/12
I was Lloyd Banks Teacher when he was in Jr. High. I am 6'2" in 8th grade he was already my height
buck
said on 15/Jun/11
young buck is like 5'10-6ft. ,dont kno fo certain
Rob2
said on 2/May/11
I'd agree with this as he consistently looks 1.5 to 2 inches taller than 50 who I think is actually 5'11... Yes 50's mugshot says 6'0 but I bet he either relayed that Height to the police or they measured him in his shoes.
Nesh!
said on 18/Mar/11
6ft 2 nothing more nothing less quite certain
lynn
said on 6/Dec/10
LLOYD BANKS IS 6'2
Pictureprooof
said on 24/May/09
My friend josh went to a show. He got pics with lloyd banks. Josh isnt short, hes about 6'3 right now. When the pic was taken he hadnt hit his growth spurt and was only 5'11 or so. Llyod banks still towered him. He looked a good 6'2 or so. And thick as well. He's a big guy.
Vladimir
said on 28/Apr/09
Mr.T , you cannot be serious. Lloyd Banks at 5'8???? Be real man.
freezy
said on 4/Mar/09
I think lloyd banks is little bit tall than 50 cuz I met him wit 50 the other day he was 1 in taller than 50
Mr T
said on 3/Mar/09
i met lloyd banks last year whilst he was on tour in england and he was exactly the same height as me which was 5'8''
Man
said on 9/Feb/09
WHO CARES?! These are rappers, not athletes. Their height, weight, reach, and vertical leap does not matter. All that matters is they spit dat fire and get the girls booty shakin! The fact is most celebrities lie about their age, height, weight, and past life anyway. Rumor is that Akon was never in jail, Lil Wayne is older than he claims, T.I. is shorter than he claims, and that Rick Ross was a C.O. So what. Just drop a hot album and I'm satisfied.
bigjack
said on 23/Oct/08
banks is 6"2 and buck is 6"1
BCC
said on 13/Aug/08
Lloyd Banks is 6ft1.75in
50 cent is 6ft
Tony Yayo is 5ft11.75in
Young Buck is 6ft
The Game is 6ft3.5in
Anonymous
said on 6/Aug/08
this fool is 6 foot.
BCC
said on 28/Jul/08
He looks just the same as 6ft0 50 cent.But i yhink heis a lil'bit taller.6ft1in is the best answer for he's height.
Abdou
said on 7/Jul/08
LLoyd banks Height is Really : 186.5 cm
Domo
said on 10/Jun/08
banks is 6'2''! he stands at least 2 inches taller than 50 cent & 2inches shorter than 6'4'' game
the knower
said on 10/Jun/08
well 50 cent is bout 6 ft 1 and he's built very big so he kinds looks taller then banks. Banks is 6 ft 2
dave
said on 8/Apr/08
young buck actually says on either the T.I.P. album or his underground album vol.1 "look what the game created a 6' murda man hair braided and educated"
Big T
said on 13/Feb/08
New Zealand
btw man, you do realise you already have that guy (Prodigy)...he's on the site and listed at 5'6" although I don't know where the 5'6" came from....he's supposed to be in jail!
glenn
said on 11/Feb/08
the guy on the right.ill post the pic soon.he seemed 5-7 to me.maybe im wrong and he was shorter.thanks for the words big t.i like meeting all kinds of celebs.but yeah,i get spoiled a bit.where are you from?
Big T
said on 11/Feb/08
Oh, and btw Glenn...I so admire you, the fact that you have actually just met Mobb Deep kinda blows my mind. Massive fan here stuck on the other side of the world. Must be great to get these opportunities, although I guess it must all get a bit ho-hum after seeing celebs for years.
Big T
said on 11/Feb/08
Glenn, here are Mobb Deep with 50
Click Here
So which one did you meet? It's hard for me to believe that either is as tall as you. They both consistently look tiny. I guess Prodigy might be a very skinny 5'7" at best, but as I said, I thought he was in jail.
Big T
said on 11/Feb/08
Glenn...Prodigy of Mobb Deep (who is the taller of the pair) is currently in jail for 3 1/2 years isn't he, so how did you meet him? I didn't think either of them were even 5'7", but it surely can't have been Havoc who is like 5'4".
glenn
said on 10/Feb/08
i just met mobb deep.one of them is my height.or 5-7. 50 is a legit 6-1 or more in sneakers.6ft legit period.
Rhino
said on 8/Feb/08
I've been a pretty big G-Unit fan since they came out...Here is a link to a picture of a mugshot of a young crack-dealing 50 cent in 1994 who is clearly a legitemate 6'1" with shoes on. He's got a shaved head so you can see he falls right on 73 inches I'm assuming he had shoes on for the pic, so I would say Fif is 6' even, remember he appears shorter because he's built like a tank, especially recently if you saw the video with Akon. I would say Banks is about an inch taller than 50, so 6'1" without shoes, Tony Yayo and Banks are pretty close in height I believe, I think Yayo is slightly taller than Fif, and Buck is probably about 6'2" without shoes, but Buck generally looks taller when he's next to 50 cause Buck is kind of skinny. As far as game my best guess would be 6'4" which is what he claims when comparing himself to a '64 Impala in "Start From Scratch" off "The Documentary" "My life is like an Impala ridin' 3-wheel motion/ I bend front to back, side to side, level my six-four frame out, keep on rollin'...." As far as Mobb Deep and the other people recently added to the Unit, your guess is as good as mine.
Darian
said on 22/Jan/08
50cent and Lloyd Banks are almost like the same height.
Im like 6'10" and Im even taller than The Game.
Big T
said on 8/Jan/08
Here's a good pic
Click Here
Banks is the tallest, but there's less than 2 inches between the three of them. 6'1" seems fair.
ejay
said on 27/Dec/07
In slam the basketball mag they said Buck and Banks were both at the Mcdonalds High School all america game and the Buck is like 5'9 but he can dunk hard.
Banks looks bigger than 50 and Buck hes probably like 6'1 or 2. He dosnt look much smaller than Game who is a legit 6 3 or 4 (remember he played D-1 collage ball as a shooting guard)
Smack A Hoe
said on 12/Oct/06
Lloyd bank$ is 6'1".He said so in a recent radio interview as well as a past XXL magazine article.
DUDE
said on 29/Jul/06
Just ran into Lloyd in front of Clear Channel building. He's actually pretty big I'd say about 6'2" in shoes and everything or maybe it was just his build. Pretty sure he's 6'2" because my friend was around the same. Lloyd has been working out though so his shoulders are pretty big. Buck is real big though check him out in the mobb deep video. Mobb deep are real small (think Prodigy is like 5' 3" or something) but Buck looks like a giant compared to them
6 foot 1, 16, still growing
said on 16/Jan/06
lloyd banks is 6 foot.5, fifty cent is 5 11 ish maybe 5 11.5
i am actually 6 foot.5 during the day, just like lloyd banks, and 6 foot 1 in the morning, but i'm saying i'm 6 foot 1 because literallly that's the tallest i could be. so it's possibly each are respectively 6 foot one and 6 foot in the morning, because depending on the workload you put on you body, your spine compresses. people who are actually measure to be 6 foot 1 throughout the day or even in the night might be actually 6 foot 1.5 or 6 foot 2 in the morning!!! one day i spent an all nighter for finals at my school and didn't sleep a single minute! I was sitting on my desk chair for almost 5 hours, sitting in a slouched position. I measured myself throughout the day and noticed I shrunk an inch! So you need sleep!
Ball-A-Hallic
said on 7/Dec/05
Yea I think 50 lies about his height he doesnt look 6'0 he probally jus says dat so it'll make his appearence bigger, he's gangster, so famous and gotta add b-in 6'0 jus 2 make him intimidatin. Pac was a tryu thug n even he lied about bein 5'11 wen he was like 5'7-5'8 but I jus would'nt trus 50, I like um but I think he jus says he's 6'0.
sherain
said on 22/Aug/05
he said he was 6'1 in xxl
Ball-A-Hallic
said on 16/Jul/05
I think Banks is like 6'1.5 possiblly 6'2 but he looks smaller than Young Buck who looks about 6'2. 50's probally 6'0 like hes been put at n Banks is taller than 50 so I'd say Banks is 6'1.5, Buck's 6'2, n 50's 6'0,Tony Yayo looks 5'11 but he could b taller but i'm sure will learn his later i mean the man jus got out a jail
Starcomin@ya
said on 5/Jul/05
I was watching a music channel and it said that he said when he was in 6th grade he was already 6'0" tall
Ball-A-Hallic
said on 19/Jun/05
Yea I thought of 50 b-in 5'11 but he kinda does look 6'0ish n Bank$ I'll agree now after c-in pics he does look 6'1 possibly 6'2 but I gotta wit SMACK A HOE's 6'1.5 listin cuz that sounds kinda the height Bank$ seems 2 b
trues united gathering soul
said on 17/Jun/05
banks is taller than 50, who is 6", so banks gotta be like 6"2 or something... I've met him in real life on a concert, and he was taller than 50 and 50 is taller than me and I'm 5'11..... peace
Ball-A-Hallic
said on 25/May/05
I heard that Banks is only 5'11-6'0 and I saw a pic of him and Young Buck 2gether and Buck had like 2-3 inches on him so if Banks is 6'0 Buck's atleast 6'2 cause 50's only 5'11 probally 5'10, so I think Banks is only 6'0
Ball-A-Hallic
said on 24/May/05
I figured Banks was only 5'11 possibly 6'0 but people say he's 6'2 bulls*** Young Buck don't look no taller than 6'2 and Banks is smaller than Buck.
xaoxio
said on 21/Mar/05
Lloyd Banks 6'2"?Man,what's up with your eyes?
Anonymous
said on 19/Mar/05
lloyd banks is actually 6'2. If you watch the mtv spring break special with him performing next to fifty cent...he appears to be 2 inches taller than him, who is 6 ft.
xaoxio
said on 19/Mar/05
Lloyd Banks is 6'0"? Really doubtful.But for real analyses we have to see much more pictures with Banks standing near other celebrities. And MR CelebHeights Editor - is there such place on this site where I can look at 50Cent height or you just haven't listed him yet?
[Celebheights Editor: 50 Cent Page - he's the only guy with a number so that's why he didn't appear listed in the A-Z pages...but he's there and looking 6ft]
Anonymous
said on 18/Mar/05
he doesn't look 6 feet. neither does 50 cent.
Anonymous
said on 8/Mar/05
i saw lloyd banks at a club once with all those g-unit dudes and he was the smallest one, he's gotta be under 6ft, im 5'10 and he looked smaller than me
mp
said on 14/Feb/05
if you watch a lloyd banks video, banks is taller than 50 noticeably, so if 50 is 5-11 lloyd banks is taller than 6 ft