Marie Osmond's Height
5ft 4 (162.6 cm)
American singer, was regularly describe 5ft 5 in the 70's.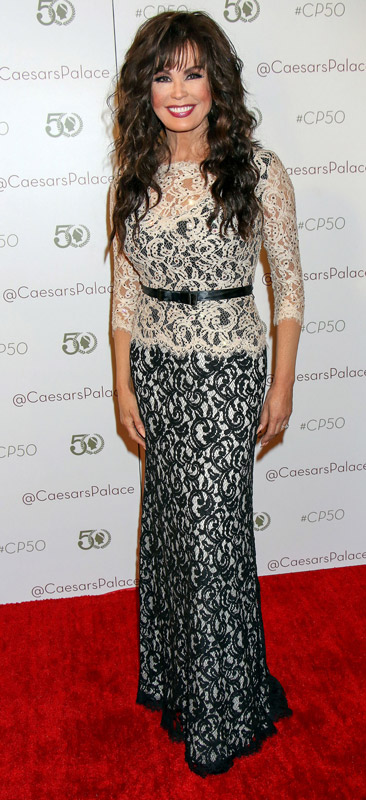 Photos by PR Photos
Add a Comment
18 comments
Average Guess (3 Votes)
5ft 4.67in (164.3cm)
Jeanette Lemay
said on 6/May/18
Hi there,Really Love your website, Could you please Help me in confirming(best estimate),what Actress Cynthia Lynn-From Hogan's Heroes-what approximately her Height is??She was featured as Helga in 1st Season(1965@1966)Col.Klink's 1st Secretary,Very pretty,talented Lady.Have searched ALL over Internet,with no luck, results-Really frustrating indeed.Thank you Alot very much!!

Editor Rob
I think at least 5ft 5 range.
Travis
said on 27/Oct/16
I saw her in concert in U.S Houston. Did not think she was as short as you all saying. 5'5 to 5'6 was what she looked like back then.
rhonda
said on 10/Jun/13
I worked with her on a set she is short and had on very high heels, 5 3" maybe
gregory lehmann
said on 17/May/11
Now that Marie's is a lighter,calmer 110 pounds,more normal for 5'3" women,she's prettier now. I didn't think,though,until I saw the "Donny And Marie" 1979 Cathy Rigby appearance last December 10,Marie was that heavy. But Cathy herself is small,92 pounds on her 5' frame,but just as pretty as Marie.In fact,when I caught this "Donny And Marie," Cathy was beautiful in her "swirl" jumpsuit,sheer nude pantyhose,and blue ankle strap sandals little Cathy wore. (It also included a "L'eggs" knee high commercial with Cathy sweetly in it.Luckily,too,no cough syrup commercials popped up this time,but Cathy popped up in another commercial here for Oreo cookies,which I found cute.Cathy deserves Celeb.Heights mention.But she had an embarrassing moment at the 1968 Olympics when she tried to wear her mommy's clothes to handcuff autograph "hounds." It didn't work.)
gregory lehmann
said on 15/May/11
Loved Cathy Rigby's appearance she made on "Donny And Marie," but 5'3" Marie didn't think Cathy could make it as a singer,but she has! Then,last year,watching "The Patty Duke Show" episode "Flu Shot Fiasco," after Marie talked about Jenny Craig,that was followed by Cathy's cute "Oreo" cookie commercial,but,later,after Marie did her Jenny Craig commercial on the "Perry Mason" episode "The Case Of The Gambling Lady,"the next 4 commercials were all cough syrup commercials with women coughing,which shook me up a little.And Marie looks and feels better now at her more comfortable 110 pound weight,average for 5'3" women. (All 4 cough medicine commercials with coughing women were Formula 44 commercials,and all the women had nasty chest colds.)
Jarvis
said on 29/Mar/11
I was friends with Marie when I lived in Utah, and she is about 5ft3 on a good day. She is also gorgeous!!!
marie greene
said on 13/Feb/11
someone jealous said Donny wears a toupee. though there is nothing wrong with a hair piece, - he doesn't, its his own hair.
gme61
said on 1/Jun/08
Marie is very short as is Donny. She is only around 5ft 3 and Donny is short too at around 5ft 8
Sue
said on 18/May/07
She's 5'5", I know because I've stood next to her many times, and I am 5'1". Now there is a saying that we all lose a couple of inches when we grow older, I don't know.
Frank2
said on 26/Jun/06
In four inch heels?
Mr. R
said on 25/Jun/06
I saw Marie in Vegas, and I would go with 5-4.
Frank2
said on 24/Jun/06
If you think she's tiny, you should have seen Natalie Wood!
Another shrimp is Debbie Reynolds. Although today she's sort of blimped out. But she's another extremely short celeb. I doubt she's over 5'.
Gloria Swanson was tiny. I used to see here at a local health food store sitting at the restaurant counter. I even spoke with her a few times. She was extremely nice, a real sweatheart. And her skin was remarkable for a woman her age. At the time she had to be way up there. She was no more than 5' tall.
Mae West was under 5'. So was Carmen Miranda.
theheightguru
said on 21/Jun/06
Actually Rob,
I think what Frank2 said makes sense. I saw the 5'7 comment on Donny Osmond's page, and I clicked on the posted link and watched the video clip of he and Marie interviewing Gabrielle Reece. Marie was at least 3 inches shorter than Donny in the clip, and she was wearing heels. Even if Donny was wearing lifts, Marie still shouldn't have been that much shorter than he.
J.
said on 21/Jun/06
After those pics ...time for another Osmond downgrade. No?
[Editor Rob: a double osmond downgrade...

I just went through most of the pics on the web for these 2 osmonds and yes, I will chip away a bit more...

Donnie could be one of the few honest lift wearers...he can look taller than his claim]
Frank2
said on 21/Jun/06
Like I said, she's tiny:
Click Here
And notice she almost always wears high heels. Sometimes she wears five inch heels.
Here she is with 6'3" John Schneider:
Click Here
With 6'1" trumpet player Rich Fanning:
Click Here
Marie looking a lot shorter and chunkier next to 5'6" Sherry Davey:
Click Here
Davey with Dan Akroyd:
Click Here
theheightguru
said on 20/Jun/06
She said on 'Access Hollywood' that she was 5'5, but maybe 5'4 is closer to the truth.
Frank2
said on 20/Jun/06
Well, she was sure short when I saw her. And very small-boned. Like a bird.
Frank2.
said on 19/Jun/06
No way. I've seen her and she's tiny. Best guess is around 5'2".
[Editor Rob: actually, there was a comment just recently on donnie's page where he said '5ft 7'. But yes, this is a bit too high, although 5ft 2? I'm not sure that short]