Mark Sheppard's Height
5ft 8 ½ (174 cm)
British Actor known for appearing 1990's show Soldier of Fortune Inc and a number of memorable guest roles in shows such as Battlestar Galactica, Firefly and Supernatural to name a few. This photo was taken at a Collectormania convention. On twitter Mark claimed to stand tall at
"5 10"
and even was quite precise, saying he was
"5'10" and a bit"
.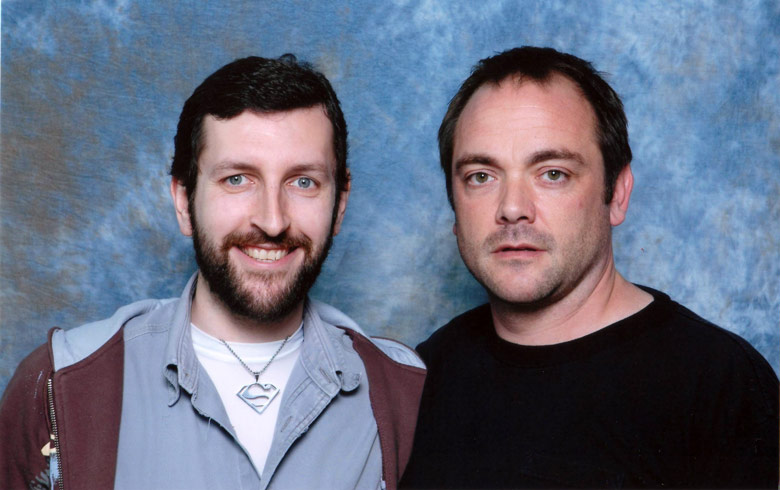 5ft 8 Rob and Mark
You May Be Interested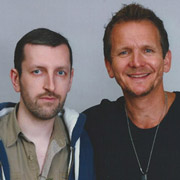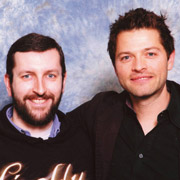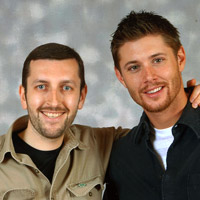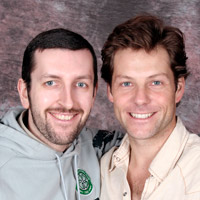 Add a Comment
41 comments
Average Guess (29 Votes)
5ft 8.41in (173.8cm)
Nik Ashton
said on 16/Jul/20
5'8" and many bits!
Jeffrey Pedal?
said on 14/Jul/20
Rob, he's weight in your opinion? In my opinion he is in the 170/180 range

Editor Rob
In person I doubt he's under 170-175
JohnMoore-162cm
said on 29/May/20
He is 174 cm max
Miss Sandy Cowell
said on 21/Jan/20
What a nasty pyromaniac he played in the 'X' File 'Fire'! He could set fire just by thought, but then in a brief conversation, it is mentioned that he was burnt in a black magic sacrificial ceremony when he was a tiny boy in 1963, but it didn't finish him off and seems to have given him these extraordinary abilities.
By the way, DON'T give him a cigarette!
😉🚬❎
5ft8.5.
TheBat
said on 30/Jun/19
Crazy how he claims 5'10" but in reality he's a 1/4 or 3/8 taller than Rob. Guys like him don't know what a 5'10" actually looks like.
Christian 6'5 3/8"
said on 4/Mar/19
1/4" taller than Rob so 5'8 3/8".
Canson
said on 1/Mar/19
Listing is about as accurate as they come
Bobby
said on 14/Nov/18
He does look to edge out Rob, a bit. 5'8.5 looks spot on for him.
Kapp
said on 8/Oct/18
It's hilarious he felt the need to add "a bit" lol
AnotherAnon
said on 25/Sep/18
Mark Sheppard lying about his height is hilarious considering there's nothing wrong with being short, and 5'8" isn't even that short anyway... but I'm 5'11" in bare feet and I've stood next to him for a photo and he is definitely not 5'10". But he's not tiny either.
Paul Wood
said on 19/Aug/18
That difference looks 5ft 8.125in next to 5ft 8.5in so I'd say his listing is correct.
Nik
said on 2/Aug/18
The perfect listing!
Greg
said on 31/Jul/18
He barely edges out Rob, "5'10" xD
cmillzz
said on 19/Jul/18
lol @ "5'10 and a bit"
Jordan87
said on 11/Apr/18
LOL @ 5'10"
Hollywood Propmaker
said on 21/Feb/18
I'm a Hollywood propmaker for decades and author; using psuedo for privacy reasons. An easy way to tell actors' heights is by guaging with house door upper hinges, not commercial building doorways. 99%:of every home doorway's upper hinge is the key. The 3rd line from the bootom of an on an upper door hinge on a carpeted floor is 5' 10 1/2" ,on a wood floor it is 5' 11". Misha Collins has said in an interview he's 5'10" and said it's annoying when someone calls him little in the show.Misha is 5'10". Mark A. Sheppard is 5' 6"to 5'7" at best.Period.He stands 5' 8" to 5'9" with the various booties he wears in the show. A great actor and rarely stands erect and still near normal doorways ; he usually is moving or walking. And I never knock anybod's height. It's just wrong. But, people, let's not stretch the truth too far. Actors and Pro Wrestlers always up their hights in publicity interviews or portfolios. Jensen Avkles is 5"11 to 5 11 1/2"1/2". He wears logger boots with 1.5 " or slightly higher heels in the show. I am the same height and do the same thing with footwear, only I admit that I'm a "cheap six-foot." My award-winning cover photographer when doing a set up for a cover shot for an art magazine of me said ," so you're six-foot?". I said just under--but right now? Yes, who goes around barefoot?" He is the same height and said the same thing--let's not act as though we're measuing for chemistry class.Jared Padalecki is over 6'4"; he wears 1/2" heel casual slip-ons. But on rare occassions in low-heel boots,or dress shoes he's only a couple inches shorter than the door top when shot upwards which produces photo perspective distortion. Morgan is a true 6' 1" as seen in the show and in other movies. There is one episode where the guys have to take off there shoes with no cut and Ackles is absolutely at least 5 inches shorter than Padalecki. Remember: doorways. An old Hollywood secret.

Editor Rob
I've seen Mark a fair amount over the years, and if he's under 5ft 8 he's done well hiding lifts in his shoes!
JJAK
said on 21/Nov/17
Needs a peak and current no idea how old he is but looks quite short recently.
He looked about 5 8 back in xfiles days now he looks more a strong 5 7.
Pretty good actor never got rid of the accent that I noticed.
MM
said on 4/Sep/17
Bobby, you are 5'9.5 for real!
World Citizen
said on 26/May/17
A solid 174 cm guy
Bobby
said on 16/Apr/17
Yeah, right, I'm 5'10, for real.
Colberto
said on 24/Jan/17
I would say around 5'8.25-5'8.5". I think to be exact 5'8 3/8". I voted 5'8.5"
6'1 cowboy
said on 10/Jan/17
I can't believe he claimed 5'10 1/4. He might be 5'8 1/4, but that's still 2 whole inches off. Where is he getting those 2 inches from..wishful thinking.
roy
said on 2/Nov/16
Looks exactly Rob's height. 5'8. Looked way shorter on supernatural..I would have guessed 5'6-5'7.
Arthur
said on 13/Oct/16
Rob, I have some interesting quotes you might want to add to the top...
Sheppard claims here that his wife is 6 feet tall :
Click Here
BUT his own wife claims she is 5'10 herself on her twitter!
Click Here
I believe this is a good indication he is aware he is lying about his height. He also corrected someone on twitter for calling him 5'9 -claiming again 5'10-
This guy is so sad... Napoleon Complex at it's finest. He has also said on twitter that his son is 5'8. If you see photos of them his son is a couple of inches shorter than him. What a joke this guy is xD

Editor Rob
I'm not sure how to work it into the top part, so maybe this comment itself serves the purpose of highlighting his inflation of other people to help his 5ft 10 claim :)

hops
said on 25/Jul/16
5'9 at best. do they use cms or ft&inches in the uk?

Editor Rob
both really, a lot of older generation (even 30-40 year olds) will still talk in feet/inches when doing measurements of anything.
Alex
said on 3/Jul/16
He is tall like you, or maybe shorter then 173 cm.
HollyGL
said on 7/Mar/16
He's a bit taller than he looks on Supernatural. I would have guessed Mark to be closer to the 5'7" range. Rob - do celebs know who you are ... do they ever refuse to stand too close to you or Jenny for a photo? (esp. male celebs) You must be getting well known by now.

Editor Rob
I look a lot different in person, but of course the longer the site goes on the more my face would be recogisable.

Mark is a decent 173-4 range up close. It doesn't help Jensen wearing his big boots a lot.
Andrea
said on 14/Nov/15
Lol, Rob... He even tried to say 5'10 AND A BIT on Twitter!
Then Jared is what? 6'7?
Click Here

Editor Rob
5ft 10 is bad enough, adding a bit is a little cheeky, I will also mention that quote.
Tan le
said on 22/Dec/14
He looks almost 5 foot 9
lazybum
said on 4/Aug/14
I'm surprised by how tall he is in this pic! Based on Leverage, I would've thought even 5'7" was a stretch. I wonder if he slouches on camera. Do you remember if this was full military posture?

Editor Rob
I've seen him up close many times and within 5ft 8 range is always what he looks, actually a fractin over it, but claiming 5ft 10 is a little bit of a stretch
Andrea
said on 5/Apr/14
5'10? G strikes again... On Supernatural he can look 4 inches shorter than Jensen Ackles and 8 big inches shorter than Jared Padalecki, so 5'10 is out of question! The listing is accurate ;)
lelman
said on 31/Aug/13
They make him appear much taller in Supernatural. I thought he'd be about 6'.
Balrog
said on 24/Jan/13
Hello, Crowley.
MikoMic
said on 2/Jan/13
No way he's so tall if you compare to Misha Collins given for 180... Or Misha is shorter than his official height. I think :
Misha is 178
Mark 175/176
Jensen 183
Jared 193
rob
said on 5/Jan/11
Anonymous, If you cant see a differens in height you need glasses
Anonymous
said on 18/Nov/08
no way, I don't see any difference. unless one of you guys have an footwear advantage. trust me I can see a quarter-half inch difference easily close up. I have measure my friend who was a fourth of an inch taller than my other friend, I can see a gap between them, and I used a ruler and it was exactly fourth of an inch.
Anonymous
said on 17/Nov/08
dude he looks exactly the same height as you, I do not see any difference.

Editor Rob
my guess is he's a little taller than me.
Lenad
said on 14/Nov/08
looks the same height as Rob if not a tad taller
Alex
said on 13/Nov/08
Rob, he may be 5'8.25. It may not even be 1/2 inch he has on you.

Editor Rob
I've seen this guy a lot, sometimes those within 1/2 or 1 inch can be harder to peg exactly, the photo is pretty accurate as to how he looks.
nick
said on 13/Nov/08
looks like jenny's height compared to you bobby
Anonymous
said on 13/Nov/08
5 foot 8 exactly.