Matt Doran's Height
5ft 10 ½ (179.1 cm)
Australian Actor best known for playing Damian Robert on tv show Home and Away. In film he has appeared most notably in The Matrix (as Mouse), The Great Raid and Battle of the Damned.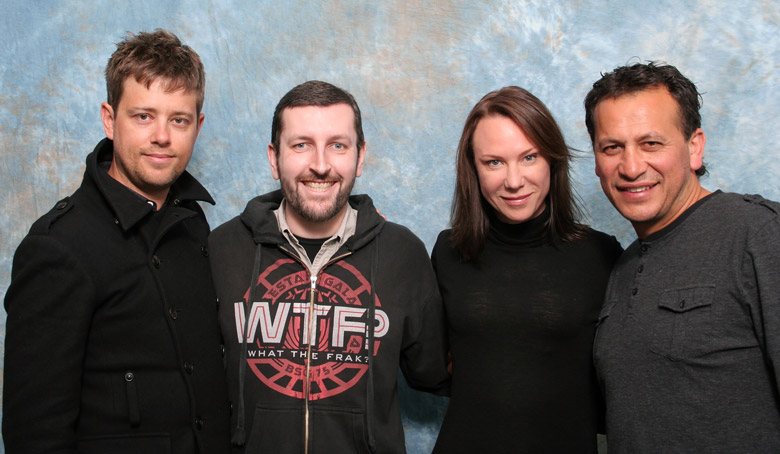 Matt, 5ft 8 Rob, Belinda McClory, Julian Arahanga @ Collectormania London, 2010
Add a Comment
29 comments
Average Guess (19 Votes)
5ft 10.8in (179.8cm)
Andrea
said on 18/Jul/21
Without the camera advantage I doubt he would be much over 2 inches taller than Rob, so if anything a good chance of just 178.
Rampage(-_-_-)Clover
said on 30/Jun/21
Weak 5ft11 arguably
Rampage(-_-_-)Clover
said on 8/May/21
Looks near 5ft11
Christian 6'5 3/8"
said on 17/Apr/20
No less that what he's listed here.
Colberto
said on 25/Dec/18
I think he is one of the taller 5'10 ½" listed men. he can looks owe 179 like 179.5-180cm.
I'll give him 179.5cm 5'10 ⅝"
Can't vote ⅛" margins so I don't know.
World Citizen
said on 23/Jan/18
Looks 179 as listed
Slim 181 cm
said on 14/Jul/17
6 cm taller than big rob. Making this guy 5'10.5 or 5'10.75
Jacob
said on 26/Jun/17
They call him little in the matrix do you think he was shorter? In 1999
Jacob
said on 26/Jun/17
They call him little in the matrix do you think he was shorter? In 1998
Pierre
said on 5/Nov/16
I see Matt around 5"10.5' too
Sam
said on 30/Nov/14
Yeah I'm surprise he's this tall. Only seen him on The Matrix but gave me the impression of a smallish guy on there, not just for build but height as well. Maybe camera tricks played a part to make him look smaller seeing as his characters name was "mouse" so probably only made sense.
Vibram
said on 24/Oct/14
Wow, this guy looks like he went through a 2nd puberty. Wasn't he like 23 in the matrix but looked liked a scrawny gangly teenager? Regarding his height he could be slightly over 180cm out of bed.
Dmeyer
said on 14/Jul/14
His haïr mâkes him look 180 cm
Berek
said on 25/Jun/14
I wager that Julian Arahanga guy claims 6'.

Editor Rob
176cm although he looked a bit shorter than 5ft 8
avi
said on 2/May/14
Rob is at a disadvantage here . Bad angles. People closer to camera etc.
richkid123
said on 9/Feb/14
You actually look short in this picture, Rob.
Mathew
said on 21/Oct/13
Looks about the 179 cm in the photo to me.
MicHaeL H.
said on 1/Oct/13
Wow, 'The Matrix' is sooo deceptive.
I was watching it the other night and, even though I of course knew the film already, this time I found it weird how Morpheus said "The little one behind you is Mouse.". Sure, he does look kinda compact and slim throughout the movie, but I wouldn't really say "little one", at least in terms of height.
So I came here to look it up and he's 179cm??... Geez, hardly little, even compared to Fishburne and Reeves, who would be 183 and 185. Plus, Joe Pantoliano is supposed to be a bit shorter?
Another strange thing is that they still made Matt Doran look shorter compared to them (probably has to do with the perspective), and also Keanu looks like he's quite a bit taller than Laurence, even though they differ only a couple CMs... AND, Carrie-Anne Moss looks as tall as Keanu Reeves, even though they apparently differ about 10 CMs.
I know it's just a movie, but what happened there?? XD Nothing seems to make sense if you compare them in about any scene, and compare that to their heights in writing.
Oh well. Sorry for the long post, just something I noticed. :)
Yaspaa
said on 19/Aug/13
He's filled out, no longer a mouse.
SAK
said on 7/Jan/13
I'm glad people appreciate he does look taller in the pic with Rob. Because I swear 80% of posts are to downgrade celebs.
He may look taller in this pic due to favourable camera angle but I would still give him 180cm.

Editor Rob
I'd give him 180cm if he looked that tall.

but he's no more than 179 in person and might be 178 in fact.
Mathew
said on 7/Sep/12
He looks no shorter than 5'10.5" as listed.
avi
said on 19/Aug/12
Yes he's near camera so a weak 5'11 I see but any fool sees he has the advantage.
ChiasmataX
said on 11/Jan/12
@James I don't think so. Just compare him to height challenger # 10. Matt will be way shorter.

Editor Rob
this guy is nearer the camera and the camera is about 4ft 10 high.
James
said on 4/Jan/12
looks 5'11 1/2 (182cm) in the photo with rob and 6ft (183cm) if he stood up stright. So overall in the pic he does look 6ft tall.
ChiasmataX
said on 23/Dec/11
Accurate listing instead of 180.34cm/5'11. He looked to be as tall as Brian Austin Green Rob or not?

Editor Rob
Matt looked shorter than Brian did in person.
dmeyer
said on 12/Dec/11
this guy looks taller than most 5 ft 11 guy you have a pic with

Editor Rob
maybe his hair and having lower camera (with him being a few cm closer to it) adds a bit of height.
Josh B
said on 29/Nov/11
Rob he certainly looks a lot bigger than on the matrix, how much do you think he'd weigh?

Editor Rob
150-5ish is possible, I still think he's pretty slim without a coat on.
Jack
said on 25/Nov/11
yeah 179 cm is fair...Rob how tall did Julian Arahanga look to you?

Editor Rob
he looked a bit shorter than myself.

this camera is about 4ft 10 high, both Doran and Julian are nearer, Julian by about 4 more inches nearer the photographer.

Mr. R
said on 6/Aug/08
I run into Andrea at various clubs around Hwood, and she is closer to 5-4.