Peter Jackson's Height
5ft 4 ¾ (164.5 cm)
New Zealand filmmaker, best known for directing The Lord of the Rings and Hobbit trilogies. Other films he is known for are King Kong, Heavenly Creatures and The Frighteners.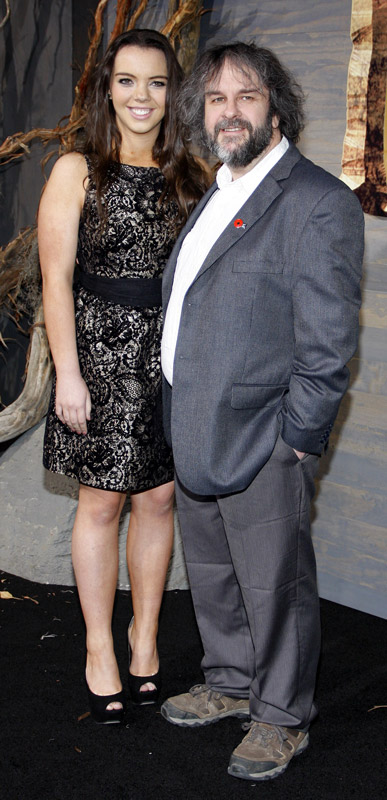 Photos by PR Photos
Add a Comment
24 comments
Average Guess (13 Votes)
5ft 4.75in (164.5cm)
berta
said on 19/Apr/18
was he listed as 173 at the start :O?

Editor Rob
No, somebody is asking me about James Blunt.
ALEXANDRE ALVES BR
said on 18/Mar/18
I do reward the idea of ​​surgery ... see Peter Jackson a really short but very happy man
Anonymous
said on 30/Dec/17
Same height as Michael j.Fox.
Junior
said on 17/Oct/17
He doesn't look over 164cm to me. I'll say 5'4.5 closer than 5'4.75".
even
said on 25/Jul/17
at 5'4.5" hes short , but he looks so good .
Sandy Cowell
said on 17/Feb/17
In any of his brilliant Tolkien offerings, there are loads of extras and Peter can be seen on these extras frequently. Yes, he does look short and it is my opinion that he would have made a better dwarf than a hobbit because of his shape!
I also enjoyed his films 'Heavenly Creatures', 'King Kong' and 'The Lovely Bones'.
I think he just tops 5ft4!
Giorgi
said on 1/Jan/17
Boy I'm astonished. I thought this guy was much taller.
Sam
said on 15/May/15
Didn't Jackson have a 5'5" or 5'6" listing before?...there's no question he looks really short, even next to his actors playing hobbits.
Gamedude78
said on 11/Apr/15
I thought he would be tall, new new he was 5'4 1/2.
matt
said on 17/Dec/13
5'5 or 5ft 4.75in
gsbr
said on 13/Dec/13
Not surprised to him listed this low. Benedict Cumberbatch towered over him at The Hobbit premiere.
cd
said on 22/Nov/13
Wood is probably 5'5.25 and Peter is as listed (5'4.75), so they are about a half-inch apart. Wood is closer to the camera in that shot, if you compare both of them to 5'8 Andy Serkis you'll see what I mean.
Sasha
said on 21/Mar/13
Looks 1.5-2" shorter than 5'6.5" Elijah Wood:
Click Here
Though they are listed of the same height at that site. :)
guyfrommars
said on 10/Jul/11
There is a publicity photo where he directs 6'5" Christopher Lee in Lord of the Rings, and barely reaches to his chest. He looks like a real hobbit next to Lee.
Liam
said on 4/Feb/11
jose,you have to be preety sad to look up james blunt.peter jackson must be 5 foot 5
guyfrommars
said on 28/Jun/09
Jackson literally looked like a Hobbit when directing Christopher Lee in Lord of the Rings.
jose
said on 7/Nov/08
hey rob: I am from Peru, and I don't really understand why are you so freaky out about celebrity height. I found this page by accident. I was looking James Blunt profile. I saw this page I found a comment where you say "the closer this guy is next other men, the shorter he is" or something similar. If you considerer that, you are short too (if we talk about your logic) I think you have a problem really.
[Editor Rob: when he first came on scene there weren't many pics, but then the more pics I seen the more I thought he was near 5ft 7 than what I might have originally thought - 5ft 8.]
Josephine
said on 12/Jul/08
Yes he is exactly the same height as Elijah.
Aimie
said on 30/May/08
he looked shorter before because she was pretty chunky. But he is the same as Elijah.
antron
said on 14/Oct/07
5'5" same as elijah
peter
said on 13/Sep/06
I'm 170 .end of story!!
mel
said on 12/Feb/06
yes, I don't believe he is this height, he has been described numerous times as "hobbit size", he looks 5.4 and a half at the most.
Mr. Awesome
said on 1/Jul/05
I actually think that Peter Jackson is shorter than 5'6''. In every picture that I've seen of him with Elijah Wood and Sean Astin, Jackson is shorter. Astin is slightly under 5'6'', so there's some evidence of Jackson being under 5'6'', but the dead give-away is Jackson standing beside Wood. It is common knowledge that Wood is dignificantly under 5'6''...some people who have met him have even pegged him at 5'4''!!! Given this information, I think Jackson needs to be reevaluated. He could just have poor posture because of his weight, or he may be shorter than 5'6''. I think it's the latter. Look at his pictures on IMDB. There are some good ones.
British Guy
said on 1/Jul/05
Rob,
Once Again I Agree,
The Guy Does Look Around This Mark...