Sarah Ferguson's Height
5ft 7 ½ (171.5 cm)
British 'Duchess of York'. In 1997, reported in NY Post
"Ferguson wouldn't reveal her poundage, but said that, at 5 feet, 7 1/2 inches she was within Weight Watchers' suggested"
limits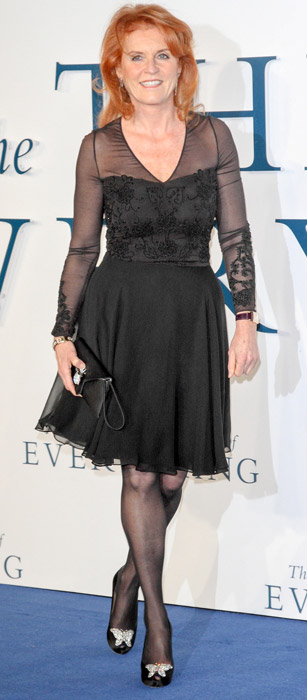 Photos by PR Photos
Add a Comment
15 comments
Average Guess (5 Votes)
5ft 7.45in (171.3cm)
Anna Smith
said on 11/Dec/19
I'm suprised her daughters aren't taller.
Miss Sandy Cowell
said on 15/Oct/19
@ Scarlett Rose 🌹 Ah, I have only just noticed that you sent me a reply about Sarah's height being 5ft8 at the time of her wedding. Thank you for taking the time and trouble! 🌹
Sandy XXX 🥀🌹🥀
Miss Sandy Cowell
said on 15/Oct/19
💐🕯️ Happy 6️⃣0️⃣th Birthday Sarah! 🕯️💐
Wishing a fantastic milestone Birthday to the young redhead who fell for Prince Andrew and gave him two lovely redheaded daughters!
Seems like only yesterday....
Actually, I thought Sarah was 5ft8, but then she doubtless was in the morning at the time of her wedding to Prince Andrew back in 1986, the 23rd July to be exact.
I'll go with 5ft7.5 for Sarah's Birthday guess. 😁💐🍰🥂💝
🎂🎈🎉🎁🎂🎈🎉🎁🎂🎈🎉🎁🎂🎈🎉🎁
Nik Ashton
said on 29/Sep/19
@ Rob - How tall is she nowadays?

Editor Rob
Possibly 1/2 to 3/4 less than peak.
Scarlett Rose
said on 21/May/17
I have just translated "une francaise qui t'adore"'s message from French to English. He/she is talking about Fergie the singer, telling the Duchess that he/she would like to see her in concert, when she goes to France and how much he/she adores the Duchess's singing! Even if he/she's English is not very good, how can you mistake a former member of the British Royal Family for a pop singer?
Pardon. Tu te trompes. Vous confondez une duchesse avec un chanteur. 👸 La duchesse d'York de Grande-Bretagne 👑
Scarlett Rose
said on 21/May/17
@ Sandy Cowell. You are right. The Duchess was 5 feet, 8 inches tall at the time of her marriage. 😃
Sandy Cowell
said on 30/Dec/16
When she married Prince Andrew, I'm sure she was 5ft8! If she is now half an inch smaller, that sounds quite a normal and natural shrinkage rate!
Rojina
said on 6/Dec/15
I thought she was 5"6-so close estimate
mike
said on 17/Feb/09
I met her in Sydney in 1988
At the town hall ball
She's no more than 5-6" in stocking feet
I'm 5'-11 1/2 " in shoes and I towered over her even with her 3" heels
Believe me she is very intelligent
Very impressed the way she worked the crowd.
Carrying this jumbo encyclopedia in her head.
Or just well briefed and a good memory!!.
Reality Check
said on 13/Jun/07
You guys should take a look at her videoclip with Milo Ventimiglia(5'9"), you can clearly see that she's smaller than 5' 7 1/2"
une francaise qui t'adore
said on 4/Jan/07
I don't speak very well english but I speak french
donc j'disé jador fergie el é troOooO belle et elle chante troooOOOO bi1(fo pa oublier) et ossi elle dance trooOOO bien en groOO je ladore je suis sa + grande fan ,donc Fergie si tu passe par la pence a moi et n'oublie pas de faire une TOURNER dans plusieurs villes en France car lorsque tu passe que à Paris je ne pe pa venir te voir car c'est trooOo loin de chez moi si tu pouvais venir en concert a Rennes se serait pas mal pence y ok? a+ a+ fergie et encor je T'ADOOOOOOOOOOOOOOOOOOOOOOORE !!!!!!! tu es la meilleure et ne change pas
Amanda
said on 3/Feb/06
Emma, did you really shrink an entire foot? What happened to you? I can see loosing a couple of inches and being 5' 1" now, when you were 5' 3" before, but 4' 3"!
Robert
said on 7/Jan/06
In the 80's and early 90's, most publications called her simply 5'7". She called herself 5'7 1/2" when she first started the weight watchers ads. Now she calls herself 5'8".
[Editor Rob: the more famous you get, the taller you become...I think I'll put her at 5ft 7.5.]
Amanda
said on 27/Dec/05
The height difference between Diana and Sarah looks to be 3"-4" and Diana was 5' 10" so Sarah is 5' 6"-5' 7".
emma
said on 20/Nov/05
I met her 3 years ago im nearly 4 ft 3 now and she towered over me.
Imustve been bout 5ft 3 years ago??