New Zealand film director, actor, comedian best known for Thor:Ragnarok, What We Do in the Shadows and Eagle vs Shark. On his
agency
, they described him as:
"Height: 184cm / 6ft 0in"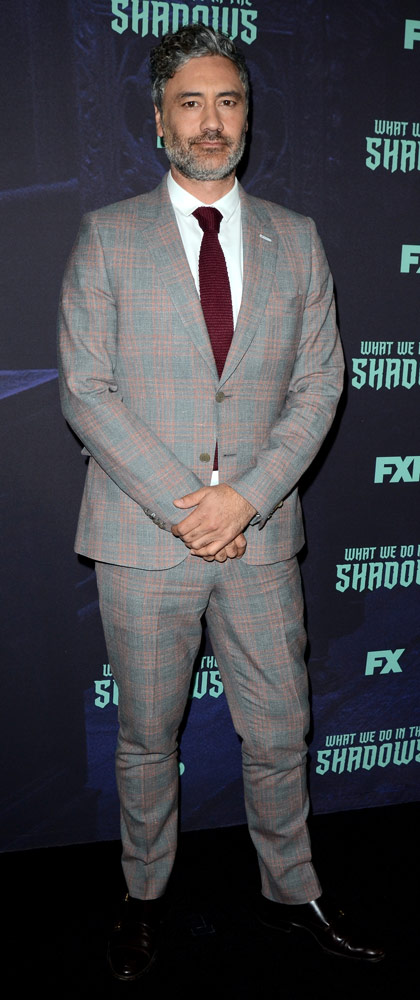 Photo by kathclick/BigStock.com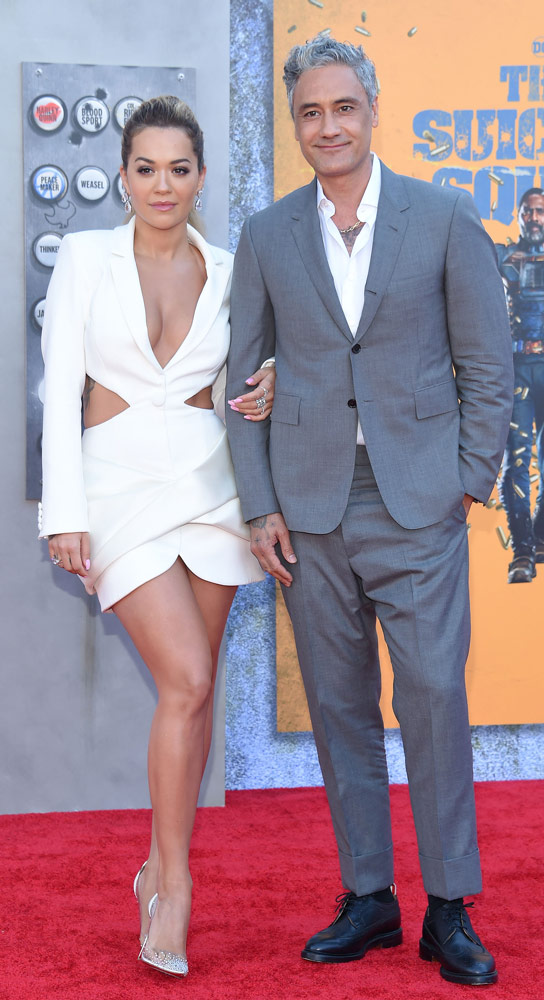 Rita Ora
& Taika
Photo by DFree/BigStock.com
Wehrmacht180
said on 30/Aug/22
183 cm
lxs
said on 13/Aug/22
If Taika is 6 foot, what is Jonathan Brugh? Looks so much shorter than Taika and Jemaine Clement here, but I'm only seeing websites list him as 6'-6'2.
Click Here

Editor Rob

Looks 5 inches or so shorter than Taiki

Vsquad
said on 10/Jul/22
Hey Rob, did you consider Taika's footwear in Free Guy when he had scenes with Joe Keery?
He had massive advantage over Joe. Not sure what shoes they were, but there's quite a few clear shots and it's a massive heel. I couldn't get a look at Joe's footwear unfortunately.
I would personally bump Joe back up to 5'10 3/4 like you originally had him at - he genuinely looks close to 5'11 if not the full thing with other people. Did you downgrade him because of his scenes with Taika in Free Guy?

Editor Rob
Weak 5ft 11 could still be argued for Joe
Hyper
said on 4/Apr/22
@Rob
How tall does he look here, with Bo Burnham? —
Click Here
Doesn't look over 6'0", considering Bo is much further away from the camera.

Editor Rob
Tricky photograph to tell, camera might be higher than Taiki's eyelevel there and nearer top of his head.
Jawilder
said on 16/Dec/21
@Rob that's interesting he looked that much taller than Keery, who is a solid 5'10.5". Wouldn't put him over 6 feet flat with Hemsworth however. Maybe a 6'0.25" listing?

Editor Rob
6ft 0.25 to 0.5 might be what he measures, within that zone.
Jolapizza
said on 13/Dec/21
He looks more like a 6 foot flat next to Hemsworth. But he's not under 6'0

Editor Rob
Last thing I saw him in was Free Guy and could look 2-2.5 inches taller than Joe Keery...
Jawilder
said on 18/Oct/21
6 feet flat max
berta
said on 15/Aug/21
i dont think he is 184, if he is this height then i guess hemsworth is 193-194. there always looks like there is 3,5-4 inches beetween them. I give him 182
Hyper
said on 15/Apr/21
I remember I saw a picture of him and Bo Burnham. The latter dwarfed the former.
Nik Ashton
said on 3/Feb/20
It's interesting that his agency didn't claim the half!
Vsquad
said on 1/Feb/20
I think Taika is definitely 6ft, but its still weird how Hemsworth makes him look "short".
Like, there's definitely only 3 inches between them but Hemsworth makes those 3 inches look so big for some reason.
Tall Sam
said on 17/Oct/18
Having just watched What We Do in the Shadows, he can look pretty tall on camera and often looked at least as tall as Jemaine Clement in most scenes even a little taller at times but I think he stands with a little better posture most of the time. When the cast straightened up Jemaine appeared to be a little taller than the other actors even the guy playing the Nosferatu-like Petyr.
MAD SAM
said on 1/Jul/18
He looks really short beside Hemsworth, full 3" shorter at 182.5 cm gets 6' from me though
DreadPirateRoberts
said on 9/May/18
''Paulh said on 8/Mar/18''
Hey Paulh as you can see the actor to the right of Chris (can't remember his name but I recognize him) stands at his eye level yet we know he is alot shorter than him. The two guys minus Chris are probably standing on some elevated platform.
Paulh
said on 8/Mar/18
What's going on here then? He looks quite a bit taller..
Click Here
Morelli
said on 11/Feb/18
I really doubt this listing. He looks 6 flat next to Hemsworth in any and every situation, even those where (Hemsworth) has footwear advantage. Please downgrade, heck even 183 is fine but just not 184.
Sam
said on 29/Dec/17
I guess I underestimated Hemsworth's big old Thor boots on set, in stills from set the difference between them looks close to 4 inches but in red carpet type stuff it looks closer to the 2.5 inch difference represented in their listings.
Sam
said on 2/Nov/17
He actually looks six feet max next to
Chris Hemsworth
on the Thor set, unless Hemsworth is sporting some larger boots, the difference can look around 3.5 inches.
Click Here
Importer
said on 17/Dec/16
@Rampage
Yea it is fairly tall, but if you were in my 184cm body you would feel not so tall cause I just happen to be in contact with 6'4 people in my college..my math professors..my tennis coach. It's like I've been shrank for a moment when I'm there but then it goes back to the way it should feel.
Rampage(-_-_-)Clover
said on 21/Nov/16
I wouldn't call 184cm pretty darn big...it's tall though
Redwing
said on 20/Nov/16
I thought he was somewhat tall, wow 184 cm is pretty darn big. There's a pic of him and Dan carter and he's a little bit taller.