Tony Bellew's Height
6ft 2 ½ (189.2 cm)
British professional boxer, who is a WBC cruiserweight champion. He claimed on Twitter
"I'm 6ft 3"

Photos by PR Photos
You May Be Interested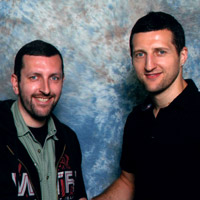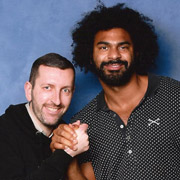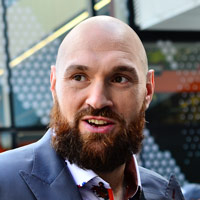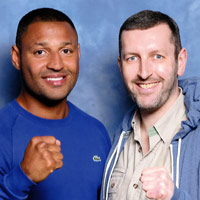 Add a Comment
39 comments
Average Guess (50 Votes)
6ft 2.45in (189.1cm)
stiggles
said on 20/Nov/20
Bellew is 6ft 1.5 in flat feet.. exactly the same as David Haye.
Poncho
said on 24/Jul/20
I'm a little over 6'1" whithout shoes ..... I had converse on in this pic... I'd say Tony is a solid 6'2"
182atlunch
said on 14/Jul/20
I was behind him in a queue off a flight for 10 minutes, so had a bit of time. 189cm is correct in my opinion, flat 6'2 too low.
OriginalAnon
said on 18/Apr/20
Solid 189cm guy.
Diamond
said on 9/Feb/20
I met him yesterday and had a picture taken with him at an event, I'm 5'11 barefoot both me and Tony had dress shoes on he had maybe half and inch more in footwear, Tony was a full 6'2 1/2 - 6'3 no doubt, he was taller than I thought he would be given some of the comments here and I have a photo to back this up.
I've been measured at 5'11 recently with an electronic height measure so I know my height accurately.
crayon
said on 22/Jul/19
The man is clearly 6ft3inches in dress shoes. Most ppl tend to forget that's how the heights are given. So a 6ft1 guy(barefoot)coming across a celeb would think the listed height is an inch off or so. Bellew would b a solid 6ft2 barefoot.
Jonathan Ince
said on 19/Nov/18
Absolute no chance he's 6ft 2. I met him at a JD sports event and he was barely taller than me at 6ft
Dave B
said on 24/Jul/18
Haye = 6ft 1.5
Bellew = 6ft 2.5
Xyzmeister
said on 5/May/18
Bellew won and looked a solid 6'2.5 or 189.21 cm tall.
HarrySachs
said on 2/Apr/18
Lol Joe if you think there is less than a 1/4 inch difference Bellew and Mateusz Masternak then I suggest you get glasses.
Rampage(-_-_-)Clover
said on 26/Jan/18
You could make the 187cm argument for Hayes actually...this guy did look 1in than him
Anon
said on 15/Jan/18
I've seen bellew in the flesh.I'm 6ft in bare feet and
There is no way bellew is more than an inch bigger than me
c-mo
said on 8/Jan/18
rob how tall do you think adonis stevenson is ? can you quickly look him up and analyze please
Joe
said on 8/Nov/17
Toni Bellew standing beside 6' (183cm) listed Mateusz Masternak
Click Here
I struggle to see even a quarter of an inch difference
When someone isn't lying about their heights you get the rest of the bunch "outed"
Robbe
said on 10/Oct/17
Joseph Parker is listed as 6'4 but he looks shorter than Bellew
Click Here
I think Parker is no moore than 6'2.5, or 6'2.75.
Click Here
Faza
said on 5/Oct/17
Check out bellew haye faceoff on ifl bellew can look 1-2 inches taller overall prob an inch and a bit more tho i think bellew could be a weak 6ft3 guy maybe 189- 190cm not under 189cm haye is 6ft2 max might be 6ft1.5 looking at him next to bellew both men get listed same height on boxrec too its clear bellew is taller
ReallyShortRussianDude
said on 4/Oct/17
Click Here
Rob, what's your guess for Eddie Hearn looking at him here with Bellew? strong 6'4?
Editor Rob: he can look a good inch or more shy of Anthony Joshua, he's got to be 6ft 4-4.5 zone, he did claim 6ft 5
Rampage(-_-_-)Clover
said on 31/Jul/17
Bellew: 189-190cm
Hayes: 187-188cm
anon
said on 6/Jul/17
Bellew was listed as 6ft2 1/2 back in the day when he was boxing bob ajisafe, ovill mckenzie I think this is more accurate the 6ft3 claim might just be a roundup, most the time folks don't like saying their height to an half Inch depending on the situation.
Bazza
said on 3/Jul/17
I think around 190 midday but the listing is close enough.
184guy
said on 2/Jul/17
He doesn't look 6'3 With Joshua
He is probably at the actual listing and David Haye 6'1.5
ReallyShortRussianDude
said on 9/Jun/17
He doesn't look 6'3 with Joshua.
boxing fan
said on 11/Mar/17
Bellew looks 6-3 or at least 190cm. he looked it in the Ring with Haye and in creed.
anon
said on 9/Mar/17
Bellew looking back probably needs an upgrade or Haye a downgrade, no way there is only a 1/2 Inch difference between the two, tony could be 6'2.75 and maybe Haye is 6'1.75 to be specific, If Bellew really is around 6'2.5 Haye is no more than 6'1.5 period certainly no 6'2 flat.
How Tall Would you guess Errol Spence Jr btw, listed 5'9.5 he faces Kell Brook who is a 5'8.5 guy on here so will be interesting to see how Kell and Errol square up to eachother
anon
said on 8/Mar/17
Could be 190 he looked 3cm taller than Haye Minimum 1 Inch difference it was noticeable in the build up and in the fight, If Bellew is 6'2.5 Haye could be 6'1.5 max maybe Tony is around a weak 6'3 or 190cm
nick92
said on 8/Feb/17
rob I think he needs upgrade to 6ft2.75 he does have more or less a full inch on haye.
ok
said on 21/Jan/17
When he fought on the Joshua-Whyte undercard he was listed at 6ft 2.5ins back in late-2015. More recently he has been listed at 6ft 3ins. I think his previous listing was likely his correct height.
Editor Rob: the 6ft 2.5 boxing listing is probably quite reasonable.
qartt
said on 20/Jan/17
Was noticeable taller than Haye at their press conference. Did look to be close to an inch difference. I would be surprised if the height difference in the ring when the ref gives them their orders is not noticeable. Not sure if it is half or three quarters of an inch. A quarter seems too little
198
said on 19/Jan/17
If Bellew is 189, Hearn can't be more than 191 which puts Joshua at no more than 195 (Hearn's apparent height).
Still, I think this is pretty accurate.
Nick
said on 14/Dec/16
Bellew is listed at 189cm this proves that David Haye is 183cm
Click Here
DHowdy
said on 30/Nov/16
He looked one inch taller than 6'2 David Haye at their recent press conference.
The Exorcist
said on 26/Oct/16
Wouldn't guess under 6'2", and wouldn't go over 6'2.5".
Voted 6'2"
tk
said on 23/Oct/16
At least 4 and 5 inches taller than Michael B. Jordan (5'10.5'') and Sylvester Stallone (5'10'' in lifts), respectively, in a photo from Creed's premiere:
Click Here
Surely closer to 6'3'', maybe 6'2.75''.
matt
said on 22/Oct/16
1.88- 1.89 probably 6'2.25- 6'2.5, good fighter
movieguy
said on 21/Oct/16
Don't downgrade him Rob, he's pretty feisty and may be round to sort you out lol. Really good in Creed where the director told him he had a future as an actor. Got to be easier than being punched in the face for a living.
anon
said on 20/Oct/16
Cheers for adding him Rob, Yh I would have guessed him maybe around 6'2.5 or close to it, he and Haye are both listed as 6'3 tho Bellew has been listed as 1.89m also, I think Tony would edge out Haye in general but Haye has an afro haircut so he can look taller I suppose
MrTBlack
said on 20/Oct/16
Yeah I thought 6'3" sounded a bit much but 6'2" solid is very possible.
miko
said on 19/Oct/16
Will be interesting if Haye and Bellew do fight who will come out taller..
Rampage(-_-_-)Clover
said on 19/Oct/16
Looked this in Creed.