Verne Troyer's Height
2ft 8 (81.3 cm)
American actor, best remembered for playing Mini Me in Austin Powers: The Spy Who Shagged Me. On his twitter he once mentioned his height, saying he stood
"2 foot 8"
inches tall.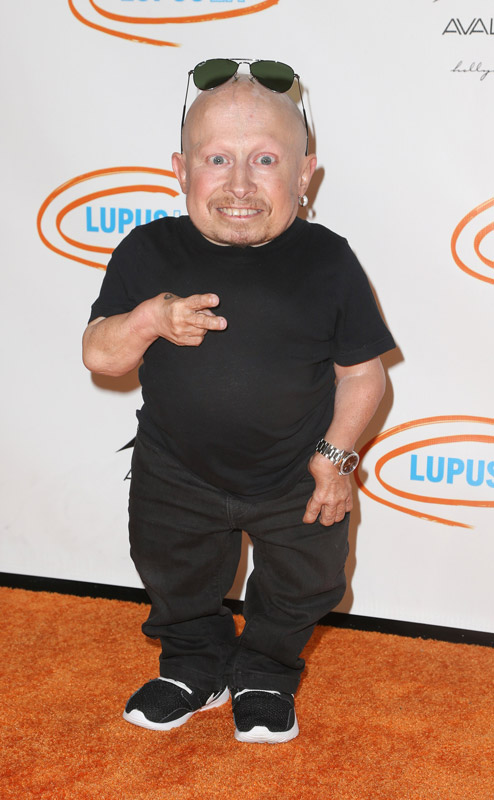 Photos by PR Photos
You May Be Interested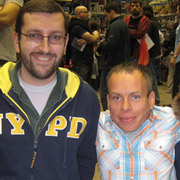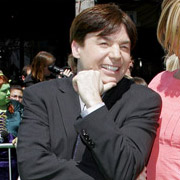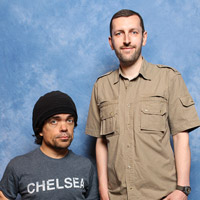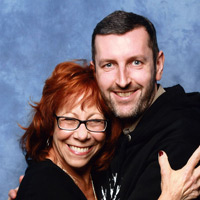 Add a Comment
48 comments
Average Guess (16 Votes)
2ft 8.05in (81.4cm)
6'3 Julian
said on 13/Oct/20
He's probably one of the shortest verifiable men ever!
Mr height
said on 8/Sep/20
Rest in peace
3FT is my guess
Oz
said on 1/Jan/20
Sookie is measuring back to back with Verne in the other world, she can there stand with the tail and in two feet, she is taller than him of course.
In two foot is taller than the shortest men ever easily.
Miss Sandy Cowell
said on 1/Dec/19
RIP Verne XXX 🕯️
Nik
said on 3/Nov/19
R.I.P Verne Troyer.
Milton19292
said on 7/May/18
RIP great shortest man...
sulu2018
said on 28/Apr/18
RIP Mini-Me
Geoff
said on 10/Dec/17
I agree with Leonardo. Robert Wadlow has a page so it seems only fair for Chandra Bahadur Dangi to get one.
Bobby
said on 24/Nov/17
Rob, is this the shortest guy on CelebHeights?
Editor Rob: I believe he is!
Height Sky
said on 28/Sep/17
@Rob
What do you think of 5'1 or under for the tag? That height is the male version of Snooki or Simone Bells lol
Editor Rob: 5ft - 5ft 1 would only include another couple of people I suppose. 5ft 2 would add 12 more...

5ft 2 and under certainly won't make more than say 2 pages for 'shortest men' category.
Height Sky
said on 27/Sep/17
@Big Rob
I would have put to 5'1.25 guys or under in the tag and 4'8.25 for women, but thank you for the tag
Editor Rob: there's not a great deal of females under 4ft 8, I intend to add a few though.
Blake
said on 17/Sep/17
Wow didn't know you would actually implement one of my ideas!
Editor Rob: it was on the list to do and I decided 5ft and under is best for the shortest men tag.
Blake
said on 10/Sep/17
I guess it is subjective as for tallest men the shortest is 6 ft 11 but for women 5 ft 11 range women are the shortest when a 5 inch difference is common between men and women. However I understand that others factors come in to play. Maybe start the shortest category for men at 4 ft 11?
Blake
said on 9/Sep/17
Rob, why don't you add a tag for the shortest men and women? You have a tag for the tallest men and women or is it considered negative to you
Editor Rob: it's on a list of many little tasks, I think the cut-off point I wasn't sure of, how much under 5ft would be classed for shortest men....
Tyson
said on 23/Jul/17
Is possible 8'8 Rob?
Editor Rob: yes, on the top of a six foot ladder.
even
said on 7/Jul/17
hes an 800 millimeter man
Ultimate
said on 20/Feb/17
Verne Troyer with Warwick Davis
Click Here
Leonardo
said on 22/Jul/16
Rob, Can you make a page of Chandra Bahadur Dangi? The shortest human in the history!
Arch Stanton
said on 27/Jun/16
Rob can you add a photo of minime?
michael said on 3/Jan/11
looks a about 2'7.86" to me maybe 2'7.87"
LMAO.
Ian C.
said on 25/Jun/16
I'll bet he wears lifts.
Norma26
said on 22/Sep/14
He is the shortest person I have ever seem.
SRG
said on 28/Aug/12
michael how can you honestly see a difference between 2'8 and 2'7.86. I have trouble noticing an inch and a half difference.
tall person
said on 23/Nov/11
Wow, I am 2'1" taller than him!
Legend
said on 11/Sep/11
No way. This guy is 2'6 at the most next to barely 5'7 Mike Myers.
Clay
said on 21/Aug/11
2'7.5 MAX.
voiceless dental fricative
said on 13/May/11
He's clearly between 80.449 and 80.586cm.
81cm is vulgar diatribe.
michael
said on 3/Jan/11
looks a about 2'7.86" to me maybe 2'7.87"
leonari
said on 10/Apr/09
Myers is MAX 5'7"
ACG
said on 24/Feb/09
No way is he only 2'8, because onscreen he can easily give a 2'9 impression. That's why I say 2'9 min. for Verne.
OK, I'm kidding, but seriously, I heard he was one of the shortest men in the world.
In the movie The Love Guru, I found it funny how 5'8ish Mike Myers was so nasty to Verne's character about his height.
Hugh
said on 4/Feb/09
No arguing with this height. I really despise the way people slag Vern because of his height.
Doug
said on 24/Jan/09
Verne came 4th in BB UK. He lost to Ulrika Johnsson
Ian
said on 4/Jan/09
They said he was 2ft on entertainment news. He's is in BB in the UK. He's favourite to win. Good luck to him.He hasn't let is lack of height stand in the way of his success.
Glenn
said on 14/Jan/07
Thank you Anthony and Sam.your words mean alot to me.my intentions wernt to get to personal and get sympathy,but to show that that some things such as height,and loads of other blemishes in life can be petty.not that I find celebrities heights petty.I find it fascinating.I was never hospitalised and know of people that have it WAY worse than me.my life is Disneyland compared to others.the power and will of the mind with the right girl and friends is my faith and sucsess to survival.that touched me Sam and Anthony.thanks again :-)
Anthony
said on 12/Jan/07
Sorry to hear that Glenn, but at least you have a positive attitude.
And it's also true that you can't go by parents. In somewhat of an alternative situation to Verne, Nick Cassavetes is 6'6, but his parents were 5'7 and 5'6. Verne looks to be 2'8, though when you're that short, does precision really matter?
Glenn
said on 12/Jan/07
I had 2 nervous breakdowns Sam and was traumatized by my parents deaths.things couldve been worse.they died kinda naturally.though I was 15,for my mom.like I said,not complaining.they wernt murdered or in a car crash.life goes on.life is good. :-)
Glenn
said on 14/Dec/06
Wow.thats weird about his parents.my Father was 5-8,and never lost height.my Mother was 5-5.gave a taller impression too.
Jake
said on 14/Dec/06
I heard verne troyer had average size parents, it's hard to tell from parents all the time though. Just curious glenn do you know your mom or dad's height?
Glenn
said on 19/Oct/06
True to a point.Id rather be me.but I wouldnt be surprised if he was happier.and Im happy with myself,but I went through hell first.
Anonymous
said on 18/Oct/06
Come on, Glenn! You know you'd take being a 5'8" inch, decent looking guy over being a 2-foot tall dwarf anyday! Seriously, anytime I start feeling bad for myself cause I'm short, I think about people in other situations, like Verne, etc. and I'm happy to be just over 5'6", decent looking, in good shape, etc. There's a lot worse!
Glenn
said on 17/Oct/06
True,Padraig.but nobody would cope a week in my worst days.everyone has their cross to bear.
Glenn
said on 28/Jul/06
Heard he was a dick.
Steven
said on 27/Jul/06
I thought of him to being smaller, more like 60cm, I mean if you see him it wouldnt look like you could stack three of him to make 240cm :S.
david
said on 8/May/06
I'm confused about who ever came up with 6'2 for his former wife height. Because i check her official website and it listed Genevieve Gallen as 5'6 not 6'2 as previously reported by someone or some reporters when they first got married.
TNTinCA
said on 16/Feb/06
Doesn't he hold the record for the shortest actor? I think I read that somewhere. Not sure if it meant the shortest of all time or the shortest currently living.
trueheight
said on 12/Feb/06
Its a dubious honor to be 2ft shorter than Gary Coleman
Becky
said on 14/Jan/06
I think i'm 5'5" but others think i am shorter than that! Do u think i'm 5'5"?
mjd
said on 27/Aug/05
i actually seen this guy a while ago...im 5'9-5'10 ish...and he was a good 3 feet shorter...It was odd walking by such a short man
Bob A
said on 20/Mar/05
I met him and I swear he was 2'9 - 2'10. I stood a few feet taller than him, which made me feel like I was a golden god.