Eve's Height
5ft 6 ½ (168.9 cm)
American singer and actress known for roles in Barbershop, With This Ring and XXX. She has given her height as
"Five Seven"
.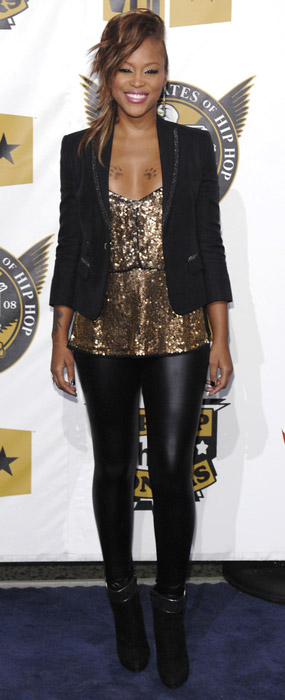 Photos by PR Photos
You May Be Interested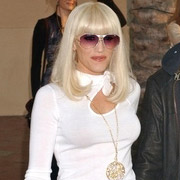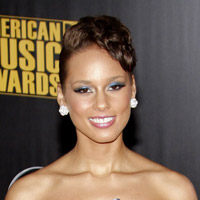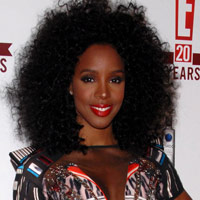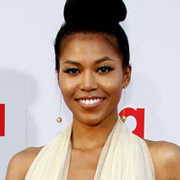 Add a Comment
33 comments
Average Guess (6 Votes)
5ft 6.42in (168.7cm)
Nik
said on 26/May/18
Good listing!
Gracian
said on 23/May/18
According to many sources on the internet, Eve is an American rapper. Please, Rob, add Eve to the American rappers category.
Realist
said on 1/Jul/17
I say 5'5.5 seeing her show she looked almost 5'6
lala
said on 28/Dec/08
I think Eva is only 5'6. Not 5'6 1/2
michael
said on 21/Dec/08
im guessing she's about 5'5" because on ANTM, she looked way shorter than any of the models. WAYYY shorter....and as you know, the minimum model height is 5'7" so she's defnitely shorter.
P. Robertson
said on 25/Sep/08
I love her show and her fashion designs. I like to see what type of hair style she is going to have great person all around.
Mr. R
said on 3/Aug/08
Eve is about 5-5.
jay
said on 8/Apr/08
eve is 5'6 or 7, loved her show she is sexy, she was good in barbershop she should do a video with nelly or 50 cent, ciara and 50 went so why not eve, 50 bags them all rihanna and beyonce, eve s possibly 5'7 i say .
Hector
said on 20/Mar/08
On the Tyra Banks show today, she stated that she is 5'7", when asked by Tyra how tall she is.
Hi
said on 30/Dec/07
At 2:48 in this song she states that she is 5'7" and thick in the thighs.
Click Here
randy
said on 13/Oct/07
eve always looked in the 5'6 mark, there is a pic on the ciara height forum with her with ciara check the height out on that, eve and ciara are both hot too, which one is taller and sexier now that's tough
T.D. Williams
said on 11/Sep/07
Doesn't matter. She would play a great role for Whitney Houston. Some of their facial features are similar. It's just something about Eve, that I don't have for any other female celeb, that would make me feel that she would play a good role for Whitney.
amin
said on 21/Jun/07
shes 5'6 with heels shes 5'9 i have pics on myspace.com/aminreddic im 5'8
alex
said on 14/Mar/07
jasmine could you please clarify the following: so was she 5'8 with heels or no heels? Because if she was 5'8 with heels (4 inches as you put it) than that makes her indeed 5'5 since 4 inches do not per say add 4 inches but more like 3. Please let me know what you meant. Thank you
Jasmine
said on 14/Mar/07
I saw Eve this past weekeend and we stood next to each other. She is easily 5'7 1/2-5'8. That's taking into account she had on heals as I did also (4 inch).
alex
said on 8/Mar/07
If you look at her pictures with Nicole Richie, she looks 3-4 inches taller (with minimal head tilt) thus 5'5 (let's say 5'5 1/2) makes more sense since Nicole Richie has said several times she is 5'1. No way 5'7, remember the tendency in Hollywood to add those additional 2 inches!!!
some guy
said on 27/Sep/06
She's about "5, 4" she's almost always got a pair of heels on.
Luci Ana Phama
said on 24/Jun/06
I saw in the airport goin' to Miami. She looked 5'6. Probably 5'5. There is no way she is 5'7.
jimmy
said on 25/Feb/06
yea i saw her on ANTM too and she was WAY shorter than everyone else including girls who were measured at 5'8. She looks 5'5 at absolute most and when she was on that show, she must of had a short day
elexa
said on 7/Feb/06
um no "e" the average height for woman is 5'4
Missy C
said on 8/Jan/06
In the music video, "Let Me Blow Your Mind", she gets arrested and stands in front of one of those height measuring things. This shows that she is 5'5" ish. Why would she make herself shorter unless this is really her height? Check it out.
paleface
said on 30/Nov/05
No way is she 5'7. When she was a guest on ANTM cycle 4, the aspiring models towered over her. Even the shortest girl was taller than she was. 6 foot Britney absolutely dwarfed her.
Chloee
said on 7/Nov/05
AMERICAS NEXT TOP MODEL HAS EVA PIGFORD AS 5'7 ! :-D
Someone
said on 7/Nov/05
Eva Pigford is only 5'6 1/2.
e
said on 20/Oct/05
i feel as though that the height should be at least 5'6, because the average height for females is at last 5'6. this is how i feel and why is it that the jeight have to be 5'7 or even 5'8. this makes no since to me why is this such a big deal.
J.
said on 30/Aug/05
I'm watching an episode of Eve's sitcom as I type. They're in a scene with Eve and Ali Landry are barefoot and doing martial arts with each other. David Carradine guest stars. Eve is noticably about 2-3 inches shorter than Ali. Tricky camera angles or this broad ain't 5'7"? Which one?
Anonymous
said on 30/Jul/05
No way she cant be 5"7, she seems so much shorter than 5"8 ali landry in the tv show 'eve.' They both wear high heels in this show and eve looks a good 2-3 inches shorter than ali.
Anonymous
said on 16/Jun/05
In the song what yall want, she said "ooh's and ahh's 5'7" thick in the thighs/
every thugs dream wife see the love in
they eyes"
so that should sum it up for you people wondering.
Mr. R
said on 31/May/05
Actually J, my first encounter with Eve was in the lobby of the MGM Grand in Vegas, the day before the BIllboard Music Awards. She was actually just walking through, and she was wearing sneakers, which is why I came to my 5-5 observation.
J.
said on 30/May/05
That's an intresting account, Mr. R. It's weird because Eve's ex-boyfriend, producer Stevie J was listed as 5'10" and I noticed that when they were seen together at events, even with heels on, she was shorter than him. One thing about her though is that she's ALWAYS IN HEELS. Never flat shoes so she knows how to make herself seem taller.
Mr. R
said on 30/May/05
Eve is nowhere near 5-7. I saw her at the MGM Grand in Vegas a few years ago, and she was not this tall. I also saw her after the Oscars a few years ago and she spoke to us for awhile. In heels she may be 5-7, but she is closer to 5-5.
starbaby
said on 29/May/05
I agree I think eve is 5'7 and gwen is 5'6.Gwen is shorter than eve but sometimes looks taller from her heals.Its good to be tall though since all other celebrities are much shorter.Its nice to see a change of successful celebrities being on the tall side.
Smoke
said on 25/Mar/05
I caught the end of an SNL recently that had Eve and Gwen Stefani, I think Gwen must have some kind of complex when it comes to her height! I also noticed that Eve was barefoot, and that Gwen was still wearing her gigantic four-inchers...I could have sworn that even in those, Gwen only looked about an inch taller than Eve. It's at times like that where Eve definately looks like a pretty tall girl, but then when you see her dwarfed by 6'0"-6'1" Bernard Hopkins she doesn't seem so tall. But I do think that Eve is a solid 170 cm, while Gwen is 167-168 cm.
http://www.imdb.com/gallery/granitz/1442/Events/1442/Eve,Hilary_Mazur_483740_400.jpg?path=pgallery&path_key=Eve%20(II)
http://www.wireimage.com/GalleryListing.asp?navtyp=gls====52890&nbc1=1&VwMd=i