Alanis Morissette's Height
5ft 4 (162.6 cm)
Canadian Rocker. She said in one of those fan chats,
"5ft 4 1/2...I think"
I'm 5ft 4in but people expect me to be taller. I can understand that because I look at photos of myself on stage and I think, 'Jesus Christ, I look 6ft 7in!'
- Observer Newspaper, January 2006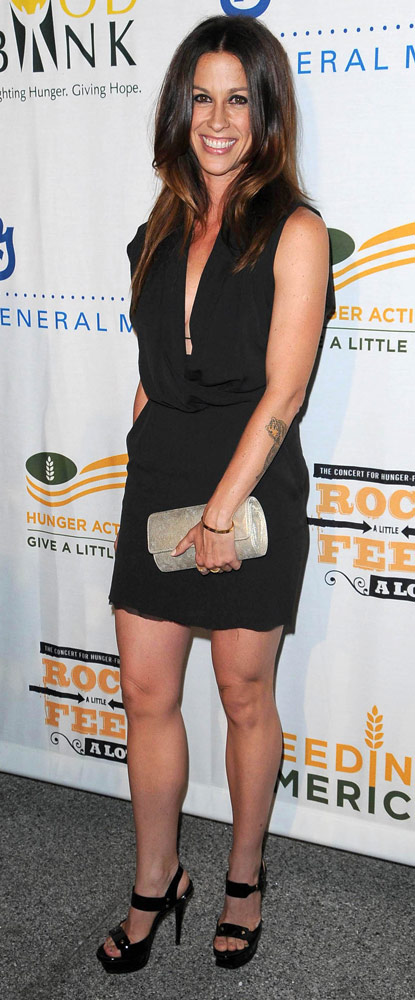 Photos by PR Photos
You May Be Interested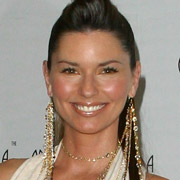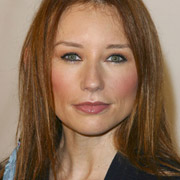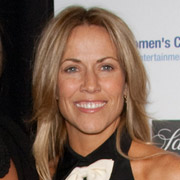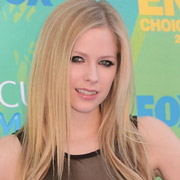 Add a Comment
26 comments
Average Guess (5 Votes)
5ft 4.05in (162.7cm)
macdaddy
said on 28/Jun/19
She is too darn good lookin'!
'Annonymous'
said on 29/Mar/19
Please Rob, add her to the rock singers category.
FrankR1
said on 8/Aug/16
Alanis Morissette looked "tiny" in 'Dogma' (1999). She also looked like she was barely 5 feet tall next to her fellow teens in the 1980s series 'You Can't Do that on Television' on Nickelodeon.
Me
said on 11/Feb/13
But she says "I'm short but I'm healthy" in one of her songs! 5ft 4in is average for a woman
Maharajah
said on 17/Oct/12
She's look really really tall on the stage...
mcfan
said on 23/May/09
She sure only looks 5'4. It doesn't surprise me she's a total jerk. Her spirtual quests seemed contrived to me much like the topic of conversations in her interviews. What a total bore. Her deep speaking voice kills it for me.
glenn
said on 1/Feb/09
she use to be nasty.heard she still hasnt lightened up completely.i had alot of problems with her.you have to meet a celebrity more than once to judge.i saw a small crowd of people curse her out.as with any nasty celeb,they go through a nice phase.
Edward
said on 1/Feb/09
i met her when she did a 2 week stint in "the vagina monologues" in NYC ....about 30 people or so there waiting for her to arrive .....i was the only one she said anything to and sign an autograph for...i said "love you alanis" she replied "love you too"...i just wanted to see what she would say or not say....that was cool..she appeared about 5` 2`` to me .peace all..
Sonia
said on 3/Jan/09
I'm taller than her by 2". She's 5' 4".
sarah
said on 7/Sep/08
she's like 5'4''..maybe a little bit smaller..161-163 seems right..
Josephine
said on 12/Jul/08
I always thought she was taller, around 5'6". Maybe her long hair always gave that illusion!
ras
said on 14/Aug/07
This pic here me think she has been giving herself an inch and half more than her actual height:
Click Here
Brad
said on 10/May/07
5' 6" to me. Head gets screwed up with her personal life then it gets jacked into her songs like a few years back. She's been Avril'd and Kelly'd to the 90's. Has to bring it on hard.
Kathryn
said on 11/Apr/07
well...if she come up to Ryan Reynold´s sholder then she´s a solid 20 cm smaller than him and that would make her 5'6'' (168 cm) because he´s 6'2'' (188 cm). so...doesn´t matter....she has to hurry up in music business......her last single was released two years before..she has to make a new album..=)
Anonymous
said on 10/Apr/07
she only comes up to ryan reynold's shoulder, and he's 6'2", i'd say 5'4", 5'5" maybe tops . . even though they're not together anymore haha
glenn
said on 5/Apr/07
i dont have one.like i saidn she was a kunt.i hope she reads this too.was one even in 2001.i hear she poses now.
Kathryn
said on 4/Apr/07
well....put a photo on this site, Glenn, then we can all guess or judge her right height...ithink she´s 5'5'' (165 cm)....well.. let´s see...=)
glenn
said on 4/Apr/07
i met her during her fame many times.a kunt.an enigma too.first time shes was 5-4 gothic looking in heels,petite.a year later she was 5-6,stocky,dressed sloppy and wore converse.
Kathryn
said on 3/Apr/07
well...5'6'' is better i think, maybe 5'5''. but 5'6'', thats more obvious because she isnt that small. e.g. in Germany she said in an interview that she´s exactly average height in Germany. and thats 5'6'' (168 cm)..so try to meet her, Glenn, =).
Anonymous
said on 31/Dec/06
Z2: Yes I suppose average is 5'4.5. In Canada it's 5'5" But most people I know who are 5'4" DO consider themselves short. There's a well known Petite store where I live and on the window it says "For women 5'4" and under"
Also when most people describe someone who's say... 5'6" They'll call them "average height". I think the average height includes the elderly in the stats because they tend to be quite a bit shorter than regular adults.
Glenn
said on 2/May/06
She was an enigma to me once.she looked 5-4 in boots,and 5-6 in sneakers.I couldnt figure it out.
Editor Rob
said on 1/May/06
Observer Jan 2006:
"I'm 5ft 4in but people expect me to be taller. I can understand that because I look at photos of myself on stage and I think, 'Jesus Christ, I look 6ft 7in!'"
ice
said on 3/Apr/06
Hey Rob, she's on Madonna's record label. Maybe she stood next to Madonna, and they were the same height, so she just said what she said. Madonna has claimed 5'4.5 herself. But, we know she's not that. LOL
ice
said on 12/Mar/06
Now alanis is my girl, but that picture isn't adding up. If alanis is 5'4, and in flats, that would put her at 5'5. But, since tori is closer to the camera, leave it off. tori amos looks about 2 inches taller, so that's 5'6. That mean tori would have to be increasing her height by 4 inches. That seems easy to do, but it's not. 4 inch heels do not give you 4 inches of true height because there's a slope from the heel to the toe. only platforms give you true height. Also, look at the length of tori's torso. It just naturally looks longer. Alanis isn't 5'4.
Anonymous
said on 26/Feb/06
If she is 5'4" than how come she appears to be about 3 inches shorter than 5'2" Tori Amos here?
http://www.yessaid.com/pic/torialanis2b.jpg
[Editor Rob: could be as simple as tori being a little closer to camera and in heels vs other in flats??? Maybe or maybe not, hard to say]
Z2
said on 30/Aug/05
In one of Alanis Morisettes songs, she is heard that she thinks she is short. The average height for women is 5'4" and that is "average." So that got me to thinking that Alanis is under the average, hence her song stating she's short. I think 5'3" is her real height as she does look it.