Bill Nighy's Height
6ft 0 (182.9 cm)
Peak height was 6ft ½ in (184.2 cm)
English actor, best known for roles in films like Love Actually, Valkyrie, The Best Exotic Marigold Hotel, Stormbreaker, Notes on a Scandal, Wrath of the Titans, Pirates of the Caribbean: Dead Man's Chest, About Time and Being Human. In a 1997 casting directory he had his height listed as
"6 feet"
.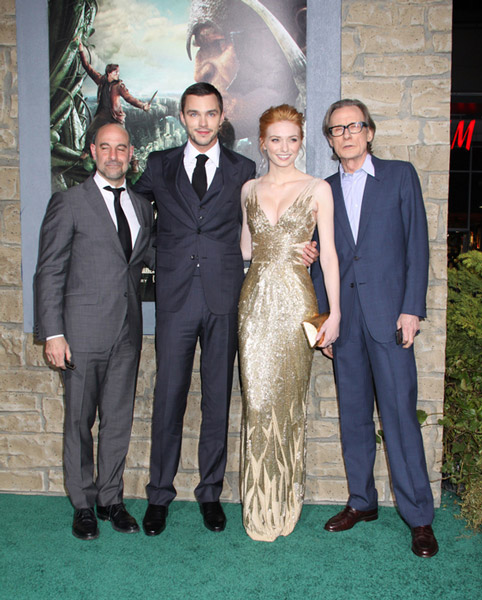 Stanley Tucci
,
Nicholas Hoult
,
Eleanor Tomlinson
and Bill
Photo by PR Photos
You May Be Interested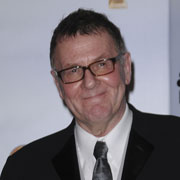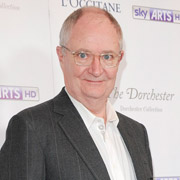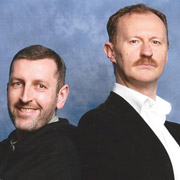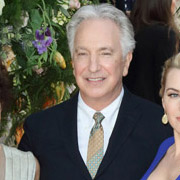 Add a Comment
70 comments
Average Guess (39 Votes)
Peak: 6ft 1.06in (185.6cm)
Current: 6ft 0.54in (184.2cm)
Jtm
said on 16/Feb/21
He wasn't even 50 in 1997 so I doubt he was ever over 6'0
Rampage(-_-_-)Clover
said on 13/Feb/21
185cm peak
Eric Tam
said on 18/Jan/21
Rob what about Bill Nye? XD. I reckon he's around the same as this Bill N.
Sylvya Ford
said on 1/Jan/21
6ft 0.75
Miss Sandy Cowell
said on 12/Dec/20
🎁🎂🎈🎊 Happy Birthday Bill! 🎊🎈🎂🎁
Wishing Bill Nighy a sensational 71st Birthday today. I often think he's younger, not only because of his appearance but because he stars in so many comedies, I guess!
6ft today and half-an-inch more for his peak. 😁👍🍻
🎁🎂🎈🎊🎁🎂🎈🍻🎁🎂🎈🎊🎁🎂🎈🍻
anomalous
said on 27/Aug/20
i would say 6ft 0.75 peak
Rory
said on 29/Jul/20
I don't think he was ever a true 6ft1. In Bergerac in 1991 he was 2.5 inches shorter than Simon Williams and in Minder didn't look 6ft1 with George Cole. Fairly similar to Nethaniel Parker in 2002 too. I think 6ft0.5 peak is fair.
Rampage(-_-_-)Clover
said on 14/Jul/20
6ft today I do agree with but I reckon a full inch loss at his age is likely
Minder
said on 12/Jul/20
I always thought he was around 6'2, don't really know how I came to that but I think 6ft is a tad too low.
He's notably taller than Rush and he towered over pretty much everyone he had a scene with in Pirates. Considering he would have walked the set in a mocap suit and rest got the fashionable boots with 2-3 inches in the heels.
Click Here
Click Here
Lis
said on 20/Feb/20
How tall would you say Johnny Flynn is based on this picture, assuming Bil Nighy is 182.9 cm tall
Click Here

Editor Rob
Looks close to 5ft 10
Rampage(-_-_-)Clover
said on 22/Jan/20
Rob, why not 6ft1 peak?

Editor Rob
I can see why he could pull it off at times.
Nik Ashton
said on 14/Dec/19
I think he can pull it off!
Miss Sandy Cowell
said on 12/Dec/19
🎁🎂 Happy 7️⃣0️⃣th Birthday Bill! 🎂🎁
Today is the Birthday of Bill Nighy and he turns the BIG 7️⃣-0️⃣! Have a great day Bill! 🥂
Peak - 6ft1; 🎄✨
Now - 6ft0.5 🌞👍
🎁🎂🕯️🎊🎁🎂🕯️🎊🎁🎂🕯️🎊🎁🎂🕯️🎊
Junior Hernandez 1990
said on 6/May/19
Click Here
Click Here
Click Here
Chow Yun Fat peak was probably not under 6'0.5" and those picture was 12 years ago, both of them may still holding their peak height and Bill still look 1/2" taller. Bill peak is more like 6'1 and 6'0.5" now next to 6'1 Domhall Gleeson
Click Here
Junior Hernandez 1990
said on 15/Jul/18
No way Bill is 6cm shorter than 189cm Nicholas Hoult. I can see 5cm. Bill Nighy is still looking 6'0 1/2 with 6'1 Domhnall Gleeson.
Redwing
said on 3/Jul/18
Hey rob, that looks like 8 cm between nighy and Hoult

Editor Rob
Yeah it might be near that.
Jake
said on 4/Jan/18
Hmm, I think a solid 6 feet may be possible now but in his prime? I'd say at the very least 6ft 1. He's always looked as though he's cleared the 6 foot mark. I also find the 6ft 2 claim on Google very interesting, I have no idea where that might have came from. How likely do you think 6ft 1 in his prime would've been, Rob?
Rory
said on 1/Jan/18
Id list him 6ft0.5 peak and 6ft today I think. Seems likely.
Judd
said on 5/Nov/17
Rob what do you think about a 6'0.25" peak height and 5'11.75" current height for him?
Editor Rob: it could be possible
Rampage(-_-_-)Clover
said on 29/Oct/17
Nowadays that mark looks likely but in his prime he looked over it...
Rory
said on 6/Oct/17
I think seeing as today in his late 60s he looks 6ft with Sam Claflin,Dohmhall Gleason,Andrew Scott and actually in that picture above with Nicholas Hault even 6foot is fine for a current height, but seeing as he's 68 years old he's bound to have lost half inch minimum. Okay peak maybe 6ft1 is a step too far but surely not below 6ft0.5, with 6ft0.75 very possible. I personally wouldn't put absolute faith in these spotlight directory listings, clearly if a person lists themselves 6foot and that's what they look generally then there's a perfect match there but if someone looks 6ft1 but puts 6ft I wouldn't necessarily just accept 6ft wholesale. 6foot today and 6ft0.5 peak might be perfect for Bill.
Paul
said on 5/Oct/17
When was he downgraded?
I think only 6ft peak is very unlikely, honestly.
Rampage(-_-_-)Clover
said on 29/Mar/17
I think he still clears over 6ft today
Rampage(-_-_-)Clover
said on 5/Dec/16
Rob, how likely is 6ft2 peak?
Editor Rob: Rampage, would probably need to look at anything from 1990's early when he was likely still near his best posture.
Mark(5'9.25
said on 26/Nov/16
6'2" peak. 6'1" Now.
Rampage(-_-_-)Clover
said on 27/May/16
He reckon can still look 6ft1 range in that picture if he stood properly. Aswell Hoult could be a full 6ft3...
Get Shorty
said on 25/Jan/16
In the Marigold film sequel Bill Nighy and Dev Patel both tower over Richard Gere. That probably confirms both Nighy and Patel around 6'1" - 6.2" mark with Gere being about 5'7".
Gonzalo
said on 29/Oct/15
Wasn´t he shorter tan Tom Wilkinson in Marigold?
Mick
said on 20/Apr/15
6'2'' (188 cm) peak.
Rampage(-_-_-)Clover
said on 15/Nov/14
187cm peak
Arch Stanton
said on 28/Jul/14
Rob I think you may have added the wrong photo :-) Yeah me too, About Time was the only one I hadn't seen out of those. Highly recommend it.
[Editor Rob: yeah, thanks!]
Arch Stanton
said on 27/Jul/14
Rob, Connor's right actually, but Nighy's posture is poor. He looks like he's lost a good inch, see 1 hr 36-40 (please delete link after posting) Accounting for posture looks more 6 ft now doesn't he. Also there's a chance Gleeson is the same height as his father and 6'1.5".
Arch Stanton
said on 27/Jul/14
Rob can you add a photo and British actor, best known for roles in films like Love Actually, Valkyrie, The Best Exotic Marigold Hotel, Stormbreaker, Notes on a Scandal, Wrath of the Titans, Pirates of the Caribbean: Dead Man's Chest, About Time and Being Human.
[Editor Rob: about time is only one out of those I have still to see]
Arch Stanton
said on 27/Jul/14
Watching About Time now and he looks 6'1" range to me. Such a cool older guy, very much the "groovy" child of the 60s type who still oozes the liberal "free love" type of demeanour LOL, sort of reminds me of the male Joanna Lumley.
Crazy Mutt
said on 13/Jun/14
Click Here
Click Here
he towered on Johnny Depp and Orlando Bloom. Perhaps he had a little floor advantage, but in these pics he looked almost 8'' taller than Depp
Arch Stanton
said on 17/Feb/14
Looks more 6 ft range in Pirate Radio.
Rampage(-_-_-)Clover
said on 2/Nov/13
"Bill Nighy's height is 6ft 0.5in (184cm)"
Looks under 6ft1 now for sure. Not sure on his peak
Connor 184cm
said on 31/Aug/13
Rob is there a chance bill could be 184cm?
Connor 184cm
said on 19/Aug/13
Rob wasnt bill listed as 6ft 2 on celebheights before if im not mistaken? i thought he was taller than 6ft 1
[Editor Rob: he's been this for a long time]
jtm
said on 11/Jul/13
maybe 6'1 when he was younger.
logan noll 1996
said on 28/Oct/12
He did seem 6'2 in some of his movies. In "Pirates of the Caibbean", he looked 6' - 6'1 though the Davy Jones character didn't have perfect posture.
Ajax
said on 10/Oct/12
I think he could have been close or exactly 6'2" in his prime but 6'1" for this age seems reasonable.
Rampage(-_-_-)Clover
said on 8/Sep/12
Not the listed 6"2(188cm), but 186-187cm peak isn't out of the question.
Today looks to be a bit under 6"1.
FACE
said on 8/Aug/12
peak 6'1 (185 cm)
Now 6'0 (183 cm)
maio
said on 25/Dec/11
Peak: 6 ft 0.5 in/184 cm
Today: 6 ft 0.25 in/184 cm
Joe
said on 24/Aug/11
Well myself and a friend got a photo with him in london a few days ago and i am a strong 5ft 11 and my friend is 6ft 3 and bill looked about 2 inches taller than me and about 2 inches shorter than my friend so i would definetly say that he is at least 6ft 1
Rampage(-_-_-)Clover
said on 18/Aug/11
6ft0.5(184cm) tops these days
Johan Cruyff
said on 6/Apr/11
I saw him in the 2007! I've not any doubts he was, at his peak:
Morning (out of bed)= 6'1" (1.85,4 m)
After 1,5-3 hrs= 6'0.6" (184,4 m)
After 5-10 hrs= 6'0,2" (1.83,4 m)
Now, maybe he's also shorter! If you see, in Pirates of Cariebbean, he's a little over Orlando Bloom, who's max 1.79,5 m, so i belive today he's around 1.81,5-1.82 m.
Jason
said on 15/Mar/11
I met him getting out of a cab in London's Soho in 2006. Nice guy. Chatted for a bit and got a couple of pics of him and I standing up pretty straight together. I'd say he was just slightly under 6ft 1.
guyfrommars
said on 14/Jun/09
I've always though he's at least 6ft3. Funny.
Jason
said on 14/Dec/08
Bumped into him getting out of a cab in Soho. Fantastic guy. I've got some photos of me standing next to him - 6'1" seems roughly about right, possibly half inch less.
Anonymous
said on 20/Oct/08
he has been 6'2 now looks 6'1
Elvis
said on 19/Aug/08
Met him in notting hill,west london
nice guy,shook my hand and everything
hes around 6 foot 2 saying that i wasnt paying attention too his shoes
glenn
said on 24/Mar/08
great guy.6-2 peak maybe.
Joe
said on 24/Mar/08
bill nighy's a legend! I'd say 6'1 with relative ease, maybe even 6'2. What was he like, Glenn?
gladiator
said on 29/Dec/07
Saw him this afternoon in south kensington london, he's alot taller than you think. I guess between 6-1 -6-3.
???
said on 28/May/07
he looked about 5'10" dead man's chest and at world's end
Sara
said on 2/Mar/07
Well, Bill rarely stands straight, even when walking he's slouched and bent-kneed. This belies his true height.
Ingrid
said on 17/Feb/07
He never looked the 6'2". I think he's definitely shrunk down with age.
footballed28
said on 15/Feb/07
he gives an impression of a 6'2 male regardless of his big-time slouching...perhaps a little over 6'1 nowadays or all of 186cm
Kat
said on 13/Feb/07
I used to hang out with him back in the days[1975/6]when he was a member of Liverpool Hope Street theatre. We referred to him as "Billy Niggles" and he was definitely 6'2" then - might have shrunk with age?
Glenn
said on 13/Feb/07
Nighy is slouching alot.6-1 is correct.I would think Affleck is 6-2.I read 6-3.
[Editor Rob: I think Nighy actually 'dwarfed' the ant+dec tv presenters in Love Actually]
Ed
said on 11/Feb/07
Nighy is in a recent Vanity Fair picture spread where Osacr nominated Hollywood stars are photographed in different scenes from an old noir film. In Nighy's photo he's in it with Ben Affleck, as they stand around a gravesite. Anyways Affleck and Nighy are almost identical, and in fact Nighy might even have a slight edge and the pic really does not look distorted. So I'm wondering if Nighy is 6ft1 which he doesn't really look like in the photo w/Glenn, maybe he's slouching a bunch but he looks more 5ft11ish. I've always thought Affleck was a good 6ft2, and Nighy I thought the same of, if not taller, but someone here is off. Glenn, was he slouching a bit and did he seem taller than 6ft1? Also, maybe you'll meet Affleck one of these days, and give some insight in to his height, because he's always looked at least 6ft1.
KingNick
said on 11/Feb/07
6'1" sounds accurate I dare say maybe 6'2" even.
John
said on 11/Feb/07
great photo
Predah
said on 10/Feb/07
this guy was superb in the role of Davy Jones!
Jake W.
said on 10/Feb/07
Doesn't look it with Glenn.
Glenn
said on 10/Feb/07
I couldve sworn I posted here.bumped into him 1am in the Time Warner building.
D. Ray Morton
said on 10/Feb/07
Badass. Thanks for the photo.
(Didn't get to meet him, alas.)
D. Ray Morton
said on 26/Jan/07
This brutha OWNS. Just saw "The Vertical Hour"...looked like a 6-1er onstage next to li'l Julliane (who looked all of 5'2" or 5'3"). Going again on Sat...might get to meet him this time.
Glenn - any pics?