Bonnie Wright's Height
5ft 5 ½ (166.4 cm)
British actress best known for playing Ginny Weasley in the Harry Potter movies.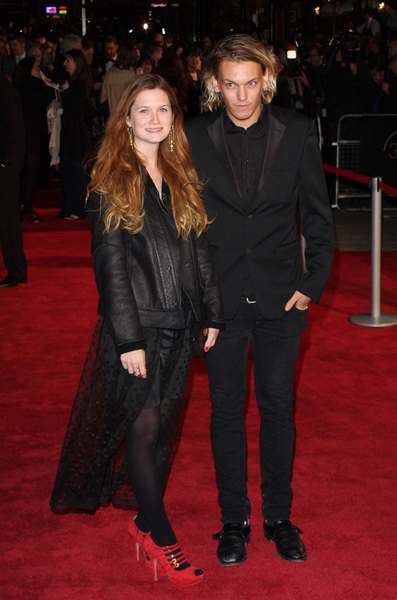 Bonnie with
Jamie Campbell Bower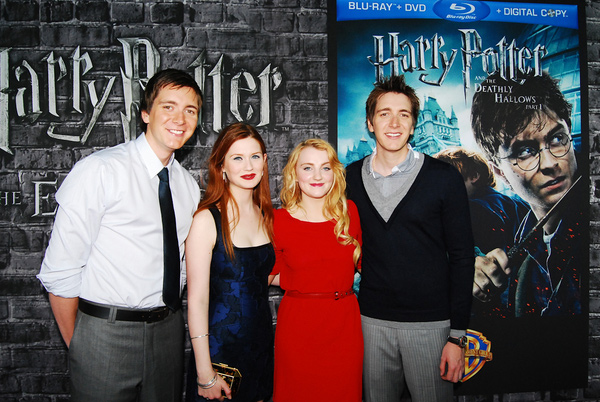 James Phelps
, Bonnie,
Evanna Lynch
,
Oliver Phelps
Photos by PRPhotos.com
Add a Comment
36 comments
Average Guess (24 Votes)
5ft 5.46in (166.3cm)
Realist
said on 22/Nov/20
Daniel Radcliffe is 5'4
Emma Watson 5'4.5
Rupert Grint 5'8
Bonnie Wright 5'5.5
Miss Sandy Cowell
said on 8/Jul/20
I do like Bonnie's lovely long, tawny hair.
@ Nik - We used to have a visitor cat called Bonnie who'd come round and munch her way through the catfood. She was a black cat and always welcome to come round for food and fuss. She lived 8 houses away, and other cats from her household soon cottoned on!
Bonnie gets 5ft5.5 👩
😀🐈🐈🐈💝
Nik
said on 17/Dec/19
It would be great to see a photograph of her with Louise Jameson!
Yang (5ft 8 Chinese men)
said on 22/Jan/19
Not really strong soli 5ft 6 IMO despite she looks more than inch taller than her fellow Harry Potter star Emma Watson and Daniel Redcliffe and Katie Leung of course. Even when both Dan and Bonnie dont wear heels like in HP filming set in Half Blood Prince, She is still taller than Dan Radcliffe and Emma 100% sure.. Emma and Dan did claim their height is 5ft 5 but more like 163, 164 range in my eyes.. I can definitely happy to go with 166cm aka triple 5(5.5.5) lol...plus I forgot to mention her that she is one I would love to meet in a person one day... Plus its perfect height for women IMO while 5ft 10 and 5ft 11 are perfect for men...
Littlelee168cm
said on 19/Nov/18
Yeah she looks the same height next to Jamie in this photo as Rob does in his photo with Jamie so must be 5ft 9ish in those heels
Nik
said on 27/Sep/18
A strong 5 ft 5 is possible for Bonnie Wright! I like her name!
MAD SAM
said on 25/Sep/18
167 cm at 5'5.75" is a definite possibility !
Blake
said on 4/Sep/17
Rob, I know im nitpicking here but in the photo with the Phelps twins, Bonnie and Evanna you have changed their listings since you wrote the description as you currently list the Phelps twins 6 ft 2.5 and Evanna to 5 ft 2.25
Editor Rob: yeah, I'll update that to not reference height, just the links themselves.
Mark(5'9.5
said on 22/Jul/17
She also looks like that other girl who was flirty with me outside science class XDDD
Rob, this is probably me, but I keep running into celebrity look alikes!!
even
said on 7/Jul/17
morning 167
night 166
Lily Jarvis
said on 13/Feb/17
Definitely not 5'7", but i would not say no to 5'6".
Mark(5'9.25
said on 22/Dec/16
Watching the Harry potter films and the Fantastic Beasts film, I never really pay attention to every actor's height until now.
Turagi
said on 1/Aug/16
I am 177cm barefoot, we are both wearing flat shoes in this photo
Click Here
Editor Rob: she can look about 4 inches smaller in that photo.
bill
said on 16/Sep/12
susie Emma is tall than Dan even in bare feet
Ria
said on 26/Aug/12
Bonnie Wright is 5'8" in her bare feet. Deborah Ann Woll is 2 inches taller than Bonnie Wright. If Deborah Ann Woll is 5'10" in her bare feet, then Bonnie Wright is 5'8" in her bare feet.
marla singer
said on 28/Jul/12
If Daniel is 5'5", then Bonnie must be 5'6"...
susie
said on 12/Jan/12
bonnie: 166-167
rupert: 171-172
dan: 163-164
emma: 161-162
that's my best guess. bonnie is not that tall. maybe a legit 5'6" at the most, people who say she's 5'7" must think that Dan and Emma are both legitimately 5'5" when as far as I can tell they are both more in the 5'4" range, Emma slightly less likely.
Godred
said on 1/Jan/12
@falalala - Rupert is around the 5`8 mark,he is not 5`10.
fricanman
said on 27/Dec/11
@Falalala Look at the cast photo at the link I posted at each of Emma, Daniel and Rupert's areas. Bonnie certainly looks taller than her current listing but I can't say how much heel Bonnie may have as she is wearing trousers that obscure any shoe advantage, However, I think you should kiss goodbye to 5'10" for Rupert!
@Kashfia your logic here (and elsewhere on this site) is completely unfathomable to me.
@Steffy you are completley correct, the height of actors, and anyone else for that matter, does not matter one jot in the great scheme of things!
Except possibly on a website that is dedicated to gauging celebrity heights?
curtislewis2
said on 27/Dec/11
Bonnie Wright, and Emma Watson must have mysteriously shrunk, but they are still great actresses!!!
J
said on 22/Dec/11
Bonnie - 5'6.5"
Daniel - 5'4"
Rupert - 5'8.5"
Emma - 5'2.5"
Falalala
said on 20/Dec/11
Okay she is deff taller than Daniel Radcliffe and he is believabley 5 foot 4.9something something (5 ft 5in)and Rupert is under 6 foot but believabley 5 foot 10 in. I would say Bonnie is 5 foot 7 in because she was noticabley taller than Dan and Dan is around the same height as Emma (but a tad shorter than her if you ask me in heels or flats idk wasn't paying THAT close of attention).
My Guesstimate:
Bonnie: 5'7
Rupert:5'10
Daniel:5'5
Emma:5'4-5'5.5
Kashfia
said on 14/Dec/11
If Bonnie Wright is really 5'6" or 5'7" in her bare feet that means female runway models' height are exaggerated by 4 or 5 inches taller than they actually are.
Jay
said on 2/Sep/11
At the Deathly Hallows part 2 press conference, Bonnie was in completely flat shoes yet was around the same height as Emma Watson who was in 6 inch heels (let's say they give 4-5 inches).... if Bonnie is 5'5.5" then Emma must be 5'1" logically...Bonnie needs a slight upgrade to 5'6", Emma needs a serious downgrade to 5'2" or 5'3" if we're being generous.
Bambi L. A.
said on 18/Jun/11
I think Bonnie is 5'5.5" seems to be true and Emma is 5'6" ...and I'm taller than them! I'm 5'7.5"!!!
Autumn
said on 23/Mar/11
@Steffy: I guess that's one of the problems that casting directors face. When the actors were hired for the first movie, they were all young and still relatively the same height. I don't think the casting directors banked on James and Oliver shooting up to above 6' and Rupert only growing a little bit. Same goes with Dan and Bonnie. Bonnie was a lot shorter than Dan when she was first cast, who knew that Dan only had a few more inches left in him, and Bonnie would overtake him? I remember in the Behind-the-scenes for the first movie, Emma said to Dan "I'm not determined to embarrass you, I'm determined to be taller than you." Who knew that she actually would? hahaha
Jack
said on 24/Jan/11
Bonnie is likely exactly 5'5.5" as stated here. Daniel is 5'4", Emma is slightly less than 5'4", Rupert is 5'7" or 5'8"
Bill
said on 27/Nov/10
She is at least 5 ft 8 looks taller than rupert
Steffy
said on 16/Nov/10
Alright, does it matter in the slightest the height of the actors? the only major height issue i see with the HP series is that Ron is suppose to be quite a bit taller than Fred and George, and in the film he is not but who really cares? Yes Daniel, is short but love is love it happens in real life, so I'm sure you can deal with height difference in a fictional piece of work. that is all and btw for those of you dogging on Dan for being short! there is NOTHING wrong with being short! I'm 5'3! get over it, and move on with your lives.
Rezzzzz
said on 9/Sep/08
She grew up over the years, in the 3rd and 4th films she was well under emma watson..in the 5th film she was about the same heigh though, not taller, if anything shorter..So that'll put her at Emma's 5'4.5-5'5.5 height. I think she's gonna be taller in the 6th film, but IDK yet
And Katie leung is just a bit shorter than emma too...so i think she's around bonnies size, i've seen pics of them together and in some Katie looks a bit taller and in others not..It's just that Bonnie grew over the past year.
erica
said on 13/Aug/08
all the girls here are taller than daniel radcliffe! y is dan so short???!!
Anonymous
said on 17/Jul/08
And when have you seen her and Watson together Anonymous?
Jack
said on 4/Jul/08
Ehm, 5'5.5", I highly doubt it. Daniel Radcliffe, Emma Watson, and Katie Leung are all taller than her and they're listed at (wrongly) 5'4" and 5'5". Hmmm. I'd say Bonnie's about 5'4" now, anyone disagree?
anon
said on 2/Jun/08
i reckon all the girls are around the same height, 5'5
Anonymous
said on 14/Jan/08
She looks about a half inch taller than Emma Watson, so that sounds about right.