Daniel Kash's Height
5ft 10 ¼ (178.4 cm)
Canadian Actor best known for roles in TV show Due South and 1980's classic Aliens (as Pvt Spunkmeyer). This photo was from a Collectormania event. In the 1980's, Daniel listed himself in a British casting directory at a height of
6 feet tall
. He had about 0.3-0.4 inch more shoe than us this day.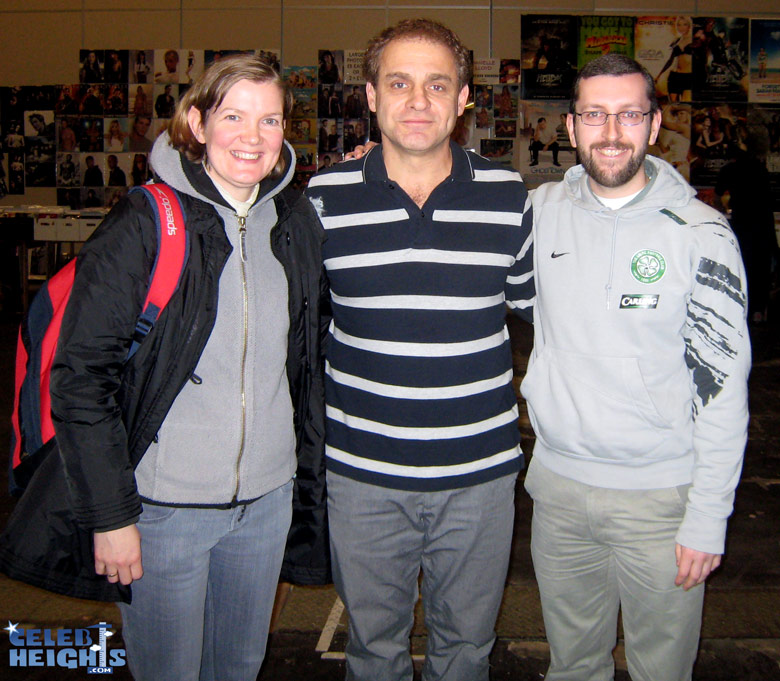 5ft 8 Rob and Daniel
You May Be Interested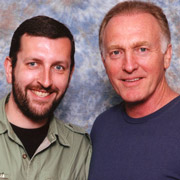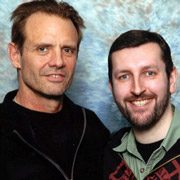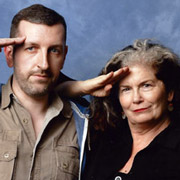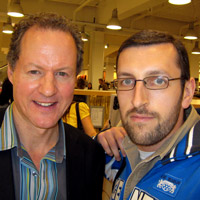 Add a Comment
18 comments
Average Guess (11 Votes)
5ft 10.68in (179.5cm)
Peter 180cm
said on 28/Jan/19
Looks 180-181 with more shoes.Atleast 179cm for me.
Tunman
said on 11/Sep/18
The guy stands tall and looks maybe 6cm taller than you,so 5'10 and change when taking shoes advantage.I think people got so often used to dudes being 5'11+looking like this one (because of posture,camera position,etc),it just alterates their judgement when it finally comes that someone stands perfectly tall.
Christian-6'5 3/8
said on 29/Apr/18
@Canson
178 is a possibility too. But that's the lowest I'd put for him. I don't think he's 5'10.5" though I take it back.
Canson
said on 29/Apr/18
@Christian: yea even in the pic that's not much more than maybe 2.5 or so even with him closer to the camera. Maybe just 5'10
Christian-6'5 3/8
said on 26/Apr/18
@Nik
Daniel's standing closer to the camera and has about 3/8" more footwear than Rob. 5'10.25" is alright, at best 5'10.5"
Nik
said on 25/Apr/18
For me Daniel is definitely nearer 5'11" than 5'10"!
Editor Rob
said on 24/Apr/18
Someone asked about Tip Tipping's Height on this page and once on the Height Request.
I can say he used to list himself in the 80's as 5 feet 8 inches.
Greg
said on 7/Jan/18
I would say weak 5'11, probably 5'10.5-.75ish if taking account footwear advantage.
Jack The Smackhead
said on 20/Dec/17
@Christian-6'5 3/8: Going to agree with Rob on this. I must admit, initially he looked 5'11 from the thumbnail. His eye level comes up to Rob's hairline which most of the 5'11 guys on this page measure up to as well (even considering he has a lower eye level I'd say.) 179-180 is a fair guess.
Editor Rob:
actually I'd revise this guy to a solid 5ft 10, I saw he had a
Boot
on that day, myself and jenny just under 1 inch sneakers so at least about 1/3rd more.
Christian-6'5 3/8"
said on 2/Dec/17
Looks 178 to me
S.J.H
said on 5/Jul/17
Shoe unknown. He look 5'10 not more
NX
said on 30/Jun/16
No way is there a full 2 inches here. about an inch and change thats it. 5'9.75 at most.
mofo
said on 24/Nov/08
Valerie Colgan the board room representative was there too cool
"It's a rock no indigenous life"
Very cool rob thanks for the info.
Ian
said on 16/Nov/08
Remember this is a guy normally listed as 6ft or 6ft1.
Anonymous
said on 16/Nov/08
5'10.5 is perfect.
Lynn
said on 15/Nov/08
Ian,
seems you don't know what posture is.
Ian
said on 14/Nov/08
No Jenny is standing closest and Rob is turning into the camara with one shoulder. He's furthest back. That Looks 5ft11 to me. Robs eye to his mouth and his eyes 3 inches above. His head is about 3 inches above Robs too. Jenny's eyes come to his mouth too (she's 5ft8.5) that could be 5ft11.5 in that instance.
Alex
said on 14/Nov/08
Rob, you put Jenny as 5'8.25-5'8.5 in the picture above. Does her height she stays longest during the day flucuate? I am similar to that too.
[Editor Rob: what I should list her at because it varies more than mine I find.

in the last couple months I've done a lot of measurements of us both.

Mostly I'm 5ft 8-8.1.

Jenny half the time (nearly always after a day of work) is 5ft 8.25 5pm onwards. The other half I've measured her 5ft 8,3, 8.4 and 8.5...]