DeForest Kelley's Height
5ft 10 ½ (179.1 cm)
American actor best remembered for playing Leonard "Bones" McCoy on TV series Star Trek. A 2005 biography described him as being '5ft 10 in his socks, 160lbs'.
You May Be Interested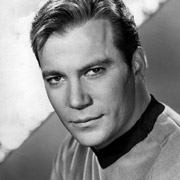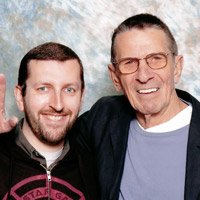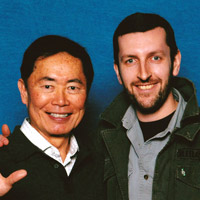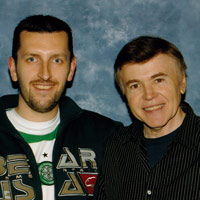 Add a Comment
16 comments
Average Guess (3 Votes)
5ft 10.67in (179.5cm)
Jkiller
said on 16/May/20
He always looked around 5'10.75, very close to 5'11 in my opinion.
Arch Stanton
said on 30/Mar/16
Rob, a photo and some trimmings?
Arch Stanton
said on 30/Mar/16
Exactly what I guessed in the Star Trek 1979 film, looks about 1.5 taller than Shatner.
diavolo
said on 24/Jul/14
A good old western actor, he basically went nowhere without cowboy boots on. He could easily be 5'11" in those.
Ted
said on 5/Sep/12
Saw him at ST 2 WOK premiere in the Houston. He was about the same height as my brother who is about 5' 11"
lorne
said on 1/Nov/11
Wow, I can't believe no one has commented on the great Dr Mcoy's page!!!
Seriously though, I am watching a marathon of Star Trek movies on HBO, and decided to check out your opinion on his height.
5ft10.5in is possible in his younger days, and certainly not under 5'10 flat, though it can be hard to tell, seeing as how Shatner almost certainly wore lifts at times. He had also lost height by the movies.
Anyway, long live Star Trek, and may all us Trekkies live long and prosper!!!
leonari
said on 14/Jun/09
Frank2: Are you positive Shatner is only 5'8"? In his prime??
Patrick
said on 8/Apr/09
He definitely was taller than that in STrek and previously in his westerns: I loved this man! I saw him at about 5'11 for long but looks barely shorter than Leonard Nimoy and two good inches more than W. Shatner.
guyfrommars
said on 10/Jan/09
They all wore boots in Star Trek, Shatner also wore some lifts in them maybe.
Frank2
said on 29/Sep/08
Shatner wore lifts.
Worf
said on 24/Aug/06
He always looked about an inch taller than Shatner in Star Trek
Frank2
said on 6/Aug/06
During the Star Trek TV series, DeForest was 5'10". Nimoy was 6' and Shatner was 5'8". Met them all over the years. Kelley was a very nice man.
ForensicNYC
said on 5/Aug/06
Almost...but not as tall as 6'1" Leonard Nimoy...
Click Here
After 35 years, Nimoy shrunk a lot...now they are the same height...about 5'10"...
Click Here
Click Here
Glenn
said on 5/Mar/06
Looked 5-10 in cowboy boots.
Glenn
said on 11/Feb/06
pic coming.5-8.
Anonymous
said on 10/Feb/06
5ft 10in is about right! maybe a tad taller on Star Trek!!