Haley Joel Osment's Height
5ft 4 (162.6 cm)
American actor, best known for roles in The Sixth Sense, A.I. and Pay It Forward. His official height was listed as being 5ft 6. At age 15 he mentioned in US Magazine,
"Last year was a big growth year for me. I'm 5'5" now and it wasn't so long ago that I was almost about five feet squared."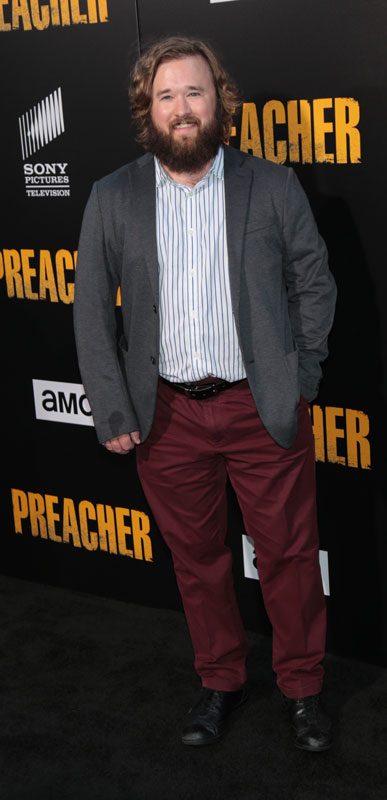 Photos by PR Photos
You May Be Interested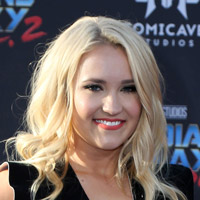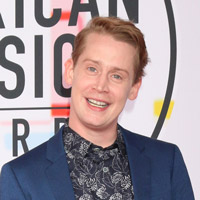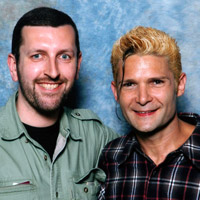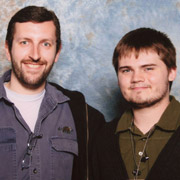 Add a Comment
66 comments
Average Guess (16 Votes)
5ft 4.05in (162.7cm)
Nik Ashton
said on 4/Aug/20
It's interesting and cool that he is just two inches taller than his sister!
Infalible
said on 2/Aug/20
162 cm
Dan Trojan
said on 14/Jun/20
I honestly think this is right i mean did you see him in x files gillian anderson who is 5'2" looked taller than him in heels there's no way this guy is 5'6" 5'4" tops
Sandy A Cowell
said on 10/Apr/20
🎂🎈🎊🎁 Happy Birthday Haley! 🎁🎊🎈🎂
A Very Happy Birthday to Haley Joel Osment, who is today celebrating his 31st Birthday.
5ft4.75 😁👍
🎂🎈🎊🎁🎂🎈🎊🎁🎂🎈🎊🎁🎂🎈🎊🎁
Mark Berney
said on 15/Dec/19
Definitely anywhere between 5'3" to 5'4" I mean even Tobey maguire who is only about 5'7" of 5'6" (at the least) is a lot taller than him. No way he is 5'6" or 5'5". Anyways, these are my thoughts.
youknowww
said on 14/Dec/19
Definetly 5'3" or less. Even david spade is taller than him by a fair amount, tobey maguire is like a great amount taller than him, really short, I'd say 5'3"
9361721
said on 6/Aug/19
@TJ
I know that's an old comment but for anyone who wants to know when people really stop growing. It has nothing to do with how tall you are. Short guys don't stop before tall guys, but vice versa isn't necessarily true.
It all depends on when you hit puberty. The later you start the more likely you are to finish late. And vice versa with early bloomers.
So at age 15-19 the late bloomers are more likely to grow more than the early and normal bloomers. And they actually mostly shorter than the others at that age.
Point being, tall and short people grow roughly the same time. But shorter people probably grow less during spurts but no later or earlier. And because they are shorter they may be more likely to "catch up".
Miss Sandy Cowell
said on 10/Apr/19
🎁🎂🙊 Happy Birthday Haley Joel! 🙊🎂🎁
Mr Monkey is quite stumped because Haley hasn't received any comments since his last Birthday greeting, when he turned 30. 🙊
Haley's recent films include 'Tusk', 'CarGo', 'The Devil Has A Name', which I believe is a comedy, and 'Sleepwalker', which looks particularly exciting to me!
I find it interesting that 'little sister' Emily, 27, grew to 5ft2 and a half, so she's only 4cm shorter than her brother, so 4cm difference height-wise and 4 years younger on the age front!
Haley gets 5ft4 on his special day.
😊👍😁👍😉👍😄👍☺️👍😃👍😋👍
🍻 Cheers Haley!
Sandy Cowell
said on 10/Apr/18
🎂🎈 Happy Birthday Haley Joel! 🎈🎂
30 years of age today!
Congratulations!
I haven't seen Haley acting for years now so I will go along with 5ft4! His unforgettable performance in 'The Sixth Sense' has kept him permanently in my radar!
Anonymous
said on 23/Jan/17
He is near or flat 5'3" look this photo
Click Here
, too much difference with Maguire that is 5'7" for being 5'4"
Guy
said on 2/Jun/15
Looks anywhere from 5'4 to 5'5. You can fake height anyway in multiple different ways. Plus the power of "forced perception" where you just stand a little closer in pictures. He'd look a little better if he lost a bit of weight and added some muscle to his build.
I'm 6'7 and Suffering
said on 6/Mar/15
Lol looks like puberty gave him 4 inches of height 😂
wonka
said on 4/Feb/15
you're right. he's relly short.
dhdgdggddg
said on 30/Nov/14
maybe Rob you should upgrade his height to 5'5 I don't think he's that short.
AnaS
said on 18/Aug/14
I expected him to be short. Child actors are normally short adults when they grow up, but I did not expect him to be THAT short. Poor thing.
James Crowley Maximus Meridius
said on 21/Feb/14
Hey Rob you should upgrade his height too 5ft 6in since that's his a offical height it's possible he grew 2 inches at 18.
[Editor Rob: let's not get carried away,
With Tobey Maguire
he is as much 5ft 6 as G is 5ft 9]
James Crowley Maximus Meridius
said on 12/Feb/14
Hey you should upgrade his height too 5ft 6in since that's his a offical height it's possible he grew 2 inches at 18.
Sceptic
said on 10/Feb/12
I remember I saved a supposed arrest report from 2006 that had him listed at 5'4" and 115lbs. Not sure if that would be of any use to you, Rob. At any rate, he'd have been 18 by the time of that report so it seems unlikely he'd have grown since then.
leonari
said on 5/Sep/11
Maximus: Osment 5'8"? hahahahahaha. That was the post that disqualified you as a gut who Knies heights. Rob has him Spot on. Bieber territory
Maximus Meridius
said on 4/Sep/11
Rob is it possible he is the 5ft 8in range now since his website lists him as 5ft 6in he must have grown 2 inches since them do you think it's time for a upgrade he could be taller like 5ft 8in at least.
[Editor Rob: he doesn't look near 5ft 8, maybe 5ft 5, but 5ft 6 I'm not sure on that one]
Chappy
said on 6/Jan/11
dude is truly 5'4, he is very Mickey Rooney.
Mr. Kaplan
said on 25/Dec/10
Btw... he was 17 in '05. Growth is usually pretty much done by then.
Mr. Kaplan
said on 25/Dec/10
Read my previous post, if he's 5'9", Rupert Grint is 5'11" and the twins bros from Harry Potter are 6'6".
maximus meridius
said on 24/Dec/10
I think he is taller than 5ft 4in he must be about 5ft 9in at least by now he must have gotten taller 5ft 6in was his height from 2005 he have must grown since then he would defiantly be about 5ft 9in by now.
Mr. Kaplan
said on 16/Dec/10
He has to be at least 5'5" today. Maybe 166-67 cm. Fairly recent pictures of him with Rupert Grint suggests so.
faye
said on 4/Nov/10
i just saw him in a interview standing next to another guy...he looks EXTREMELY short...like 5ft even! whatever hes still cute
Arikado
said on 31/Dec/08
isn't he the one who voiced sora in kingdom hearts? he's actually 5'5 not 5'4 grew about 2 cm than last year.
truthis89
said on 14/Dec/08
the truth is he is about 5'7" went(goes) to NYU in NYC see him all the time. talented Guy!
denis
said on 17/Nov/08
what? i thought he was taller. it's strange because i've seen other actors that are taller than him (none of them come to my mind right now) and they seem to be shorter than they actually are so i guess it's just a matter of proportion
John
said on 25/Aug/08
As to what you said about going off the mug shot, I wouldn't go with that. As a man who has been arrested a few times, they go off of your drives license and I'm assuming he hasn't updated it since he was 16 years old. Mine still says I'm 5'2 (I've blossomed into what I'd like to think is a respectable 5'5).
Josephine
said on 12/Jul/08
Most members of his family are short. Can't defy genetics.At least he won't have issue finding girls smaller than him since 5'4" is the average height for females in a lot of countries.
aaron
said on 27/Jun/08
on the subject of growing late or whatever, i reached 5'9 at just around 16 and now i'm 19 and i haven't grown at all
Aimie
said on 31/May/08
I don't understand why some actors insist is saying they are an inch or two taller than they actually are.One inch or two won't make them tall. Thank god mugshots are here to tell the truth.
Judy
said on 1/May/08
His parents are short so most likely, he will be as well....
anonamous
said on 9/Feb/08
holy cow!!! im taller than him. im a girl too!!!
Brandon
said on 29/Oct/07
I am an exception to that TJ, I was sort of a late bloomer, was only 4'10 in sixth grade and only made it to 5'8" when i was 16, then quit growing
Editor Rob
said on 22/Aug/07
In 2003 People he claimed, age 15 "I'm 5'5" now"
short and jacked
said on 3/Aug/07
you can never tell about height when you're growing... i'm 20 now and it looked like i was starting a huge growth spurt when i was 12 that might get me to six feet, but... nope, i stopped growing before i hit 13 and i'm 5'5", same height i was at the end of 6th grade
TJ
said on 1/Aug/07
True Bob, not everyone is the same, but most guys who are as short as Haley will stop growing early. Daniel Radcliffe is another example. He hasn't grown in a year or two and is showing no signs of getting any taller.
bob
said on 1/Aug/07
steven, not true, i was microscopic as a kid and i kept growing longer than many, til i was just about average height! (not everything is the same)
every1ishuge
said on 18/Jul/07
Absolutely, if 5'10 is the average, there are as many people at 5'4 as there are 6'4.
Jon Doe
said on 16/Jul/07
Still, again,where the hell are you people from?There are 5'4 guys out there, me for instance.
carla
said on 11/Jun/07
god! he IS tiny! i remember him from A.I, although he was just a kid then.
Stephanie
said on 17/Apr/07
I think he's 5' 4", age 19. His 15-year-old sister Emily Osment (Spy Kids, Hannah Montana) has got to be just under 5'.
Steven
said on 3/Mar/07
I can agree with that TJ, I stopped growing at 15 when I was 5'8''. Was one of the taller guys back then!
TJ
said on 16/Jan/07
If 19 in April, he's very unlikely to grow more, especially if he hasn't really grown in 2 yrs. Short guys tend to stop growing earlier than tall guys.
Alex P.
said on 26/Dec/06
Yeah, 5'4" sounds about right to me. I live in his dorm at NYU and ran in to him a couple of times; I'm about 5'6" and I noticeably look down at him.
Alex
said on 19/Nov/06
Surely the kid has some growing to do...
...unlike Gary Coleman.
anonymous
said on 28/Oct/06
he is listed as 5'9 on several official sites.....
leonari
said on 7/Sep/06
the guy is minuscule...I belive the 5'4" mug shot
Amanda
said on 7/Sep/06
Wow! 5' 4". I knew the 5' 9" was wrong, but I thought he was 5' 6" or 5' 7".
trueheight
said on 4/Sep/06
wait that mugshot photo, 115lbs??? w/ clothes and shoes? hope he's not doing crank as well
trueheight
said on 4/Sep/06
damn this kid is pullin' a Mel Gibson on us; I saw the same pics rob and looks he hasn't grown since Secondhand Lions w/ Duvall. drugs are bad, mkay?
alycia
said on 2/Sep/06
i saw him standing next to a guy that was 6'1" and he was like 3 or 4 inches shorter than him. And i could see their feet.
Todd
said on 30/Aug/06
His mugshot says he's only 5'4":
Click Here
sf
said on 25/Jul/06
Ayreon - I've read Schroeder's 5'11" and he's always taller than Franz in NYPD Blue who' supposed to be 5'10" which I believe.
5'11" - even 5'10" - that's not short.
TNTinCA
said on 7/Jun/06
And Frodo himself, Elijah Wood, also short at around 5'6".
TNTinCA
said on 6/Jun/06
Another short child actor I can think of is David Faustino from Married with Children. Around 5'3" or 5'4". Robert Iler (Anthony Soprano Jr.) is also quite short.
tybor
said on 31/May/06
Good point Horatio...never looked at it that way.
sf
said on 31/May/06
Horatio is right, and Ricky Shroeder is 5'10' or 5'11" - not short at all.
Horatio
said on 31/May/06
They're not cursed with "shortness" any more than basketball players are cursed with "tallness". Child actors are chosen for their size. A shorter-than-average-height 10 year old can play an 8 year old better than an 8 year old can play an 8 year old. And most children tend to follow their growth curves into adulthood.
bikagyura
said on 31/May/06
Neither is Corey Haim, am I right?... or was Jonathan Brandis... You sure have a point there Del Mar
Del Mar
said on 27/May/06
Typical for kids looking younger, is they suddenly grow fast a bit later than everyone else. I think Haley might be close to 5'10" when he's around 20.
British Guy
said on 26/May/06
Seriously did not believe this guy was nearly 18,
Also did not realise that he was around 5ft 6in... thought was smaller!!
J-Dog
said on 25/May/06
Horatio has a great point, if you look at even Franki Muniz he is just about as old as me, yet he can play a 12 year-old still. I think if you look at guys like Corey Feldman, Danny Bonaduce, et cetera they are mostly shorter individuals around 5'6" because the younger looking yet older child actors have a longer career which for most child actors only spans about one major movie.
Horatio
said on 25/May/06
Most child actors are short kids. They pick ones who are a bit older to play kids a bit younger. And short kids tend to grow up to be short adults.