Holly Hunter's Height
5ft 1 (154.9 cm)
American Actress from films like The Piano, Raising Arizona and The Incredibles. In July 1992 she said
"I like being five two"
.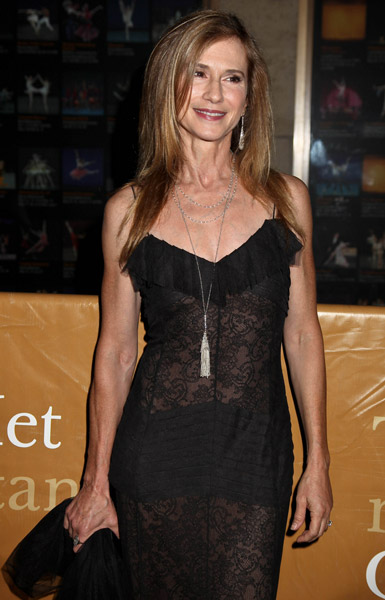 Photos by PR Photos
Add a Comment
36 comments
Average Guess (10 Votes)
5ft 0.92in (154.7cm)
Miss Sandy Cowell
said on 20/Mar/20
💐🎈🎂🎁 Happy Birthday Holly! 🎁🎂🎈💐
Congratulations to Holly, who is today celebrating her 62nd Birthday.
I'm not giving her less than 5ft1.5!
😁🎉🥂
💐🎈🎂🎁💐🎈🎂🎁💐🎈🎂🎁💐🎈🎂🎁
JeffJeff
said on 23/Sep/19
5'0" for her is very possible.
Nik
said on 4/Jun/19
@ Rob - That's very true, 6 other voters do think exactly the same as you with the average vote working out to be exactly the same as your vote!
I think that every male and female height is a height to be proud of.
Nik
said on 31/May/19
It's great that she once said "I like being five two"!

Editor Rob
I think she should have added 'in sneakers' because I have struggled to see her as tall as her claim barefoot.
Vanessa
said on 13/Dec/17
I thought maybe 4'11", 90 lbs. She looked like a lilliputian next to Ray Romano, a very cute Lilliputian.
linda
said on 3/Nov/17
I entered here wondering that Holly Hunter is not 5.2 but shorter. I was watching Saving Grace and she is smaller than Laura Sangiacomo and Christina Ricci who are known to be very short. I do not know why such a talented actress should hide her real height since she looks terrific on screen all the same.
Sally
said on 25/Jul/17
Holly just appeared on "The View." She was much shorter than the other hosts (including 5'1" Sara Gilbert) even though she was wearing very high heels. I was unable to see Sara's footwear, but she usually wears flats. When Aisha Tyler greeted her with a hug, she was forced to squat down...no wonder tall people often experience back problems😭 I think she is 4'9". I am unfamiliar with her acting, but she must be incredibly talented to make up for her heavy southern accent and deep voice.
Solmaker
said on 15/Jul/17
Looked 14" shorter than 6'1" Ray Romano in "The Big Sick", both in bare feet. I'd guess 4'11" for her, but "Your Guess" drop down list won't let me go below 5'.
Wishbone
said on 27/Jul/14
Holly deserved her Oscar for The Piano,but I'm spotty at best with 5'2" Holly,but I haven't seen Holly enough to judge how great an actress she is. But her accent is too heavy and thick,but what can you expect from somebody like Holly,from Atlanta?
Bonni Gates
said on 16/Jul/11
Hey - I'm 5ft 2in as well & just as cute, think we are the same age as well - Holly is a fab actress, did you know she played alot of the piano in the movie - what a talent !
gregory lehmann
said on 16/May/11
Holly looks 5'2" to me. Cute picture I have of her in her blue slacks,but she's skinny to me.However,she's comfortable with her 102 pound weight,but the nude pantyhose she wears with her blue slacks in the picture are comfortable and soft,but Holly's boy cut slacks show a little more pantyhose than slacks,but I like it.
Anonymous
said on 6/May/09
i think 5"1 would be accurate
jc
said on 1/Apr/09
Holly Hunter is lucky if she hits 5 feet. Look at her next to Christina Ricci...and Hunter is wearing cowgirl boots with 2 inch heels!
Connie
said on 26/Feb/09
I'm trying to find out what kind of cowboy boots Holly Hunter is wearing? Anyone have any idea?
Anonymous
said on 17/Dec/08
In Little Black Book she appears a lot next to Brittany Murphy, who is listed at 5'2.5. There is a scene where they are walking side by side and Brittany is wearing sneakers, and Holly is wearing heels, and still Holly is a bit shorter. So, I would say 5' would be more accurate, maybe less.
Anonymous
said on 11/Dec/08
More like 5'1
Adrienne
said on 10/Dec/08
Definitely not 5'2''
Anonymous
said on 19/Sep/08
She looks 5'2.
mikey
said on 28/Aug/08
What difference does it make how tall she is. I fail to see the import of this dialog. She is a good entertainer and is professional. Why can't you nerds leave it at that. Get a life folks.
Chris
said on 26/Apr/08
When did she appear alongside DeVito?
Kay
said on 11/Apr/08
Indeed 4'11" is much too short for Holly. I am vertically challenged myself and even wearing heels I am often one of the shorter people in the room. On the show "Saving Grace" her character, Grace, is constantly in cowboy boots and I know from personal experience - I own a pair that are frequently used - the do not give you all that much height. Nike Shox give you way more, by far. I believe she is 5'2" - absolutely.
Scott B
said on 11/Jan/08
She looks 5'1 to me. 4'11 is to short for her.
PC
said on 4/Sep/07
On "Saving Grace" she appears to be about an inch shorter than Laura San Giacomo, making her about 5'1.
I'm what I am
said on 23/Jul/07
Danny Devito is 4'8,5.
During filming "O Brother, Where Art Thou?", Holly had to walk on a "platform", so her head could touch George Clooney's shoulder. George is about 2,5 inches shorter than 6'-6'1 John Turturro...
kris
said on 30/Jun/07
@ mike B :
don´t forget she is taller than danny devito.....
Imaginative
said on 28/Jun/07
I think she is very petite about 4'11" she uses platform heels to elevate her height.
I think it is cool she wears platform heels but she should be proud she is petite.
Mike B
said on 10/Jun/07
Holly hunter is nowhere near 5`2". She always appears tiny on the screen. I`m a very good judge of peoples heights and she is 4`11" max, more probably 4`10"
theheightguru
said on 15/Jan/07
Watch her in 'Once Around' with Laura San Giacomo. Laura is about an inch to an inch and a half taller.
Anthony
said on 27/Dec/06
Look at her with 5'7 Robin Williams:
Even taking into account she's behind her, there's no way that it's only a 5 inch differnece. Even taking footwear and ground level into account, I'd say Hunter is 5' at the most, possibly and prbably even smaller.
kristian
said on 3/Nov/06
i am sorry tonya but 4´11 is surelly false..... 5´1 5´2 sound more plosible!!!!
Tonya Woodrum
said on 20/Oct/06
I am from her hometown of Conyers, GA and I'm pretty sure she is not 5'2 but 4'11.
Hollywood just wants to make people look taller.
Editor Rob
said on 8/Sep/06
Rocky Mountain 1990:
"the tiny Georgia native (5-foot-2, she says, though she seems smaller"
kristian
said on 10/Mar/06
in a movie she played with devito she was a bit taller then him....
but even on her movie thirteen she was shorter than her co actor even wearing heels
i can believe that she used to be 5´2 but shrinked a little now!!!!!
CelebHeights Editor
said on 14/Feb/06
1987 Time Magazine describe her as '5ft 2in'.
Anonymous
said on 9/Jan/06
no way, even in 4" heels she looks short. just saw "little black book" and she is wearing heels and she is still the shortest person.
British Guy
said on 23/Sep/05
Rob,
I Cannot Believe It!!
I Always Thought This Gal Was TINY AS CAN BE!!
Are You Sure? I Think She May Be Slightly Smaller...