Jamie Chung's Height
5ft 5 (165.1 cm)
American actress best known for roles in movies like Sucker Punch and Premium Rush. On tv she was known for reality series The Real World: San Diego.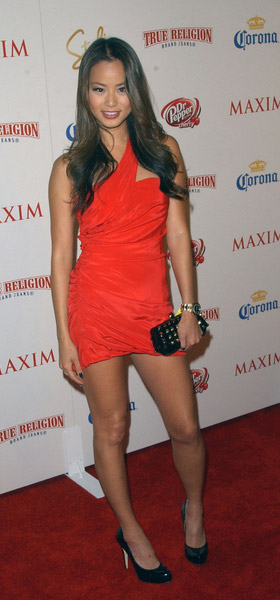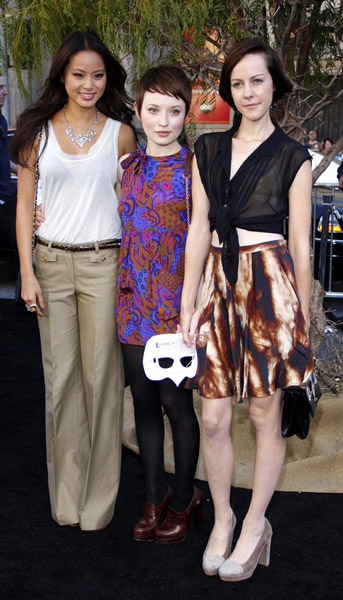 Jamie with
Emily Browning
and
Jena Malone
Photo by PR Photos
You May Be Interested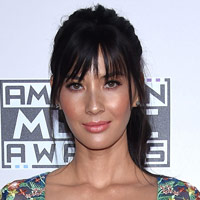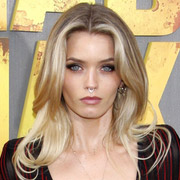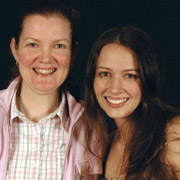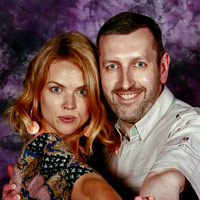 Add a Comment
38 comments
Average Guess (12 Votes)
5ft 4.81in (164.6cm)
JustJohnny
said on 23/Sep/20
Can give her 5'5" flat.
easy100
said on 10/Mar/19
Jamie is beautiful. 5'5" or 5'6" sounds right. Her frame is slim and long.
star69
said on 30/Mar/18
Cutie! She does wear high heels often, but I see her close to 5'4.5
Justine
said on 26/Jan/17
Jamie Chung is shorter than Ashley Greene when both were in flats. Maybe 162cm for Jamie Chung.
SK
said on 18/Oct/15
5'5" seems too generous for her. She's rarely seen out of high heels, and even in massive heels, she doesn't have the body length of someone who is 5'5". A woman who is truly 5'5" would look much taller than this in the kind of heels she wears. I'd say she's about 5'3".
Silent d
said on 11/Feb/13
Madison riley was really tall in grown ups because she is 5 foot 10. 5 foot 5 for jamie. It showed in sucker punch.
RentGirl
said on 22/Aug/12
I figured she was 5'3 next to all the girls in Sorority Row and in Grown Ups. Huh.
Alex
said on 18/Dec/06
The 6'9.5 was midday most likely. You really can't go around saying your morning height/out of bed height. I am 6'1 right out of bed then by evening/night I am down to 6'0 flat by midday I am in the 6'0 1/4-6'0 1/2 range.
Viper652
said on 15/Dec/06
No, that 6-9 1/2 height is midday at most. Maybe morning. If anything thats his peak height and could shrink down to 6-9 and change at night.
Gonzalo
said on 13/Dec/06
Could be, Viper. He looks so tall. Maybe Glenn could help us. Glenn, was Channing on a step or something?
Viper652
said on 1/Dec/06
You know, it looks like they are standing on steps there to me.
Viper652
said on 1/Dec/06
David Lee is a measured 6-7 3/4.
Gonzalo
said on 30/Nov/06
Behind Glenn and Channing Frye we can see David Lee, another Knicks`player, listed 6`9.Woh, i`m still amazed at how tall Frye looks next to Glenn.
Alex
said on 22/Oct/06
Viper, yea thats 15 inches shorter than him. Thats like me going out with a girl who is 4'9.5. Actually is a girl I am friends with who is 4'10.5 and I have her by 14 inches.
Viper652
said on 16/Oct/06
Supposedly Alex. Hell, even a 6-4 chick is to small for Muresan.
Alex
said on 15/Oct/06
Def looks damn near 6'10 if not 6'10 with Glenn.
Alex
said on 15/Oct/06
Viper, George Muhresan has a 6'4 tall g/f? Wow 7'7 and 6'4. What a very tall couple.
Lil D
said on 15/Oct/06
He does look more than a foot taller than Glenn...I thought when you're a foot taller than someone their head comes to your shoulders. Frye looks about 6'11 or 6'10.
Louie John Buluran
said on 14/Oct/06
i Agree and with my 6 ft height in the afternoon eveh Channing Frye would be a Giant in my eye... Muresan by the way is a big loser that is why Yao Ming is the only 7 ft 6 and above that can play Basketball.. Imagine Muresan died and you can see one of the biggest Caskette on Earth
Viper652
said on 13/Oct/06
6-9 is a gigantic height. Gonzalo, Ive seen a 7-4 former basketball player from a distance once. Looked so bizarre towering over a crowd with ease. Some guy once told me 7-7 George Muhresan walked into his restaurant once with his 6-4 girlfriend. Said it was the most cartoonish thing he has ever seen.
Louie John Buluran
said on 12/Oct/06
Channing Frye is a legit 6 ft 11
Gonzalo
said on 4/Oct/06
I saw a former Spanish player who was listed 2`07 meters, Rafael Rullán. I was shocked by how tall he was. I saw him from the distance and I thought "Oh, my God, what´s that?" And I am used to see tall people: my cousins are 6`5 and 6`7. But a 6`10 guy is something different. You can see it in the pic of Channing and Glenn. No one looks taller than Frye. And it also helps to see how difficult it is to judge people heights when above 6`7. Glenn who is always very accurate thought Frye was 6`8. He was obviously wrong
Gonzalo
said on 28/Sep/06
Well, it might not be the best pic to make a judgement but you can see Frye is taller than other 6`7 or 6`8 guys next to Glenn in other pictures, such as Novoselic, Ramone or Garrett.
I really, really like this page butt I find a little bit absurd this long discussions about the height of peolpe who are measured seriously. We know that NBA are measured with shoes on, so an inch or a inch and a half must be removed from officil heights. But we are getting to a point in which we are downgrading players with three or four inches. Frye is listed 6`11 and he looks that tall. Period. Well, I will just say that he is a terrific shooter
Viper652
said on 27/Sep/06
I doubt Channing has grown since that 6-9 1/2 measurement Louie. Even Glenn said he looked more 6-8 in person. Then again you think 6-8 is small in the NBA.
Louie John Buluran
said on 27/Sep/06
we must upgrade the guy ( i am not calling you stupid Glenn) ok your 5 ft 8 as you say... But channing Frye is at leats 6 ft 10 or 6 ft 11 he is humongous
stan
said on 26/Sep/06
That would be crazy to be 6'10, im 6'3 and often tower over everyone in a room so at 6'10 that must be really akward and uncomfortable.
Glenn
said on 26/Sep/06
Are you stupid Louie? why do you and others on occasion wonder if Im 5-6? do you guys study only a few photos? theres 1000 up.me next to 5-8 and 5-9 celebs.and you still cant tell and make imbecile,slow in the brain,couch potato, comments?
Viper652
said on 26/Sep/06
I will say this about the NBA measurements, some of their wingspans and standing reaches for a few players are hard to beleive.
Louie john Buluran
said on 26/Sep/06
He look at least 6 ft 10- 6 ft 11 in that pictures is Glenn only 5 ft 6.....Mybe the NBA Pre draft Camp have mistake of measuring him at 6 ft 9 1/2
Ball-A-Hallic
said on 25/Sep/06
dude is tall i thjought he was origuinally 7'0
Viper652
said on 25/Sep/06
You cant argue against a legit measured height.
Viper652
said on 25/Sep/06
Ive seen a few legit 6-9 basketball players in person. 6-9 is a gigantic height for sure.
Jason
said on 25/Sep/06
Now that's what a real 6'9 1/2'' looks like.
Glenn
said on 25/Sep/06
Looked 6-8.obviously Im wrong.
Viper652
said on 24/Sep/06
Glenn, how tall did Channing look to you?
Lil 'D
said on 24/Sep/06
He's giving a sly middle finger, like F-U Have a Nice Night!
Derek
said on 24/Sep/06
Damn, thats one big mother ******. Definitely over a foot taller.
J.
said on 24/Sep/06
Is he giving off the middle finger to someone?