Jason Alexander's Height
5ft 4 ½ (163.8 cm)
American actor best known for appearing in TV series Seinfeld and films like Shallow Hall and Rocky and Bullwinkle. On twitter he's commented on his height a few times, saying
"5'5" my darling. If I stand on tiptoe I come up to a normal man's nipples"
and
"5'5". My suit size is a 40 toddler, if you're wondering about that, too."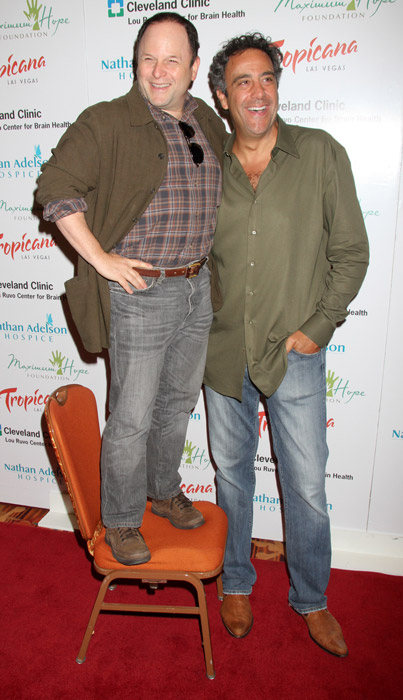 Jason with
Brad Garrett
Photos by PR Photos
Ok, screw it, I'm running for president. All I need is a platform. Since I'm 5'5", I figure that platform needs to be about a foot high. Somebody get on that.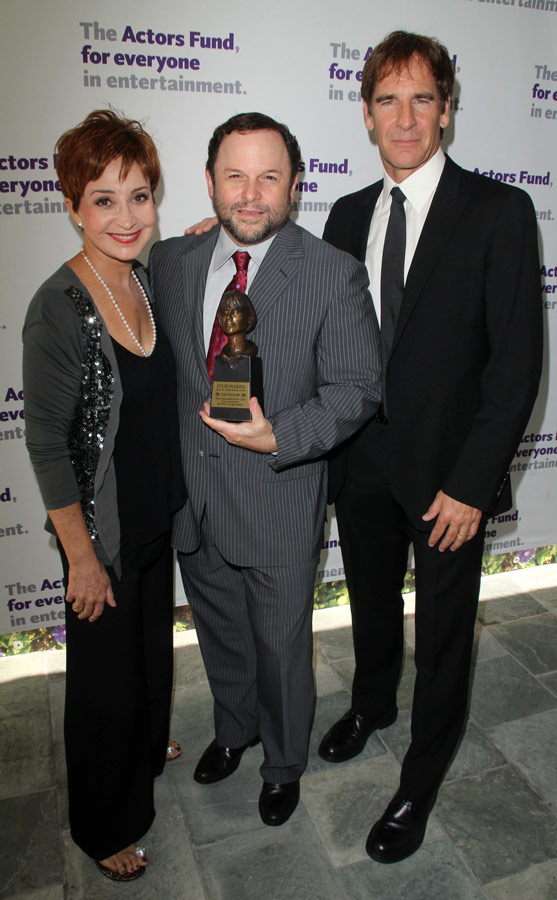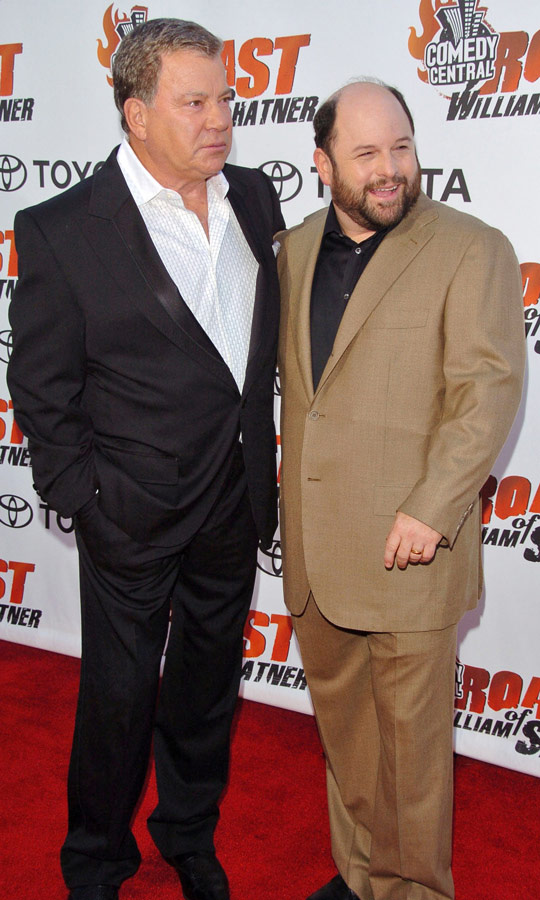 You May Be Interested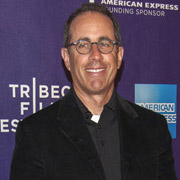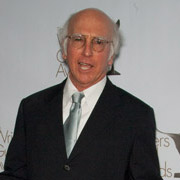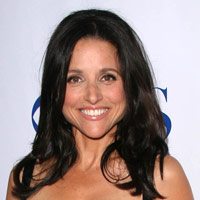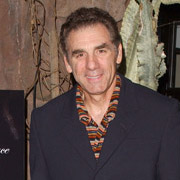 Add a Comment
143 comments
Average Guess (22 Votes)
5ft 4.08in (162.8cm)
Realist
said on 19/Nov/20
He was 5'4.5 bck in the 1990s today is might be just under 5'4 I will go with 5'4 for him. My roommate who claims 5'4 is taller than this guy roflmao.
abhigurung24
said on 1/Jun/20
he's about 158 cm
Aidan strong 5'10
said on 13/May/20
does anyone know his shoe size? i'm just wondering because his feet look very small even for a rather short guy.
Nik
said on 26/Aug/19
He's not that short, just short. It's cool to be short or very short.
slothee
said on 25/Aug/19
IMDb lists him as the current average guess of 5'4 1/4", although it incorrectly translates that into 1.64 m.
Anonomy
said on 2/Aug/19
Poor , with $50 million in the bank, couldn't date the women George dated. Too short.
Anonynon
said on 21/Oct/18
Surprised by his height... I remember watching Dunston as a kid and watched him play poker as I got older. Never really thought of him as short, but I guess it is what it is... I think he may even be slightly below listing here.
Michel Welling 178cm
said on 30/Mar/18
He is really short for sure, on Young Sheldon hsi height difference to Sheldon wasn't even that much and Armitage is like 138 cm
musicgeek
said on 27/Jun/17
To me he always looked a weak 5'4" at best on Seinfeld
Jug
said on 28/Apr/17
About 5'4, possibly 5'5 but certainly not more. Julia Louis-Dreyfus is about 5'2 and wore standard heels on the show (flats were not quite as in vogue in the 90s).
Nev
said on 12/Mar/17
Jerry Stiller (5'5")is slightly taller than Jason is Seinfeld. So 5'4" seems about right.
Hijopotamus
said on 14/Feb/17
George said 5'6" on Seinfeld show and 5'8" with Timberlands plus lifts.
Canson
said on 14/Jul/16
He looks 5'4 honestly. He never looked much taller than Julia did in Seinfeld and could look close to a foot shorter than Kramer who's 6'2-6'3
Iris
said on 22/May/16
Wow! I thought he would have at least been 5"7!
Rusty
said on 20/Feb/16
elaine always wore high heels. so the people saying he was the same height as 5'2" elaine so he must be 5'2 are wrong. he probably really is 5'5" like he claims. either way, it doesnt really matter. his height isnt going to affect us in anyway is it?
Danimal
said on 6/Oct/15
In all fairness, Henry Winkler claimed he used to be 5'6.5", so maybe in the pics I posted below he was still around 5'6" in 2004. Either way, Jason is MAX 5'5", but in all likelihood, he's probably under that.
Danimal
said on 5/Sep/15
He was always around the same height as Julia (Elaine) on Seinfeld and she's what? 5'2" or 5'3". He might have edged her out by a fraction, but no way is he anything over 5'4" barefoot.
Goose
said on 3/Jun/15
Saw him in NYC in the theater district in 2001. I was a foot away and 5'4 in the ballpark as I'm 5'10. Built like a Sherman Tank though with a huge head....
Sam
said on 5/Dec/13
I would say a six inch difference in height between Alexander and Shaloub is believable based on that episode of Monk.
diavolo
said on 3/Dec/13
He was towevered over by 177cm Tony Shalhoub and 164cm (plus heels) Traylor Howard in Monk. I'd say 5'3".
Mathew
said on 11/Oct/13
I think he would measure solidly 5'4.5" and maybe even 5'5"-ish early in the day.
Joe
said on 20/Aug/13
He's 5'4"- the same height as Elaine in heels.
Max
said on 1/Aug/13
I'd agree with those saying 5'3". Saw him in L.A., my 12 year old niece is 5'4" and had an inch on him
Dommy
said on 11/Jun/13
He is definitely a short guy. Anywhere around the 5'4 to 5'5 range sounds correct.
Joe
said on 15/May/13
Actually was able to catch a taping of the show. Gearing e and
Elaine are very close in height. Just as an FYI Elaine is absolutely
Beautiful!
Kurt
said on 13/Apr/13
Saw him on a flight from Boston to Houston. He helped me find my neck pillow. 5' 4.5" sounds about right.
Arch Stanton
said on 8/Apr/13
Richard Gere at 5'11? What are you Silent D, a female?
kramerica
said on 11/Mar/13
Danimal don't forget....elaine has a big head!
Anonymous
said on 6/Mar/13
great issues altogether, you just received a new reader. What would you recommend in regards to your publish that you simply made some days in the past? Any certain? archeage gold
Click Here
the shredder
said on 9/Aug/12
HEELS Danimal HEELS !
Danimal
said on 1/Feb/12
guest says on 1/Feb/12
he's very short, 5'4.5 is too much I think. He's about the same height as not even 5'3 Julia Louis-Dreyfus.
I've always noticed that too. Was Julia even a full 5'3"? Either way, they were about the same height...
guest
said on 1/Feb/12
he's very short, 5'4.5 is too much I think. He's about the same height as not even 5'3 Julia Louis-Dreyfus.
Silent d
said on 17/Nov/11
He looks really short. In pretty woman he looks 5 foot 4 next to 5 foot 11 richard gere. In seinfeld he looks most 5 foot 5.5. I can live with 164cm.
Mathew
said on 7/Nov/11
I do think that he's at least as tall as Justin Bieber.
chris zaun
said on 18/Sep/11
5 foot 6 at the most,i think 5 foot 5 is about right.
jake, 1.82 m
said on 18/Sep/11
hugewhofan says on 3/Jul/11
If anything I thought he was shorter.
Agreed. Nothing over 5ft4, could be below that mark.
jake, 1.82 m
said on 17/Sep/11
Incredible, this guy seriously looked no taller than 5ft3in in Shallow Hal near Jack Black. Unless Jack Black is actually 5ft7.5 or something.
Greg
said on 15/Aug/11
In the episode of Seinfeld called "The Betrayal", george is telling Jerry about his Timberland boots. He says he's gains "two inches in these babies!" And then goes on to say "5'8"! ... 5'7" ..."
Sounds like he's 5'5" to me.
Mathew
said on 3/Aug/11
I always thought he was 5'5". He's at least 5'4.5".
chris z
said on 30/Jul/11
its hard to tell height whith this guy,id say 5 foot 5 to 5 foot 6,if its 5 foot 4 i feel sorry for him lol
Mr. Tempus
said on 10/Jul/11
i watched a Monk episode the other day and Jason Alexander character was extremely short in comparison to Monk and friends (all of them are of average height) so maybe he is 5'4
hugewhofan
said on 3/Jul/11
If anything I thought he was shorter.
Anonymous
said on 30/Dec/10
A solid 5'4".
Anonymous
said on 29/Dec/10
a solid 5'6".
Shirley
said on 26/Dec/10
In shallow hal, jack black is definitely taller than Jason and jack is 5 foot 5 so he seems to be about 5'4" max
Eric
said on 20/Dec/10
I saw that timberland episode where he claims to be 5'8 when he wears the boots and the lady blows him up at the end saying he's 5'6. Jason isn't even 5'6 in timberlands.
Anonymous
said on 4/Dec/10
He certainly didn't look only 5'4 on Seinfeld. More like two inches taller. I remember him being described in one episode as 5'6 tall.
Eric
said on 19/Nov/10
Jason is definitely taller than Joe Pesci. 5'4 for Jason and 5'3 for Joe.
Eric
said on 11/Nov/10
But he calls himself 5'9.
Mr. R
said on 11/Nov/10
Jerry is always listed at 5-11.
Eric
said on 10/Nov/10
Danny, Jerry called himself 5'9 when he was a guest on Letterman. That supercedes 95% of whatever
Danimal
said on 10/Nov/10
Earl jr. says on 11/Oct/10
This kid is about 5'4" where in malcolm in the middle he was a guest star and was almost the same height as frankie muniz which is about 5'4" never the less he's one funny dude and has won the hearts of lots of women and men
A 50 year old kid. What are you? 80 years old?
Danimal
said on 10/Nov/10
Eric says on 8/Nov/10
Jerry is 5'9 so Jason is around 5'3 to 5'4 according to the difference.
Oh, so Jerry is magically 2" shorter than what 95% of the people on here have him at, because YOU say so? No.
Eric
said on 8/Nov/10
Jerry is 5'9 so Jason is around 5'3 to 5'4 according to the difference.
RayHend
said on 3/Nov/10
It's hard to gauge a guy's height based in a woman's. Females tend to have on higher shoes, even if they're not actual "high heels," per se. A woman's height csn vary on a given day a minimum of 3 inches, so comparisons to them are usually inaccurate.
Mr. R
said on 2/Nov/10
I saw Jason tonight at Martin Short's show in BevHills. Rob has him perfectly.
Sean
said on 29/Oct/10
I walked right past Jason Alexander in Los Angeles a couple of years back. I'm 5'7" and he was at least 2-3 inches shorter than me. Around 5'4" to 5'5" seems accurate to me. He was also not as stocky as I thought he'd be. Perhaps, he had slimmed down then.
Mathew
said on 21/May/09
I think he went about 5'5", maybe just under.
panda
said on 30/Apr/09
I'd say 5'5 or 5'4. God bless you Jason!!!! ☺ ♫
anon
said on 27/Apr/09
On the show one of the girls he dated said, "everyone knows you're 5'5" (he was wearing boots to try to look taller). So yeah, 5'4" or 5'4.5" is probably right.
Eddie
said on 13/Apr/09
there's that episode when they go to india and he wears timbalands to get to 5'8''. he said he's 5'7.. 5'6.. but doesn't go lower than that. he always looks the same height as elaine though
Dude
said on 11/Mar/09
lmao I love that episode. Seinfeld imho is one of, if not the best sitcom of all time.
sidewalk
said on 26/Feb/09
I just seen an episode of Seinfeld in which George says he's 5'4. It's the episode where Jerry is upset that Puddy stole his "move", Kramer has the assman license plate. George could have stated his height as something else on another episode idk. It's only tv not real life so it may have not been his real height anyway.
Dude
said on 5/Feb/09
No way Bow Wow taller than this guy.....
Mr. R.
said on 1/Feb/09
I agree kash. He was very rude the one time that I met him. He is not even 5-5.
Danimal
said on 31/Jan/09
He has stated both 5'6" and 5'5". I give him just under 5'5".
kash
said on 30/Jan/09
He seemed about 5'5" to me. I sat next to him on a flight from Boston to Houston. He's kind of a jerk.
Donatello
said on 30/Jan/09
Nothing over 5'4" 1/2, I could see him being a 5'4" flat in the morning at lowest.
snakeflake
said on 18/Jan/09
I thought from the Sienfeld show that Jason was closer to my hieght of 5'6". I also have a heavier frame that makes me look shorter. My weight at this time in life hovers around 200 lbs. But I have a fram like Jason. WHen I graduated High school I was buff, on the wrestling team and weighed 155lbs.
gcm
said on 9/Jan/09
Yes, I think this is about right. I saw him reported at 5' 5 1/2" But no way. I'd say he shows about 5'5" 1/2 max with shoes on in Seinfeld.
Lmeister
said on 8/Jan/09
Danimal, I just saw the Roast of William Shatner. Damn Jason Alexander has gained a lot of weight during last few years. I think he has also gained some muscle too, but I think U are right about his weight nowadays...
Steven
said on 8/Jan/09
I am 5'4.5'' & I weigh between 175 & 185. I am very fit. I carry my weight mostly in my thigh muscles, chest, back, & deltoids. I would guess that Jason weights in around 185-190 but because just carries it in a less healthy way.
Bouncer
said on 30/Dec/08
5'4.5 fits him perfectly. Looked about an inch taller than Frankie Muniz, who's about 5'3 or at least weak 5'4.
Danimal
said on 19/Dec/08
Lmeister says on 19/Dec/08
There is no way that with his height/bodytype/musclemass he would be over 200lbs...U must be talking about some big ass shirts, if u think that a guy who is over 180 lbs could nicely fit into medium sized shirts...Nowadays Im around 165lbs and can barely fit into Medium sized shirts...but ok gotta admit in The Europe clothes are smaller.
You are SOOOOO wrong. Even at 5'5", George can definitely be over 200 pounds and I would put a lot of money on it that he is over 200 pounds. Minimum 215 pounds.
Lmeister
said on 19/Dec/08
There is no way that with his height/bodytype/musclemass he would be over 200lbs...U must be talking about some big ass shirts, if u think that a guy who is over 180 lbs could nicely fit into medium sized shirts...Nowadays Im around 165lbs and can barely fit into Medium sized shirts...but ok gotta admit in The Europe clothes are smaller.
jimmy neutron
said on 20/Nov/08
my friend's 5'4-5'5 and he weighs a little over 180 lbs, he can fit into size medium shirts nicely(not tight/not baggy). Jason A. has to be at least 200 lbs.
Leung
said on 16/Nov/08
Clay says on 13/Nov/08
Try 180-190 pounds.
Nah, that would be hitting the obese range for a 5
Clay
said on 13/Nov/08
Try 180-190 pounds.
janice
said on 14/Oct/08
i have to agree with the listed 5'4.5, although he looked about 5'3 in shallow hal, lol
jake
said on 27/Sep/08
okay yeh i was just thinking 140 because i was factoring in his diminuitive height, 164 cm. Jimmy Stewart for a while was 139 and he's 6' 3"
Lmeister
said on 24/Sep/08
Heavier maybe around 170 lbs. My dad is the same size and short guess with short legs look a lot thinner while weighting 140lbs...
jake
said on 23/Sep/08
okay 5 ft 4.5 in. i'd buy that. how heavy would he be. 140?
Anonymous
said on 12/Sep/08
I have to say, the discussion on this particular page has made me laugh if nothing else. If you are a genuine 5'8 in bare feet, never measuring under that height at any point during the day (which is what I consider to be a person's height) and without having to stretch, simply standing straight, you will never be called short except when you spend too much time around your closest friends who happen to be 6'3.5 and 6'5, respectively.
I should know.
Brad
said on 6/Sep/08
A "neurotic loser"....gee, that rings a bell on this site. 5' 7" is 5" shorter than a 6' person. Now go up to a 6' person and say "wow, yer 6', yer tall", you'd be laughed at. 5' 7" is short.
Heights?
said on 5/Sep/08
I just watched the episode with Jason Alexander and the timberlands. He says it gives him two inches and he's up to 5,8" then pauses and says 5'7". Not an absolute by any means but I'm guessing he's 5.5 to 5'6", usually eye level with elaine in shoes. He's a great actor though, really smooth guy in real life, great job playing a neurotic loser in the show.
Clay
said on 5/Aug/08
5'7'' is kinda short for a guy Sam, lets not kid ourselves.
Lindsay
said on 2/Aug/08
I think he is 5'3.5 to 5'4 even. he seems shorter then 5'4.5 or 5'5. I know alot of 5'5 and 5'11 guys so I know what they look like next to each other and Jason sems shorter next to Jerry on Seinfeld.
Mr. R
said on 29/Jul/08
I saw him in a play one night, and he came out afterwards. This is the correct height. He is way smaller than he appears on tv.
sam
said on 13/Jul/08
lancaster, 5'7 isn't all that short
Guido G.
said on 24/May/08
I agree with you, Liza. 5'4-5'4.5 seems correct to this actor.
Liza
said on 8/May/08
Yeah, I remember a while ago people had him on here as 5'5 and I was just going to say, no he's 5'4, because I was just watching seinfeld, and he was the same height as Julia wearing 2 inch heels.
Heightdetective
said on 29/Apr/08
I have to agree with the posted 5'4 1/2 (164 cm).
Great actor, BTW
Braden
said on 17/Apr/08
Your right i think there is nothing wrong with height im 5'9" i have a friend who is 5'6" another who is 6 foot and another who is 6'5" i dont judge people on height.
lancaster83
said on 18/Feb/08
Hes in the range of about 5ft 4 to 5ft 6 tops, nothing wrong with that.. or atleast I hope not because im about only 5-7. I used to wish I was taller, then I figured..in about 50-60 years more ill be dead and nobody will care what height I was, just what I did and accomplished --like Jason.
Shame on the egotrips and other blowhards who feel superior because they can see over other peoples heads to feel 'high and mighty' seems more a way for the true LOW lives when their self esteem gets down.
Danimal
said on 11/Jan/08
Craig, you're 5'4", aren't you?
Danimal
said on 30/Dec/07
What's interesting is that on the show, Jason (Goerge) spoke of his then financee on the show (Susan) and said she's like 5'3" and 100 pounds and very intimidating, YET, Jason was shorter then her. I say, she was like 5'7" and Goerge 5'4" and change.
Lebensdorf
said on 27/Nov/07
Jason Alexander is no more than 5'3'' or 5'4''. Julia Louis-Dreyfus is 5'2'' flat. Look at them compared to Michael Richards (Kramer, on Seinfeld). He's the tall man, and you can tell there is a tremendous difference in height there.
phil
said on 19/Nov/07
"Timberlands. I've got two inches in these things. 5'8''...5'7''..."
episode of seinfeld
Fnietzsche1
said on 9/Nov/07
I'm 5'7 and the most important things in this life is Family, friends and how much $ you make. This height thing is something that tall losers fall back on.
Anonymous
said on 25/Aug/07
i love sienfeld, but in regards to height of jason, lets be honsest here, besides trying to make shorter people feel better, if george costanza is 5'5- 5'6 then me 5'11 is 6'3, and julia is at best 5'3
5'7 Dude
said on 15/Jun/07
First off I think he's around 5'5 or so from shoe to height ratio of Kramer on the show, who is 6'3 and having met him on numerous occasions. Secondly, I think those who complain about what some people may or may not have in regards to height and what is avg. or not is nothing more than your insecurities about your own height. Average or not WHO CARES. It a natural thing to ponder but anything beyond that is a waste of time.
Jon Doe
said on 14/May/07
How is 5'8 short for a man at all? I mean you never call a girl above the average height of 5'4 tall just because she's an inch taller than average do you?
antron
said on 24/Apr/07
Julia Louis-Dreyfus described him as "maybe 5-6" in some Seinfeld DVD commentary. That's probably with shoes. Also, in the backwards episode where he is wearing the timberlands to be taller he claims 5'7" in the boots. 5'5" range seems consensus.
Random Person
said on 11/Apr/07
He made Jack Black look tall in Shallow Hal. I'd say he is 5'4 flat if not slightly less. On Seinfeld he didn't look that much taller then 5'3 Jerry Stiller.
a33
said on 20/Mar/07
I am 5'6 and i meet him and i towerd him. i say he is around 5'3.
jan
said on 5/Feb/07
why do u people put others down because of their height??? even not so tall people have feelings...it's really nasty to point out someone's shortness as if it were a fault...gosh...
Larry
said on 12/Jan/07
Can you say shrinkage?
Glenn
said on 22/Dec/06
That loser is gone I think.I hope.actually Rob shouldnt let him on again.that was awhile ago.
leonari
said on 21/Dec/06
6'5" project dude: you are such a dumbass ,it's crazy. One of the biggest idiots so far. Congrats you fool! I would wipe the floor with your head for posting such discriminating non-sense. 5'8" is more or less average and totally Ok for a grown man. Not tall, not short just normal. And by looking at your stupid posts: seems as if god gave you long legs, YES, but when he came to giving you a brain: he forgot to put one inside your skull...
Glenn
said on 16/Oct/06
Good work Padraig,keep him foaming at the mouth.
THE *TRUE* ANONYMOUS
said on 16/Oct/06
That attitude keeps you in the projects.
Glenn
said on 16/Oct/06
Project ghetto hoodrat claimed I was 5-6 plenty of times.and was cocky about it.
[Padraig: 6-5 dude did submit a few more comments, but Rob has told me I am to delete any nonsense except if it amuses me, then I can respond.]
Lmeister
said on 16/Oct/06
I Pitty the Fool. I admit that below 5'9'' is small, but more appropriate to be tall than short??? Really immature 6'5 project dude...
Danimal
said on 15/Oct/06
Project Dude, lay off the white stuff. Brain cells tend to die that way.
Glenn
said on 15/Oct/06
That 6-5 guy is right to point,but he is ghetto trash.
sam
said on 11/Oct/06
Danimal, that must have been Seinfeld's mini-me that Ken saw.
Lmeister
said on 10/Oct/06
...but hey I guess I can call overweight ppl fat in front of them that ain't pc, but who really cares...
Danimal
said on 9/Oct/06
Ken, please say you are joking? PLEASE!!!
ghoul_hand_luke
said on 23/Sep/06
To TheMasterOfReality: This is a belated reply, and obviously I have nothing better to do at the moment, but you have to master *you* and your attitude before you "master reality". And what human knows what the hell reality even truly is? The reality is that we hardly know anything about this universe, and anyone who says differently is an obnoxious, delusional fool. You seem like a very bitter, mean-spirited, insulting person, by the way.
Anyway, in regard to Jason A.'s height, despite the pain involved, you would think that with his financial resources he'd go for the cosmetic leg lengthening surgery. But then again, who wants to go through that kind of pain when it's not *really* necessary (aside from the human tendency of being grossly superficial, profoundly small-minded. and childish)? Remember, folks, these bodies are only temporary, anyway... (This is a depressing species to deal with, to say the absolute least.)
Anonymous
said on 7/Sep/06
SeinfeldFan you've gotta be crazy if you think that Julia is 5'7". That photo is clearly photoshopped. If you were actually a Seinfled fan you would see that she is shorter than Jason and much much shorter than Jerry.
Ken
said on 17/Aug/06
Jerry Seinfeld is 5'6" at the most. My wife and I were standing next to him at a hotel in San Diego and she is taller than him (she is 5'7").
leonari
said on 10/Aug/06
no way is he a full 5'5". Rarely somebody looks sh short as Alexander...Love him in Seinfeld.
Rub
said on 9/Aug/06
I am Jason Alexander's neighbor, and he has constantly tells me that people perplex him about his height. He is definitely 5'5
Jake
said on 9/Jul/06
5'4.5" is about right. He was referenced to as 5'5" on Seinfeld I believe, and he said he was 5'7" in Timberland boots, although the plot line was that he was eye to eye with his girlfriendb when he wore them, so they would exagerate the difference for effect.
leonari
said on 17/Apr/06
Rob 5'5" is so not possible for this guy...honestly. 5'4" is correct.please downgrade
trueheight
said on 6/Apr/06
I agree that Dreyfuss was 5'1 -2 but Alexander is definately not shorter than 5'4
sf
said on 5/Apr/06
I saw the episode two nights ago, where the guy estimates her height (to buy a mattress built to her specific body dimensions). He actually says 5'8"! To which, of course, she is extremely flattered...
trueheight
said on 7/Mar/06
To me, Dreyfuss never looked 5'3.5, more like 5'1 or 5'2
kskywr
said on 22/Feb/06
I sat nect to him on a flight from boston to houston. I'm 5'7" and i felt i was 3 inches taller than him, so i would say he's 5'4"
trueheight
said on 12/Feb/06
use the fridge, back in the 90s the standard heigt for fridgerraters were 5'6"(still is). George was always at least an inch shorter than the fridge. My g/f is 5'5 and in trainers, she is a smidge shorter than the fridge. Seein as how george always had dress shoes, he's 5'4 no doubt
Whatever
said on 2/Feb/06
Although this is about Jason Alexander I think Julia is 5'3.5" (161cm) and Jason looks 5'4"-5'5". Kramer is definatly 6'3" and Jerry looks 5'11", maybe just over (180-181cm)
Height Tracker
said on 21/Jan/06
Hey Seinfeld Fan,
The episode where her height was mentioned at 5'7" is a joke. The guy clearly got her height wrong and the audience laughed when he said it. She's like 5'3"
dmeyer
said on 8/Jan/06
if jason is 5'5 then jerry is 5'11
A-Bomb
said on 8/Jan/06
Seinfeld Fan,
Julia Louis-Dreyfuss is nowhere near 5'7", 5'3" at best. If you want to see a true picture of her height next to Jerry Seinfeld then go to http://chronicle.augusta.com/images/headlines/112504/38736_512.jpg
There's a picture there that has not been manipulated (unlike the one done by the studio that you posted) and shows a clear difference of maybe six to seven inches. Also look at the picture at http://www.usatoday.com/life/television/news/2004-11-18-seinfeld-dvd_x.htm
Then go to
http://movies.yahoo.com/shop?d=hc&id=1800121539&cf=pg&photoid=551829&intl=us
and have a look at the shoes she was wearing (and remember that because of Jerry's stance he's not standing at full height next to her yet he still towers). 5'3" if lucky which makes George maybe 5'4".
Seinfeld fan
said on 8/Jan/06
The only thing that's a joke is your view of height differences. Elaine's height was mentioned on the show as 5'7. This picture clearly shows Julia's height compared with Jerry in thicker shoes, a clear 4 inch difference!!!
http://www.sonypictures.com/tv/shows/seinfeld/site/downloads/funStuff/downloads/wallpaper/1medium.jpg
leonari
said on 31/Dec/05
Seinfeld: if Julia Louis-Dreyfus is 5'7" ,Seinfeld is 6'6"!! whata joke!
Seinfeld fan
said on 31/Dec/05
In Seinfeld he is said to be 5'5 which seems correct, while Julia Louis-Dreyfus is 5'7, Jerry is 5'11 and Michael Richards is 6'3.
starwars23
said on 22/Nov/05
"Something is terribly wrong with this site because you list Julia Louis Dreyfuss as being 5'3 and Jason Alexander at 5'5. Watch any episode of Seinfeld and you will see that she is taller than him even when she wears flats."
she is alwyas wearing heels in jerrys apartment and her and jason are the same height. one episode jason was wearing timberlands and julia was wearing her heels adn he was atleast an inch taller. Thoguh I question julias 5'3" listing she has always appeared shorter.
starwars23
said on 27/Aug/05
he was the same height as kelly ripa and she was wearing heels and she is listed at 5'4"
Mr. R
said on 25/Aug/05
I still insist he is no more than 5-4 tops. I met him last year when he was performing The Producers in LA.
Mr. R
said on 18/Mar/05
I waited for Jason outside The Pantages Theater when he and Martin Short were doing The Producers. (The show is mediocre, but the two leads were great!) After waiting 45 minutes, he came out, spoke to his friend, ignored me, got in his car and left. Therefore, out of revenge, I will say that he is only 5'3"! Regardless, it does not seem that Jerry Seinfeld was 7 inches taller. Maybe we should revisit Jerry!
[CelebHeights Editor: just a note to say that I've changed the A-Z pages so that it's easier to see the heights of the stars - the height is now listed beside the star on the 26 'surname' pages...]
David
said on 4/Mar/05
Saw Jason at a private screening of Duckman, the animated series for which Jason Lends his voice as the bumbling duck detective. Spoke with Jason for about 5-10 min. He was a nice guy, and pretty friendly. I am 5'10. I would say that he was 5'5".