Joe Alwyn's Height
6ft 1 (185.4 cm)
British actor who will star in Billy Lynn's Long Halftime Walk (2016). At Drama college he listed himself as 6ft 1.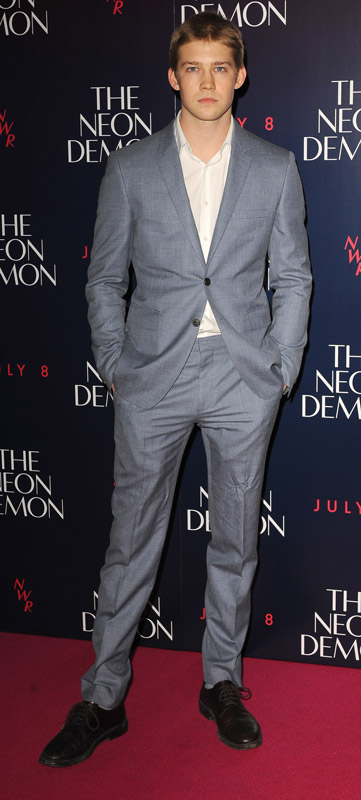 Photos by PR Photos
Add a Comment
28 comments
Average Guess (12 Votes)
6ft 0.96in (185.3cm)
Dream
said on 15/Apr/19
He looks similar to Mark Gatiss, but Bo Burnham and JJ Watt made him look really small.
TheBat
said on 13/Apr/19
6'1.5" at max for me. So I think 6'1" is the right listing for Joe.
Rampage(-_-_-)Clover
said on 4/Jan/19
I think him and Mark Gatiss would be close. Both look like rock solid 6ft1ers
Dream(5'9.5")
said on 18/Dec/18
Actually, I take that back now.
He looks shorter than Mark Gatiss.
Matt93
said on 16/Dec/18
I think 6ft1 max is legit because Elizabeth Debicki comfortably towers over him in all their PR shoots and she's not much of a high heel wearer (she doesn't need heels anyway). But if JOe Alwyn is 6ft1 max, then Taylor Swift is around 5ft8 and nothing more than that. Besides, Karlie Kloss has already proven that Taylor Swift's 5ft10-5ft11 height claims are bogus.
Dream(5'9.5
said on 16/Oct/18
Rob, here's an interesting clip with Joe Alwyn and JJ Watt.
Click Here
At the end of the video, Joe actually 'looks' taller than Garrett Hedlund and Chris Tucker for sure.
Maybe that 6'1.25" would suit better for Joe?

Editor Rob
Would be interesting to see more scenes, but with good posture he looked over 6ft 1 that moment.
Rampage(-_-_-)Clover
said on 20/Apr/18
Really does look a solid 6ft1 guy w/h Taylor Swift. I reckon he'd easily be 187.5-188cm first thing.
Dream(5'9.5
said on 19/Apr/18
Keep in mind, 187.96 cm is 6'2 flat out of bed. 188 cm is barely over 6'2.
Rampage(-_-_-)Clover
said on 6/Apr/18
Rob, could this guy be 6ft2 out of bed?

Editor Rob
I suppose if a solid enough 6ft 1 he might potentially be 6ft 2ish out of bed.
Dreampuffe(5'9.5")
said on 9/Jan/18
Rob, you might want to keep an eye out for 'Mary Queen of Scots (2018).'
Joe Alwyn and David Tennant are both going to be in that movie.
Also in 'The Favourite,' Joe Alwyn will be in that movie with Nicholas Hoult and Mark Gatiss.
We'll see more of Alwyn, but I do believe Alwyn's a solid 6'1" person.
Rampage(-_-_-)Clover
said on 8/Jan/18
I think D is the lowest I'd argue. He looked to edge out Jim Broadbent (still around 6ft1 himself) and similar to Garrett Hedlund. Honestly C wouldn't come as a great surprise either
Rampage(-_-_-)Clover
said on 6/Jan/18
Rob, which one?
A) 189cm/187cm
B) 188.5cm/186.5cm
C) 188cm/186cm
D) 187.5cm/185.5cm
E) 187cm/185cm
Editor Rob: not looked as much at Joe, but last time he still seemed to be honest enough to be 6ft 1 flat
Tremo Kapast
said on 28/Dec/17
His shoe size looks 12
Solid 6'1
Brad
said on 9/Dec/17
Strong 6-1.
Just
said on 9/Dec/17
If he's "only" 6'1, Taylor can't be over 5'9.
Dreampuffe(5'9.5
said on 11/Nov/17
He beat out Jim Broadbent and Chris Tucker.
He also can look taller than Garrett Hedlund (who sometimes edged out a current Hugh Jackman).
Rampage(-_-_-)Clover
said on 29/Oct/17
Strong 6ft1 is more likely than a weak one...
ilovetaylorswift
said on 13/Oct/17
I think he is about 185 or 186
Rampage(-_-_-)Clover
said on 30/Sep/17
186cm is a possibility.
Mark(5'9.5
said on 6/Sep/17
Rob, I think you have Joe right where you want him.
He looked taller than Jim Broadbent.
In one other picture, he looked a solid inch taller than Garrett Hedlund!! (though Joe is much closer to the camera with Garrett Hedlund.)
Click Here
Click Here
Perfect listing Rob. He could be similar to Luke Mitchell and Barack Obama.
Editor Rob: he can seem a tall 6ft 1 man.
Omar
said on 2/Jun/17
Perfect guy for swift
grizz
said on 17/May/17
I always thought,solely based on looks, height and build, that he dated Taylor Swift (seems like her type),but he didn't. Until now LOL.
Mark(5'9.25")
said on 6/Feb/17
Another picture of Alwyn and Chris Tucker (I have to admit, Joe does have a slightly (not too insanely) longer than normal neck. However, the top of Kristen Stewart's head reaches Tucker's chin while her top head doesn't reach Joe.)
Click Here
Though Joe is closer to the camera, he's still standing with lax posture and still edges Tucker out.
Mark(5'9.25
said on 30/Jan/17
Edit*
Rob, I think 185 cm and 186 cm are arguable for Joe. Here's one picture with him and Chris Tucker. He beats him out in height depsite loose posture. (I'm not counting Garrett Hedlund because he's obviously on his tip toes which is cheating).
Click Here
A more accurate photo of Joe and Garrett. They look almost dead even with Joe having the looser posture.
Click Here
I think 185 cm or 186 cm is arguable.
Editor Rob: I could understand 186cm guesses for him, he can pull that off.
Mark(5'9.25
said on 30/Jan/17
Actually, he looks 99.99% percent dead even with Garrett Hedlund. That's when Joe was slouching and had less footwear. Rob, I think a good 6'1" is fine for Alwyn. 186 cm could be arguable. I could be wrong, but based on the pictures, I can see both marks.
Mark(5'9.25
said on 28/Jan/17
He looks abit taller than Chris Tucker. However, he was a bit shorter than Garrett Hedlund.
Rob, does this guy fall into the solid 6'1" or weak 6'1"? I have to see him more.
Editor Rob: could be one of the honest six foot one'rs out there.
xaoxio
said on 11/Aug/16
He looks that height
Johnny
said on 9/Aug/16
He looks 6ft1