John De Lancie's Height
6ft 3 (190.5 cm)
American actor best known for his role as Q in Star Trek: The Next Generation. This photo is from a London Expo convention in 2005.
In a 1984 news article he mentioned his height and weight:
"Being 6 feet 3 inches and over 200 pounds"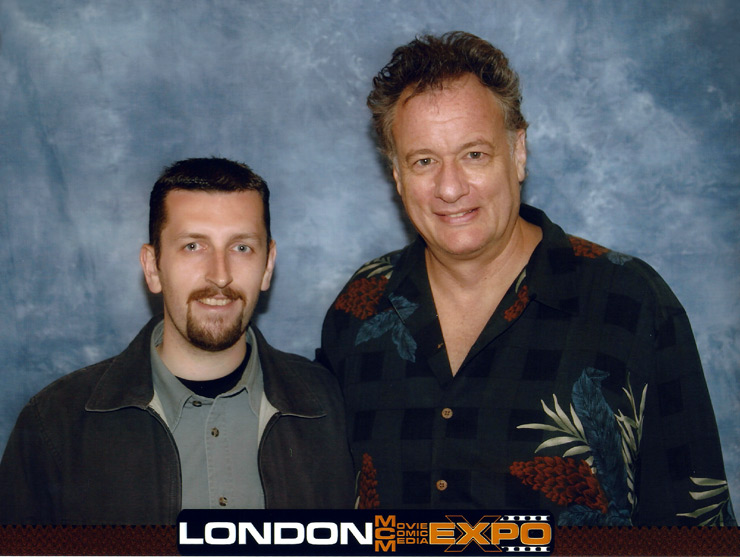 5ft 8 Rob and John
You May Be Interested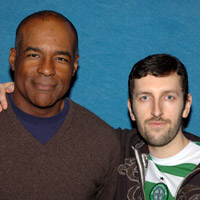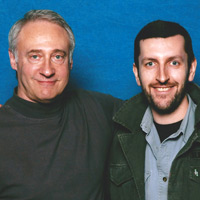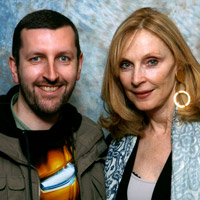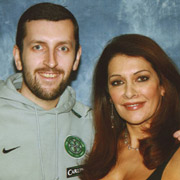 Add a Comment
87 comments
Average Guess (13 Votes)
6ft 2.65in (189.6cm)
Jordan87
said on 16/Feb/18
In the pic there is not more than 5.5" . He is leaning for sure, maybe he is a bit over 6'2 when he stands up straight. He was great in Star Trek.
Nik
said on 17/Nov/17
6'2.75" at most, probably 6'2.25" - 6'2.5"!
Stuart
said on 17/Nov/17
Definitely looked 6'3 in Trekkies and now 6'2
Christian-6'5 3/8
said on 16/Nov/17
Even if he had fixed his posture he would've looked around 6'2" next to Rob.
Rampage(-_-_-)Clover
said on 7/Sep/17
Peak: 192cm
Today: 189-190cm
aknawkneemoose
said on 26/May/17
rob you should get that goatee rockin again you looked dope
Editor Rob: I ain't had goatee for ages now, 11 years now...maybe I'll go with a moustache for one show in the future.
KH
said on 2/Mar/17
De Lancie is dropping a little height in the photo with a slight head tilt. This listing is accurate.
berta
said on 20/Feb/17
rob 2005 you thought he looked like a 192 guy and 2011 he looked close to 188 :P :O he must have had very high shoes on 2005 and low 2011? ore did it look like he have lost 1 inch in just 6 years?
Editor Rob: The 60-65 age range is certainly where many men will begin to notice loss and their bodies start to wear down a bit.
josh jeffords
said on 1/Nov/16
Back in the 80s he looked over 6 3 super tall guy oddly he is listed at 6 2 and 6 2 .5 elsewhere.
He is notorious for slouching but super long arms and torso make his loft certain he occasionally stood erect when younger.
But it is possible Don Adams was under 5 9 making him appear taller than 6 3.
He is quite funny and on rare serious roles he holds his own loved him as q.
Also was noticeably taller than macguyver back in the 80s.
Rampage(-_-_-)Clover
said on 12/Sep/16
Rob, could we maybe give him 6ft3½ peak and 6ft2½ today?
Peter 179cm
said on 17/Jul/16
Can't see anything more than 185 for this guy,but both his lean and his huge head make it hard for an accurate guess on his height...
Sasha
said on 30/Jun/15
In the picture he looks taller than Rob by 6.25" (John has an advantage of 85 pixels, and Rob's 10-inch head takes 136 pixels). So we get 6'2.25". But John doesn't stand very straight, so could be taller a little. By the way, Rob, do you always stand maximally straight in the photos? Or do you try to copy the slouching of a celebrity, if he (she) leans?
[Editor Rob: my posture is up and down a lot. I try to get the best photos I can.]
movieguy
said on 4/Jun/15
Don't know why people are saying he doesn't look 6'3'' in photo, he looks big to my eyes. Admit that his head looks massive though.
pablo77bar
said on 21/Mar/15
Big head give us a impression that he is 6ft 3
But nowdays no way he is that
Maybe 6ft 2
diavolo
said on 11/Jan/15
Met him at a convention recently. He described himself as 6'3" and standing next to him, I can say he looks it.
Rampage(-_-_-)Clover
said on 28/Nov/14
Up straight, I reckon he'd still be around 6ft2-3.
"John Dencie height: 6ft 2½in (189cm)"
Dunno about a peak height though. Haven't seen any old stuff of him.
Realist
said on 11/May/14
Looks more 192 cm with Rob. I think its the angle. He cant be 6'2 cause Rob does not look very short with 6'2 guys but its clearly shorter there is a difference b/w the two.
Sam
said on 9/Jan/14
He was great in Breaking Bad, heartbreaking really. No good height comparison w/ Cranston though. Cranston seemed taller than average, De Lancie would have been the actor on the show I know of that was a lot taller than him.
Pleb
said on 7/Dec/13
@Jack He is a Q after all, they have big brains.
Jack
said on 28/Nov/13
Enormous head
kreyzig 6ft 3in
said on 1/Sep/13
Rob you are being too generous.Even if you guyz stood straight i doubt he would be more than 188cms.
Rusty
said on 22/Aug/13
This guy is hard to judge. My mom is 5'8.5" right now so very close to Rob in height and in photos with my she comes up to the bottom of my nose or my upper lip or right between those regions and i am close to 6'3.5" out of bed but will usually dip below the mark at some point in the day. Based on how far up the nose rob comes you would never guess 6'3" for this guy but his forehead is so massive and much bigger than the average dude's and i think rob is taking that into account on this. I agree with nearly all of Rob's listings on this site and i feel he is usually right give or take maybe a quarter inch. thats why i come here for height info on celebs before anywhere else
Mathew
said on 2/Aug/13
Gives a 6'2" impression.
avi
said on 26/Jul/13
@Ali says on 7/Jul/13
He is really tall. If you are 5 8 Rob then he cannot be less than 6 3.5
Nope! You surely must mean "6'2.5 not 6'3.5"
man
said on 22/Jul/13
190 cm fits
Rampage(-_-_-)Clover
said on 16/Jul/13
He's about 188cm there but he's slouching and we don't know what the shoes are like.
So, today is 6ft2.5in/189cm and peak was 6ft3.25/191cm?
avi
said on 14/Jul/13
6'2 and change zone probably 6'2.5
Ali
said on 7/Jul/13
He is really tall. If you are 5 8 Rob then he cannot be less than 6 3.5
Jimmy
said on 5/Jul/13
Don't judge him from his eyes, look at his head lol
John420
said on 1/Mar/13
Hey rahul may be your height is between 6ft 2.5 to 6ft 3.
Brad
said on 24/Feb/13
Agree, maybe a fraction of an inch taller than 6'2".
truth178cm
said on 5/Feb/13
looks around 6ft2, why 6ft3?
Lo sgozzatore
said on 22/Dec/12
Did look pretty tall in Breaking Bad, i thought sonething around 6'2
Aragorn 5'11
said on 22/Dec/12
6'2.
Legit 6 footer
said on 24/Sep/12
Looks very close to 6'2 1/2" nowadays and probably should be updated, but probably deserves a peak height upgrade to 6'3 1/2" as he looked a fraction shorter than the very strong 6'4" Jonathan Frakes on Star Trek TNG
Rampage(-_-_-)Clover
said on 27/Aug/12
He's 6"2.5(189cm) today, but minimum 191cm prime
LG69
said on 10/Aug/12
The hair makes him look 6'4"...but he's probably 6'2.5"
ali
said on 26/Jul/12
min 6'3
Boeing17
said on 26/Jul/12
Looks 6'1 with rob.
henry
said on 8/Feb/12
6'2-6'3 very very tall and bigger head
184 at bedtime
said on 13/Jan/12
185 with slouch
rahul@celeb
said on 28/Nov/11
hey Rob,
help me figure out my height plsss. my friend is 6'3 and when standing by him my shoulder and his is at almost the same height.....use this info to guess my height...i have not been measured before.
ChiasmataX
said on 21/Nov/11
191cm is not right. The 186.8cm guy from height challenge looks taller than this guy. JDL is about 187-188cm.
LAN Jiao
said on 4/Oct/11
Up straight he can well been 6'2. 6'3 out of question.
avi
said on 14/Sep/11
needs a downgrade to 6'2.5 Rob.
realdd
said on 11/Sep/11
The man's head is normal size throughout the 185 would be barely
Larc 6 ft 1.75 in
said on 11/Sep/11
Totally looks like an huge version of Tom Hanks...ahahah
Maximus
said on 10/Sep/11
Didnt realize he had such a huge head!!...6'3" is possible if he stands up straight.
Josh B
said on 7/Sep/11
Just saw jim next to 6foot ish John Barrowman in Torchwood, i must admit he struggled to look 6"3 next to him, i though 2/3 inches at most. He also benefited hugely from his pompadour hair style. There were few instances when both were standing in a way that helped height observations but this is what i saw.
Rick Springfield
said on 23/Aug/11
thats a huge man looks 6 six three to me
5'8.18758596
said on 24/Jun/11
He has the body proportions of a 6'3-6'4 guy, he looks more masive than a regular 6'2, in this photo he looks near 6'3, even without the big hair.
Rampage(-_-_-)Clover
said on 6/Jun/11
Probably 6ft2.5-6ft2.75 today
Lenad is sexy
said on 31/May/11
I think 6'2-ish today
Rampage(-_-_-)Clover
said on 31/May/11
That's my point, Rob. It's likely he's at that age where a full inch has been lost. So that's why suggest that he be brought down to 189cm now, but is given a peak height?
Rampage(-_-_-)Clover
said on 29/May/11
Looks roughly 6ft2.5 in the pic (maybe 6ft2.75 tops). Perhaps in his prime he was somewhere between 6ft3-6ft4, Rob?
[Editor Rob: I saw him again this last week and well, I think he's nearer 6ft 2 range.]
Lenad is sexy
said on 26/Apr/11
Probably 6'3-ish in his younger days
Lenad is sexy
said on 24/Apr/11
Probably 6'2ish today.
Rampage(-_-_-)Clover
said on 19/Apr/11
He looks 188cm or 189cm with that slouch.
I think he may have been 6"3.5 or even 6"4 at his peak
rafa
said on 19/Apr/11
James says on 26/Mar/11
looks a solid 6'1 with rob and 6'2 with the hair.
No, he looks about 6'2.75"
James
said on 26/Mar/11
looks a solid 6'1 with rob and 6'2 with the hair.
thorterr
said on 22/Mar/11
yes replace johns head with mamun head and he would be just under 6ft,,he looks a dead cert 6ft 3inch to me ,hair flat or up
Anonymous
said on 4/Feb/11
if it werent for his giant head he wouldnt be any taller than that Alex guy you got measured with Rob. This guy is lucky to hit 6'1.5". Much shorter than Brandon Routh. Rob, it's a joke to have this guy listed at 6'3" and Routh at 6'2.5"
d
said on 24/Jan/11
he has a large head
Shadow2
said on 27/Nov/10
Besides "Star Trek", I've seen him years ago in a short lived western series with 6'1.5" Richard Dean Anderson, and in a "runaway train" TV movie with 6'2" Robert Urich. I'd say 6'3" back then.
Barry Langcaster
said on 12/Jun/09
In this photo 6'2.5 in his peak 6'3.5 sounds about right to me.
Big King
said on 12/Jun/09
Yes, a weak 6'3" sounds goot for Lancie.
big tom
said on 12/Jun/09
he doesnt look 6'3" he looks 6'2.5" absolute max!!!
Lenad
said on 11/Jun/09
Definitly not taller than 6ft3 today
J.J.
said on 11/Jun/09
Looks 6'2"
yoyo
said on 3/Jun/09
no his 6ft3 if hes stand straight up. 6ft2 minimum for pic above.
Hugh 190cm
said on 2/Jun/09
Maybe 6ft4 if he stood straight.
guyfrommars
said on 28/May/09
Yes, he did look the same as 6ft4 Frakes and taller than 6ft2.5 - 6ft3 Michael Dorn.
Yaspaa
said on 25/May/09
He's looking good in season 2 episode 12 of 'Breaking Bad'.
Ace
said on 13/May/09
After watching some old TNG episodes, he really did look close to 6`4. He and Johnathan Frakes rarely stood next to each other. But in one episode, Q and Worf are riding a turbolift together just after Q lost his powers, and well, John De Lancie looked the taller of the two by maybe as much as an inch (taking into account he was slouching forwards and still looked the same height).
[Editor Rob: his posture these days isn't as good, last thing I seen him in was pathology with milo ventimiglia, he had a few scenes with him.]
T.J.
said on 18/Apr/09
doesent look much taller than 6'2" to me
Jordan
said on 18/Apr/09
Dam Supes78 your so so right. He only needs more grey hair and than he is Bill lol
supes78
said on 16/Apr/09
Man, this guy has always reminded me of Bill O' Reilley. Same height, age, hairline, and looks.
sidewinder
said on 15/Apr/09
I watched every episode of TNG twice and I have to say that Frakes looked a hair taller thand De Lancie. So i think 192 for "mister Q" and 193 for "number one" is accurate.
rony192cm
said on 13/Apr/09
Looks 6'2 in the photo above. Let's say from his eyelevel is 5" below top of the head. And if he straitened up he would gain another inch. So that's 6" on you Rob.
Ian
said on 13/Apr/09
Certainly doesn't look 6ft4 on this photo. Looks like extra inches from his hair. To me in this photo he looks no more than 6ft2 IN this photo.
rob89
said on 1/Mar/09
Looks 6'3 tops even if he straightened out, and he only looked 6'2-6'3 to me in the episodes where he played Q in Voyager as well.
guyfrommars
said on 10/Jan/09
Agreed that he and Frakes were the same height on Star Trek, both towering over Patrick Stewart at 6ft3.5.
Genny
said on 17/May/08
Met John De Lancie at a couple of cons years ago.I think he was, 6ft 5/6 but probably shorter now.I remember standing next to him with ex of 6ft 2.
Jo
said on 22/Jan/07
I never really thought of him as being that tall. Then again, that's probably because I never knew Frakes was that tall either. That's over a foot taller than me. :[
lol, Frakes probably spiked up his hair when he got measures to be 6'6"
I <3 Q
Austrian
said on 9/Jan/07
lol never knew he was that big
are all actors in the newer star trek very tall for some reason?
TNTinCA
said on 19/Oct/06
I think Frakes and DeLancie were roughly the same height. They looked virtually eye to eye in the Trek episodes were they stood side by side.
On an aside, Q was a GREAT character. :-)
moi
said on 19/Oct/06
I always thought Frakes was taller than John, but not 6'6"! Worked with JdL briefly in the 90s and didn't think he was 6'4" although he is tall - but then again, I can't say I was trying to figure out his height! It'd be a good question for his wife!