Ling Bai's Height
5ft 3 (160 cm)
Chinese actress known for her roles in films such as Wild Wild West, The Crow and Sky Captain and the World of Tomorrow.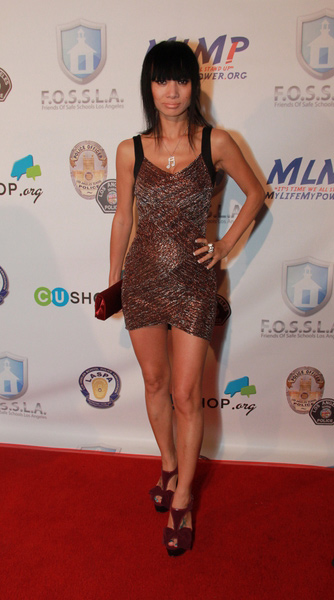 Photo by PR Photos
Add a Comment
21 comments
Average Guess (5 Votes)
5ft 4.3in (163.3cm)
runt
said on 3/Jan/09
Marllon says on 25/Dec/08
"Smart_Waiter, why would someone's sexual orientation put you off? Furthermore, I don't see why you'd even mention that, since none of it is relevant."
It could only mean that he was looking to ask her out, but that bisexuality makes her only half interested...>_>
Marllon
said on 25/Dec/08
Smart_Waiter, why would someone's sexual orientation put you off? Furthermore, I don't see why you'd even mention that, since none of it is relevant.
Smart_Waiter
said on 22/Dec/08
She is genuinely Bi-Sexual so that has put me off her but she was good in that Richard Gere 'Red Corner' film.
She is skinny so maybe less than 5'3".
Slappy
said on 11/May/08
I don't care if she is a scant 2 feet tall.... This is just as a little reminder of amazingly hot Bai Ling really is
Felix
said on 5/Mar/08
Bai is her surname, Ling is given name. Chinese tradition is to put surname in front. She was born in 1961, about 160cm.
anon
said on 7/Jan/08
Ichiro actually didn't want to have the name Ichiro on the back of his jersey, but it was more marketable, as Suzuki is one of the most common last names in Japan.
Jason
said on 29/Nov/06
F*uck, you are a lucky guy. Did you get any pics with her???
ian k
said on 23/Nov/06
just come across this on a search while surfing.
ling is 5'3. I am a Photographer who was lucky enough to be aone with her for an exclusive at Cannes in 2006 on a yacht, she is a nice person, professional and very cool. I wish that some of the other Hollywood talents I meet and shoot where as nice and charming. at 37 years old I think she kicks the crap out of all these plastic boobed false teeth wearing bimbos half her age.
My hat is off to her, it is her eccentricities that make her such a rich character. I would love to work with her again, she makes life interesting.
antron
said on 3/Oct/06
Anon is right, for example. Ichiro of Seattle Mariners fame. Since in Japan his name would be Suzuki Ichiro (family/surname first), he is allowed to have "Ichiro" (his familiar name) on the rear of his jersey. This title is appropriate, though not necessarily pragmatic if you were looking for her on the site. She's really like a D list celeb though, so meh.
MMK
said on 16/Sep/06
I saw her when shopping in Beverly Hills. She was wearing like 4 inch heels and was the same height as me in 1/4 inch or less sandals. I'm 5' 51/2" barefoot, so I was about 5' 6".
BTW, this girl does wear some weird clothes. She looked ridiculous.
Anonymous
said on 11/Sep/06
In a lot of asian countries, they say the last name first. Which is Ling in this case. So in China, they will call her Ling Bai, but in western countries, they will say Bai Ling. And that pic Glenn posted looks nothing like Bai Ling... :/ Btw, I don't believe she is 5'3. If you look at pictures of her, she is always wearing huge platforms shoes. If i can find some pics I will scan in...
Glenn
said on 25/Aug/06
Rob,
Where is the photo of myself and Bai Ling???
Glenn
[Editor Rob: it does look a lot like her but her nose, distance between eyes looks different to me. She's got little mole on left cheek...

I'll link to the image at the size you scanned it here so the pic can always be seen though: Glenn and Women]
Serene
said on 1/Jun/06
Her name is Bai Ling. Everyone calls her like that.
One more thing she doesn't look any taller than 5'3"..
Mae
said on 20/Apr/06
I found these pictures of Bai Ling by Jodie Foster. Maybe she really is around 5'3.5" Unfortunately, we can't see the heels of their shoes.
Click Here
Click Here
Mae
said on 20/Apr/06
Glenn - the photographers may have been wrong. Bai Ling's face is less round, her body is slimmer, and she NEVER wears anything conservative. She seems even more petite than the woman you're standing next to in the photo.
Check out these pics of Bai Ling:
Click Here
Click Here
Click Here
[Editor Rob: yeah, this is one of those hmmmmm ones, having another look trying to find a similar 'pose' in her face, I'm not convinced its her, looks a bit like her, but she'd ever wear clothing like that??? I'll take this pic down for the moment]
Glenn
said on 30/Mar/06
Really? thats weird on the name.is it her Bill?
Bill
said on 29/Mar/06
She uses both names and def under 5-3
Glenn
said on 29/Mar/06
I think her name is Bai Ling.photographers were shooting her and thats what they told me.maybe they are wrong.90% its her.
jack
said on 29/Mar/06
Is her name Bai Ling or Ling Bai?
[Editor Rob: ah, its one of them ;-)

actually Glenn, you're certain that pic is of Bai, was this at some after-party thing?
]
Anonymous
said on 9/Mar/06
Holy crap, yeah. I went to school with Portman and she is just at 5', probably under. I didn't know Bai ling was taller than her!! Yeah, portman is not over five feet tall but very very beautiful and an avid runner.
hiya
said on 10/Nov/05
It'd be interesting to see a picture of Bai Ling (5'3") and Natalie Portman (5'4")next to each other. They both look a bit shorter than 5'3".