Martina Hingis Height
5ft 5 ¾ (167 cm)
Swiss Professional Tennis Player.
I weigh myself. If I'm a little bit more than 58kgs (around 9st) I just cut back on desserts for a day or two and go for a half-hour run. That usually helps me to burn off a pound or two. I'm 5ft 7in tall.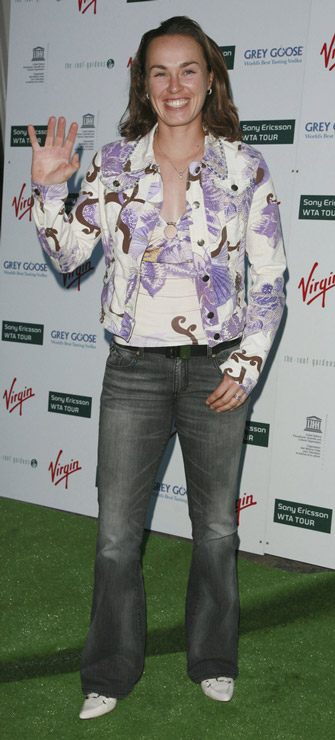 Photos by PR Photos
You May Be Interested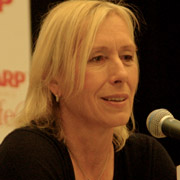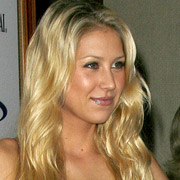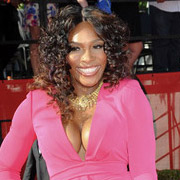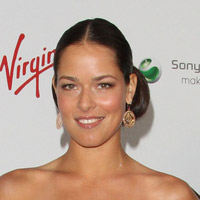 Add a Comment
32 comments
Average Guess (10 Votes)
5ft 6.28in (168.3cm)
Pierric
said on 26/Nov/19
I agree with 167 cms for Martina. Monica Seles deserve a page too. She said "I'm 5'10" in somes occasions althought I'd put her at 177 (pic with John Mcenroe for exemple) :
Click Here
Lkkss
said on 23/Aug/19
5ft 5 ¾ (167 cm)
Mei
said on 11/Sep/17
She just won US Open double. Hingis is 5'6", because her double's partner Chan Yung-jan is 5'7", and you could tell she is one inches shorter.
Chris
said on 17/Jul/17
I've seen Jamie Murray up close might even have a pic with him somewhere and he 6"2.5 and there is probably an 8.5 difference between them so I guess 5"6. She visually looks about 5"4/5"5 must just have short limbs but I would defo not go that low. 5"6 to me seems fair.
LL
said on 16/Feb/17
She is lessn than 165cm。
kk
said on 11/Sep/15
I think she is 5'5"
afaniguess
said on 8/Aug/12
she is more around 5'4. i am 5'3 and saw her this monday at the rogers cup in montreal. i got her autograph outside the stadium she was wearing regular tennis shoes and appeared to be only and inch or so taller than me. shes lost quite a bit of weight recently it seems, making her seem taller than she actually is. i mean come on people google her in the early days. obviously not more than 5'5 max.
Rick
said on 18/Aug/07
No, Maya, all the pics I send ( with Pierce too) had taken when she was around 20. Again, Martina is around 167/168. And if Kournikova is 171 (new height on this site) she can be 169.
Maya
said on 13/Aug/07
Rick, Martina was very young when she was on top of her game and when her pictures with Monica were taken. It is possible that she grew a bit later. It is not unheard of for sportswomen.
lewis
said on 25/Jul/07
no she is 5-7, i've seen her before, and she was taller than me, and i'm 167. also you can tell when you see her at the end of matches, she played someone who's 168 at wimbledon, and she was taller than her.
rick
said on 15/Nov/06
Again, I thinck Martina is around 167 cms. With Monica Seles (177 cms).
Click Here
ds
said on 20/Jun/06
I'll be going to the USO this summer, so I'll have another look...
ram
said on 19/May/06
yes she is definately not more than 167 cm.
rick
said on 18/Apr/06
Here's Martina looks 167 max. I'm sorry to send you all this photos but it's pics pretty good
Click Here
rick
said on 18/Apr/06
Again, a pic where Martina looks 168 max.
Click Here
rick
said on 15/Apr/06
Yes it's a prove Hingis is less than 169.And here's a pic she's with Mary Pierce(178). She looks 167/168.
Click Here
Meaby less =
Click Here
And here's Mary Pierce with a (true) 170 girl ( Conchita Martinez )
Click Here
Click Here
ds
said on 14/Apr/06
I think those pics prove it. I met Capriati when I was 7 or 8 and I was really young then, but I don't remember her being remarably tall. I met Monica Seles when I was 8 or so and I remember thinking she was VERY tall.
ds
said on 1/Mar/06
Hold on I can probably scan some pics my cousin who is 165cm took with Hingis.
ds
said on 11/Feb/06
Yeah and if she was 5'7" she could still be a model. There are lots of 5'7" models, where Kate Moss is the only 5'6" model. And just b/c she claimed it, it's not definitely true. Anyways I MET her!!! I know she's not 5'7" b/c I met her and she was definitely more than 2 cm shorter than me. And usually for me when a girl is 5'7" she is barely shorter than me, and it's not like I'm looking down on her that much. But Hingis it was a lot different. She's definitely not 169 cm, because still I would be not looking down on her that much, but I was, and I have pretty bad posture... and I was looking down on her more than just a 2 or 3 cm. It was more like 2 inches, maybe 4cm, I can't tell you the exact. But I think it was ATLEAST 4 (I'm 172), but I would bet a great amount it was closer to 5. Whats the point of having comments if you're not going to change it? I mean I hate it too when theres the one person who wants to greatly underestimate everyone's height, but really I have met her so I think I have the right to say what her real height is.
rick
said on 9/Feb/06
Yes, completely agree with ds she's 167/168 and Mary Pierce 178 we know that. We sure she lies about her height and I don't know why editor doesn't put her true height because he doesn't trust everybody ! Monica Bellucci, for exemple says to be 177 and we know, and the editor confirmed, she's around 171. Questions without answers.
CelebHeights Editor
said on 9/Feb/06
In her own words,
"I always wanted to model, but I'm too short - only five foot seven"
. So she has claimed this height...
ds
said on 8/Feb/06
Yes look up Marina Hingis height and you'll see a lot of 5'7" but quite a few 5'6"...and I can definitely say that she's not 5'7". Plus Mary Pierce is more like 4 inches taller...and Clijsters is more than an inch and a half taller. And when I was in Australia (for the Aussie open and family) I only wore flip flops, tennis shoes (b/c I was playing with my brother), and flats the whole time I was there. I remeber b/c I was only allowed to bring 5 pairs of shoes and my mom wouldn't let me bring heels b/c she said there was no point in wearing heels at the beach. I can definitely say that when I met her she was 5'6" if not under. I'm 172cm and 170cm would be almost like me...and she looked 4 or 5cm shorter. And I always slouch as well...so we should have been like eye level. But she's not 170 or 169. Why doesn't anyone listen to the comments? I met her and I'm saying she is 167 or maybe 168...most likely 167. I've actually met her twice...once at practice where I actually was right there up with her and and I walked by her a couple times...b/c she was signing autographs and then from far away at her match (I guess the second one doesn't count as meeting but still). Please change it b/c I always thought this site was very accurate and now I'm seeing more and more flaws...(Mischa Baton is 172-174 and Katie Holmes is more like 174, and Paris is about 168-170) so if you are looking to be accurate, I can confim 167cm. Even 168 would be better...
[Editor Rob: I remember when she first appeared at wimbledon aged 14, I'm sure it was 165cm they had her at, then she creeped up maybe as she grew a little more]
rick
said on 8/Feb/06
Rob, why don't you add in the comments that a few newspapers say Martina's height is 168 cm which is probably true !?
JonB
said on 21/Jan/06
I don't know what you mean by "the official thing" because on every related website I have sean apart from one very old one she is listed at 170cm & 130lb I don't see why you can automatically assume that is wrong. Also, if you watch her on TV and in relation to other players she looks more like that height. Perhaps when you met her she was wearing tennis shoes which makes a big difference.
ds
said on 20/Jan/06
plus I on her official thing I remeber it was 5'6". And ALso Anna is like 171-172, so yeah 167-8 cm.
ds
said on 13/Jan/06
5'6" maybe just a tad under. I'm almost 5'8" when I met her, she was like 2 inches shorter. No way 169. Maybe 167.
Anshelm
said on 26/Dec/05
Dug up some Hingis/Kournikova (still standing at 173 cm/5'8" I see) pics myself:
http://www.poster.net/hingis-martina/hingis-martina-photo-martina-hingis-and-anna-kournikova-6200769.jpg (Head to toe, but I don't think that's a good angle...)
http://sportsillustrated.cnn.com/tennis/2002/australian_open/news/2002/01/24/women_doubles/lg_kournikova_hingis_ap-01.jpg (Waist up, but maybe better? OK, a little lower than waist.)
rick
said on 24/Dec/05
Rob what do you say about the pic I sent you a few days ago where standing next Mary Pierce she looks 167/168?
[Editor Rob: i did look at a few pics...she looks on the cusp of 169, i.e. 168 is possible]
Anshelm
said on 24/Dec/05
The first time I heard her height, the announcer said 5'6"/168 cm (and 115 lbs/52 kg). Don't remember how old she was, I mean she's been playing since at least 14. And the same announcer put Brenda Schultz-McCarthy at 6'3"/191 cm, which is an inch too much. Last stats for Hingis I heard were 170 cm/5'7" and 59 kg/130 lbs. She did play doubles with Anna Kournikova a few times, so there would be good comparison, if anyone has some old match footage.