Natalie Dormer's Height
5ft 5 ½ (166.4 cm)
English actress, best known for playing Margaery Tyrell in Game of Thrones, Irene Adler in Elementary, Cressida in The Hunger Games: Mockingjay and Anne Boleyn in The Tudors. In this photo I had 1-inch sneakers, she had 3-inch heels.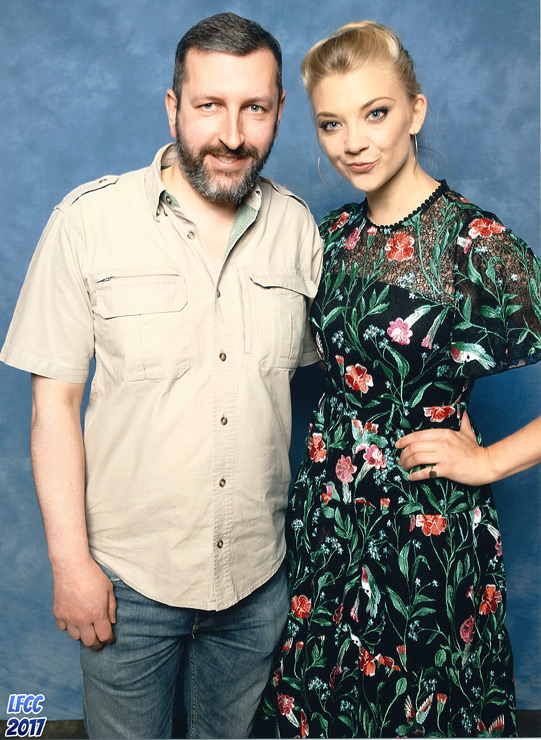 5ft 8 Rob and Natalie @ LFCC 2017
You May Be Interested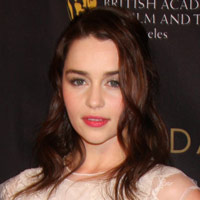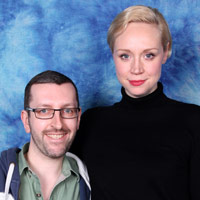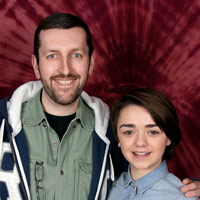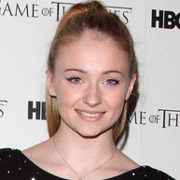 Add a Comment
62 comments
Average Guess (54 Votes)
5ft 5.68in (166.8cm)
JohnMoore-162cm
said on 24/Apr/20
Yeah ,, she's 5ft5 1/2"
Miss Sandy Cowell
said on 11/Feb/20
💐🎈🎊 Happy Birthday Natalie! 🎊🎈💐
Natalie Dormer is 38 years old today. Let's wish her a Very Happy Birthday!
5ft5.5. 😁🎁👍
💐🎈🎊🎁💐🎈🎊🎁💐🎈🎊🎁💐🎈🎊🎁
Miss Sandy Cowell
said on 1/Dec/19
I turned over to the horror channel last night and noticed Natalie starring with the 5ft11.5 Matt Smith in a film called 'Patient Zero'. The 6" difference looked quite, quite huge, making me think that Matt was taller than 5ft11.5.
The film itself seemed very interesting and contained songs by The Who. I'm determined to catch it next time round!
Natalie gets 5ft5.5.
@ Rob - I looked at your picture of Faye Marsay and gave out a laugh which sounded as though Scooby Doo was in the house! 🤣
Jdubbz
said on 26/Jan/19
@Aly183: I have to disagree. That little smirk she does is one of the cutest things about her!

Editor Rob
A nice smirk on Natalie, but I think
Faye marsay
gives her a run for her money.
Lo
said on 30/Jul/18
she looks the same height as sarah bolger who plays mary tudor and she is 5'4
MAD SAM
said on 19/Jun/18
She's definitely 168 cm

Editor Rob
I'm not convinced - given she had near 2 inches extra footwear - she'd be 168cm, because she looked shorter than myself.
Logan Hedlund
said on 2/Feb/18
I agree with Rob post, Ms Dormer should be around 167cm tall. Maybe 168cm in the morning? Best acting, for me is Cressida in The Hunger Games.
Excellent photo Rob.
The Shredder
said on 14/Jan/18
Even rich , or good looking guys and other celebs have a low chance with them. Higher chance than average but still slim.
Of course I have a chance lol. I'm just a guy from a southern state that lives on a budget who messes around with internet message boards when he isn't goofing off with friends.
At least I have more of a chance with her than G being 5'8 , so get the wedding bells out :D
SS
said on 13/Jan/18
@The Shredder, I really doubt you would have a chance with her either.
Anyway I agree with this listing 166-167cm is the right range, because many women claim to be 168cm but are rather between 5'5 and 5'6.
Sandy Cowell
said on 25/Dec/17
@ Shredder -
Re: Ally's comment, which went: she's attractive, but that duckface is such a turn off! 😂
Your reply: As if you'd have a chance with her anyway. lol.
I did laugh Shredder! Loud AND proud! That was a good'un!
😂😂😂
Merry Christmas!
Anthony
said on 24/Dec/17
Such a babe
The Shredder
said on 24/Dec/17
Ally183 said on 22/Dec/17
She's attractive, but that duckface is such a turn off😂
Like you'd have a chance with her anyways! lol.
Ally183
said on 22/Dec/17
She's attractive, but that duckface is such a turn off😂
MAD SAM
said on 15/Dec/17
Glad to see you back rob but I think Nat is a total 5'6"
Warren
said on 8/Dec/17
Yeah she can look probably 25 above pic, but the almost(seach on google) she looks over 30 to me
Renegade
said on 6/Dec/17
She is normally hotter than she looks here
FE
said on 5/Dec/17
@James
Um Shreds is right, she actually does look 25. I don't know how your not seeing this and her smaller face kinda helps her look younger aswell!
The Shredder
said on 5/Dec/17
What would you guess James? She really doesn't look over 25 ish to me and I honestly thought she was about that.
James
said on 5/Dec/17
@The Shredder She doesn't look 25 at all to me.
The Shredder
said on 3/Dec/17
I would not have guessed her as 35 , she looks 25.
Bobby
said on 2/Dec/17
Rob, is the full 5'6 possible for Natalie Dormer? She's looked it many times before on screen.
Editor Rob: I thought she was shorter than myself, enough to notice a difference, so I would think a weak 5ft 6 range.
Anonymous
said on 2/Dec/17
What about her weight?
Editor Rob: 126.5 pounds
Allie
said on 28/Nov/17
Pretty! This looks accurate.
Anonymous
said on 28/Nov/17
I would say about 5ft 5.5. Always think she an odd looking woman, face always seems lopsided, as though she has Bells Palsy.
Jools1
said on 27/Nov/17
I think its spot on, beautiful woman!
Sandy Cowell
said on 26/Nov/17
@ Sam - Brilliant explanation - thanks! I liked the Trump bit!😊
abcd
said on 24/Nov/17
Rob U gained weight i see :) but u r looking good :) the gym ?
Editor Rob: this is in late July, I pretty much have been steady the last year varying within 175-80 range!
Sam
said on 24/Nov/17
Probably, a personal tick in terms of duck-lips, though for McCartney, it may be his friendly version of a rock n roll snarl. Duck lips I'd say are somewhere between Blue Steel in Zoolander and far ahead of Donald Trump's ludicrous pursed lips (searching for a phallic symbol?) in level of endearingness.
Sandy Cowell
said on 22/Nov/17
@ Sam - Hey, that's a mighty funny expression! 😂😂😂
Duck lip face? Hmmmm! I was going to ask you what it is, but it really is self-explanatory!
PS I wonder if they do it subconsciously or out of nerves maybe. I can believe that from a young actress who has only fairly recently soared to fame, but not Paul McCartney, who's had more pictures taken than most of us put together! 🎶🎤
Sam
said on 22/Nov/17
She can seem a little shorter than the listing if she's sporting 2 more inches of footwear here but not much. Very attractive but does the duck-lip face for photos too much, maybe even more so than Paul McCartney.
Balrog
said on 21/Nov/17
Perfect listing Rob, she's gorgeous
James
said on 21/Nov/17
Good height and great actress.
DirectorKrennic
said on 20/Nov/17
@Editor Rob Wow that is a lot! They are really raising the prices! Hopefully she goes to our Con next year. Also, Rob how many height would I get from a boots that has a 2.5 inch hidden heels and 1.25" inch platform? I am 5ft7 (tbh I am 5ft8 now, but I like the sound of 5ft7 better).
Editor Rob: potentially close to 3 inches, it's a big amount to walk around in.
DirectorKrennic
said on 19/Nov/17
Rob please tell me how much did it cost you to have a picture with her?
Editor Rob: a whopping £65, which is about about 85 dollars.
As an actor, it's great money doing events like this, although I feel some prices are getting a bit silly.
Guys like Norman Reedus have become very wealthy from them!!

Bobby
said on 19/Nov/17
Actually Rob, you should definitely add Elementary as the list of TV shows she's been in. Her role as Irene Adler/Jane Moriarty was prominent, and she appeared in multiple episodes, even became a series regular if I recall.
Editor Rob:
yes, I remember she appeared in that and also could be a good
4 inches shorter
than Johnny Lee Miller.
anyonmious
said on 18/Nov/17
between 5'4.5" to 5'5.5"
Warren
said on 18/Nov/17
Both of them r beautiful!
Johnson
said on 17/Nov/17
the important is that Rob in the picture is in disadvantage of 2.5 cm, she looks 2 cm less than Rob, so 5 cm advantage + 2 cm in the picture, we discount 7 cm
she can appear 1.66 barefoot
it's a little tricky to understand heels of 3 inches but that is my prediction about that 2 inch disadvantage of Rob
Editor Rob: a 5ft 6 women in a heel that gives 3 inches of height should typically look the same as me in a 1 inch sneaker, possibly slightly less of course as I am just over 5ft 8.

Natalie definitely seemed shorter than me, I'd have said that day I felt Steven Yeun seemed closer to 5ft 8 than Natalie, so the most I'd estimate is a fraction under 5ft 6 and the lowest about 5ft 5.5.
Renegade
said on 17/Nov/17
She looks 171 so I'd put her between 5'5 ¼ and 5'5 ½
Slim 185
said on 17/Nov/17
She's defiantly a strong 5'6"/ 168 CM.
Mimi
said on 16/Nov/17
She looks so much younger than her actual age of 35
blazer
said on 16/Nov/17
5'5" 3/4 is perfect. That's exactly my guess looking at the pic if she had 3 inch heels.
Jordan87
said on 16/Nov/17
5'5ish with Beautiful Eyes.
KH
said on 16/Nov/17
I find this lady to be quite striking with her cheek bones and cat's eyes. She is better looking as a blonde imo. Weak 5'6 which is a fine height for a woman.
Bobby
said on 16/Nov/17
She was in Elementary as Irene Adler/Jane Moriarty and in The First Avenger as Private Lorraine. The women who tries to seduce Steve.
Andrea
said on 16/Nov/17
Nice picture, Rob! She looks closer to 5'5 than 5'6 here, all things considered... How was she in person?
Sandy Cowell
said on 16/Nov/17
@ Rob - You lucky, lucky sod! You've met her! When I did my comment last October, you hadn't, but now.....
As I said, you lucky thing! What an terrific perk of the job! Actually I get quite a kick out of knowing YOU because of your connection to these exciting people! You should see how I mouth off to my nearest and dearest about all the people you've met!
Nik
said on 16/Nov/17
I think she is taller than this!
Borats Chicken
said on 16/Nov/17
rob, damn you met her? how was it? was she nice?
172.4cm guy
said on 25/Jan/17
I think 5'6" is at the starting point that a woman would start lookin "tall-ish", but I never got that sense from Natalie. Off the top of my head I thought a 5'5" listing was appropriate for her, but I could definitely see a 5'5" listing. This will be my guess until you have an opportunity to meet her Rob.
Sandy Cowell
said on 17/Oct/16
I first saw this very pretty actress star as Anne Boleyn in the TV series 'The Tudors'. I thought it rather odd that they should have chosen a blue-eyed girl to play her as Boleyn had famously dark, bewitching eyes!
Then I saw her making an appearance in the Michael Fassbender film 'the Counsellor'.
Finally, I have just acquired a film in which she is the main star, called 'the Forest', about some unseemly goings-on experienced by a young woman as she goes in search of her twin sister. This is hardly the film in which it will be easy to get clued up about her height as, it would seem, she is in for a lonely hike in a lonely and spooky place, so there won't be many people I can compare her to, but this has prompted me into wanting to see it now!
In 'the Counsellor', she appeared to be on the tall side of average and quite honestly, the characters in 'the Tudors' spent far too much time in a horizontal position to make a sensible guess; (how can you learn any history from that?) !!!
I look forward to seeing Natalie in future films and TV work.
Editor Rob: the last film I seen her in was one of the Hunger Games films, I thought she looked pretty close to 5ft 6, shorter than Jennifer lawrence of course.
Andrea
said on 17/Sep/15
Totally agree with you, Sam! As for her height, she's a tricky woman, at times she can look even over 5'6, at times not much over 5'5! Maybe, 5'5.5 might be closer... Rob, any chance you meet her?
[Editor Rob: she cancelled the time she was meant to attend, I've no idea if she will do one. I know an organiser keeps trying to get her/kit, as yet...no luck.]
Matthew
said on 13/Jul/15
Roughly 5'6", I'd say.
Sam
said on 14/May/15
She has an far-apart eyes, crooked mouth (and a strange haircut thanks to Hunger Games at one point) but she uis one sexy, extremely attractive girl. In GOT you can buy gullible Tommen doing anything to get with her again LOL.
SaveUsY2J
said on 14/Jul/14
Haha, I claim no responsibility for Sherilyn, never brought up her name, haven't seen Twin Peaks so wasn't bothered about getting her. I've suffered almost as much as you have with cancellations as you have- Pedro and Natalie cancelling on the cusp of the event was the worst of it all- has that situation ever happened before?. (I also hear the nighttime GoT screening really suffered without them, and Lena apparently didn't show up to it either) Five guests I had tickets for who cancelled, and they along with several others who would have provided excellent photos for the height had to be the ones who did!
I hope you enjoyed yourself regardless, Rob- did you manage to get a photo with Carrie Fisher, seeing how she stood in the end? I did see you a couple of times walking around but I was in queues at the time so couldn't go over to chat with you- but Jenny I did talk to briefly while she was saving your spot in Michael Madsen's queue (apparently she's been sworn to secrecy on the Ultimate A$$hole's identity, lol) and she seemed quite pleasant, if shy. I did give her a heads up after I emerged fom the shoot that Michael appeared to be wearing cowboy boots, so I hope it was useful.
[Editor Rob: yes she said you asked her :) I unfortunately never managed to see yourself or Josh from this site either as it was so busy. I spent half the time in queues but didn't get as many as I thought actually when I came home. Last minute or usually last 2 weeks are times when schedules for filming can change, some are literally last minute unfortunately...but this event had a lot I felt.

Michael is a rarity in that he didn't want to do a back2back pose with me, and that photographer in that zone I wasn't a fan of because of his tripod, so not doing vertical (portrait) shots, taking them very quickly, overtilting on some of the shots and zooming in too much...

Carrie had her dog with her in her photoshoot! Damn thing was sniffing people, maybe it was checking if anybody had snacks :) I did actually see Stan, he walked by me at one point late Sunday to his photoshoot.]
Josh B
said on 11/Jul/14
Yes Rob, it has been disappointing with all these cancellations. Natalie was one of the main ones my partner wanted to :/ Oh well, you'll get my photo instead :P
[Editor Rob: it's always ones you want that cancel, been there many a time :) Oh, well I hope you still enjoy the event, it will be quite a busy one, I will see you around]
SaveUsY2J
said on 18/Jun/14
Her shoot's sold out now, so I hope you got your ticket on time, Rob :)
[Editor Rob: you tryin to jinx her! ;)]
Chris
said on 17/Jun/14
I think she's taller than that. At least 5'6.
Hypado
said on 9/Apr/14
Gwendoline Christie - 191cm
Natalie Dormer - 166cm
Watching Game of Thrones, I could see the perfect height difference between them.
Chris
said on 20/Mar/14
I've become a big fan of her, and she plays my favorite character on GOT.
Josh b
said on 20/Mar/14
Rob, she's going to the London comic con do you think you'll get a photo? I might depending on her price as I'm a Tudors fan.
[Editor Rob: not get a photo with a pretty woman? Are you mad ;) Nah, I enjoyed game of thrones, so always try to get any guest from the show! 25 quid is fair enough for her...]
lmao
said on 13/Jun/13
5ft 6 and really, really HOT!!