Queen Latifah's Height
5ft 9 ¾ (177.2 cm)
American rapper and actress best known for roles in films such as Taxi, Just Wright, Last Holiday and Beauty Shop. She claimed to be almost 5ft 10.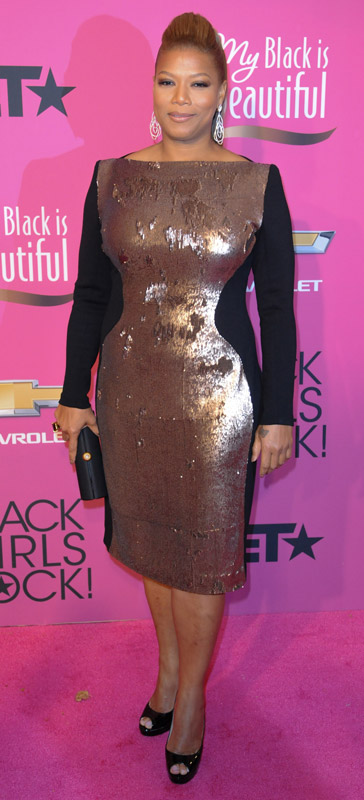 Photos by PR Photos
You May Be Interested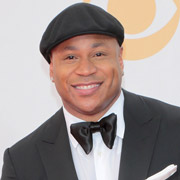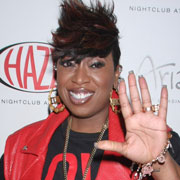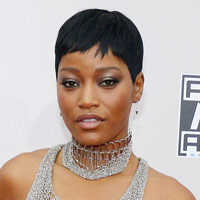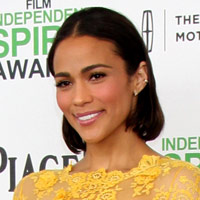 Add a Comment
67 comments
Average Guess (11 Votes)
5ft 9.23in (175.8cm)
James E
said on 5/Jun/19
Legit guesses. I met her in person, stood right next to her. I'm 5'10 with shoes on and she was practically eye level with me with flats on.
Nik
said on 29/Nov/17
She doesn't look this tall!
Bego
said on 27/Nov/17
178 in morning, 176,5 at night is my gess
Canson
said on 31/Jul/17
Looks about right next to Cress Williams or John Henton in Living Single. Then again don't see footwear in the pics my guess 5'9 range strong 5'9 or weak 5'10 at absolute best
Aza
said on 29/Nov/16
She looks 5'10 and bitchin'!
QLSW
said on 27/Nov/16
No way is Queen Latifah a similar height and build to Serena Williams!! Serena is 5'9 and actually looks tiny in comparison to Latifah, Serena has a much slimmer build and Latifah actually makes Serena not look as big and muscular as everyone thinks she is. She looks petite if anything lol
Click Here
charlie
said on 18/May/16
Is 5 ft 9.75 her height in high heels? She looks tall but then most females are 5 ft 2 range so if she was 5 ft 6 flat fet she would still be taller than most females and in heels she would be close to 5 ft 10 range. It's hard to measure a female Celebrities height because many include heels to their height where some don't.I have found websites where the models were showned being measured while in heels.One girl measured 5 ft 10 inches and the people commenting about her where over whelmed that she was 5 ft 10 not taking note that she was being measured while wearing 8 inch heels. So i will say Queen Latifah is 5 ft 6 inches flat feet and 5 ft 9.75 with heels on.
brilliant heighter
said on 29/Sep/15
5,10 my aunts that tall
Bishop
said on 5/Mar/15
Click Here
Looking about 2 inches shorter than Bobby Brown.....
Az
said on 12/Nov/14
I met her. 5'8" / 5'8.5". LA Urth Cafe 2010. She is AMAZING!
Dmeyer
said on 10/Jun/14
When i met her defenetly near 5'10 and 200-210
LEE
said on 11/Feb/14
WHAT DOES QUEEN LATIFAH WEIGH, MY HUSBAND SAID SHW WEIGHS ABOOUT 175, AND I SAY 200, HER CLOTHES ARE BEAUTIFUL, AND WE BOTH LOVE HER, AND OULD LOVE TO MEET HER, WE ARE JUST WONDERING. THANK YOU. WE BOTH AGREE THAT SHE IS 5'10"
[Editor Rob: I say she would be nearer 200 than 175]
r
said on 16/Jan/14
She not 5'9 she 5'10 and over celebrity height be lying about people heights
Arch Stanton
said on 4/Jan/14
Seems about right, a bit shorter than Common in Just Wright. Looks a similar height and appearance to Serena Williams.
Silent d
said on 29/Oct/12
She was about as tall as charlie sheen in spin city. 5 foot 9.
LAN Jiao
said on 30/Oct/11
never thought she is 5'9 and over. she look always look 5'8 in film.
maybe 5-8.5 in real.
merk
said on 7/Aug/11
Def 5'10 -- she towers over Zellweger in "Chicago" and is a couple taller than Zeta-Jones in the film.
Demiere
said on 16/Jun/11
Queen Latifah is 5'10. I loved her in Barbershop 2.
Whopper08
said on 29/Apr/11
I think she's 5'9 at best.
sam D
said on 16/Jan/11
The movies called "bringin down the house" Toni. And in case you may have forgotten, she was wearing high heels in just about every scene. And in barbershop she was not in high heels, and stood eye to eye with ice cube who is 5'8 with his 2 inch Afro. And considering its more realistic to measure the eyes, nose or or shoulders because peoples hair can be misleading, queen latifah may have been able to claim 5'6 for one movie, then claim 5'10 but flat footed be as tall as a man who struggles with 5'8. Im thinking she is a strong 5'8 if not 5'8.5
toni
said on 15/Jan/11
In this one movie with steve martin she said shes 5'6. Mabey it was just for the movie tho because she looked about as tall as martin.
Rampage(-_-_-)Clover
said on 27/Nov/10
175cm is nearer
Jeremy
said on 17/Feb/09
Maybe she was wearing heels in the movie taxi. I have not seen that movie. If she was wearing heels then she was probably 5'11 in heels and 5'9 without the heels.
Ellen
said on 15/Feb/09
anonymous says on 18/Dec/08
In taxi she was an inch or 2 shorter than 6 foot jimmy fallon. 5 foot 9. She is tall and heavy.
But 1 or 2 inch shorter than 6 foot is 5'11 or 5'10....
anonymous
said on 18/Dec/08
In taxi she was an inch or 2 shorter than 6 foot jimmy fallon. 5 foot 9. She is tall and heavy.
glenn
said on 27/Nov/08
she is usually pretty nice.she actually didnt want to take the picture.i talked her into it.i lost my original from 1991.so i wasnt taking no for an answer.lol.ive seen her run from people too.
Jeremy
said on 26/Nov/08
5'9 is probably correct.Great picture,Glenn.She looks really nice and happy.
Lmeister
said on 26/Nov/08
She does have a built of 5f8-5ft9 woman. She isn't actually that towering in height, but she is heavy...
glenn
said on 26/Nov/08
small heels i think.sometimes heels dont add as much to a woman as one thinks.i always thought she was 5-8.but ill buy 5-9.5-10 not impossible,but highly unlikely.
Jeremy
said on 25/Nov/08
glenn,is she 5'8 or 5'9?How tall did she look in heels?
glenn
said on 25/Nov/08
5-9 all the way.i dont understand the 5-10 claims either.she has heels on in my pic above.
Jeremy
said on 24/Nov/08
I never understood why they said 5'6 in Bringing Down The House.I guess that the character that she was playing was supposed to be 5'6.I just watched Beauty Shop the other night on TV and I saw Queen Latifah at the American Music Awards.She looks 5'9 without her heels.
anonymous
said on 22/Nov/08
In bringing down the house they said she was 5 foot 6. Next to 6 foot 2 steve martin, she was a few inches shorter with heels on. I think steve martin is close to 6 foot 1 next to 5 foot 11 eugene levy. Queen Latifah was about the same height as eugene levy with heels on. I would say she's between 173cm-177cm.
Jeremy
said on 14/Nov/08
I've seen most of her movies and she does look 5'9 or 5'9.5 in her movies.
anonymous
said on 13/Nov/08
In taxi she was shorter than jimmy fallon but she was slightly shorter than gisele bundchen. So she must be 5 foot 9 or a little taller.
Bruce
said on 9/Nov/08
forget the pictures she is a solid 5'10"
Jeremy
said on 16/Oct/08
I used to think that she was 5'10.But after seeing the picture with glenn I would say that she is 5'8 or 5'8.5.
glenn
said on 19/May/08
she did have heels.
Anonymous
said on 18/Jan/08
Yeah I just saw her at an awards show next to Zac Efron and he's like 5'7" or so right ? She was HEAPS taller than him, of course she DID wear high heals but she was still a good 6 if not 7 inches taller than him. So 5'& Efron with 1" soles + 5'8"...plus 6" makes 6'2"...so she was about 6'2" in high heels. Definitely 5'9"+ then !!! Huge lady !! :D
UCLA Student
said on 10/Jan/08
I saw her on Campus at UCLA today for the premier of Mad Money...The woman was so huge I thought they were premiering Cloverfield. I'm almost 6 foot, she was wearing big heels and she was about an inch taller than me. I'd put her at a solid 5'10". She looked to be well over 200lbs.
Jon Doe
said on 22/Oct/07
people don't forget that wearing your hair up can make you look taller too.And with a husky build it makes your shoulders look higher.
Annie
said on 23/Sep/07
In "Stranger Than Fiction" she doesn't dominate Emma Thompson like I thought she would and she looks appropriately shorter than Will Farrel (as she is wearing heels) for her to be @5'9"...Emma was depressive in the film and wore shorter heels than Latifah's business heels.
shorty
said on 10/Sep/07
I've stood next to her when she is wearing sneakers and she is about 5'9.5".
lil johnna
said on 1/Sep/07
nike shox gives one an extra 1.75 inches. I know, I got them and I measured!! :p
Kim
said on 28/Jul/07
She's on the cover of the latest issue of People Style Watch. It listed her at 5'10. I also saw her (in heelS) on Conan and she was almost as tall as him. You should upgrade her height by at least a half inch.
anon.
said on 2/Jul/07
i saw her at a store in toronto, she's beautiful, the nicest skin you will see and VERY tall, she was just wearing nike shox so maybe an extra inch and she was at least 5'10" - 5'11" i'm 5'8" and she was much taller than me. oh yeah and she's big but really in proportion so she looks good not fat or anything, and very cheerful.
dmeyer
said on 25/Jun/07
to me she does look between 5'9 and 10 5'9.5 seems right
Anonymous
said on 5/Jun/07
Latifah versus Glenn looks like Tom Cruise versus Glenn. Latifah and Cruise probably had the same size heels too
footballed28
said on 2/Mar/07
in that picture she is only slightly taller than Glenn...and she was wearing heels....I would give her 5'8 1/2 to be kind........and the reason she appeared taller than both Travolta and Al Gore is because she had on extremely high heels and both men are really no more than 6'0 or 6'1
glenn
said on 1/Mar/07
thats strange that she apeared that tall.
talker
said on 1/Mar/07
actually,at the oscars she looked even more than 6'1"because Travolta is 6' he was wearing shoes with at least an inch heels, and Latifa was taller than him.
The Rock
said on 1/Mar/07
There's no way she's 5'8''. She looked insanely tall at Oscars this year. Taller than Al Gore and John Travolta. ~ 6'1'' in heels which is about 5'10'' barefoot. I doubt there are 5 inch heels that actually provide a 5 inch height boost.
talker
said on 1/Mar/07
at the oscars this year,with high heels on she was same height with John Travolta.She looked huge.
16and5'7.25''
said on 28/Feb/07
holly crap!!!! i didn't think she was this tall!!!
glenn
said on 28/Feb/07
she had heels on too.she might be 5-8.
Derek
said on 24/Jan/07
She's around 5'8" or 9" and weighs 190.
Jordan
said on 17/Nov/06
I think in "Bringing down the house" they actaully describe her at 5'7 and 175lbs which I think is wrong on both accounts. I'm pretty shore it was 5'7 but I'll have to check to make sure. Anyway I think she weighs over 175, but whatever.
dmeyer
said on 1/Sep/06
in barber shop she looked taller than 173 cube even do she was barefeet
Anonymous
said on 29/Aug/06
jimmy fallon is 6 ft possibly 6'1 so she's easily 5'10 because there was about two inch differential in taxi
Anonymous
said on 6/Jul/06
Like Glenn said, she is 5-8.
Click Here
don
said on 1/Apr/06
she was wearing 2 inch heels on the daily show, a good 5 inches taller then jon stewart 5'7 so 5'10 makes sense
Glenn
said on 7/Mar/06
Correct.5-8 And Sweet.
Anonymous
said on 6/Mar/06
Just met her at Urth Cafe in L.A. and she was 5'8" but no taller. I must add that she was amazing and kind and full of personality. She had the most beautiful skin!
Noname
said on 4/Mar/06
5'10" looks a shade off, but she could probably get away with it.
CelebHeights Editor
said on 1/Oct/05
In a Chicago Sun Times article from 2000 it starts off with describing her:
"At 5-feet-9 3/4 inches (and none-of-your-business pounds)"
. Maybe the interviewer got this height from Latifah.
J.
said on 26/Aug/05
A May 1995 feature from Essence magazine: http://www.findarticles.com/p/articles/mi_m1264/is_n1_v26/ai_16848092
In the article, it states : 'the Queen stands five feet nine inches tall at 190 pounds.'
They're right. 5'9" is more like it.
Drew
said on 12/Jun/05
She looked 6' next to Conan O'Brien.