Rob McElhenney's Height
5ft 9 (175.3 cm)
American actor best known for playing Mac on tv series It's Always Sunny in Philadelphia. In a Chicago Sun Times article it described him as
"the 5-foot-9, 162-pound McElhenney"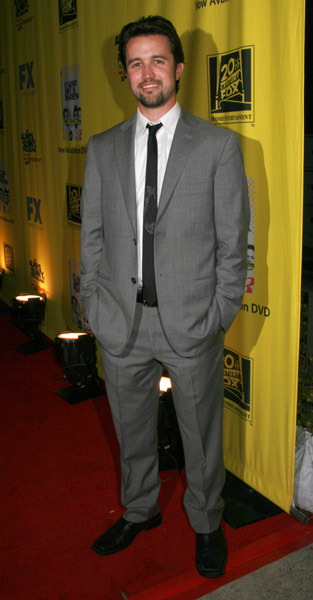 Photos by PR Photos
Add a Comment
24 comments
Average Guess (10 Votes)
5ft 9.3in (176cm)
Kylo
said on 15/Jan/21
I think he could stand for a quarter inch upgrade. I could see him at 5'9 1/4 or even 5'9 1/2 maybe. I know in Sunny they describe him as being 5'9 but Rob seems like a guy that would be cool with downgrading his height by a quarter
MaskDeMasque
said on 26/Dec/20
I think 5'9.25 is more likely than 5'9 flat.
179cm guy
said on 10/May/19
Charlie: 5'5.25-5.5
Glenn: 5'10-9.75
Rob: 5'9-9.25
Kaitlin: 5'7.25-7.5
Danny: 4'9 now
Crab
said on 6/May/19
Rob how tall do you think D.B. Weiss (GoT showrunner) looks with him:
Click Here
Click Here
He looks around 5'10" I'd say. I think he must wear lifts to events as sometimes he can look 6'0" next to David Benoiff (who is surely no less than 6'2") and other times barely 5'10". He is also listed 6'0" online.

Editor Rob
Generally I can see how 5ft 10 might be possible for Weiss.
Anonymous
said on 21/Oct/17
He looks the same height as his 5'8 wife in heels
Saddlesablaze
said on 3/Apr/16
I met him at Dublin Airport. Really cool guy btw. He must have really good proportions because from a distance he looks tall. Up close he does seem to be around 5' 9", maybe a little taller.
MD
said on 16/Jun/15
Glenn generally has better posture than Rob most of the time, though, so that also has to be taken into account.
lelman
said on 12/Jun/15
I don't know, I think Glenn looks more than an inch taller than Rob. Here they are both wearing boots and he looks a good 2+ inches taller.
Click Here
Also, here is that episode I was talking about where they're both wearing cat's and Glenn looks 2 inches taller.
Click Here
I think he is at least 5'10.25", if Rob is a legit 5'9".
linke
said on 8/May/15
Legit 5'9. Glenn Howerton needs to be listed on this site.
Sam
said on 10/Apr/15
Howerton looks a pretty dead-on 5'10", he's roughly an inch over McElhenney, pretty even with Billy Bob Thornton in Fargo and looked about 5 inches shorter than Will Ferrell in Everything Must Go.
lelman
said on 16/Mar/15
Rob, what do you think about Glenn Howerton? He's the only one on the show you don't have listed.
I actually take back what I said before, I think even despite Rob McElhenney's constant footwear advantage, he still get's edged out by Glenn. I think Rob is about 5'9.25" and Glenn might be 5'10.5", there's an episode where they're both wearing Cat boots and Glenn looks nearly 2 inches taller.
[Editor Rob: not sure if he'd be quite 179cm, will have a look soon.]
MaskDeMasque
said on 14/Mar/15
@MD
Yeh, Rob looks 4 inches taller. 5'9.5. Glenn is like 5'10.25.
MaskDeMasque
said on 12/Mar/15
Strong 5'9. 176-177cm at night.
lelman
said on 20/Nov/13
176-177cm in my opinion. If Dennis is legit 178cm that is, there's definitely not a full inch between them.
raaju
said on 15/Jul/13
damn, i thought he looked 5' 11" ish
bam
said on 5/Jan/13
5'9.25 or 5'9.5. He looks very close in height to dennis in it's always sunny sometimes identical in height
JMS
said on 10/Dec/12
I think Glenn is about .5 - 1 inch taller than Rob. Rob tends to wear boots while Glenn usually has shoes with little lift like converse so they sometimes look the same height.
MaskDeMasque
said on 8/Dec/12
Dennis called Mac 5'9 in Season 8 Episode 8 of Sunny.
MaskDeMasque
said on 4/Aug/12
@MD
yeh, i think charlie maybe slightly under 5'6 and not sure glenn has an inch on rob. maybe glenn is more 5'9.5-5'9.75?
MD
said on 2/Aug/12
I've been wondering about Glenn, myself, because like you said, sometime they look the same height and sometimes Glenn looks taller. It may be posture and it may simply be that Glenn is actually taller but by maybe not even a full inch. Charlie, I think is maybe even less than 5'6".
MaskDeMasque
said on 31/Jul/12
just starting watching this show, its fantastic and very funny. he seems about this height. charlie around 5'6, kaitlin looks 5'8, glenn 5'10 maybe? at times he looks taller than rob other times they look same height.
Bo
said on 25/May/09
Wow I always firgured this guy was around 6 foot. Phish is kind of a short band
D. Ray Morton
said on 14/Mar/06
He really does look 5-7 in this photo. I thought I remembered him as being a little shorter than that.
I met him in '93 and at the time thought he looked about 5-6 (granted, it was eons ago). What would you say, Glenn?