Stephanie McMahon's Height
5ft 6 ½ (168.9 cm)
American wrestling personality, WWE's brand officer.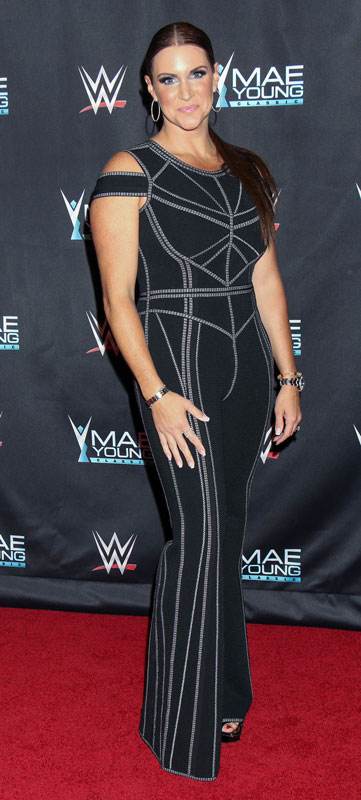 Photos by PR Photos
You May Be Interested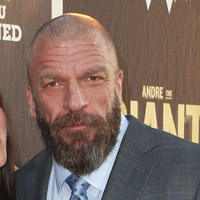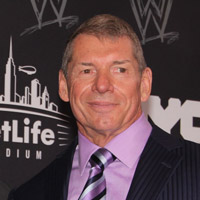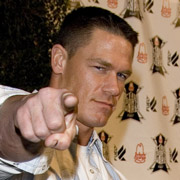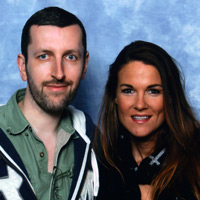 Add a Comment
76 comments
Average Guess (83 Votes)
5ft 6.91in (170cm)
Christian 6'5 3/8"
said on 6/Dec/19
Stephanie needs an upgrade to 5'6.75", while Triple H needs to be 6'1.25"
Saranjit Kaur Grewal
said on 5/Dec/19
The Mcmahon's height is already in celebheights but what about Shane Mcmahon, I mean Triple H is considered part of Mcmahon family because married to Stephanie. So please I want this website to find out that how tall is Shane Mcmahon actually.
Nik
said on 1/Dec/19
@ Christian 6'5 3/8" - That's true but it is still interesting to know precisely how tall people are!
@ Rob - What about 5'6.875"?

Editor Rob
5ft 6.75 to 7 isn't exactly impossible for her, I could see the chance of it.
Christian 6'5 3/8"
said on 30/Nov/19
@Rampage
But Shane doesn't look taller than Cena. Unless Cena's 6'1"+, then I can't see Shane being 6'1"+ either.
Christian 6'5 3/8"
said on 29/Nov/19
@Nik
That's virtually the same as 5'6.75"/5'7", as no one's gonna be able to tell 5'6 7/8" apart visually, so I don't really consider 8th fractions to be any significant when guessing height. I only have 3/8" next to my username because that's what I typically measure at my low.
Rampage(-_-_-)Clover
said on 29/Nov/19
I think Shane is at least 6ft1
Nik Ashton
said on 28/Nov/19
@ Christian 6'5 3/8" - What about 5'6.875"?
@ Ryu - Interesting! I like your anyways!
Christian 6'5 3/8"
said on 27/Nov/19
@TheBat
I can see 5'7" being possible for Stephanie, but personally I'd put her at 5'6.75" for the time being.
Ryu
said on 27/Nov/19
I think she is more like 5'9" going by the way she dwarfs most of other female wrestlers.
Anyways, what I am more curious is about she shockingly bulking up so much in the last few years. She practically looks so massive in her dance video with Singh brothers(who are professional wrestlers themselves).
Any guesses about her current weight?
Nik Ashton
said on 25/Nov/19
@ Christian 6'5 3/8" - That's interesting, thanks! Shane NEEDS a page then!
@ TheBat - Everything you have said is interesting! 🦇! Shane needs a page and maybe Stephanie needs an upgrade!
@ Mane - It's incredible that you think Stephanie is at least 5'8"! ⚽️ 🦁!
@ Thomas Hearne - That is a bold prediction!
@ Andrew_23 - Amazing! 👌
TheBat
said on 21/Nov/19
Close to 5'7"
@Christian
I 100% agree. 6'0.5" at most for Shane
Christian 6'5 3/8"
said on 18/Aug/19
@Nik and Rob
He's more like 184 max. He looked barely any taller than Cena.
Nik
said on 7/Aug/19
@ Rob - How tall is her brother Shane please?

Editor Rob
Can look 6ft1
Roderick
said on 29/Jul/19
Triple H got lucky
Very hard to tell bc she always wears heels. I guess 5'7" max
Mane
said on 16/May/19
Definitely underlisted. She looks 5'8" at minimum.
Thomas Hearne
said on 14/Mar/19
I think Stephanie is 5'4 or 1/2 barefoot and 5'6 - 5'7 with heels
rawdshaq
said on 2/Mar/19
She is underlisted, I see her more as 5'8"
Jancys
said on 24/Feb/19
173 cm. In high heels she is little bit shorter than Triple H.
PaulLevesque
said on 6/Feb/19
She looks 5'9"and hot
Nik
said on 29/Jan/19
The average vote is very high, it would be interesting to know if Stephanie is underlisted! After 67 votes the average vote for her is 5 ft 6 7/8!
Canson
said on 13/Jan/19
@Christian: maybe by a tad. Could be an honest low or maybe 5'6 5/8
Christian 6'5 3/8"
said on 11/Jan/19
I think she's a bit underlisted tbh.
The Unknown
said on 14/Dec/18
Chyna has never towered over Stephanie. The few times they were on screen together they were either wearing the same height heels and stood basically the same height. The other times Stephanie was in heels (maybe 4" heels at most) and Chyna in her ring gear and boots, and Stephanie was noticeably taller. So whatever her height is, it was around the same as Chyna's.
B-Mont
said on 20/Nov/18
I met Stephanie back in 2002. I grew up in the Stamford CT area so I've met a fair share of wrestlers. I was a teenager then but I was pretty much the height I am now which is 5'11. She was wearing heels and we were pretty much eye to eye. She was literally standing a foot away and we had a short conversation. So I would say 5'7 give or take barefoot. Meanwhile I also met HHH, I can't say what footwear he had on but he dwarfed me. At least that's how it felt. He might have been 6'2 or more. Definitely a large enough difference that I had tip my head up to look at his face. It's probably also worth noting that he at the time was massive as far as physique goes which might have given him the appearance of being bigger.
Christian 6'5 3/8"
said on 5/Nov/18
5'6.5" minimum
Nik
said on 11/May/18
For me Stephanie can look anywhere from 5'6" - 5'7"! I suspect that she is 5'6", and change!
Stephanie McMahon can have 5'6.5"!
Nik
said on 11/May/18
For me Stephanie can look anywhere from 5'6" - 5'7"! I suspect that she is 5,6", and change!
Stephanie McMahon can have 5'6.5"!
Christian-6'5 3/8
said on 9/May/18
IMHO Stephanie at 5'7" wouldn't surprise me. She can often look taller than this 5'6.5" listing even without heels.
Rampage(-_-_-)Clover
said on 8/May/18
Chyna towered over Stephanie and she's listed 5ft9
This 5ft11-6ft is just beyond laughable
Doink
said on 2/Apr/18
Seems pretty spot-on compared to Ronda Rousey. Steph's boots probably give her an inch or two more height versus Rousey's and she seems 3ish inches taller than Rousey.
Click Here
(3:30)
Lawrence
said on 13/Mar/18
@pettigrew...Heyman is 6' tall? LMAO...look at pics of heyman and brock..there is a 4.5 to 5" difference between the 2
Andrew_23
said on 11/Mar/18
5 11" and 75 kg
Pettigrew
said on 11/Mar/18
See her encounter with Paul Haymen(on Google) who is himself 6 ft tall. Although, she was in heels, but she was way taller than him, almost dwarfing him. So, even she isn't in heels, she might be roughly the same height as him (maybe slightly more).
So, my fair guess is 6 ft. No doubt she is way taller average women but also average man (5 8" maybe). I don't understand why is she so underrated on this site.
As far as her physique is concerned, she is one of the strongest beings I have ever seen. See her photo with Nia Jaxx on Google in the 'Finn balor' poze, you'll realize that not only is she the same height as her but also her upper body (as visible in the image) is bigger than Nia, who is one of the biggest diva in wwe.
Height- 6 0"
Weight- 80 kg (recent)
Abc
said on 25/Feb/18
Jack can you post a picture or some sort of proof??
Doink
said on 7/Jan/18
Click Here
Here's an interesting photo from 2014.
Naomi, Sasha Banks, and Carmella to the left of Stephanie are all billed at 5-5 and are in WWE now and page-worthy. To the right of Stephanie McMahon you have ex-wrestlers who were in NXT who were billed at 5-5 & 5-11, then 5-0 Alexa Bliss and an ex-wrestler who was billed at 5-8.
Faza
said on 27/Dec/17
5ft8 i thought for steph she can seem taller maybe its her aura she has in wwe plus the heels she wears i think shane mcmahon is 184cm tbh maybe 6ft0.5 he is worth a page on here imo be a good addition
Anonymous
said on 6/Dec/17
Not less than 5 ft 11. Myself being 5 9,I saw her from a 10 ft distance and she was towering over almost everyone in the crowd. Yes, she was wearing heels which have her an almost 6ft 2 look, so my guess is 5 11
Rampage(-_-_-)Clover
said on 4/Sep/17
I'd start Shane at 6ft1 but I really think he can look all over the place.
Sepanta
said on 12/Aug/17
I think she's a strong 5'7 and 5'10-5'11 in heels.
Toto Tortoise
said on 11/Aug/17
Google says 188m :o
anon
said on 14/Jul/17
No way is she is as tall as 5'9 remember in wwe she is pretty much always wearing high heels and she has a big presence I guess, I think 5'7 is more possible but no higher.
I think Shane Mcmahon might be 6'0.5 but not too sure maybe he is a solid 6'0 range guy.
Frank R
said on 23/Apr/17
Various websites have listed Stephanie McMahon's height as 5'8" and 5'9". She's almost always in heels, so it's difficult to tell how tall she is. I saw her up close wearing 3-inch heels, standing next to Michael P.S. Hayes, whose currently 6'2", and Stephanie appeared 4 to 5 inches shorter than him. So I'd say that Stephanie is 5'8" to 5'9." Stephanie is at least an inch taller than her mom Linda whose height is listed at 5'6.5" on a popular movie website.
Christian-196.2cm (6ft5.25)
said on 26/Mar/17
Rampage(-_-_-)Clover said on 24/Mar/17
Hey Rob, could you please add Shane McMahon?
-------
I agree, if his father and sister are on this site, so should he. I would say he's 184-185cm.
Rampage(-_-_-)Clover
said on 24/Mar/17
Hey Rob, could you please add Shane McMahon?
andre
said on 11/Mar/17
how much she weights in kg tell me rob 75kilos she is very strong?
Oliver
said on 3/Mar/17
Is 175-6 CM barefoot at night possible for Stephanie McMahon
Editor Rob: Oliver, I think the average guess for her - a solid 5ft 6.5 - is far more believable than 5ft 9, which I don't think she's ever looked, well apart from in heels.
andre
said on 28/Feb/17
at 5ft8 how much she weight rob?
i would put her at 77 kilos and you rob ?
Realist
said on 9/Feb/17
@imposterRealist You took up my name, why would you do that. I never posted on this page or the solja boy one.
Spiderman
said on 7/Feb/17
she has plenty of pictures with Stephanie on Google.
Spiderman
said on 6/Feb/17
How tall do you think is Tori (Terri Poch)
Editor Rob: would have to look a bit more.
The Ben
said on 31/Jan/17
I was at hotel where the wrestlers were staying in 03 and Stephanie was there.
She was far smaller, more petite and prettier than I imagined she would be.
I could really guess a height but I thought she'd be 5'9 and quite big built. She was far from it.
Also stood next to Scott Steiner that day, he looked HUGE on TV but was actually not that big and I would say 6ft maximum.
anon
said on 30/Jan/17
she gets listed as 5'9 lol another one listed a good 2 Inches taller
heightchecker34
said on 29/Jan/17
Haha, when I was younger, I used to believe the 5'8 listing due to the way she walked, her position in the company, and my complete ignorance of heels. When I started to research height and my interest grew, then I realized she was never ever close to that range. 5'6-5'6.5 is perfect for her. She usually wears 3 inch heels, especially these days with the overall size of wrestlers getting shorter, and the female wrestlers even smaller, she can really show off her dominance. Still love her to death, she plays the heel authority well, despite being a complete sweetheart and mom on the outside. Along with Triple H, they are my favorite power couple.... Bow down!
Darius
said on 29/Jan/17
Though she was at least 5'8" , maybe it's cuz she almost always wears heels. Anyway I always do trust Rob's listing, so I think this listing is spot on. My guess is min 5'6.5" to max 5'7".
CS
said on 28/Jan/17
Great height for a woman.
Inteval
said on 27/Jan/17
Rob did you know she's listed at 5 ft 9
J.Lee
said on 25/Jan/17
Rob why does it not allow me to switch my name now
Editor Rob: just clear any cookie.
joseph
said on 25/Jan/17
I always believed she was 5 foot 9. now I have come to realise that was just her billed height. absolutely gorgeous woman my favourte female in wrestling, iv always fancied the pants of her.
Rampage(-_-_-)Clover
said on 25/Jan/17
Rob, could you now add Shane?
Kourosh 5'9.5 (176cm-177cm)
said on 24/Jan/17
always thought 5'8 for her as she dwarfed daniel bryan with her high heels.
5'2
said on 24/Jan/17
I say a peak height of 5'7.5" should be added.
ma
said on 24/Jan/17
Stephanie 169 cm
Kofi Kingston 180 cm
Big E 177 cm
Woods 173 cm
Is it correct?
Marc
said on 23/Jan/17
I shuda expected that height. She's shared a lot of air time with Chris Jericho who is listed here as 5ft9 1/2 was it? Anyway she always wears heels and always looked close in height with him in those shoes. For some reason i believed the 5ft9 billed height.
Strong 5ft9
said on 23/Jan/17
There is no way she is 5'9", if she gets dwarfed by 5'10" Kurt Angle lol
Van
said on 23/Jan/17
I always thought she was 5'9 ... Turns out wwe exaggerates even female wrestlers' heights!
andre
said on 23/Jan/17
she real looks like 168cm 169cm in wwe barefoot at night height
Strong 5ft9
said on 23/Jan/17
@Realist No, she is wearing heels
miko
said on 23/Jan/17
She can look very tall in her heels.
Realist
said on 23/Jan/17
Wow if this is the case then New Day are 5'7 5'8.5 and 5'10.5 for Kofi Kingston at the most. I thought she was atleast 5'7.
anon
said on 23/Jan/17
I would have guessed her 5'7 so not far off but she is always in High Heels pretty much so tough to gauge her height .
Christian-196.2cm (6ft5.25)
said on 23/Jan/17
Didn't know that she was this short. I used to think that she was at least 5ft7.5, but maybe it's because she wears high heels all the time, and I underestimated the thickness of them.
Rampage(-_-_-)Clover
said on 22/Jan/17
wow...to think she was given 5ft9-10 by WWE
Tim
said on 22/Jan/17
Gets listed at 5'9.. Ridiculous
tony t.
said on 22/Jan/17
LMAO she thinks she's so big and badass too! Honestly years ago when I was a teenager I really thought she was like 5'8. If I would have had to have given a guess now, I would have still thought she was 5'7ish.
Sammy Derrick
said on 22/Jan/17
I could have sworn she's 5'7(170cm)and most of her family is on the taller side...
Click Here
anyonmious
said on 22/Jan/17
No more than 5'4 or 5'4.5"