Venus Williams Height
6ft ½ in (184.2 cm)
American Tennis Player. She has said on her twitter
"You've got to remember I am six feet one inch, very tall ( I love it!) "
and also
"I'm about 6'1"
.

Photos by PR Photos
You May Be Interested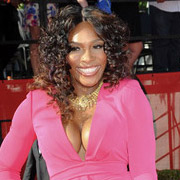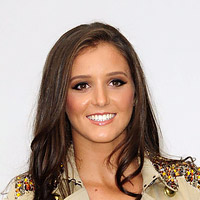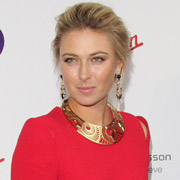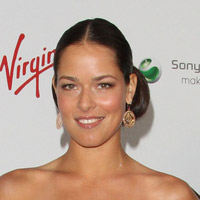 Add a Comment
96 comments
Average Guess (54 Votes)
6ft 0.71in (184.7cm)
Christian 6'5 3/8"
said on 24/Apr/20
@Nik
I would take those listings with a small grain of salt, as tennis is known to inflate heights, just like all the other sports.
Nik
said on 16/Oct/19
It's great that she loves her height!
Nik
said on 14/Sep/19
I would love to see her pictured with Colson Smith!
Miss Sandy Cowell
said on 17/Mar/19
Nah! She'd have to be taller than Venus and Maria, but there's no one like that on the tennis page...
Sorry guys!
Miss Sandy Cowell
said on 17/Mar/19
A pocket Venus she is not, but there was just a question on 'The Chase' as to who was the smallest out of three lady tennis players. Another was Maria Sharapova, who I can see exceeds 6ft1 by a quarter-inch.
I'll try and remember the third tennis player, but in the meantime, Venus gets 6ft0.5. Even Bradley admitted the question was something of a stinker!
Littlelee168cm
said on 4/Nov/18
Would she be about 6ft 4 in this photo rob

Editor Rob
I'm sure the heels give around 3 inches.
Littlelee168cm
said on 23/Jul/18
If sharapova was almost san inch taller than her emil that would make her the listed height of 6ft and one half inch
Emil
said on 4/Jun/18
Looks to me that Sharapova almost got 1 inch on her. 6'0 for Venus imo
MAD SAM
said on 21/Jan/18
She's a strong 186 cm
Swtt
said on 4/Dec/17
Who would win in an armwrestling match between Serena and Venus? Lol
Qwert123
said on 7/Nov/17
Federer, Nadal, Venus are all the same height, ppl need to chill...photo proof:
Click Here
:
Dreampuffe(5'9.5
said on 6/Oct/17
She looks taller than Roger Federer!!
Dreampuffe(5'9.5")
said on 6/Oct/17
Hmmm.. is 6'0.75" arguable like you said in the past?
pol_clemente
said on 21/Jul/17
The 6'1" is an shoe height. I saw her next to 6'1" Pat Rafter the year they both won the US Open, not just in photos but in video, and she was clearly 1" shorter. The WTA is notorious for these height mind games. Coco's claim of 6'2" is also ridiculous - 6' flat as well.
In heels she is the same height as Federer and a bit taller than Nadal. This is 2" heels though.
Filippo
said on 18/Jul/17
Perfect listing.
Since Venus is taller than Sharapova, this proves once more that Maria couldn't not by far be the 6'1 many fanboys think she is.
6-0.5 Venus
6.0 Maria
even
said on 17/Jul/17
height : 6'0.5"
at that height she has to be at least 160 pounds
Chris
said on 16/Jul/17
She was just about an 1.25 taller than 180cm murguzza and was also 4 inches shorter than her 6"4 mixed doubles partner at the Rio olympics. 6"0 and 5"9.5 for serena.
LG69
said on 15/Jul/17
@Nona,
Garbine at best is 5'11 1/2". She is shorter than 6'0.5" Venus. When they met at center court, Venus had about 1" on her. Oh, and she's not close to 180 pounds. lol
Oanh
said on 15/Jul/17
Nona said on 13/Jul/17
Go Venus go!!!!!! Unbelievable that Venus is in the Wimbledon finals.....rooting for her 100%. However she is up against a girl who is as tall as her but younger and stronger. Her opponent Garbine Muguruza is a really well stacked Spaniard at 6'1" & 180 lbs with broad shoulders and thick legs
Yeah, Garbine was too much for Venus today. I read Garbine's bio, and she's listed at 6'0 160lbs(no way is she 180), and she looked about 1 inch shorter than 6'0.5" Venus.
She's probably 5'11.5" 160lbs.
Nona
said on 13/Jul/17
Go Venus go!!!!!! Unbelievable that Venus is in the Wimbledon finals.....rooting for her 100%. However she is up against a girl who is as tall as her but younger and stronger. Her opponent Garbine Muguruza is a really well stacked Spaniard at 6'1" & 180 lbs with broad shoulders and thick legs
Antonio
said on 13/Jul/17
Still no page for Garbiñe Muguruza?
even
said on 7/Jul/17
morning 184 cm
night 183 cm
Im 171CM
said on 31/May/17
I say 6ft flat looks it to me...
Mark(5'9.25")
said on 4/Apr/17
I think her sister needs an upgrade to 177 cm.
Mark(5'9.25")
said on 29/Mar/17
I think Venus could be 6'0.75". similar to Cena, Cavill, and Pine.
Mark(5'9.25
said on 22/Feb/17
Rob, who would measure taller, John Cena or Venus Williams?
Editor Rob: sometimes I would say both could seem the same range...tough one, Cena I wouldn't go less than 184, at times 184.5 seems very possible...venus I never thought was a big solid 6ft 1, more in the almost 6ft 1 range.
Flairbots
said on 25/Jan/17
Fowler and Evert just said they think she's actually 6'3.
Dudly Dooright
said on 24/Jan/17
Of course all these women are this tall. Whoever says different is clearly mad. Oh, Roger Federer is shorter than Maria S.
Chris297
said on 15/Nov/16
Can look anywhere from 6"-6"1. Personally I think her sister needs to be upgraded to at least at strong 177. 2.5-3 inch is all I see between them when in same footwear and posture.
Tiger
said on 2/Nov/16
Perfect example of someone who is very close to 6'1 but just slightly under
the Slav
said on 21/Oct/16
Wouldn't list her over 6'0. Doesn't look 6'1 or 6'0.5 to me but I could be wront
anon
said on 11/Aug/16
this listing seems pretty accurate, she is at least in that 6'0- 6'1 range solid
anon
said on 10/Aug/16
How Tall would you guess British tennis Player Johanna Konta have seen her listed as 5'11 and 6'0 she does look at least 2 Inches shorter than Venus tho, I would guess she must be more like 5'10 range maybe similar to Laura Robson, seems most the women get listed 1-2 Taller than they are outside of the williams sisters.
Any Idea on Konta's height?
Editor Rob: 5ft 10-10.5 range might be likelier than 5ft 11.5-6ft!
heightchecker34
said on 3/Aug/16
I'm sorry, but I have been watching tennis for a long time, and anyone claiming Venus is under 6 ft is either trolling or new to the game. She has ALWAYS looked at least a minimum of 6 ft, always looked at least 3 inches taller if not more than Serena. I always thought she was actually in the 6'1 range, but with Sharapova's downgrade, I believe she is under Maria by an inch. Underrated player because she will always be in the huge shadow of her sister, but nice and humble player and in my opinion a future Hall of Famer for breaking many glass ceilings.
Alex
said on 4/Jul/16
Nope, her barefoot height is around 181 cm. As always, the heights in tennis game is listed with shoes.
RRR
said on 11/Jan/16
Karolina Pliskova is 6'1 (1.86 ) and Venus is taller her.
Click Here
Emil 183 cm
said on 17/Dec/15
I see 5'11.5 for Venus Williams and 6'1 for Sharapova. Just my opinion
Est
said on 18/Aug/15
Um...I find Galina a strong 6' lady.She is much taller than Mladenovic(1.84m in WTA),Govortsova(1.82m in WTA)and a little taller than Safina(1.82m in WTA and 1.85m in her official website)!I think Venus is at least 6'¾(1.85m).At the height,she is often a bit crookbacked.
tiny
said on 26/Nov/14
Yeah, Venus always had a very athletic body for her 6'1" frame. During her peak she weighed around 165 lbs but now I guess she has gone up to around 185 lbs which is the same as the much shorter Serena. If Venus who is genetically thin can put on so much weight I guess Serena will easily go upto 220 lbs when she stops playing.
Rampage(-_-_-)Clover
said on 7/Nov/14
Big girl...
ikura
said on 15/Aug/14
Legit 6'1.
Matt 184.7-186.7cm
said on 26/Oct/13
Not under 6 feet.
Emil
said on 12/Sep/13
She's no more than 5'11 unless Federer and Nadal are 6'3
K
said on 24/Jun/13
To make it fair, she should play two to four small girls at the same time. Small girls can't compete against giantesses. Maybe there should be a separate league for girls 5'4 and under.
nona
said on 11/Mar/13
Yeah Venus is closer to 6'2" and Serena is almost 5'10". Guess because of her broad muscular frame Serena looks shorter. Serena's shoulder & back muscles are huge and her calves are bigger than the thighs of girls like Maria Sharapova and Victoria Azarenka.
Fed
said on 8/Mar/13
Galina is 183cm or 6 feet, Venus is taller , more like legit 6ft1
Copnovelist195
said on 9/Nov/12
I took a snap of Venus at the practice courts of the Eastbourne tournament immediately prior to 2011 Wimbledon and I can assure you she's a genuine 6ft1 (185cm). Serena, also at the same tournament, looked taller than her 5ft9 and big with it.
nona
said on 7/Nov/12
RRR - How tall is this Galina? She looks very attractive, must be one of the long line of tall russian tennis players with long legs and a killer body
mister
said on 30/Jan/12
You can never say 1.80m for Woz. McEnroe intervied her and she is way shorter than him, and he's listed at 1.80m!!
Ricky
said on 28/Oct/11
Hmm Jake, in fact, after watched a lot of pics of Ana, I'd say about 181/182 for her...
jake, 1.82 m
said on 14/Oct/11
Ivanovic 180 cm? Come off it, she's at least 183 cm. 6' 2" Djokovich doesn't have more than 2 inches on her.
Ricky
said on 13/Oct/11
Venus 184
Sharapova 185/186
Dementieva 181
Ivanovic 180
Safina 183
Serena 176
Wozniacki 175
anon
said on 14/Sep/11
Guess Venus inherited her dad's heihgt and Serena her mom's build. Not saying that Serena at 5'9" is short but with her height takes a back seat when compared to her size and strength
Ron
said on 24/Jun/11
Lindsay Davenport can never be shorter than 189cm, probably 190cm
Andy Roddick (188cm) said Lindsay is taller than him
Rampage(-_-_-)Clover
said on 20/Apr/11
Venus Williams 6"1(185cm)
Maria Sharapova 6"1.5(187cm)
Lindsay Davenport 6"2(188cm)
Ron
said on 1/Mar/11
One thing I;m pretty sure, Venus is at least 3cm higher than Ana Ivanovic. If Any of you here absuedly say Venus is normally 183cm ,than Ana is 180 at most. However, Ana is at least 2cm higher than Dementieva when they both wear sneakers. Could Dementieva only 178? ridiculous! Dementieva is 181cm!! So Venus is surely over 185cm
Ron
said on 1/Mar/11
If Venus is 184 at most, Then I am very sorry, Maria Sharapova is no more than 185cm
RON
said on 22/Dec/10
more than 1.85 no doubt
moreover Safina is 1.85 too she is very hunched if she stands straight Safina is definately 1.85
Anonymous
said on 6/Jul/09
During the Wimbledon finals between the powerful Williams sisters couldn't help but notice that venus who was always so much thinner than Serena looked almost as bulky as serena. Venus looks to have worked hard on those arms & shoulders which appear bigger and broader than ever on her. At her imposing 6'1" height she now looks even more intimidating with those muscular shoulders & arms. I guess she is closer to about 190 lbs now
Anonymous
said on 29/Jun/09
Ana Ivanovic - 5'11" & 165 lbs, Elena dementieva - 5'11" & 160 lbs, Nicole Vaidisova - 5'11" & 160lbs, Dinara Safina - 6'0", 170lbs, Venus Williams - 6'2" & 170lbs & Maria Sharapova - 6'2" & 155lbs. Amongst all these girls the best looking one is Nicole Vaidisova, though her game has just disappeared
J.J.
said on 24/Apr/09
Rob please if Venus stood straight she would actually look 6'1.5" next to Glen I think she is a solid 6'1" & 6'1.5" is possible
Random Person
said on 24/Apr/09
Hmm I'm gonna say Venus could possibly be 6'1.5
Nicki
said on 24/Dec/08
I saw Venus the other day at my local Whole Foods store with a butch type "girlfriend" shopping together and I am certain that Venus is 6'5". She just doesnt want anyone to know because it makes her seem like a freak. If you don't believe me then look at any random pictureon the web and you will see that she is intentionally bending her knees.
RRR
said on 4/Sep/08
Yes, Ana Ivanovic is 5
anonymous
said on 29/Aug/08
ana ivanovich isnt really 6'1'' shes realy about 5'11''
Josh
said on 29/Jul/08
Yeah 6'0.5 (184cm) is right and her sister is 5'9 (176cm).
diana
said on 5/Jul/08
she always looks a strong 6'1 her sister serena i dunno if shes 5'10...
i mean this picture is proof
she looks stupid here cause shes slouching but she still is 4 inches taller than glenn
Anonymous
said on 24/Jun/08
Ivanovic is stated at 182cm (5ft11.5in?) during her Wimbledon match (First Round) this year. When she stood beside the 183cm Safina during the trophy presentation of the French Open, she looked to be a weeee bit shorter (even though she was stated at 185cm during the French Open game).
Oddly, the Wimbledon.org website states her as 183cm.
Bruce
said on 12/Jun/08
oh please she is a strong 6'1". i met her playing in wimbledon; she stood beside my cousin(6'1") & they were exactly the same height.
ironmike
said on 10/May/08
i agree on everything but ivanovic being 6'1, she just doesn't look like that, she must be 6 foot no more,cuz there are pics with hantuchova,who is 5'11.25(1,81m), side by side and she is just a very little bit taller.
Anonymous
said on 5/Dec/07
I always thought of Petrova as 5'11" or 5'10.5" and Ivanovic at 6'.
glenn
said on 8/Oct/07
september 2006.
Peetie
said on 7/Oct/07
Why she smile very funny and leaning a lot ? I want to see how exact different between Glenn and Venus.
Glenn when did you take photo with Venus ?
sam
said on 20/Sep/07
Wow, I'm amazed by the "Sharapova Canon" shot in RRR's Flicker photos. Never knew there were that many tall girls around...Sharapova just looks average for that group.
RRR
said on 19/Sep/07
Cat look the pics
Click Here
Sharapova is taller Ivanovic and Venus,, and Venus is taller Ivanovic
Cat
said on 7/Sep/07
Ana Ivanovic and Maria Sharapova have the same height around 6 ft 1 (185,5 cm). A. Ivanovic claims herself that she is 6 ft. 1 now. Venus must be around 187 cm.
Anonymous
said on 5/Sep/07
Venus defnitely looked taller than Ivanovic by atleast 2". Since Ivanovic is listed at 6 ft Venus must be abt 6'2" and Sharapova 6'3"
Anonymous
said on 2/Sep/07
Venus looked taller than Ivanovic during their match today. I mean like easily taller. I think she's 6'1" but has horrible posture.
MCI
said on 3/Aug/07
i really didnt know tennis players were that tall, untill I saw her at wimbeldon or how ever u spell that. She was extremely tall and thats why I had to check it out, and Im hearing maria is even taller than her, WOW, im amazed!
JanJ
said on 31/Jul/07
she's 6'0.75
1.75 inches shorter than 6'2.5 lindsay davenport
Click Here
Anonymous
said on 23/Jul/07
I think she's 185, she has HORRIBLE psoture though where as Sharapova has really good posture.
Anonymous
said on 17/Jul/07
I recall a BBC interview with Venus at her second Wimbledon (with Garry Richardson) whom she dwarfed considerably. I think she had her hair plaited with the Wimbledon corporate colours (of purple and green). So a few years back - with no Serena just yet. That same year there was a locker room post-match interview that the BBC did (I think it was Sue Barker) in which she was asked if she had grown, and she replied that she had and thought she had now stopped. She said she was 6'1" (not sure if she added a half) but she went on to say "6 foot 3 in tennis shoes". I remember this last bit quite clearly as Venus seemed as if she was giving the interviewer what they wanted - ie 6'1 maybe not tall enough for ya, hey well I'm 6 3 with my shoes on. This then is either a bit of bravado on Venus's part - or the WTA do indeed measure barefoot - if they do indeed verify players heights at all (if this siteis anything to go by).
[Editor Rob: see Vincent Spadea quote. The tennis folk don't appear to do measurements and if they do, they should be hung by the rafters.

He is listed for eternity at 6ft on official tennis sites, yet none of them bothered to check what he said - he said 5ft 10.5.

Michael Chang is another. He stated he was 5ft 9...in shoes. Yet the honorable gent got listed 5ft 9 for his career.]
Adam
said on 17/Jul/07
Remember that the WTA measure players in shoes and i can imagine that the height Rob made Venus from looking at this picture is more accurate to her barefoot height which is what we are after.I would say from looking at her tennis shoes thay have to be in the region of 3-3.5cm so take that off her 187cm that she says and you are looking at 184cm i would say. Maria would probaly be on the 185-186 mark and Linsays prbably 187-188?
whatsername
said on 12/Jul/07
if it said that maria is 9 inches taller than justin, that means she must be around 5'5"...hey 1ft equals to 12inchs dude....remember
ryan
said on 11/Jul/07
going by the commentator i think she is 6.1.5
Anonymous
said on 11/Jul/07
the commentator on wimbeldon told that she has grow a bit and she was taller than his 185 cm frame
Lika
said on 31/Jan/07
You know, I think she is taller - 187 cm, I guess... All the photos I have seen do confirm that!
Alex
said on 22/Dec/06
She could be 6'1 maybe. Was she shorter than Maria Sharapova though? She's over 6'0 though. 6'0.5 could be right. Its possible she is 6'0.5 and Serena is 5'9.5 and they just rounded up for their listings.
Height Tracker
said on 9/Dec/06
Glenn,
What did you make of Venus's height?
rick
said on 21/Nov/06
For Venus I'd say just under 6'1" ( 6'0.3/4" ), Davenport looks 6'2.5". And for me, Sharapova is around 6'1". I don't trust her official height.
RRR
said on 20/Nov/06
rick, about you, which is venus height??? and davenport and sharapova???
rick
said on 30/Sep/06
Looks around 4 cms taller than Elena Dementieva =
Click Here