Ving Rhames Height
5ft 11 (180.3 cm)
American actor best known for roles in films like Pulp Fiction, Dawn of the Dead and Mission Impossible, Con Air, Undisputed, Out of Sight and Dark Blue. In the Tampa Tribune (21/2/97) he said
"I'm only 6 feet"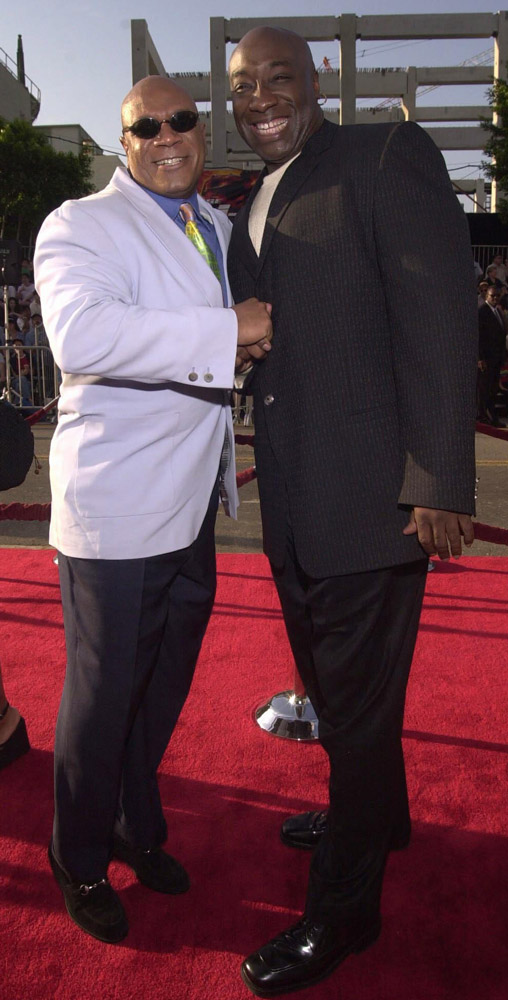 Photo by PR Photos
You May Be Interested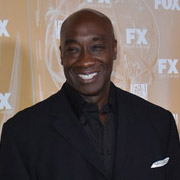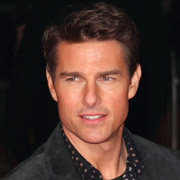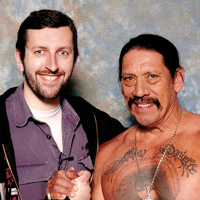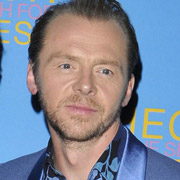 Add a Comment
115 comments
Average Guess (29 Votes)
5ft 11.19in (180.8cm)
Ramin Asgarov
said on 13/Dec/20
Ving is almost the same height as Gary Oldman in Sin (2003).
He's 5'9.5 max
Miss Sandy Cowell
said on 26/Nov/20
Ving probably was nearing 6ft at the time 'Pulp Fiction' was made.
I'll have to check out his performance in 'Con Air'; it's only a few feet away, and the last time I saw it, I wasn't at the stage of knowing 'Pulp Fiction' the way I do now.
5ft11.75. ✈️🐇😳🔫😛
Frank Col
said on 30/Aug/20
Ving Rhames is not 5ft 11. You cant blame him for lying as all his co stars lie about their heights and he is usually taller. When shortish Bruce Willis is taller than you in a movie then you will have to settle for 5ft 10.
Daniel
said on 19/Jun/20
Did Bruce Willis use platforms in Pulp Fiction? He looks at least 2 inches taller than Rhames in thar movie. My guess is no more than 5'10'' for Ving.
jano
said on 18/Jun/20
I thin 5 11 1/2 may be a better estimate, he looks tall near guys like Tom Cruise (probably with his lifts), Jeremy Renner, Simon Pegg.
Miss Sandy Cowell
said on 12/May/20
Oh, I forgot to mention that I found 6ft for Ving just now, which I feel is highly probable for his morning height.
Miss Sandy Cowell
said on 12/May/20
🎁🎂🎈🎉 Happy Birthday Ving! 🎉🎈🎂🎁
A Very Happy Birthday to Ving Rhames, who today celebrates the 61st anniversary of when he first popped into the World.
5ft11.25 but sounds taller! 😆👍
🎁🎂🎈🎉🎁🎂🎈🎉🎁🎂🎈🎉🎁🎂🎈🎉
Miles Yeargain
said on 23/Jan/20
6'0
Fidus
said on 1/Jan/20
I really doubt he's anything over 5´10", and even that's probably pushing it.
Sandy Cowell
said on 19/Dec/17
@ Ian C - Hi! How kind of you to join in and voice your opinion!
I am not aware of what Alan Ladd sounds like, but I will keep my ears and eyes peeled! I am more akin with his female family members!
Nice to chat to you Ian! Take care! 😁
Ian C.
said on 17/Dec/17
I also am amused, Sandy, when an actor has a bigger or smaller voice than the size of his body. The champ here is probably little Alan Ladd, who has a deep baritone, and who speaks with calm strength.
Clint Eastwood, on the other hand, who is big and strong, has a light, breathy voice that he is obviously trying to make deeper.
John Wayne has the perfect voice for his body and personality. So does Buddy Hackett.
Sandy Cowell
said on 9/Dec/17
In the passage above, I've just read the quote, "I am only 6ft!"
Well, guess what folks? I'm almost inclined to agree with him! If ever a guy had the voice of a big, tall man, it's Ving here!
I have on in the background, whilst awaiting the next film, Ving's movie 'Day of the Dead', and I simply HEARD that he was in it, rather than check it out in my TV guide! That man sounds like a giant! I had to find out the height of the owner of this bellowing voice, and I see that he is only 5ft11. I was expecting 6ft3 or so and if that sounds daft, that's probably because it is, but only vaguely so, as I do think that something in our psyches expects a thundering great voice to emanate from a big man and the owner of a squeaky voice to be a small fellow. It's biology and it makes sense! A big wind instrument makes a louder noise than a small one!
There are always exceptions to every rule but on the whole, I think it's logical.
The 'bellower' can have 5ft11 and a quarter!
Al
said on 23/Jul/17
His peak was 182, maybe a weak 183, nowadays I'd say a strong 180
Realist
said on 20/Jul/17
5'11 Max he never looks tall just big this is coming from a 176 cm guy...
RisingForce
said on 13/Jun/17
He could seem near 2" taller than Kurt Russell, who seems a solid 5'9", but maybe the old 5'10.5" listing was closer since there's very little difference between Ving and 177 cm Adam Sandler here:
Click Here
He really didn't look that much taller than Wesley Snipes either, though Snipes can look taller than his probable weak 5'9" at times himself. Maybe he wears thicker footwear at times?
Canson
said on 23/Mar/17
It's tough to say. He looked huge in Baby Boy but small in other movies he was in at times one of which wheee he played a drag queen at night and a boxer during the day.
Sandy Cowell
said on 22/Mar/17
I would have believed Ving to scrape in at 6ft! He does look taller in my eyes than 5ft11, but I am going to put it for him anyway!
Rent
said on 27/Dec/16
In Pulp Fiction, when Travolta an Jackson in beach clothes comes to his night club, Travolta looks noticeably taller than him, I mean about an inch or little more, at this times Travolta was at his peak height (6'0.5") so 5'11" sounds right for Rhames.
Rampage(-_-_-)Clover
said on 30/Oct/16
Much shorter than I thought
Marquis
said on 25/Sep/16
Looked barely taller than 5'9" to 5'10" Adam Sandler in I Now Pronounce You Chuck and Larry.
Is probably a 5'10" or 5'10.5" guy, at most.
Rick
said on 17/Sep/15
Arch Stanton said on 4/Jan/14
Seemed near 6 ft to me in MI3.
And so did Tom Cruise... just saying.
Chief
said on 26/Aug/15
I'd say he's 5'9" at the most...I was walking behind him once and looking way over his head and I'm only 6'2"...No lie why would I want to?
Arch Stanton
said on 26/Jul/15
Rob can you add a photo and Con Air? In Con Air there's a mug shot and he's about 6 ft, would have been in shoes so about right.
james
said on 3/Apr/15
5'11 with footwear is more accurate
Arch Stanton
said on 4/Jan/14
Seemed near 6 ft to me in MI3.
Anonymous
said on 11/Mar/13
2-3 inches shorter than Nick Cage in kiss of death...More like 5'10 barefoot....and 5'11 with shoes if he's lucky
Elijah
said on 28/Jan/13
I love it when people say "I'm only xx" for a height that they really aren't.
And on what planet is 6' "only"?
MHouillon
said on 4/Sep/12
Travolta = 6ft, Rhames = 5'11
matt678
said on 6/Aug/12
honestly 5 foot 11 and 6 foot r the same thing
Hob
said on 6/Aug/12
sometime he look a flat 5'10. maybe 5'10.5 and morning 180cm
Big Mike
said on 1/Feb/12
Yea I thought he was like 5ft11 or 6ft in like Dawn of the Dead and Pulp Fiction he looked like an inch or two shorter than 6ft1 Travolta
Popcorn
said on 31/Dec/11
Looks about 6'1 in dawn of the dead lol
Ajax
said on 28/Dec/11
@Dmeyer
I know some guys who don't even make it to 5'10" who claim
There 6ft which is ridiculous. It's like if your gonna exagerate your height make it
Believable lol. By the time you hit the 6'2" with some exception, guys will stop exaggerating
By then IMO.
Nish nosh
said on 20/Dec/11
Solid 6 footer. Not a hair under.
Soviet_Rebel
said on 22/Sep/11
Click Here
Shorter than 6ft Terrence Howard, so i think 180cm is a good estimate.
Don't forget that he always wears BIG (VERY BIG) boots.
Dmeyer
said on 17/Sep/11
Thanks Rob 179cm seemed too small for him 5'10.75-11 is closer 180cm dits him
Adamz
said on 17/Aug/11
I think Ving Rhames is taller than this listing.
Tyler
said on 11/Aug/11
Definite 6 footer. Grey Ghost's photo confirms this.
Sam
said on 9/Aug/11
Weird since he looked 6 feet compared to Sigourney Weaver and Kevin Kline in Dave
dan
said on 14/Jul/11
this height obsession with people is ridicules.are people that insecure they have to try and find something they think is wrong with someone to make themselves feel better?the height complex comes from all the people making fun of shorter people so don't blame small people for something society pushed on them=truth.
Tyler
said on 2/Jul/11
Grey Ghost, your photo basically proves Ving is around 5'11"-6'0".
Uncle Al
said on 28/Jun/11
I met him in San Juan. He is no more than 5'9". I am 6'4" and he appeared to be very short to me.
George Fergadiotis
said on 8/Jun/11
Rob you had him once at 5ft 11.5? You 're dissapointing me! I can't be sure for noone at 5ft 11.5 now!
dmeyer
said on 16/Mar/11
he might be 5 ft 10.5 at 11 pm most of the day near 5 ft 11
dmeyer
said on 12/Feb/11
to me this guy looks 179 to 181 in pics defenetly near 5 ft 11
dmeyer
said on 12/Feb/11
this gy is a good inch taler than 5 ft 9.75 to 5 ft 10 sandler taller than cruise in lifts a couple of in taller than 5 ft 9 wesley snipes a lidl shorter than nic cage and willis at theyr peak 5 ft 10.75 to 5 ft 11 is closer also he claims 6 ft usualy 6 ft claimers are no less than 5 ft 10.75 is 180cm possible rob
Mike A
said on 3/Feb/11
Yea about accurate he looks taller sometimes cause again hollywood makes him wear boots in Dawn of the Dead I thought he was 5 ft 11 but in Pulp Ficton he is a good 2 inches shorter than 6 ft 1 Travolta I would say 5 ft 11
tell-em
said on 28/Jan/11
hes actually 1 inch taller than sandler. rhames is around 5'10"
8
said on 29/Dec/10
I would say 5'9 1/2 at most. He is the same height as Adam Sandler, if you watch the movie i now pronounce you chuck and larry there is a scene where they hug and you can see this. The fact that he said im 6'0 is funny as hell.
RisingForce
said on 3/Jul/09
Ving reminds me of Vin Diesel and Telly Savalas because I expected all to be over 6 feet when in reality none are 6 feet. Telly and Ving are probablky 5'10.5" like they're listed here and Vin is probably 5'11.5".
Daniel
said on 2/Jul/09
I agree Richard
RICHARD
said on 9/Jun/09
Ving needs a downgrade to 5'9-5'10 because in Pulp Fiction he was shorter than Bruce Willis and then in Bringing Out the Dead he is shorter than Nicolas Cage by at least three inches. Willis is 5'11.5 and Cage is 6' and Ving only looks 5'10 MAX next to them. I'm quite surprised myself,too because I always thought Ving was 6'3-'6'4 before he stood next to taller actors.
unknown
said on 26/May/09
Anonym...I remember entrapment and your right, they looked damn close! I feel maybe lifts were involved but I can't see Tyrese being listed at nearly 5 feet 11 when in "Baby Boy" the movie he was shorter by at least a half inch under Ving...go figure!!!
Luis
said on 28/Apr/09
Anonymous, maybe in that film Rhames wear special lifts or something. He can't be more than 180 cm. In Pulp Fiction, when he's crossing the road in front of Bruce Willis's car, he looks more in the average height, not very tall. And Willis (181-182 cm) is slightly taller than him. Another example is Undisputed. Michael Bailey Smith is 193 cm and when he's standing next to him in the bathroom, he looks clearly about 15 cm taller than him. I think 178-179 cm is good for Rhames.
anonymous
said on 28/Mar/09
i just watched entrapment again the other day and surprisingly he looked very close to sean connery's height (6 2) in that film... Hmm
RisingForce
said on 22/Mar/09
Mr. R will like this downgrade. He claimed 5'10.5" all along. 5'10.5" makes sense. He looks like a solid 5'10" and his frame makes people expect him to be bigger than he is.
Clay
said on 10/Mar/09
Yeah - props to you on the change Rob. Next up is giving Willis a .5 inch upgade!
Daniel
said on 6/Mar/09
Well done, Rob. It was time for a downgrade, and I still think Rhames is no more than 1.78m peak
Clay
said on 5/Mar/09
You know I got your back on that one Glenn.
Daniel
said on 5/Mar/09
I've just done it, Glenn! :)
glenn
said on 4/Mar/09
daniel,can you post this on the bruce willis page.people here are stubborn at not believing the 6-1 willis claims,and that i also see in the flesh.
Daniel
said on 2/Mar/09
How can this guy be listed here as tall as Bruce Willis when in Pulp Fiction Rhames was easily 3 inches shorter?
Jake
said on 19/Feb/09
Change Ving's height to 5'10, I've even heard him state in an interview somewhere that fans are shocked when they see how much smaller he looks in person thsn in the movies.
Alex2401
said on 19/Feb/09
Ving is 5'10 at his best.He never looked 5'11.Range 175-178cm is fine but no 182,
no way.
Clay
said on 16/Feb/09
Rarely do I say this Rob but time for a significant downgrade...
Clay
said on 15/Feb/09
Didn't look taller than 5'10 Sandler in that movie. Whats head scratching is the people around here saying Sandler is barely 5'9. If anything Sandler edged him out by a half inch or so.
Vibram
said on 9/Feb/09
Click Here
Looks the same height as Tom Cruise (5ft7.75) who would be in slight lifts to make himself 5ft9.5 - 5ft10 in shoes. From this, could Rhames be no more than 5ft9? and perhaps even in the 5ft8 range?
RisingForce
said on 29/Dec/08
Mr. R is right. Ving wasn't much taller than 5-9ish guys like Wesley Snipes and Adam Sandler plus he was visibly shorter than 6-0 max Nicolas Cage.
ZAQ
said on 28/Nov/08
He is legit 5'10
in chuck and larry when adam sandler and him were in the basketball court standing face to face they were exactly the same and if sandlers 5'10 then so must Ving
thekiddd
said on 20/Aug/08
The Funny Thing is he once said that people were surprised that he wasn't as big as they thought he was or something. But I always thought that 5'11 1/2" is to generous. I'm thinking he is about 5'11 or 5'11 1/4".
Mr. R
said on 8/Aug/08
Ving is listed an inch taller than he really is. He is a little over 5-10.
adrian
said on 29/Jul/08
i worked with him on teh set of Kojak and he was shorter then me by about at least an inch...im 5'10...i say he is 5'8, 5'9 tops
Dan
said on 14/Jul/08
Looks about the same height as 5'9" listed Wesley Snipes in the shower scene in "Undisputed". Both are barefoot.
Click Here
Daniel
said on 9/Jul/08
Rob, What happened to the comment that was just before my last one?
Daniel
said on 2/Jul/08
Yes, of course 5'10'' seems reasonable for Rhames
Daniel
said on 17/Apr/08
He doesn't look much taller than Cruise because he ISN'T much taller. In Pulp Fiction, Bruce Willis clearly is at least 2 inches taller than Rhames.
kiki
said on 16/Apr/08
in out of sight he looked taller than clooney and clooney is 5'11" but in mi2 he doesn't look much taller than cruise? not sure how tall cruise is?
Daniel
said on 4/Apr/08
Nope, he is no more than 5'10''. Again, watch "Pulp Fiction" if you don't believe me
Daniel
said on 3/Apr/08
Nope, 5'10'' max, and that's pushing it
thekiddd
said on 1/Apr/08
I never thought he was even 6ft. I can see why some people would think that because of his burly body and great posture. But he only looked about 1 inch taller than Sandler in Chuck & Larry. I would say exactly 5'11".
Cj
said on 29/Feb/08
ving rhames said in a interview in the sky monthly magazine that he is 5ft 10in if i remember what i read a few years back anyway he went on to say people expect to see me at 6ft2in or 3 when they meet me but im smaller than i look im only 5ft 10in it could of said 11in it was quite a while ago but it shocked me when i read it becaues i thought he was a 6ft+ guy.
dmeyer
said on 11/Feb/08
rob is 180 maybe 181 possible ,or is he alwais gonna be 182
[Editor Rob: you don't rule out little shorter no.]
Lmeister
said on 11/Feb/08
Didn't really look much taller than Adam Sandler in "I Now Pronounce You Chuck & Larry". I think he is a weak 5ft11.
dmeyer
said on 10/Feb/08
ths guy is 5'10.5 to 5'11.25 aleast 179 max 181 182 is a bit high
Daniel
said on 18/Dec/07
If you watch Pulp Fiction, it's clear that Rhames is at least 2 inches shorter than Willis, who is listed here at 5'11.5''
Adam Brennon
said on 1/Oct/07
Chris, perhaps you should consider his 200 lbs of muscle; it could well account his looking 'huge' at 5' 11".
Viper
said on 26/Sep/07
You think he would be 6-4.
Chris
said on 24/Sep/07
I'm surprised this guy is only 5'11". Most times he looks huge.
dmeyer
said on 20/Sep/07
he can look only 2 in on cruise when cruise has lifts cruise looked 0.75 in taller than 5'9 statham in collateral and 2.5 in over rufalo who is a 5'8 flat i met him ving could be 5'10.5
Mr. R
said on 20/Sep/07
Thanks for your support Daniel!
Daniel
said on 18/Sep/07
I agree with Mr. R. Rhames is 5'11'' or even less than that.
colton
said on 13/Jul/07
he was 210 in undisputed cuz he had to get in boxing shape in dawn of the dead he was atleast 260.
vandal
said on 10/Jun/07
Sharon, Danny Devito is 5'1 in his dreams.
Sharon
said on 10/Mar/07
Well this is different. Ok he is 5'11 1/2, what the big deal? Where is the website that discusses this brother extradionary acting ability, I think that matters a hell of a lot more than how tall he is. Danny DeVito is 5'1 so what. I guess there are no lovers of the arts here, just those interested in outside appearances oh how boring... bye
Glenn
said on 25/Dec/06
He was in town last week.knew where to look.didnt see him.
Derek
said on 2/Dec/06
I was wondering the same thing. He looks at least 240.
Anshelm
said on 22/Nov/06
I remember him saying (more or less accurately) in Premiere magazine "I'm not that big. I'm 6 feet and 210 pounds". He also mentioned that people are often surprised that he's not as big as they've thought.
Ed
said on 2/Nov/06
They must have given Cruise some extra special lifts, and used serious camera trickery in Mission Impossible 3 because he looks maybe an inch shorter than Rhames. I have no doubt Ving is this height, I just think it's comical that with boots he'd be near 6ft1, and little 5ft7 Tom Cruise can look near Ving's size. It just shows you that movies are a lousy way to judge height!
Derek
said on 30/Oct/06
I was watching Baby Boy with Ving and Tyrese, and Ving looks marginally taller. A tad under 6' is likely for Ving.
Viper652
said on 7/Jul/06
I thought Ving was mad tall back in the day when I was younger.
Jason
said on 6/Jul/06
I really took this guy for a 6 footer, maybe even 6'1. I think it depends on your build, because 5'11 seems to be tricky height to spot, some look 6ft or more, some appear 5'9ish.
Anonymous
said on 9/Feb/06
even thaugh he is about 5'11.5" he seems tall maybe because he is big when you see him walking by himself he can easilt look 6'1" or 6'2"
Marc
said on 3/Jan/06
I'm Watching Pulp Fiction now. When he was next to John Travolta he was about an .5" to 1" shorter than him. 5'11.5" seems about right. He's pretty burly so probably seems larger than he actually is.
MHouillon
said on 30/Jul/05
Just saw Con Air. Rob! He´s a 181 cm max !
MHouillon
said on 10/Jul/05
Okay, after watching "Pulp Fiction" and having a closer look to Ving yesterday, I´d put him to a exactly 181cm.
Mr. Awesome
said on 7/Jul/05
This height seems fairly accurate...I actually don't think he appears as big on screen as people are indicating. In Pulp Fiction, he looks shorter than Bruce Willis, and he is one of the shortest guys in that film, 'cept Harvey Keitel (who looks short next to anyone and I seriously doubt his claim to be almost 5'8''), and Tim Roth (who is never seen with Ving and is sitting 90% of the time). Pulp Fiction was first movie I had ever seen with Ving in it, and the first time I watched it, I estimated him at 5'10''-5'10.5'' not knowing who he was or his real height. Although I tend to think he's slightly shorter than the mark you have him at, Rob, he certainly could be 5'11''. I think Mr. R is right on with his estimate.
Mr. R
said on 26/Jun/05
Hey MHouillon, you aer right. I meant to say DARK BLUE as the Kurt Russell/Ving Rhames movie I worked on. When we shot the film in Summer 2001, it was called PLAGUE SEASON, based on James Ellroy's novel.
MHouillon
said on 25/Jun/05
Hi, Mr. R. You worked with Ving and Kurt on DEEP Blue ?
I know there´s a movie with Kurt & Ving that´s titeled DARK Blue. Very mysterious...
Scully ? Yes, Mulder...?
I saw him in "Bringing out the dead" and realised he might be very slightly under the 5'11" mark. 5'10.5" is possible...
Mr. R
said on 17/Jun/05
Again, I worked with Ving on a film and stood next to him. I am 5'11.5", and he was about an inch shorter. Ving is 5'10.5"
CasperUK
said on 16/Jun/05
He looks massive, i thought he was around 6'4 when i first saw him but i was misled by his bulk. I was suprised to see that he is less than 6 foot, he was barely taller than Clooney in that film they did with J-Lo in it. I suppose having big bulk makes you look massive.
Mr. R
said on 19/Apr/05
While shooting Deep Blue with Ving and Kurt Russell, the director Ron Shelton called for a break. I left the stage and began to file out with the others. Somehow, I ended up walking directly behind Ving as we left the room. I was at least an inch taller than him. I peg him at 5'10.5".
Issheuhboy
said on 18/Apr/05
Here's Michael Clarke Duncan with Mini-Me
http://www.reviewjournal.com/lvrj_home/2000/Mar-10-Fri-2000/photos/home.jpg
J.
said on 18/Apr/05
http://www.detnews.com/2000/entertainment/0602/mi2/mi2.htm
Excerpted from the article:
"From watching him on screen, people tend to think of Rhames as a behemoth actor like Michael Clarke Duncan of The Green Mile. Rhames says they're surprised when they meet him and discover he's only 6 feet tall, half a foot shorter than Duncan."
Mr R
said on 14/Feb/05
He is closer to 5'11" at best.