Ryan Kwanten's Height
5ft 9 ¾ (177.2 cm)
Australian actor best known for playing Vinnie on tv soap Home and Away and Jason Stackhouse on HBO's True Blood. In film he can be seen in Red Hill and Dead Silence. Ryan said in an online chat
"I'm between five ten and eleven"
and also gave
"178cm"
as his height on another occasion.

Photos by PR Photos
You May Be Interested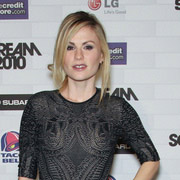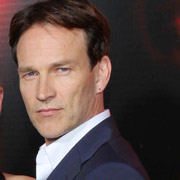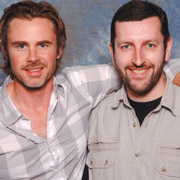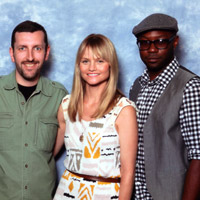 Add a Comment
47 comments
Average Guess (21 Votes)
5ft 9.76in (177.2cm)
Slim 6'1"
said on 30/Sep/20
As listed, 177cm
John Bricker
said on 6/Jun/20
I found a website with his true height. He is 5"8.5.
JohnMoore-162cm
said on 27/May/20
5ft9 3/4" spot on
Chk23
said on 10/Sep/19
5'9 3/4s or 5'10 frame. On the nose. Perfectly okay to say 5'10. Below that is just being pedantic.
TheBat
said on 7/Nov/18
Nice try Ryan, but you're not actually in the 5'10" clan like me! I say I'd give him a 5'9.5"/
MAD SAM
said on 21/Sep/18
177 cm seems spot on
khaled taban
said on 26/Jun/18
he is 5'9.5" exactly
Nik
said on 21/Apr/18
This listing looks too high!
MaskDeMasque
said on 19/Apr/18
I thought he looked 5'9 flat on Eric Andre.
even
said on 20/Jul/17
after waking up : 5'10" , before going to bed : 5'9.25"
ww
said on 1/Jun/17
nah he is 5'9.5 is correct
berta
said on 20/May/17
i think he is 178,9 in the morning and goes down to about 177,2 in the evening
MD
said on 16/May/17
With David Furnish who seems to be listed at 5'8", but I have no idea:
Click Here
I'm with delancey; I can buy 5'9" - might even be generous and say 176cm - but there is no way he's a barefoot 5'10".
delancey
said on 13/May/17
This guy REALLY needs another look Rob. I could maybe buy 175 cm/5'9 flat but 5'10 seems way too generous.
Editor Rob: at times Ryan can seem 5ft 9.5, I wouldn't rule that out, but 5ft 9 flat I'm not sure he looks that short.
Idk
said on 5/Feb/16
176 or 177
trav
said on 27/Dec/14
Nah he the same height as my homeboy hr claimed 5'10 or 5'11 but in reality they both 5'8-5'9
Jason
said on 11/Sep/14
I've just watched the very last episode of True Blood season 7. He does look like he is about the same height as Stephen Moyer. Rob, maybe you should have a second look?
Julian
said on 27/Aug/14
I think that 5' 9" is correct for Ryan, could maybe buy 5' 9.5".
_Clurke
said on 19/Jul/14
Click Here
I think Ryan cant be more than 5'9''.Because between of Zachary and Ryan minimum 3 inch and Darren is 5'7.5'' but if we think in the best way, Ryan is 5'9.5''.
Edy91
said on 15/May/14
If in Summerland Shuan Christian is 6 feet, Ryan seems to have 2 inches less than him which makes 178 cm legit.
But Rob, do you really think that Shuan Christian is a 6 he appears to more like 180 cm sometimes ? (Which puts Ryan at 175)
MD
said on 19/Jan/14
I don't think he's a full 5'10", either, but he's got a full inch on Trammell. I'd put Ryan somewhere in between 5'9.5" and 5'10". The difference is more than "slight". It's pretty noticeable.
Voiceless Dental Fricative
said on 17/Jan/14
I don't think he's a full 5'10. Only looks slightly taller than Trammell.
MD
said on 30/Dec/13
Not the best pictures, but with 5'7.5" Darren Criss and 6'1" Zachary Quinto:
Click Here
With 5'8.5" Sam Trammell:
Click Here
What I've noticed, and these pictures kind of show it, is that he generally always has better posture than others he takes pictures with making him look slightly taller than he is. I'm not sure if the pictures I posted show it, but I think he may be more in the 176-177cm range than a full 5'10".
Emily
said on 16/Dec/13
I still don't think he's this height. He looks shorter. But maybe it's because he has a small head. But that should make him appear taller.
Jason
said on 12/Nov/13
5' 9" looks more correct in my opinion.
Lorne
said on 19/Sep/13
Lol people he is taller than Deborah Ann Woll, who is legit 5ft9.5. He could certainly be 177cm, but 5'8 is a joke.
Daves
said on 27/Aug/13
I agree with @Emily. He looks shorter than this listing. Maximum 5'9".
cole
said on 18/Aug/13
5'10 looks rather spot on if Kazinsky is 6' and Manganiello is pushing 6'5.
Emily
said on 4/Aug/13
Do you really think he looks this height in this photo?
Click Here
I think he looks more like 5'8.
Jason
said on 22/Jul/13
I think he's more in the 5'9" range.
Juicey
said on 2/Jul/13
5'9 or maybe even 5'8 3/4 he's forsure a lift wearer moyer has an inch over him on the show trueblood
Anon
said on 3/Apr/13
This is too tall for him. Even Men's Health only claims 5ft 10. I'd say rather 5ft 9in.
peley
said on 14/Mar/13
he's not 5'10. I've seen him several times and I think I'm 5'10 and many ppl have told "no you're not!". He's shorter than me. 5'8 or maaaaaybe 5'9
Simon
said on 21/Aug/12
Saw him at the airport. He was boarding the same flight as me heading back to LA. Was shocked at how small he really is. Even my friend who is 5'9 thought he looked small. 5'8 at best. Very slender build too.
Silent d
said on 6/Feb/12
I remember in summerland he was about the same height as jesse mccartney. I can believe 5 foot 10 for his build but sometimes he looks 5 foot 9.
Mike
said on 13/Jan/12
interestin. Aussies usualy are tall.
SAK
said on 29/Nov/11
He is a typical 5ft10 man.
Eunice
said on 2/Sep/11
Saw him at a screening of his film Red Hill and he was standing like 5 feet away from me. He's definitely NOT 5'10." Im 5'10 and he looked at least 2 inches shorter than me and I was wearing flats.
Sam
said on 18/Jul/11
Appears fairly close in height to Stephen Moyer
voicelessdentalfricative
said on 5/Apr/11
Looks shorter than this to me, though, like with Moyer it's probably just his build
Realme2008
said on 23/Jun/09
WTF, are you talking about surprisingly short? You mean surprisingly average?
Anna is 5'5", and the average height for a woman is 5'4".
Ryan is 5'10"- average
Stephen is 5'9"- average
Alex is 6'4"- way above average!!
Debra (Jessica)- 5'9" or 5'10"
Tara- 5'6" or 5'7"
Seems to me everyone is average or above average on True Blood. Where did you come up with surprisingly short?
Josh.J
said on 27/May/09
the cast of tru blood must be surprisingly short. ryan looked taller than 5'10 but i guess its because of small castmates. the only exception is Alexander Skarsg
Leung
said on 21/Oct/07
I just watched Dead Silence, and Donnie Wahlberg is a little taller than him. I think Ryan is slightly under 5'10", maybe 5'9.5".
sweetblood
said on 31/May/07
well i like him but i think he is not 178 maybe shorter than 178 about 173 ...i think jesse is taller than him
CelebHeights Editor
said on 12/Dec/05
In another interview he stated:
"[I'm] 178 cm or the old 5'11""
. So he can't convert the 178 to 5ft 10...believe his 178 ;)
DudeX
said on 12/Sep/05
He can't be 5'10.5, and that's for sure. He is smaller than co-actor in Summerland Shawn Christian who is a legit 5'10 . I think he's 5'9. And that explains the 5'8 for Jesse Mccartney, cuz he always appears smaller than Kwanten
jimbo
said on 4/Mar/05
5'7 is tall for a chick .