LFCC 2006
Showmasters launched their flagship event - London Film and Comic Con (LFCC) - back in 2004. I first attended in 2006, when CelebHeights was gaining momentum. I flew down early on a Saturday and returned that evening. Myself and a friend treated it as a day out.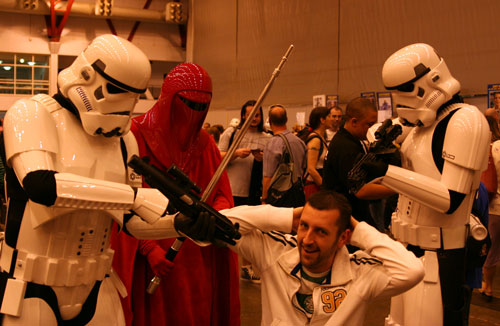 Rob @ LFCC 2006
While other convention organisers were already doing photoshoots (photo ops), Showmasters were slow on the uptake. After a few years of being asked on their forums, they finally started introducing them, albeit with a measly 3 photo ops, one of which was useless since the resident photographer offered Elijah Wood a stool to sit on, and another (Alan Tudyk) was only taking place on the Sunday!
Guests were usually seated behind long rows of desks, signing autographs all day, so any photos you were likely to get, would have been them leaning over a table - not exactly useful for showing their height.
This event was held at Earl's Court 2 (prior to this it was at Wembley Exhibition Centre), with about half of the hall space being used. There were some great guests that weekend who have never been back to another UK event, for instance this man below: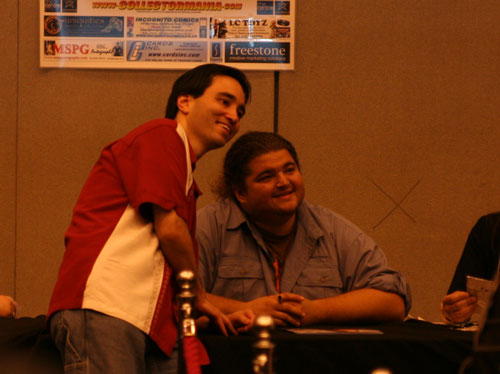 Jorge Garcia @ LFCC 2006
At all conventions, guest cancellations are an inevitable consequence of actors being in demand. Celebrities usually sign up to these events, with the proviso that should their schedule change, or another job arise, they might have to cancel their appearance. You learn not to get too disappointed. Still, look at a few of the names from 2006 that cancelled: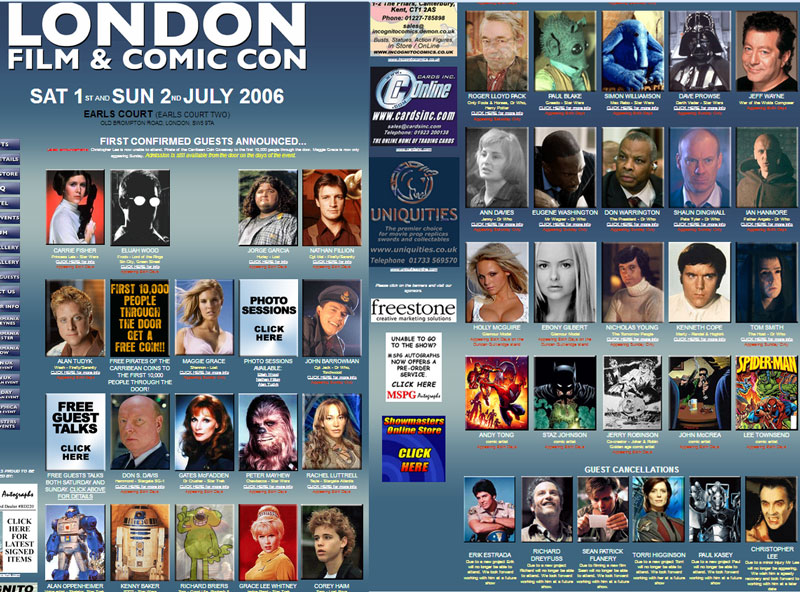 Guests @ LFCC 2006
Compared to what LFCC is like today, the 2006 event was relatively calm and easy to move about. What was once 30-35 guests has now turned into a behemoth in recent years, with 100+ guests in attendance.
Convention Tip: If you want photos of cosplayers, always show respect, compliment their costume, ask permission to take a photo of them and thank them afterwards.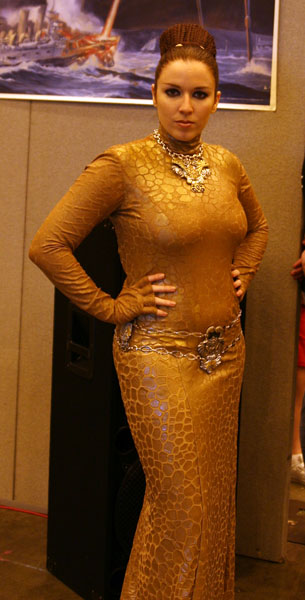 Cosplayer @ LFCC 2006
At conventions, they usually have some form of visual attraction, such as props, mock sets or movie vehicles. This event had the original Pink Panther car. Imagine trying to reverse park this beauty!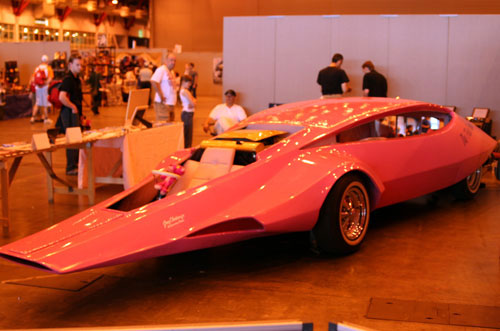 Pink Panther Car @ LFCC 2006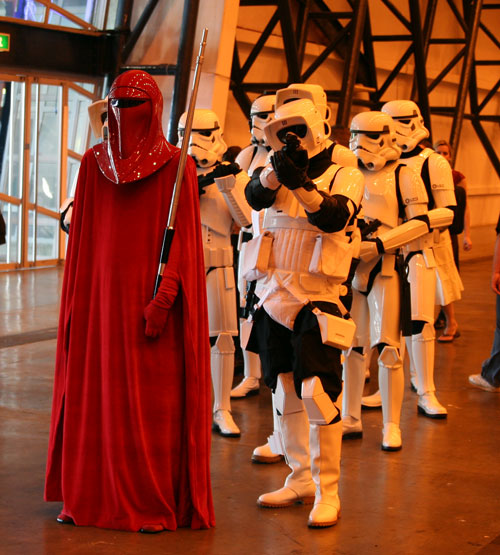 No Convention is complete without Stormtroopers
Photoshoot Count: 1
Nathan Fillion
LFCC 2007
With CelebHeights becoming the focus of my website portfolio, I decided to put more effort into getting content for it, and looked forward immensely to returning to LFCC once again. On this occasion it was moved to September. Seeing the popularity of photo ops the previous year, Showmasters introduced a few more guests to the schedule. This was the year the event moved to Earls Court Hall 1, and Heroes was *the* TV series of the moment.
That weekend (Sunday particularly) was Heroes mania, with Hayden, Milo, Adrian and Jack all in attendance. Oh, and Patrick Stewart was there too (but not doing photoshoots). It was the first time I realised how popular these events were becoming and also one of only 3 occasions where I've missed a photo op. I was waiting in line to get Milo/Adrian (who couldn't believe how many folk were in the queue) and it was moving so slow that I missed my shot with Nana Visitor, which was being done in a temporary photo area. It was another 8 years before I eventually got a photo with her.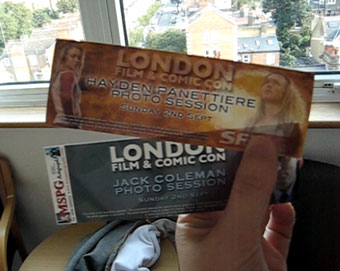 Holding my Photoshoot Tickets
Back then, photos would be sent off to a nearby shop to be printed. Then later in the day, laid out on tables for collection. Of course, half the time you couldn't get in to see if your photo was there due to the throngs of people just hanging about waiting for theirs to appear, without consideration for others. Also, this was one of the first times I had a photo go 'awol' from the collection tables...not the first occasion that happened. Saying that, the prices back then were excellent, all between 15-20 pounds per guest. Two big names cancelled that event (Zachary Quinto and Bill Nighy), neither of which have ever done a UK convention yet.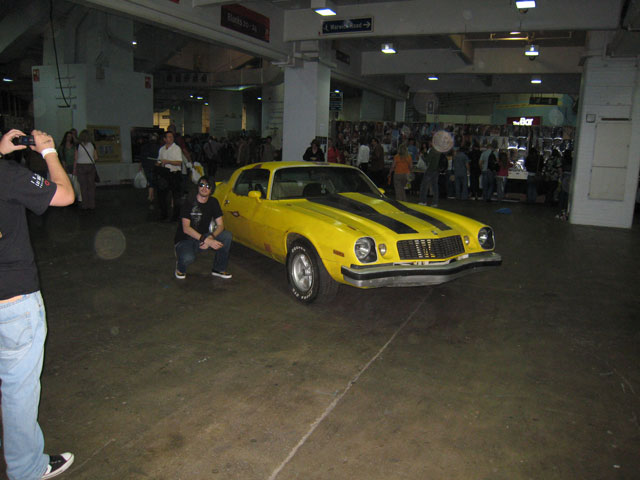 Bumblebee making an appearance @ LFCC
This was also the first time at LFCC where I noticed some guests came out from behind their table. I had asked Showmasters to put gaps in between tables, but most of the time they kept guests in one long row. Only at Collectormania did this seem a more common occurrence. I liked the idea of getting an autograph and a 'free' photo too. Nowadays, that is a rare thing, and some companies started charging for selfies with celebs.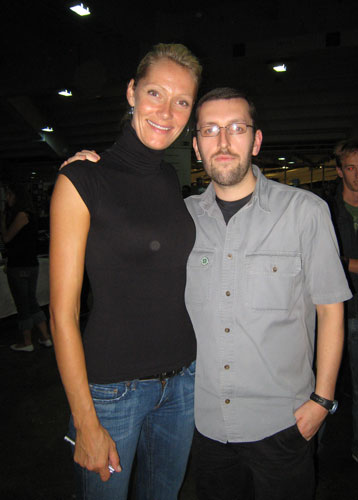 Rob and Andee Frizzell @ LFCC 2007
Photoshoot Count: 8
Milo Ventimiglia
,
Jack Coleman
,
William Mapother
,
Hayden Panettiere
,
Mads Mikkelsen
,
Louise Fletcher
,
Dominic Monaghan
,
Phil Daniels
Seflie Count: 2
Andee Frizzell
,
Michael Gross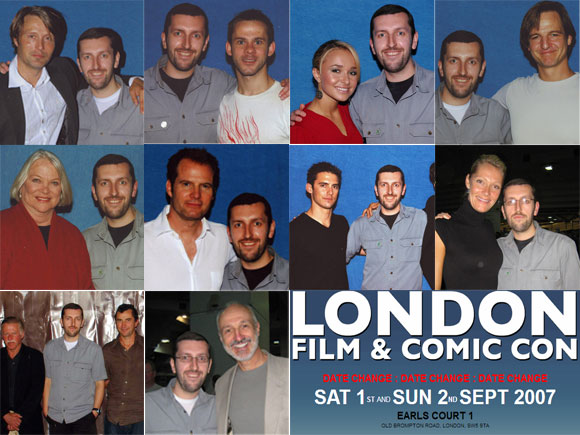 London Film and Comic Con 2007
LFCC 2008
My 3rd year in a row and LFCC was turning into my most anticipated event of the year. Some of the guests announced were great names, the kind of people you watched in films growing up, but now were getting the opportunity of actually meeting and having a photo with. This was one of the exciting aspects of running CelebHeights - getting photos.
Although most fans grumble about con organisation, over the years LFCC does listen and improve. Sometimes it's 2 steps forward and 1 step back, but I've witnessed the slow evolution of this event and can appreciate how things have changed since these early days, mostly for the better. Whilst they introduced 2 photosession zones (Malcolm and Daniella being the photographers) this year, that still didn't mean all the guests would be available for photo ops. Also, some of the tickets were only available on the day to buy, which meant queuing up for 1-2 hours to buy them. Nobody likes that. I struggle with queuing, badly!
Convention Tip: The most important item in your itinerary is your footwear. You are on your feet all day, so think with comfort in mind. Your feet will thank you at the end of the day.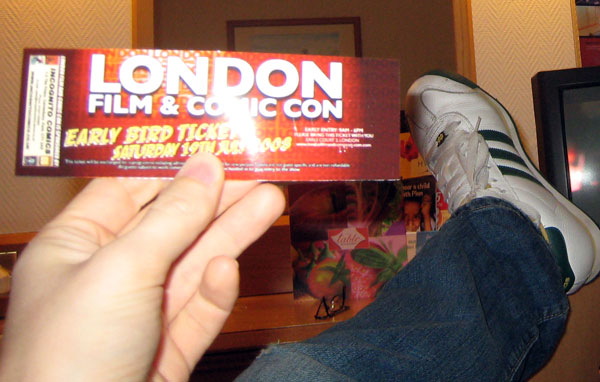 Rob with comfy Adidas Samba's @ LFCC 2008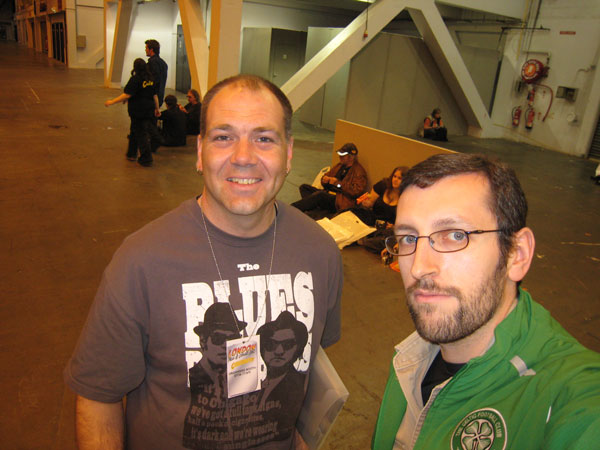 Smaller Crowds @ LFCC 2008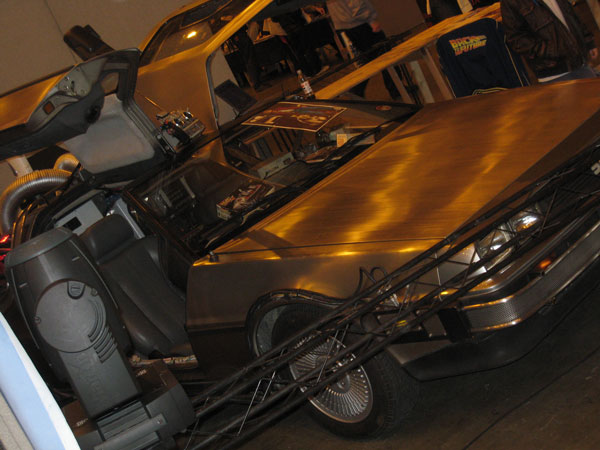 BTTF DeLorean Car @ LFCC 2008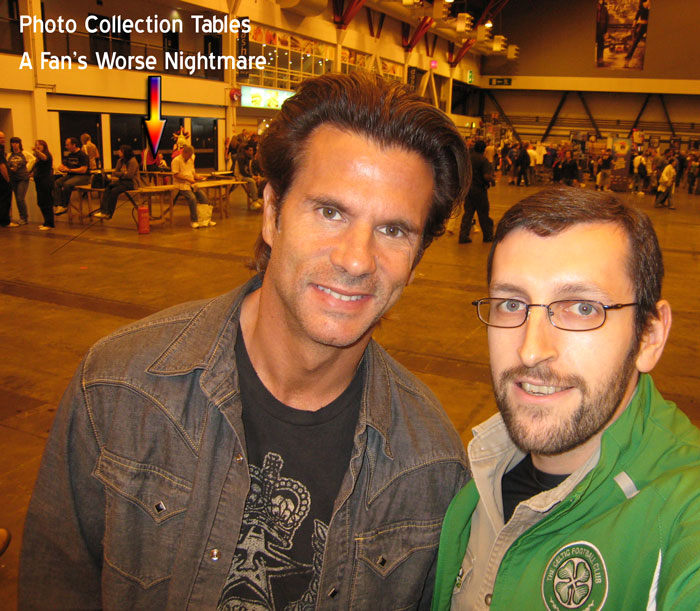 Lorenzo and Rob @ LFCC, Photo Collection Tables in background.
Convention Tip: If you really want a guest and can afford it, get them now. Don't wait or assume you might catch them at their next event, because that may never happen. This may be their one and only convention appearance in your country. I once passed on getting a photo with Diana Rigg, much to my regret.
Photoshoot Count: 13
Christopher Lloyd
,
Brad Dourif
,
John Hurt (RIP)
,
Jason Mewes
,
Pete Postlethwaite (RIP)
,
John Landis
,
Charlie Webber
,
Claudia Black
,
Carrie Henn
,
Georgia Moffett
,
Alexander Siddig
,
Bill Oddie
,
Karen Allen
,
David Warner
Selfie Count: 1
Lorenzo Lamas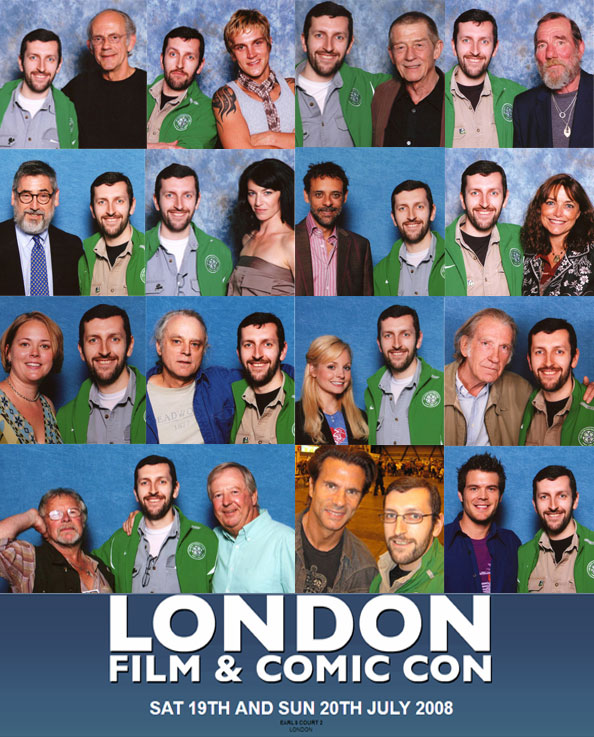 London and Film Comic Con 2008
LFCC 2009
One aspect of events growing in size, is that more photo ops (and attendees wanting them) were being catered for. This meant an inevitability that some of the later photoshoots would be running late and that the prints from the lab wouldn't quite be back on time, thus needing for them to be posted out. Also, sometimes getting a refund on cancelled guests was frustratingly slow. Luckily, these are things that current London Film Con attendees of the last few years, don't need to worry about. The days of waiting 3-4 hours for a photo to be in your hands has now been replaced by photos being in your hands within 30 seconds of the shot being taken.
Starting photos after 11am meant that there was no rush to get into the event, unless you were after autographs and required low Virtual Ticket numbers to ensure you met the guests. I was never too bothered about that aspect, only getting a select few autographs over the years. Sadly, starting photos later meant guests like Chris Sarandon weren't on the photo schedule. This was also Jenny's first attendance at LFCC. She isn't interested in height, so meeting Chris Sarandon and having a photo with him was a memorable experience (A Nightmare Before Christmas is one of her favourite films):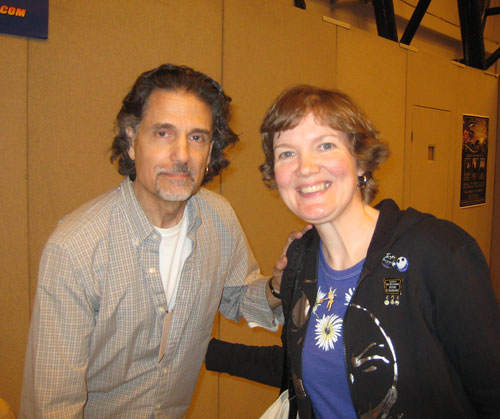 Jenny and Chris @ LFCC 2009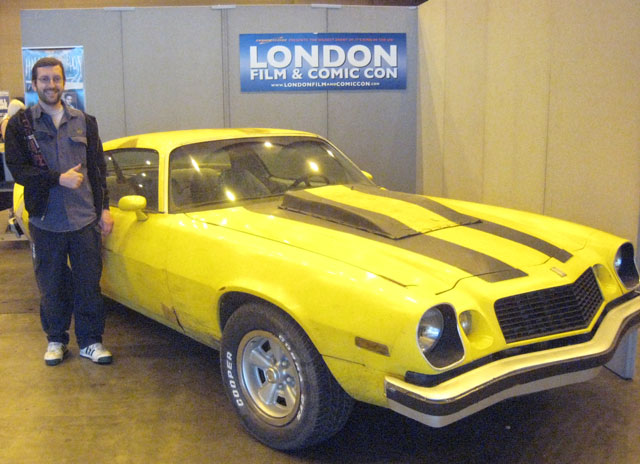 Rob and Bumblebee @ LFCC 2009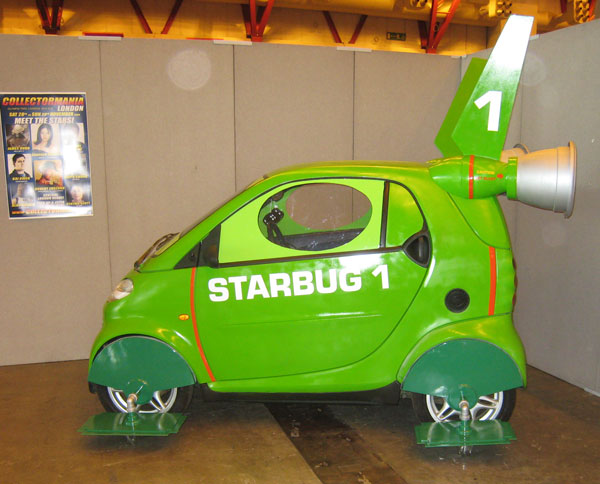 Red Dwarf Starbug @ LFCC 2009
Up until now, most talks at LFCC were free. With Scott Bakula in attendance, paid talks were something that would become a greater presence at these events in the future. I have never seen quite as many talks as I'd have liked to, simply because of the time spent queuing for photoshoots.
Autographs are the main focus on events like this, with the majority of attendees buying at least one. Sometimes they would let you have a selfie at the table, other times they'd put 'no posed photos up'. We were getting an auto from Sean Maguire that weekend and I noticed an agent putting one of those 'no posed photos' behind him. When he's not that busy, nor is he doing an actual photosession, I thought that was a bit strange, though when I asked him about it, he said no bother, and took a photo with us: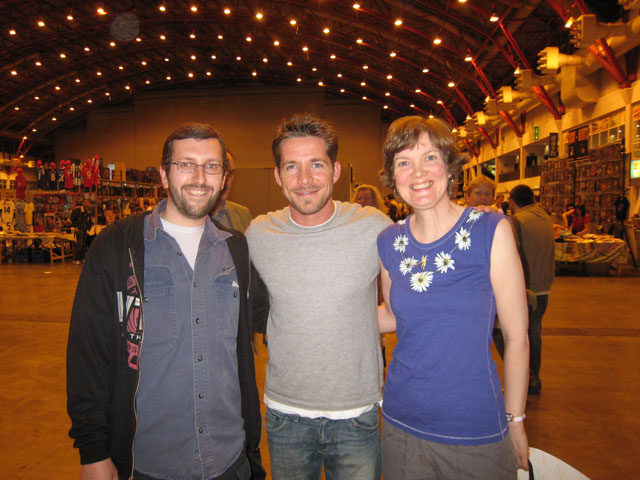 Rob, Jenny and Sean @ LFCC 2009
Convention Tip: Have a budget and stick to it. These events lure you into making purchases you might sometimes regret or really can't afford. All the shiny fun memorabilia on the stalls, all the great guests...sometimes you get caught up in the moment and think 'why not'. Your wallet won't thank you!
Photoshoot Count: 1
Hugh Quarshie
,
Michael Ironside
,
Edward Furlong
,
Jake Lloyd
,
Janet Ellis
,
Anna Walton
,
Bruce Boxleitner
,
Alexandra Moen
,
Keeley Hawes
,
Scott Bakula
,
Jewel Staite
,
Danny Trejo
Selfie Count: 1
Sean Maguire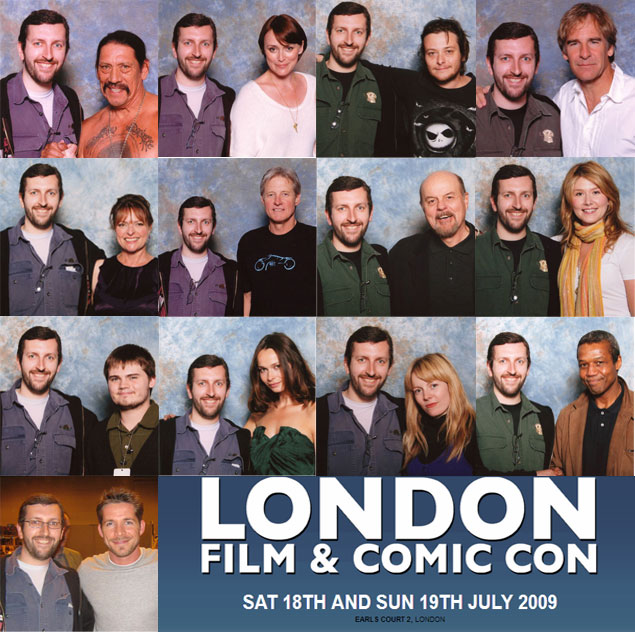 London Film and Comic Con 2009